Meet The Experts...
Our writers and analysts are paid professionals, not weekend hobbyists or corporate staffers. While other information services seek out professional journalists who play fantasy baseball, we seek out successful fantasy players with innovative ideas who know how to write. That's our difference, and it's a huge one.
DIRECTORS
WRITERS and ANALYSTS
ANDY ANDRES teaches what is likely one of the first ever college courses in Baseball Analysis and Sabermetrics at Tufts University in Medford, MA. When not spending time scheming victory in the very competitive Boston Baseball League, he teaches biology and physics at Boston University. During the summer he teaches science and mathematics and coaches baseball in the MIT Science of Baseball Program. As a Datacaster/Stringer for MLBAM, he is responsible for digitally keeping score of games at Fenway Park for various internet application like mlb.com's Gameday and ESPN's Gamecast. Andy lives in Cambridge, MA with his wife, Kate, and their three children, Maddie (Colorado College), Aubree (Princeton), and Griffin. He will play softball, baseball, or just have a catch with anyone who asks and always travels with two mitts, just in case. He has worked for BaseballHQ.com in various roles since 2003 and has been schooled at St. Josephs HS (Metuchen, NJ), Brown, Harvard, and Tufts. Follow sabermetrics01

MATT BEAGLE exemplified the depth of fanalytic commitment as an expansion manager when, appendix bursting, he coerced a hospital release to retrieve his Strat-O-Matic materials to draft from the recovery room. Matt has appeared on the Cleveland Indians radio and TV network and SiriusXM. In 2008, Matt added the Strat-O-Matic Bevy of Experts League to his numerous titles. He is an official video blogger for Strat-O-Matic. He also shares his views on HQ Radio each week. Matt obtained his JD/MBA from Wake Forest after attending Ursinus College, near his beloved Phillies. He now follows the Indians as closely after a Jacobs Field wedding. A bank Vice President and Instructor at Bloomsburg University, Matt brings thirty years of experience from Bloomsburg, PA.

ALEX BECKEY attended Creighton University, where he noticed the similarities between investing in baseball cards and investing in stocks, which led to pursuing a degree in finance and economics. He was introduced to fantasy baseball eight years ago, and participates in 8-12 leagues per year on average. Since 2007, Alex has finished first in 60% of his leagues and has placed in the top three in 85% of his leagues. Alex won the 2012 Baseball Writer of the Year award from the Fantasy Sports Writers Association. He currently resides in St. Paul, Minnesota with his wife and two children. Follow AlexBeckey

BOB BERGER has been the "Commissioner for Life" for the Pikes Peak National Baseball League (5x5 NL-only) since 1990 and has won nine league titles. He has also participated in several mixed Rotisserrie leagues (winning two additional championships) and in several AL-only leagues. He recently joined a Diamond Mine dynasty league. He is a retired US Air Force pilot, has a DPhil in Experimental Psychology from Oxford University, and is currently a leadership and management consultant. He is closing in on one of his life goals, which is to see a game in every major league stadium (even though they keep opening new ones). He lives and watches baseball in San Antonio with his wife Diane.

CHRIS BLESSING enters his seventh year covering baseball prospects, his second at Baseball HQ. His work has also appeared at various websites including Metsgeek, Scouting the Sally, Bullpen Banter, Rotoscouting & USAtoday.com. In addition, Chris contributed scouting information and player blurbs for the 2016 Minor League Baseball Analyst. His top 5 Braves, Diamondbacks, Mets and Reds prospect lists appeared in USA Today Sports Weekly and his video has been featured on affiliated news broadcasts, MLB Network, The Today Show, The Weather Channel, Fangraphs.com & MLB.com. Outside of baseball, Chris enjoys volunteering, playing sports, craft beer, music, the theatre and acting. He last appeared in the Spring of 2015 as Lurch in "Addams Family The Musical" at Artistic Civic Theatre in Dalton, Georgia, where he recently accepted a position on it's board of directors. Chris is especially proud of his ongoing work as the acting coach with the Dalton High School Mock Trial competition team. A life long New York Mets and University of Arizona Wildcat basketball fan, he hopes his teams finally end long championship droughts this year.

RYAN BLOOMFIELD is the proud author of the FSWA's Baseball Article of the Year (online) in 2015, and was also a finalist for Baseball Writer of the Year that same season. He writes two weekly columns for BaseballHQ.com: Facts/Flukes and Playing Time Tomorrow, and has contributed to the Baseball Forecaster and BaseballHQ Radio every year since 2013. Ryan has been playing fantasy baseball since 1999; he's a six-time home league champion who owns a 2014 KFFL Baseball Analyst Draft title and a 2015 NFBC Draft Champions crown as well. He's a Virginia Tech alum (Go Hokies) and currently lives in Oregon with his wife, Mindy, and two dogs. Follow RyanBHQ

DERRICK BOYD began playing fantasy baseball during his sophomore year at Utah State University and was immediately hooked. Derrick grew up a fan of the Baltimore Orioles and was on-site at Camden Yards September 6, 1995 when Cal Ripken broke Lou Gehrig's consecutive games played record. Though he has also been in the stands for Wizards, Redskins, Nationals, and Capitals playoff victories, and even a Stanley Cup Finals game, Derrick ranks Stephen Strasburg's 14-K debut as the most electric Washington D.C. sporting event he has attended. He numbers among his greatest moments in life: marrying the woman of his dreams, the respective births of his children, serving as a full time missionary for two years, and besting an NFBC Hall of Famer to win the first NFBC Draft Champions league he entered.

BRIAN BRICKLEY has been playing fantasy baseball since 1993. He has competed in and won leagues at the local and national level. To date, his biggest fantasy accomplishment is winning an 18-team expert league put together by a Boston sports radio station. He has earned an MBA from Bentley University, after attending Boston College, and currently works as a financial analyst. Brian resides just outside of Boston with his wife, Jennifer, and his daughter, Audrey.Follow HQMatchups

ROB CARROLL has been commissioner of his 20-team dynasty league since 1989 in the era of USA Today weekly stats and paper spreadsheets. He admits that his primary thrust for starting the league was the opportunity to employ his dream battery of Allan Anderson and Andy Allanson. Rob earned his BA in English at the University of California at Berkeley and resides in Lake Forest, CA. When not scrambling to keep pace with his wife and two teenage sons at home, Rob is either at his job as Systems Administrator for a division of Delphi, at an Angels game, or reliving the 2002 World Series glory in his head.

MATTHEW CEDERHOLM has contributed to Baseball HQ since 2010 and has been playing Rotisserie baseball since the moment he picked up his first copy of "Rotisserie League Baseball" in 1987. He has a number of league championships to his credit, most recently in 2015, and always targets skills over roles. Outside of fantasy baseball, if there is such a thing, Matt is a financial analyst for the U.S. courts and is pursuing a Ph.D in Economics. He also holds a Master of Science degree in Global Financial Analysis and the Chartered Financial Analyst designation.

PATRICK DAVITT (Host-Producer, BaseballHQ Radio) has been playing 4x4 Rotisserie since 1991 in the Regina Rotisserie League in Saskatchewan, Canada, and has won three titles. Patrick has also played in the Tout Wars Mixed Auction League since 2012. Patrick joined the Baseball HQ team in 1999, writing about Rotisserie rules and strategy. (He did not do player analysis, possibly because his audition articles said that Brad Fullmer would be a perennial star and that Ichiro Suzuki wouldn't hit in the big leagues.) He has since written the AL Market Watch, the Batting Buyers Guide column, as well as extensive independent research into baseball and fantasy baseball, much of which is recapped in the annual Baseball Forecaster. He also served for two years as Research Director at BaseballHQ.com. For the last several years, Patrick has also produced and hosted Baseball HQ Radio, a weekly "podcast" audio program about fantasy baseball, available as a free MP3 download from Baseball HQ or from podcast providers like iTunes. In addition to his other work, Patrick contributes regularly and enthusiastically in the HQ Forums.Follow patrickdavitt

JEREMY DELONEY is in his eighth year with HQ. He appears daily during the season with the minor league callup reports. He spends most of his free time scanning minor league box scores and teaching the values of baseball to his three children. Jeremy lives in Lebanon, OH and works in compliance for a securities firm.

DOUG DENNIS has 20+ years of 4x4 and 5x5 experience. Doug served as a consultant to the St. Louis Cardinals in 2004 and 2005. He has won the XFL in 2007 and LABR in 2011, and he finished second in the XFL in 2008, and second in LABR in 2001, 2009, 2013 and 2016 to give him six first or second place expert finishes in the past nine years. He has been analyzing relievers at HQ since 1999. Doug wrote the Tip Sheet for Sports Weekly in 2003-2004, and has written articles for the Baseball Forecaster, ESPN.com, ESPN the Magazine, USA Today, as well as contributing to numerous spring annual publications. Doug has been on HQ podcasts and XM radio and he is a regular speaker at First Pitch Arizona and First Pitch Chicago. Follow DougDennis41

MATT DODGE has been playing and commissionering in deep AL-only & NL-only 4x4 and 5x5 rotisserie leagues since the mid 90s. In 2001, he joined the BaseballHQ staff roster, applying his Industrial Engineering (Clarkson College) degree to player data analysis and occasional article writing, as if raising four daughters and managing IT projects was not already enough to do. Living with wife Barb in the MLB epicenter (also known as the I-95 corridor) where five MLB teams are less than a three hour drive away, he can frequently be found cheering on the Wilmington Blue Rocks (where the tickets are much cheaper), and manning the First Pitch Arizona registration table.

GREG FISHWICK began at BaseballHQ.com in 2012 as a copy editor and writer, and now also contributes to the BaseballHQ Radio podcast. Since 1994, Greg has founded several fantasy baseball leagues and won multiple titles. He plays slow-pitch softball, started at every position except catcher in college, and played all nine positions in one game. Greg has a bachelor's degree in education from Occidental College, a master's degree in counseling psychology from Western Oregon University, and a Ph.D. in educational leadership from the University of Oregon. He has been a high school teacher, coach, assistant principal, and athletic director; a community college counselor, instructor, director of counseling, and dean; a regional apprenticeship coordinator and career-technical education coordinator; and a state workforce development coordinator, education reform coordinator, and assistive technology access director. Greg has served as a school board chair, city budget committee chair, and Rotary club president. He is the proud father of two (UO Duck) daughters and lives in Grants Pass, OR—when not traveling with his wife to visit National Parks and baseball parks.

NEIL FITZGERALD has been involved in roto for 20+ years and has played many roles including running an early stats service. He is now a serial entrepreneur after working in the analytics/reporting software space for 15+ years and is currently trying to revolutionize online pricing with pricewhispers.com. A technology author with almost 50,000 books sold to date, he has a BSC from Queen's University and an MBA from Ivey at Western Ontario, both in Canada. After many years in NYC, Neil currently resides in Toronto.

MATT GELFAND has participated in mixed league competition for more than 15 years and is a seasoned contributor to a wide array of fantasy sports publications. A columnist for both Playing Time Today and Facts & Flukes, Matt earned an M.S. in Interactive Publishing from Northwestern's Medill School and Journalism in 2014, and resultantly found himself rooting for the Northsiders during their recent World Series run, despite being a New Jersey transplant. He currently resides just outside Boston with his fiance, and spends his days as a web designer for a digital agency. Follow MattBHQ

ROB GORDON has been a minor league analyst for Baseball HQ since 2003. He writes the weekly Minor League News and Scouting column, covers most of the traffic in the Minor League Forum, and does the NL Minor League Organizational Reports. Since 2010, Rob and Jeremy Deloney have co-authored the Minor League Baseball Analyst. When he isn't lurking in the shadows of some dingy minor league stadium, Rob can be found teaching History at Wayne State Univeristy where he completed his Ph.D. in 2003. Rob also works at the University of Michigan advising undergraduates on what to do with their lives and the importance of using Runs Created and xERA as a way to better understand the value of a baseball player. Follow rgordon4

SAM GRANT has participated in rotisserie baseball since 2000. He has managed Grant's Tomb to 4 titles in his home league and has finished in the top 3 every year since 2004. On the national level, he finished in 14th in the inaugural NFBC Cutline Championship in 2016. In his final start as a high school junkballer, he struck out Phillies 2008 first round pick Anthony Hewitt. A graduate of Colby College, Sam is a lifelong Red Sox fan who resides in Massachusetts and has seen games in 35 different MLB ballparks. Follow Sam__Grant

PHILIP HERTZ has been with BaseballHQ.com since 2003. He has played Rotisserie Baseball since 1985 and has finished in the money in his primary league in all but three seasons. Phil, like Ron, is a die- hard Mets fan, who attended the Mets first game at the Polo Grounds. He has an A.B. in history and urban studies from the University of Michigan's Residential College and a J.D. from the Boston University School of Law. When not pursuing his first love; i.e., baseball, he serves as the Deputy General Counsel for a United States government corporation. He and his wife live in North Bethesda, Maryland, just outside the nation's capital, and travel around the world annually -- but almost always with iPad in hand! Follow prhz50

JOE HOFFER has been a Baseball HQ analyst since 2006. He's played 5x5 NL-only keeper leagues since he graduated Lake Forest College with a BS in Psychology in 1988. When he isn't at Wrigley Field (he once attended 88 Cubs games in one year), he is running ultra marathons with his wife Anne, and hanging out with his daughters Tessa and Stella as well as his son Blake who already possesses a filthy fastball at age 8 ... keep him in mind for your dynasty leagues! Follow baseballhqjoe

TOM KEPHART has been writing for BaseballHQ.com since 2006 and competing in various fantasy baseball formats (primarily Rotisserie Mixed and NL-only Leagues) since 1991. He is a life-long Cincinnati sports fan, a diehard Reds fan, and an enthusiastic student of baseball history. He earned a B.A. in Communications and Political Science, with M.A. in Political Science/Policy Analysis from American University, and an M.A. in Political Science from Ohio State. He lives in Columbus Ohio.

TROY MARTELL has been playing fantasy baseball, particularly Scoresheet, since 1992. Troy was born in Minnesota and is a die hard Twins fan. He has a B.A. in political science from Marquette University and a J.D. from the University of Illinois College of Law. Troy lives in Milwaukee and spends most of his free time with his wife, Erin, and his dog, Lando.

DAVE MARTIN has been playing fantasy baseball since 2000. He currently serves as Baseballhq.com's Head-to-Head Strategy Columnist. In 2013, Dave won the Fantasy Sports Writers Association's award for "Fantasy Baseball Article of the Year, Print." Dave has extensive head-to-head playing experience and looks forward to the day when there is an NFBC equivalent for head-to-head leagues. In the fabled Cape Cod League, Dave has finished in first place six out of twelve years, in addition to two second and two third place finishes. Dave has a BA from the University of Pennsylvania and a law degree from Fordham Law School. He currently works as a commercial litigator in Connecticut.

HAROLD NICHOLS has played Boxscore Baseball since the mid-1980s and is among the league's all-time win leaders. Since 2002, he has won eight NL championships and six AL championships and has twice won the Dick Howser Award as the outstanding owner in all Boxscore leagues. He has been writing for Baseball HQ since 2000. A former university Dean, he has now retired to devote his time to baseball, his wife, and his grandchildren (not necessarily in that order). Harold and his wife Anna Marie live in Springfield, LA.

STEPHEN NICKRAND has been a contributor at Baseball HQ since 2000. He takes great pride in keeping its analysis of starting pitching the best in the business. As a baseball analyst for most of his adult life and a teen heartthrob for several years prior, Stephen has not left his basement during daylight hours since his sophomore year in high school. In his free time, he enjoys depressing movies and obsessively follows the band Pearl Jam on tour across the world. Stephen is an alumnus of the University of Michigan, earning a Bachelor of Arts degree with majors in Organizational Studies and French as well as an MBA. During the day, he works in the Human Resources field in the automotive industry. Follow StephenNickrand

FRANK NOTO has played various Roto formats since 1991 and written on baseball sabermetrics since the mid-1990s. He typically finishes in the money, and has won 9 league championships. In real life, he is president of the community outreach firm, GCA Strategies. There he conducts state-of-the-art public opinion surveys and helps build community and political support for controversial real estate projects. He wins for 93% of his clients, with an ERA of 3.52. Frank is a graduate of the United States Military Academy at West Point.

JOSH PALEY grew up in Urbana, IL and is eternally grateful to his father who raised him to be a Cardinals fan and not a Cubs fan. He holds a BS in Math & Computer Science and MS from the University of Illinois and was ABQ&D in Science & Math Education at UC-Berkeley. He now teaches computer science and mathematics in Palo Alto, CA. Josh has been playing rotisserie baseball since 1988. He won the CDM Diamond Challenge in 2000 and the inaugural MLB.com Experts League. He has been the commissioner of a league he co-founded in 1992 and he was commissioner of LABR for two years. He is an avid indoorsman as he is allergic to things such as plants, dirt, and probably fresh air--except in baseball stadiums, which cure everything. He continues to assert that First Pitch Arizona is the best weekend of the year.Follow paley2

GREG PYRON is in IT software/web development and is from Atlanta, GA. He has been playing fantasy baseball since the mid-1990s and has written for FantasyBaseball.com and RotoTimes.com/Fanball.com. He is a lifelong fan of the Braves and the Georgia Bulldogs. Follow GregPyron

JOSHUA RANDALL has been writing for Baseball HQ since 2002, primarily covering batters, though you'll find his name on some of the Forecaster pitcher pages if you look hard enough. Joshua is a long-time Cleveland resident and Indians fan who asks himself every winter why he doesn't live somewhere warmer with a better team. When not undertaking fanalytic research, Joshua works as a business analyst at a large insurance company.

NICK RICHARDS began playing Rotisserie online in 1998. Quickly realizing he needed an analytical approach in order to compete, he researched the field and settled on BaseballHQ as the site that was using analytics the best. Three championships in those early years proved HQ's worth to him and he's been a faithful reader ever since. He joined the HQ staff in 2008. He's easy to find in the forums where you just have to look for the Snoopy avatar. He is married and lives with his wife in New York where he works as a business analyst.

BRIAN RUDD has participated in fantasy baseball since 1998 and has been writing for Baseball HQ since 2006. He and co-manager Charlie Gillespie won their league title and finished 4th overall in the 2011 World Championship of Fantasy Baseball. Brian is a graduate of the University of Louisville with a degree in Sport Administration. A big St. Louis Cardinals fan, he currently resides in St. Charles, MO with his wife, Mona, daughter, Kaelyn, son, Evan, and daughter, Kendall.

MIKE SHEARS joined the Baseball HQ staff in 1997, serving in columnist and behind-the-scenes PT analyst roles prior to becoming a PT Tomorrow writer. Enjoying fantasy baseball since 1992, he's a 2013 champ of his competitive local 5x5 league and has finished in the money six of the last ten years. Mike has also earned two Scoresheet division titles. A former utility infielder with a high ct% and very low PX and SX, Mike's knee and back announced their retirements from recreational softball. One career down, Mike has focused on being an IT professional and league commish in Indianapolis.

PETER SHERIDAN has a computer programming background and has been a Minnesota Twins fan since he can remember. He has been active in fantasy baseball since 1999 and fantasy football since 1984. Pete is a graduate of Northwestern University and avid supporter of the Wisconsin Badgers. He lives in Madison, WI with his wife Jennifer and two daughters, Molly and Sammi.

SKIP SNOW is a 10-year veteran in statistical analysis and sports writing. He worked for the Cleveland Indians from 1992-2003, co-edited a Shandler Enterprises book in 2007 and is a contributor on MLB.com. He is a lifelong baseball fan, youth coach and baseball history enthusiast with a passion for writing about statistical trends and match-ups. The Dayton, Ohio, native started writing for Baseball HQ in 2004. Skip and his wife Anne Marie live in Rocky River, Ohio, with their four children - Michael, Maria, Andrew, and Lauren..

JEFFREY TOMICH has been a Baseball HQ analyst since 2005. He's competed in the same two leagues since 2001: A 6x6 NL-only auction league and a 5x5 mixed draft league. A native of Houston, Jeffrey has a B.A. in English and economics from Tulane University and works as a journalist. He lives in St. Louis with his wife and daughter, and loves needling Cardinals fans on the rare occasion that they lose to the Astros. When not sifting through baseball stats, he enjoys running marathons, reading and traveling.

ROD TRUESDELL joined Baseball HQ in 1999 and has performed in numerous roles, including Scoresheet Baseball and AL Market Watch analyst, and most recently AL West Team Analyst and HQ site editor. Rod also has been a contributing Baseball Forecaster author since the 2004 edition. A native Texan, Rod has followed the American League since the Senators became the Texas Rangers in 1972. He has won 10 Scoresheet Baseball championship trophies, including the inaugural 1999 championship in the Scoresheet Champions Internet League, AL-SCIL. Rod holds a degree in Meteorology from Texas A&M, and is in line to receive his Master's in Applied Meteorology from Mississippi State during the summer of 2016. He recently moved from the Blue Ridge Mountains near Asheville, NC, to Austin, TX, with his wife and two surrogate daughters (known to others as dogs). Rod also has three real children in college in North Carolina, two daughters and one son. Follow RodTruesdell

MICHAEL WEDDELL has been playing fantasy baseball continuously since founding a Rotisserie league in 1987. A long-time customer of BaseballHQ, Michael joined the writing staff in 2009. Professionally, Michael is employed by the leading international employee benefits consulting firm and helps large employers with their 401(k) and other defined contribution retirement plans. Michael roots for the Tigers with his wife in metropolitan Detroit.

RICK WILTON was the fantasy baseball industry's first injury analyst, and is the only one with experience in sports medicine, radiology, pharmacology and physical therapy. Rick started his sports career as the co-host of the University of Utah's pre-game football and basketball shows from 1981 to 1984. He was also a regular on Sports KALL, the weekly sports call-in show in Salt Lake City. Rick began baseball writing with free-lance articles for Baseball Weekly and Fantasy Baseball magazine. From 1992-1995, he was the president of Sports Journal Publications, Inc. which published Fantasy Baseball Journal, Diamond Alert and the Hot Sheet. He researched and co-authored the book, Forecasting Pitching Careers, and was the fantasy baseball expert for WMVP radio in Chicago during the 1996 season. Rick is an alumnus of the University of Utah and lives in Racine, WI, with his wife and daughter. Follow MLB_injuries
Free Weekly eNewsletter
The industry's #1 analytical weekly e-mail newsletter is ABSOLUTELY FREE!
More Information
Shopping Cart
SAVE THE DATE!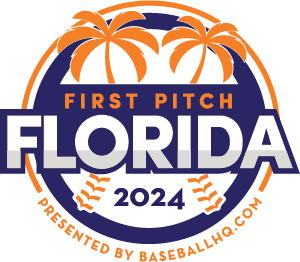 March 1-3, 2024

Clearwater, FL