First Pitch Florida 2020
Major league baseball players use spring training to get ready for their season.
Fantasy baseball players use First Pitch Forums to get ready for their season.
In February 2020, both will happen at the same time and place. Announcing...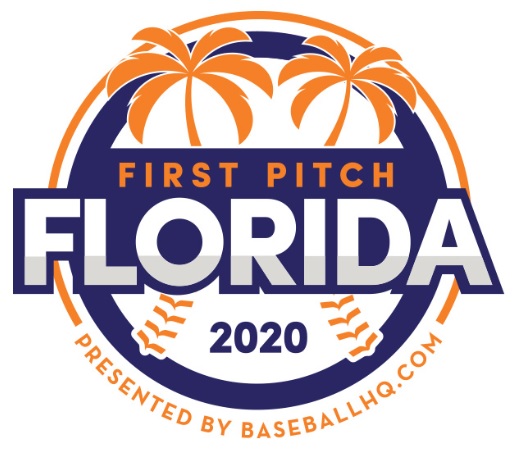 February 28-March 1, 2020 • St. Petersburg Marriott Clearwater
From the organizers of the wildly-popular, 25-year-old First Pitch Arizona event, First Pitch Florida combines engaging and interactive conference sessions, tickets to two Grapefruit League games, live draft competitions for attendees, along with the LABR NL and AL expert league drafts. It's all fantasy baseball. All weekend long. And almost too good to be true.
First Pitch Florida is a weekend-long, immersive fantasy baseball experience designed to get you fully prepared for the 2020 season. Attendees will get to mingle and interact with expert fantasy baseball analysts from just about every major website, podcast and publication. There will be sessions on potential 2020 player breakouts and regressions, 2020 player pool analysis, what current ADP trends can tell us, gaming strategies that reflect the changing MLB landscape, and tons more. All pointing towards dominating your 2020 draft and season.
In addition to the interactive sessions, a First Pitch Florida registration includes:
Friday night welcome reception
In-person watch parties for the LABR-NL (Friday evening) and LABR-AL (Saturday evening) and NEW LABR-Mixed (Sunday afternoon) expert auctions
Tickets to two Spring Training games, Saturday (Detroit at New York Yankees) and Sunday afternoons (Baltimore at Philadelphia)
Saturday evening's Draft Night, where you compete against attendees and experts in real 2020 leagues adminstered by the NFBC
All of this takes place in the glorious late-February Florida weather, with MLB spring training as the backdrop. So make your plans now!
Links for more info on First Pitch Florida:
HOST HOTEL INFORMATION
(including accommodations info)
REGISTER NOW for just $399
Shopping Cart