First Pitch Florida ONLINE- 2022
Already registered? Visit the Event Command Center
Bad news:
The MLB lockout scuttled our plans for our
in-person First Pitch Florida event (#thanksRob).
Good news:
We got good at this "pivot to online" thing
during the pandemic, so we're running that back again.
Announcing....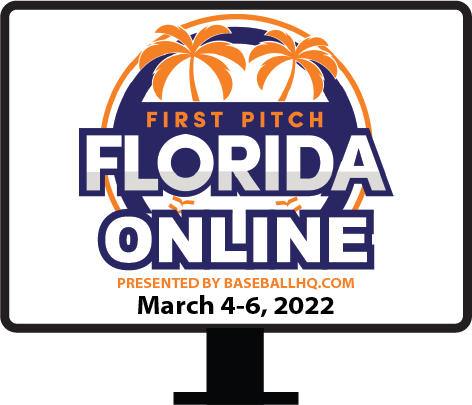 March 4-6, 2022
Virtual event via Zoom
Rather than focus on the current labor situation, we choose to look down the horizon a bit: at some point, there will be a 2022 season. And we have the perfect way for you to get ready. Our three-day virtual First Pitch Online event will be a weekend-long, soup-to-nuts, top-to-bottom indoctrination on the 2022 season.
Check out the details below:
Weekend Program: Three days, almost 30 hours (!) of unbeatable player analysis, strategy discussion, expert draft analysis, breakout sessions on a variety of topics and formats, the opportunity to get your roster analyzed by one of the industry experts. Plus, we'll be drafting optional 2022 leagues on Sunday night, where you can put your knowledge to the test against other attendees. It's a truly immersive weekend experience! It will take place via the Zoom platform (same as 2021 version, if you joined us then), and most of the sessions will be recorded and archived for playback at your lesiure if you aren't able to join us live.
LABR Drafts: We're proud to again be the host of the LABR experts drafts, where attendees can get an up-close look at one of the most storied experts league in the industry. There will be LABR drafts on each night (Friday/Saturday/Sunday), you can follow the auction boards with expert commentary along the way, and recaps as part of the Saturday and Sunday programs.

Speaker List: Check out our (loaded) roster of committed speakers -- with more on the way!
We've got a great weekend planned, and we can offer two guarantees: For one, you'll be better prepared for the 2022 season. And two, we're confident you'll feel better about the game after spending a weekend discussing players and strategies, rather than worrying about pre-arb bonus pools and CBT penalties.
And ... just to show Rob and Tony how this compromise thing is supposed to work, we set our registration fee in line with the times. The MLBPA have proposed a pre-arbitration bonus pool set at $115M. The owners countered at a pool of $20M. Split the difference, and you get to $67.5M. Yeah, that works for us (well, minus a bunch of zeros).
In other words ... the registration price for this weekend-long event is just $67.50! (See how easily we moved from our standard price of $79?)
Free Weekly eNewsletter
The industry's #1 analytical weekly e-mail newsletter is ABSOLUTELY FREE!
More Information
Shopping Cart