First Pitch Arizona - Thursday
First Pitch Arizona > Thursday
EXPLORE FIRST PITCH ARIZONA:
HOME | THURSDAY | FRIDAY | SATURDAY | SUNDAY | SPEAKER BIOS | HOTEL INFO | FAQs
REMINDER: SCHEDULE IS TENTATIVE AND SUBJECT TO CHANGE
THURSDAY, NOVEMBER 2, 2023
2:30 PM: FPAZ23 Check-in at Hotel Lobby
Pick up your registration packet, which includes AFL game ticketing info, weekend program and all the information you'll need for a successful weekend. The table will be staffed until 5:00 pm.
3:00 PM: XFL Draft
The industry's longest-running experts keeper league draft takes place at First Pitch Arizona, with many participants whom you will recognize. Observe how these veterans tackle keeper league dynamics in 2024.
3:00-5:00 PM: Session(s) TBD
In a first this year, there will be an optional session or two Thursday afternoon prior to the Welcome Reception. Stay tuned!
5:30 PM: Welcome Reception at Scottsdale Stadium
Our annual informal ice-breaker meets an hour before gametime at one of the gathering spots at Scottsdale Stadium, just a 12-min drive from the hotel. Rub shoulders with presenters and attendees over appetizers and a cash bar. For our first timers, this is a chance to get a quick "lay of the land" of the weekend experience to come in our First Timers' Meetup as you'll get to know FPAZ veterans and speakers who will answer all your questions. For veterans, the perfect place to reconnect with old friends and make some new ones via that legendary First Pitch comaraderie! Then grab a seat (if you wish) and take in the weekend's first ballgame, Salt River at Scottsdale, starting at 6:30.
Salt River at Scottsdale (6:30 pm)
9:45 PM: Thursday Post-Game Hangouts
The day's ballgames are over, but the night is young! Optional meetups and sessions back at the hotel include:

The Podcast Room: Several popular fantasy baseball podcasts will be doing epidodes from First Pitch Arizona, live from the Podcast Room. And you can be a part. Each will include interactive segments with attendees, special guests, and of course, plenty of baseball chatter. Catch one or catch 'em all! Thursday schedule:
9:45-10:45 pm Breakout sessions

Session 1 TBA
Session 2 TBA

Or, just enjoy good baseball (or other) talk over cold beverages of your choice at the indoor/outdoor hotel meeting places
REMINDER: SCHEDULE IS TENTATIVE AND SUBJECT TO CHANGE
Free Weekly eNewsletter
The industry's #1 analytical weekly e-mail newsletter is ABSOLUTELY FREE!
More Information
Shopping Cart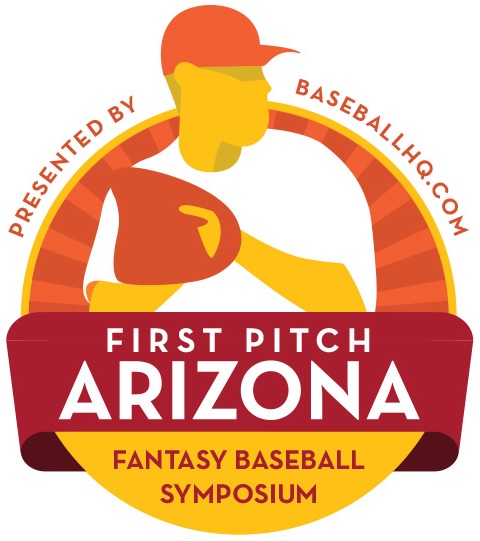 November 2-5, 2023
Mesa, Arizona
REGISTRATION NOW OPEN!