First Pitch Arizona - Day 1
First Pitch Arizona > Day 1
EXPLORE FIRST PITCH ARIZONA:
HOME | DAY 1 | DAY 2 | DAY 3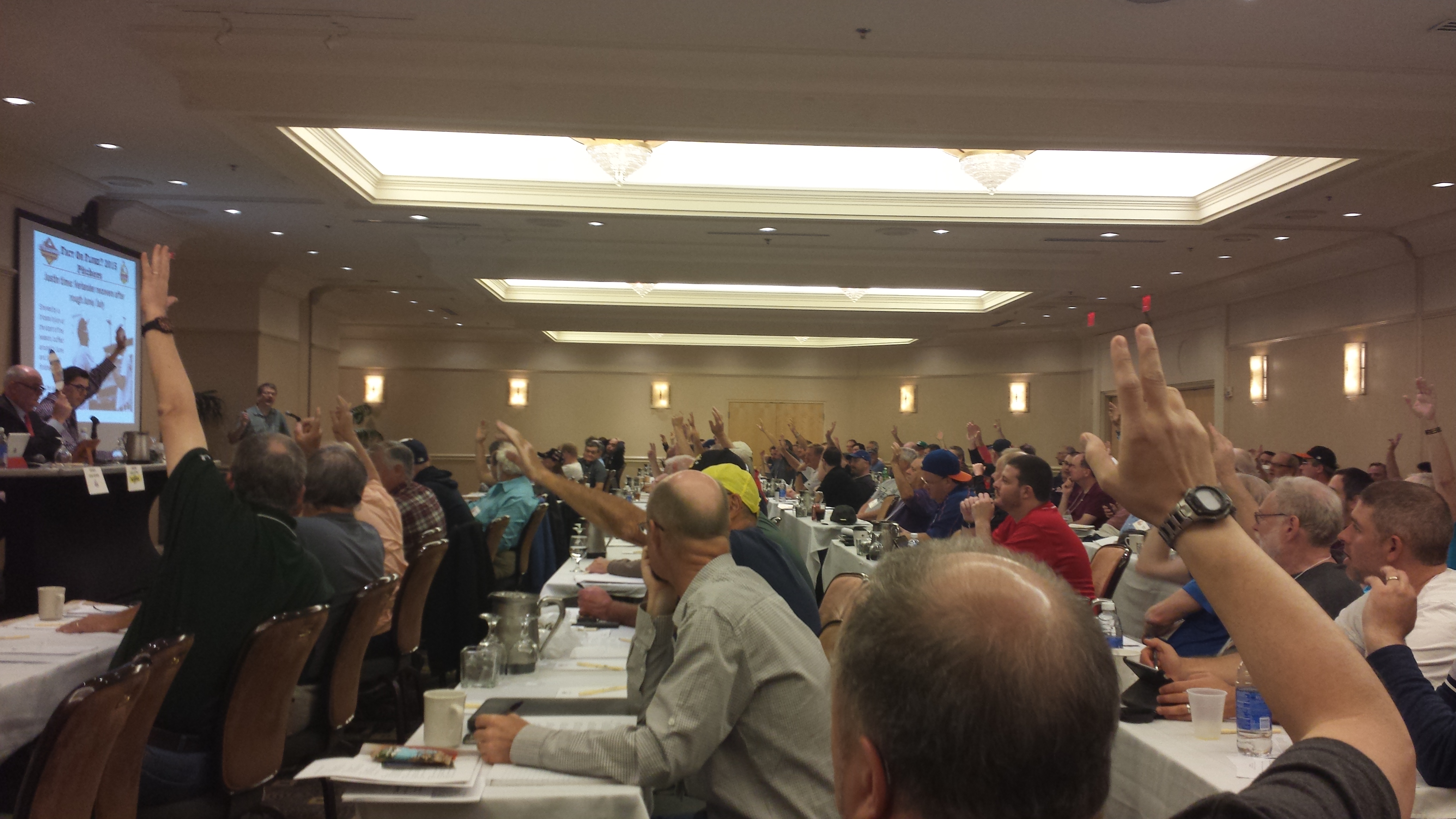 From 2015: Audience renders their verdict on a Fact/Fluke panel.
THURSDAY, NOVEMBER 1, 2018
12:35 PM: AFL ballgames
Surprise at Mesa (*ATTENDEE GAME; though free to choose either)
Salt River at Glendale

5:30 PM: Welcome Reception (@ Scottsdale Stadium)
Our annual informal ice-breaker... For first-timers, a chance to meet the speakers and fellow attendees. For our returnees, your chance to reconnect with old friends over a selection of appetizers and a cash bar up through and including the game.
6:35 PM: AFL ballgame
Peoria at Scottsdale (*ATTENDEE GAME)
FRIDAY, NOVEMBER 2, 2018
8:00 AM: Welcome and Announcements
BRENT HERSHEY, RAY MURPHY; BaseballHQ.com
8:15 AM: Kickoff presentation
RON SHANDLER, author, Baseball Forecaster
9:00 AM: Arizona Fall League Scouting Report
Find out about the players you need to watch at the parks this weekend, with insightful multimedia scouting reports. Identify the most upwardly mobile AFL prospects in this entertaining, rapid-fire panel session to kick things off.
ERIC LONGENHAGEN, FanGraphs.com
ADAM McINTURFF, 2080Baseball.com
MODERATOR: BRENT HERSHEY, BaseballHQ.com
10:30 AM: Pitcher Command, Aging Curves and Fantasy Implications
Eno Sarris of The Athletic returns to explain his recent work on pitchers with command and how that holds up over time—with tips on how it applies to your dynasty league.
ENO SARRIS, TheAthletic.com
11:45 AM: Lunch (on your own)
Congregate with fellow attendees before the ballgame at a host of local eateries (list provided in the information packet).
12:35 PM: AFL afternoon ballgames
Mesa at Scottsdale (*ATTENDEE GAME; though free to choose any)
Glendale at Peoria
Salt River at Surprise
3:00 PM: DRAFT NIGHT EXTRAVAGANZA!
Yes, we hold drafts in November! Our popular, real-league activity gets the jump on 2019. This year, we've included even more options to test your mettle at the draft table and throughout the 2019 season. Wanna get in on an 2019 NFBC league? Or a 12-team mixed auction? Or try your hand at Scoresheet? Or keep it simple with a 2019 Rookie League? The options abound, and we play for prizes: first place finishers in each league receive a a one-year subscription to BaseballHQ.com! It's a great way to test out your latest draft strategy, and see what your competitors might have up their sleeves in 2019—plus you get to know other attendees in the process. Warning: The competition is stiff!
3:00PM: 17th Annual Xperts Fantasy League (XFL) Draft
Jeff Winick, Brian Feldman, Trace Wood, Peter Kreutzer
Perry Van Hook, Gene McCaffrey, Jeff Erickson
Doug Dennis, Todd Zola, Brian Walton, Greg Ambrosius
Ron Shandler, Don Drooker, Lawr Michaels, Steve Gardner
You're invited to observe the grandmasters of the fantasy baseball industry for the XFL's 17th annual keeper league auction. There's few interesting rules, and safe to say these 15 know each other. It's a unique experience; join us!
5:30 PM: Attendee Drafts 1
LEAGUE 1: NFBC (15 teams)
LEAGUE 2: Mixed Auction (12 teams)
LEAGUE 3: FPAZ Rookie League 2019 (8 teams)

7:00 PM: Attendee Drafts 2
LEAGUE 4: NFBC (15 teams)
LEAGUE 5: Mixed Auction (12 teams)
LEAGUE 6: Scoresheet (8-12 teams)

9:00 PM: Attendee Draft
LEAGUE 7: FPAZ Rookie League 2019 (8 teams)

All Draft Night sign-ups will take place via email announcement beforehand, and on-site, until the drafts are full.
4:00 PM: Friday Featured Breakouts (choose 1; will be completed by 5:15 pm)
MLB Trends/Fantasy Responses: Our panel of experts dig through a list of recent trends within the MLB game—The "Opener," Saves Stratification, the Catching Black Hole, and more—and brainstorm about how to best take advantage in our fantasy leagues. It will be quick-moving, interactive, and informative!
Panelists: Jason Collette (RotoWire.com), Ray Murphy (BaseballHQ.com), Alex Chamberlain (FanGraphs.com)
Moderator: Tristan Cockcroft (ESPN.com)
Prospects Q&A: Pick the brains of those most familiar with the prospects—and have seen these players—at all levels of the minor leagues. Bring your questions about who might make the MLB jump next season, who is is under the radar, or who are the rookie-league gems that keeper leaguers should tuck away. Questions. Answers. Prospects.
Panelists: Emily Waldon (The Athletic.com), Chris Blessing (BaseballHQ.com); TBD.
Moderator: Eric Longenhagen (FanGraphs.com)
4:00 PM: Podcast Room
Running concurrently with Draft Night, the Podcast Room will host four popular fantasy baseball podcasts, straight from First Pitch Arizona! Each will be recording live for 90 minutes, and have room for attendees to watch or be involved in interactive segments, plus special guests. Lots of talk about the AFL, the on-going drafts from Draft Night, the upcoming 2019 season... you name it. Be a part of one or all! Schedule:
4:00-5:30 — BaseballHQ Radio with Patrick Davitt
6:30-8:00 — Launch Angle Podcast with Jeff Zimmerman and Rob Silver
8:30-10:00 — RotoWire Baseball Podcast with Derek VanRiper and RotoWire staff
10:00-11:30 — Sleeper and the Bust with Paul Sporer and Jason Collette

NOTE: ENTIRE SCHEDULE IS PRELIMINARY AND SUBJECT TO CHANGE.
Free Weekly eNewsletter
The industry's #1 analytical weekly e-mail newsletter is ABSOLUTELY FREE!
More Information
Shopping Cart
Listen to Baseball HQ's weekly audio programs.
Subscribe today!
Learn More