First Pitch Arizona - Day 1
First Pitch Arizona > Day 1
EXPLORE FIRST PITCH ARIZONA:
HOME | DAY 1 | DAY 2 | DAY 3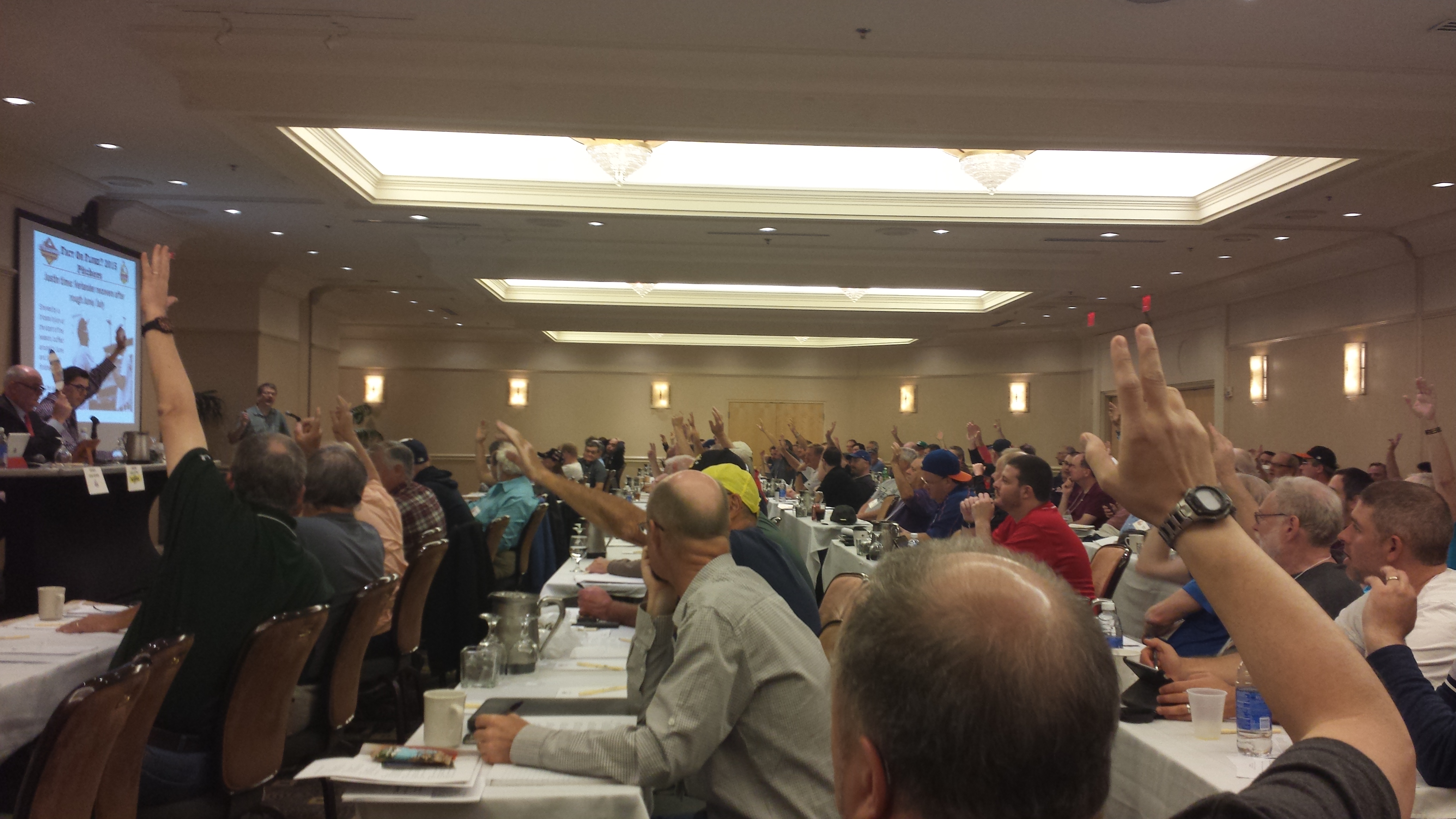 From 2015: Audience renders their verdict on a Fact/Fluke panel.
REMINDER: SCHEDULE IS TENTATIVE AND SUBJECT TO CHANGE
THURSDAY, OCTOBER 10, 2019
12:30 PM: AFL ballgames (on your own)
Glendale at Peoria
Surprise at Scottsdale (at Salt River Fields)
5:30 PM: Welcome Reception and First-Timer Meetup
Our annual informal ice-breaker meets an hour before gametime at one of the Party Decks at Sloan Park in Mesa. Rub shoulders with presenters and attendees over appetizers and a cash bar. For our first timers, this is a chance to get a quick "lay of the land" of the weekend experience to come, as you'll informally meet FPAZ veterans and speakers who will answer all your questions. For veterans, the perfect place to reconnect with old friends and make some new ones via that legendary First Pitch comradarie! Then grab a seat (if you wish) and take in the weekend's first ballgame, Salt River at Mesa, starting at 6:30.
Salt River at Mesa (6:30 pm)
FRIDAY, OCTOBER 11, 2019
8:00 AM: Welcome and Announcements
BRENT HERSHEY, RAY MURPHY; BaseballHQ.com
8:15 AM: Kickoff presentation
RON SHANDLER, author, Baseball Forecaster
9:00 AM: Arizona Fall League Scouting Report
Find out about the players you need to watch at the parks this weekend, with insightful multimedia scouting reports. Identify the most upwardly mobile AFL prospects in this entertaining, rapid-fire panel session to kick things off.
ADAM MCINTURFF, 2080baseball.com
ERIC LONGENHAGEN, FanGraphs.com
MODERATOR: BRENT HERSHEY, BaseballHQ.com
10:30 AM: Essential Stats/Metrics for In-season Success
Spin Rate, Sprint Speed, wOBA ... With the proliferation of Statcast and its seemingly endless measurements, knowing WHAT data to focus on—and WHEN we can "trust" the sample size to guide our in-season roster moves—is a distinct competitive advantage in fantasy leagues. Eno Sarris of The Athletic returns with explanations, how-tos and tips for getting the most of out all the information, and setting you up for in-season success. Detailed yet practical, Eno's presentations are always a yearly highlight.
ENO SARRIS, TheAthletic.com
11:45 AM: Lunch (on your own)
Congregate with fellow attendees before the ballgame at a host of local eateries (list provided in the information packet).
12:30 PM: AFL afternoon ballgames
Glendale at Peoria
Salt River at Mesa (*attendee game)
3:00 PM: 18th Annual Xperts Fantasy League (XFL) Draft
Jeff Winick, Brian Feldman, Trace Wood, Peter Kreutzer
Perry Van Hook, Gene McCaffrey, Jeff Erickson
Doug Dennis, Todd Zola, Brian Walton, Greg Ambrosius
Ron Shandler, Don Drooker, Derek Van Riper, Steve Gardner
You're invited to observe the grandmasters of the fantasy baseball industry for the XFL's 18th annual keeper league auction. There's a few interesting rules, and safe to say these 15 know each other. It's a unique experience; join us!
4:00 PM: Friday Featured Breakouts (choose 1; each runs until 5:15 pm)
Factors in Daily Lineup Leagues: Lineup lock is an hour away. What external factors should you be considering for tonight's games? Our experienced panel shares insights from on making those final decisions by considering elements like weather and air density, umpiring crew, the MLB schedule, Vegas betting lines, and more! The discussion will be just as applicable to daily transaction leagues as well as the DFS format. PANELISTS: DEREK CARTY (ESPN/RotoGrinders); JEFF MANS (GuruElite) and AL MELCHIOR (The Athletic, FanGraphs). Moderator: VLAD SEDLER (GuruElite)
Prospects to Trust/Prospects to Stash: Knowing your prospects is an increasingly important aspect to managing your fantasy roster, in both the short- and long-term. Our panel of scouts and writers will give input on prospects you need to know for 2020 and beyond, as well as answer any and all questions you may have on the world of the minor leagues. Come ready for lots of info! PANELISTS: CHRIS BLESSING (BaseballHQ); EMILY WALDON (The Athletic) and a speaker TBD.
Advances in Pitching Analysis: With more publicly-available data than ever before, fantasy owners continue to comb over granular details of what goes into a successful pitcher. And given the HR barrage in MLB, identifying emerging pitchers for your fantasy rosters is more important than ever. Join us as two leading voices share their new methods of examining individual pitching performances via Pitch Type Analysis and Called and Swinging Strikes (CSW), all with an eye on fantasy implications for 2020 and beyond! PANELISTS: ALEX CHAMBERLAIN (FanGraphs) and NICK POLLACK (PitcherList); MODERATOR: STEPHEN NICKRAND (BaseballHQ)
6:30 PM: AFL Ballgame
Surprise at Scottsdale (at Salt River Fields)
9:30 PM: Friday Post-Game Hangouts
The day's ballgames are over, but the night is young! Optional meetups and informal activities back at the hotel include:
The Podcast Room, session 1: Several popular fantasy baseball podcasts will be doing epidodes from First Pitch Arizona, live from the Podcast Room. And you can be a part. Each will include interactive segments with attendees, special guests, and of course, plenty of baseball chatter. Catch one or catch 'em all! Friday schedule:

9:30-10:45pm: Launch Angle, with Jeff Zimmerman and Rob Silver
10:45-midnight: The Sleeper and the Bust, with Paul Sporer, Jason Collette and Justin Mason

10:11:00pm: Friday Drop-ins:

Tools Lab: Ever want to know where to get started on BaseballSavant.com? Wish to navigate BaseballHQ.com better? What are the features of the prospect tool The Board on FanGraphs? Or want to know how to best utilize Excel for your own research? Our experts will be on hand to run through informal small-group sessions on how to get the most out of the many online features related to your fantasy team. Linger for 10 minutes or the whole hour. (Also runs Saturday afternoon)
Commissioner's Workshop: Fantasy veterans Lenny Melnick and Peter Kreuzter have tons of experience with fantasy leagues over the years. They are here to give you feedback on any of the responsibilities of running a fantasy league. Have a question about changing categories or rules? Want some tips on keeping your WHOLE league engaged all season? Need an opinion on how to best smooth over challenging personalties in a competitive home leauges? You're at the right place to help ensure a good experience for all.
Roster Analysis: Bring your fantasy rosters, and we'll give you an opinion! Trades, keeper choices, overall strengths/weaknesses—often having a third party take a look can make all the difference as we start to prep now for 2020. This drop-in session will have reps covering most every format. (Also runs Saturday afternoon)

10:15 pm: The Official Video of Rotisserie League Baseball: In this special screening, travel back to the pencil-and-paper days ... Watch a 33-minute video hosted by the one and only Reggie Jackson that features one of the original founders of Rotisserie Baseball, the late Glen Waggoner. The VHS jacket describes it as "Your guide to scouting, drafting, trading, and managing your own fantasy baseball team!" Fitting for the 25th Anniversary of First Pitch Arizona!
Or, just enjoy good baseball (or other) talk over cold beverages of your choice at the indoor/outdoor hotel meeting places!

REMINDER: SCHEDULE IS TENTATIVE AND SUBJECT TO CHANGE
Shopping Cart