First Pitch Arizona - Day 1
First Pitch Arizona > Day 1
EXPLORE FIRST PITCH ARIZONA:
HOME | DAY 1 | DAY 2 | DAY 3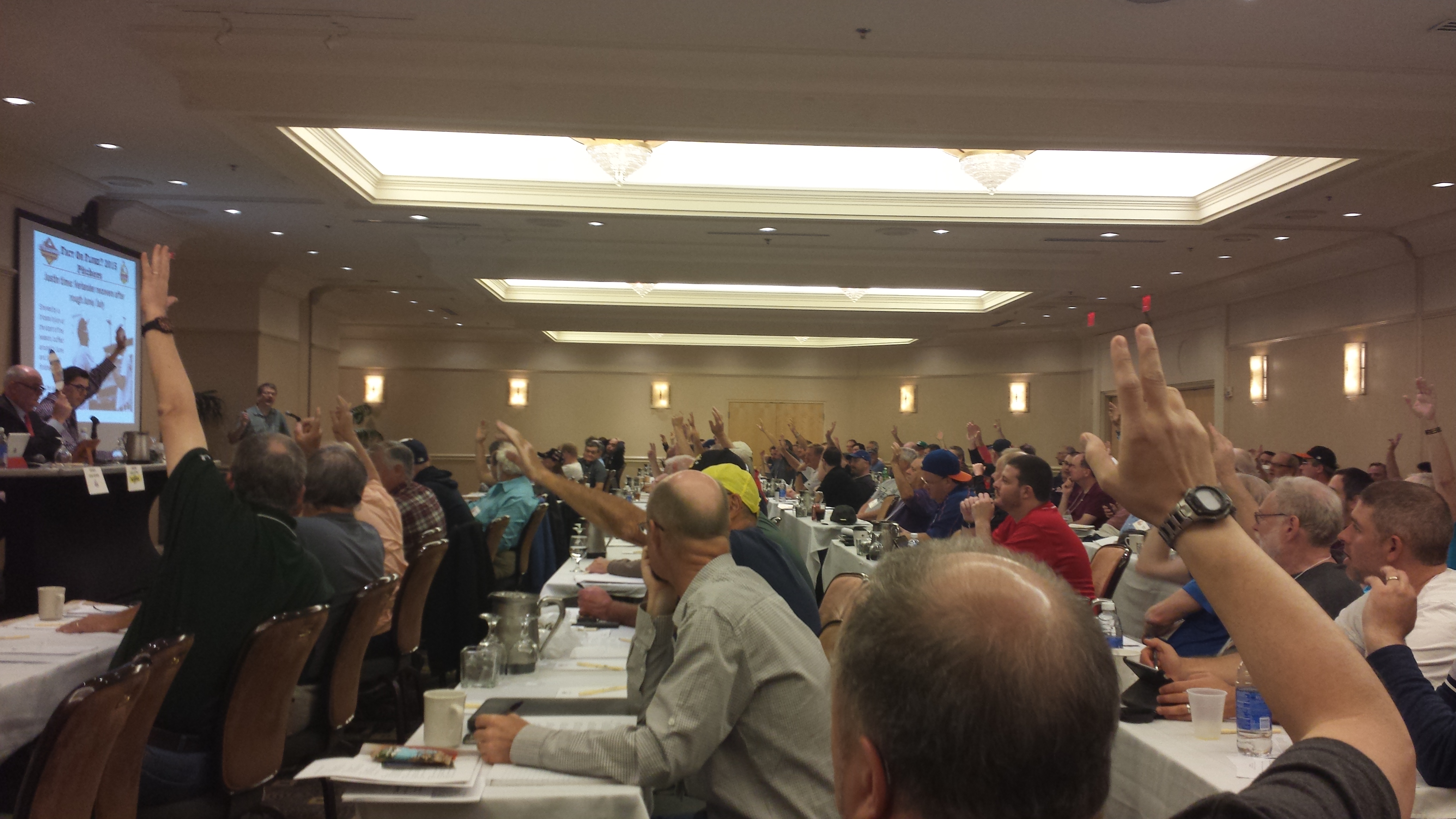 From 2015: Audience renders their verdict on a Fact/Fluke panel.
THURSDAY, NOVEMBER 2, 2017
12:35 PM: AFL ballgames
Surprise at Mesa (*ATTENDEE GAME; though free to choose either)
Salt River at Glendale

5:30 PM: Welcome Reception (in a suite at Scottsdale Stadium)
Our annual informal ice-breaker... For first-timers, a chance to meet the speakers and fellow attendees. For our returnees, your chance to reconnect with old friends over a selection of appetizers and a cash bar up through and including the game.
6:35 PM: AFL ballgame
Peoria at Scottsdale (*ATTENDEE GAME)
FRIDAY, NOVEMBER 3, 2017
8:00 AM: Welcome and Announcements
BRENT HERSHEY, RAY MURPHY; BaseballHQ.com
8:15 AM: Kickoff presentation
RON SHANDLER, author, Baseball Forecaster
9:00 AM: Arizona Fall League Scouting Report
Find out about the players you need to watch at the parks this weekend, with insightful multimedia scouting reports. Identify the most upwardly mobile AFL prospects in this entertaining, rapid-fire session to kick things off.
PANELISTS TBD
10:30 AM: A Statcast Update for Fantasy Leaguers
The data that comes from MLB.com's Statcast can be both informative and overwhelming to a fantasy leaguer. In addition, the new jargon keeps on coming. Which stats are worth paying attention to? Eno Sarris (FanGraphs.com) walks us through all the changes and updates in the past 12 months, and suggests best ways of implementing them for fantasy success.
ENO SARRIS, FanGraphs.com
11:45 AM: Lunch (on your own)
Congregate with fellow attendees before the ballgame at a host of local eateries (list provided in the information packet).
12:35 PM: AFL afternoon ballgames
Mesa at Scottsdale (*ATTENDEE GAME; though free to choose any)
Glendale at Peoria
Salt River at Surprise
3:00 PM: 16th Annual Xperts Fantasy League (XFL) Draft
Jeff Winick, Brian Feldman, Trace Wood, Peter Kreutzer
Perry Van Hook, Gene McCaffrey, Jeff Erickson
Doug Dennis, Todd Zola, Brian Walton, Greg Ambrosius
Ron Shandler, Don Drooker, Steve Moyer, Lawr Michaels
Join the grandmasters of the fantasy baseball industry for the XFL's 16th annual keeper league auction.
3:45-5:00 PM: Post-Game Breakout Sessions
TOPIC/PRESENTER(S) TBD

Expert Roster Analysis — Bring your fantasy rosters for a second (or third) opinon on keepers, trade targets, prospects from one (or several) of our experts from BaseballHQ.com and other sites in a one-on-one format. AL-only, NL-only, Mixed, H2H; draft or auction—we'll have you covered and give you an jump start in your home leagues for 2018.
6:30-10:30? PM: Draft Night!
Yes, we hold drafts in November! Our popular, real-league activity gets the jump on 2018. As in the past, choose one of several different league formats: NFBC Draft Champions; a 5x5 auction Roto league, and Scoresheet. The first-place prize in each league: A one-year subscription to BaseballHQ.com! It's a great way to test out your latest draft strategy, and see what your competitors might have up their sleeves in 2018. Plus you get to know other attendees in the process. Warning: The competition is stiff!


NOTE: ENTIRE SCHEDULE IS PRELIMINARY AND SUBJECT TO CHANGE.
Free Weekly eNewsletter
The industry's #1 analytical weekly e-mail newsletter is ABSOLUTELY FREE!
More Information
Shopping Cart
Listen to Baseball HQ's weekly audio programs.
Subscribe today!
Learn More