ROTISSERIE: 2023 LABR Mixed recap
By Ryan Bloomfield

@RyanBHQ
February 24th, 2023 2:03am
My first major "live" draft of 2023 kicked off Tuesday night with LABR Mixed. It was a joyous affair.
LABR Mixed is a standard 15-team, 5x5 mixed league, but there are several differences between LABR and NFBC, which we often cite for Average Draft Position (ADP) data. LABR is a stand-alone league, so there's no "overall" component against hundreds of teams, trading is allowed, and there are unlimited IL spots; all of which allow for several unique ways to construct a team.
** Click here for the full LABR Mixed Draft results **
Brian "Bubba" Entrekin and I streamed the entire draft live on the BaseballHQ YouTube channel. Here's the archive version for whenever you have 3.5 hours to kill:
Instead of a pick-by-pick breakdown of my team, I'll give general thoughts on this year's player pool to build Ten Commandments for my LABR squad, circling back to see how I did. Hopefully, you can mix some of this into your own process for next month's drafts. Here's my final roster with the sixth pick (Rounds 1-10 on the left column, 11-20 in the middle, and 21-29 on the right):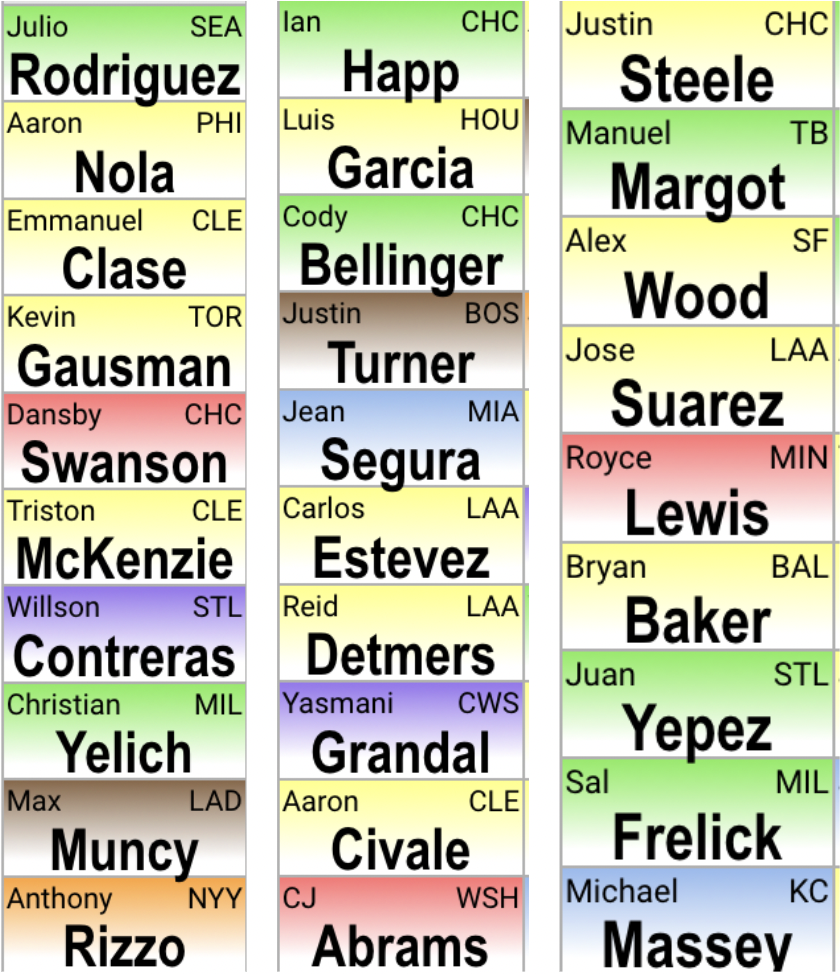 Thou shalt: Reap the benefits of a Top-6 pick
Why? — I was stoked when the draft order came out and I saw my name sixth. I'm guaranteed of getting what's left of a pretty stout upper tier of power/speed bats per our projections (CDG = Custom Draft Guide using LABR's scoring/roster settings):

                 PROJECTION
Hitter           HR/SB  CDG
===============  =====  ===
Aaron Judge      48/10  $39
José Ramirez     32/20  $39
Kyle Tucker      33/21  $37
Trea Turner      23/29  $34
Ronald Acuña     28/31  $31
Julio Rodríguez  30/28  $30

Freddie Freeman and Yordan Alvarez are also in this bunch from a pure dollar-value projection, but from a roster construction aspect, I wanted to start with a good chunk of speed in the first round.
Did I do it? — Of course! I knew one of the six hitters would be available to me at six (duh), making this the easiest draft objective to accomplish. Julio Rodríguez (OF, SEA), come on down (though I thought it'd be Tucker until Tim McLeod shocked the world and took him second).
Thou shalt: Leave the first four rounds with two starting pitchers
Why? — Mostly personal preference, but getting an early start on SP can help avoid the nightmare of streaming the back end of your rotation. I count roughly 15 "aces" that separate themselves from the pack in this year's pool. Starting pitchers are going later than ever in early NFBC drafts (LABR tends to be even less aggressive with them) and I know I'm getting a hitter in the first, so I want to snag two anchors in Rounds 2-4 here.
Did I do it? — Check. Aaron Nola (RHP, PHI) and Kevin Gausman (RHP, TOR) were easy calls for me in the second and fourth rounds, respectively. LABR was a microcosm of the SP landscape in early drafts: no pitchers in the first round, then 15 went in Rounds 2-4. Side note—it was incredibly difficult to pass on Jacob deGrom in the fourth round. Fred Zinkie either got the steal of the draft at 60th overall, or he fell for the trap. Time will tell.
Thou shalt: Draft a closer before half of the league
Why? — Closers with the job AND the skills are a scarce commodity yet again this season. By my rough estimation, there are 8-9 (err… maybe 7-8 after the Félix Bautista news) that fit the bill. The hard part—will LABR push closers up as far as early as NFBC drafters have?
Did I do it? — Edwin Díaz was the first closer off the board to defending champion Steve Gardner at 33rd overall; I followed up quickly with Emmanuel Clase (RHP, CLE) three picks later. While I technically met this Commandment, I didn't do a great job following up with my second closer(?), taking Carlos Estévez (RHP, LAA) in the 16th round. Lesson learned: just because you take an early closer doesn't mean you can totally forget about saves. I might be delving into the FAAB closer cesspool earlier than planned.
Thou shalt: Avoid the one-trick pony
Why? — Remember Myles Straw last year? Adalberto Mondesi, Billy Hamilton, and Delino DeShields before that? My plan for speed is to spread the risk by nabbing 10-15 SB increments at a time to avoid putting my proverbial eggs in one basket. Our projections say this approach should be doable:

        Hitters projected for
Rounds  5+ SB  10+ SB  15+ SB
======  =====  ======  ======
6-10      23     16      10
11-15     24     12       6
16-20     19     11       4
21-25     13      6       4

Did I do it? — This one went according to plan, as I grabbed Dansby Swanson (SS, CHC; 5th round / 11 projected SB), Christian Yelich (OF, MIL; 8th round / 15 SB), Ian Happ (OF, CHC; 11th / 8 SB), Cody Bellinger (OF, CHC; 13th / 10 SB), Jean Segura (3B, MIA; 15th / 11 SB), among others. CJ Abrams (SS, WAS) was a semi-pony pick in the 20th round, but that was more just taking a shot on an elite prospect with playing time than a SB desperation play.
Mike Podhorzer ended up taking both Adalberto Mondesi and Esteury Ruiz, and while that might seem like blasphemy in NFBC non-trading leagues, something like that could work if he trades out of an early SB surplus.
Thou shalt: Draft an injured player!
Why? — Huh? A side Commandment here might be "know thy league rules". LABR has unlimited IL slots, so drafting someone who's injured out to start the season at a discount is a viable strategy. Drafting them late, stashing them on the IL, and freeing up a FAAB slot (LABR drafts so early that our pre-Opening Day FAAB run can be quite lucrative) can give a mid-season boost. Targets at various points of the draft include Bryce Harper, Royce Lewis, and Trevor Story.
Did I do it? — Royce Lewis (SS, MIN) was the call in Round 25, which felt like a great price to possibly get a half-season from a former Top-ten prospect who should get regular playing time upon return. I wasn't the only one who went this route: Steve Gardner took Harper (12th round), Kyle Soppe of ESPN took Aaron Ashby (23rd), and Story and Walker Buehler both went in the last round.
Thou shalt: Speculate on a closer late
Why? — I subscribe to the idea that late-round picks should be "binary"—an easy cut or keep by the first FAAB period—particularly early in draft season. I'll take a shot or two on a high-skilled reliever (projected BPV > 100) with at least a shot at saves (Sv >= 5) outside the first 25 rounds (ADP > 375). Applying those three filters yields the following:

Pitcher           ADP  IP  Sv   ERA  WHIP  BPV
================  ===  ==  ==  ====  ====  ===  
Daniel Hudson     404  58  20  2.95  1.07  134
Alex Lange        422  65  20  3.46  1.28  110
Brandon Hughes    424  58   9  3.10  1.16  103
Kendall Graveman  438  65  12  3.46  1.32  104
A.J. Puk          472  73  11  3.58  1.14  136
Reynaldo López    557  44   7  3.68  1.14  124
Joe Mantiply      637  73   9  3.70  1.21  125
Matt Bush         669  58   5  3.41  1.09  137
Bryan Baker       741  65   5  3.60  1.17  110

Did I do it? — Bryan Baker (RHP, BAL) was my guy in the 26th round given the previously-referenced Bautista news. Hughes, Graveman, and Lange all went quite a bit earlier than ADP, while López (21st round) and Puk (26th) went right in the heart of "dart throw" range.
Thou shalt: Draft a Top 10-12 catcher
Why? — There's a pretty massive cliff after the first 10-12 catchers in projected value, and while one can stream catchers in a FAAB league, LABR has just a $100 FAAB budget with $1 minimum bids, so you don't want to use too much of that budget on rentals.
Did I do it? — A seventh-round Willson Contreras (C, STL) did the trick at a fair price. I waited a bit to grab my second catcher, the recency bias rebounder Yasmani Grandal (C, CHW). Here's where those Top-12 catchers went:

Catcher            Pick  HQ$
=================  ====  ===
JT Realmuto          30  $31
Daulton Varsho       32  $21
Will Smith           57  $18
Salvador Perez       61  $26
Adley Rutschman      82  $21
MJ Melendez          92  $13
Willson Contreras    96  $18
Alejandro Kirk      101  $15
William Contreras   103  $15
Sean Murphy         113  $14
Tyler Stephenson    127  $17

The next catcher didn't go until Round 13 (Keibert Ruiz, pick 185).
Thou shalt: Pound those middle-round bats
Why? — My projection vs. ADP spreadsheet offered very few "values" between Rounds 6-12 on the pitching side, so the plan is to go pitcher-heavy early on, then pound hitters in the middle rounds.
Did I do it? — Oh yeah. Four pitchers in the first six rounds, then just one (Luis Garcia (RHP, HOU)) over the next 11 combined. Your mileage may vary, but I liked the blend of "stars and scrubs" on the pitching side—there were a ton of SP I liked late—with a more balanced/volume style for my hitters. Moral of the story: take a macro-level view of where you like certain pockets of hitters/starters/relievers first, then tailor your draft plan around that.
Thou shalt: Not dwell on "bad" picks
Why? — It's easy to sit back and look at a draft board after the fact and critique picks that went too early, late, etc. It's a whole other deal when the one-minute clock is down, the two you guys you wanted are gone, and you just need to make a pick.
Did I do it? — Eh. The 12th/13th round turn was a prime example:
I wanted Jonathan India and Peter Fairbanks to come back to me badly; both were snatched up within five picks. I settled for… Cody Bellinger. Didn't love it (and obviously neither did Bubba!), but in a 15-teamer it's near impossible to love all 29 of your picks. Make the pick, move on, and don't let it snowball into two bad picks.
Thou shalt: Take it all in!
Why? — This is one of my favorite nights on the fantasy baseball calendar each year. Having the opportunity to participate in LABR is great; being able to live stream it alongside a good friend and 60+ commenters is the next best thing to doing this in person.
Did I do it? — I mean, how could I not enjoy some good-natured razz comments like these during the stream?
"Turner, Bellinger, Rizzo, Muncy, Yelich, all you need is a Hot Tub Time Machine to 2019!" — Britton Allan

"​Draft a Doctor!" — Roger Bloomfield (yes, related)

"Glad to see Ryan passed over the BA risk of Gallo for a safe BA guy like Grandal" — Max Jensen

"When we started this, we were all in this together. Those were the fun times." — Anthony Gialde
It was a total blast and I'll likely do something similar for Tout Wars Mixed (online) on March 7. Stay tuned!
For more information about the terms used in this article, see our Glossary Primer.
Free Weekly eNewsletter
The industry's #1 analytical weekly e-mail newsletter is ABSOLUTELY FREE!
More Information
Shopping Cart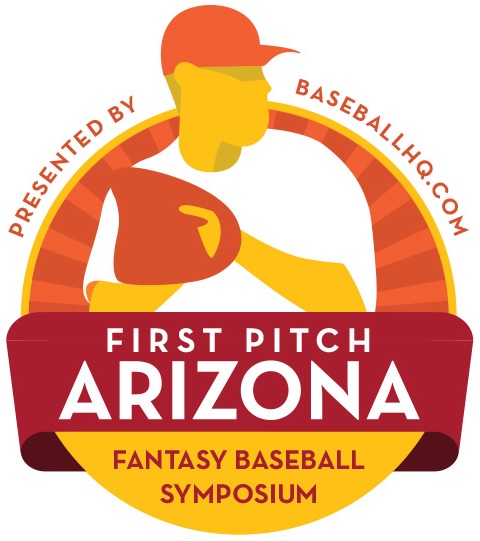 November 2-5, 2023
Mesa, Arizona
SAVE THE DATE!