HEAD-TO-HEAD: A handful of closers at Tout Wars
By Ryan Bloomfield

@RyanBHQ
March 19th, 2019 1:02am
"Don't pay for saves"
"Speed is scarce; get it early"
"Don't fall behind on power"
You've probably heard some version of these roto-league axioms ad nauseam this offseason, but in a points league? Throw it all out the window. Points are points, no matter where they come from. That was my mindset heading into last Friday's Tout Wars Head-to-Head points league (12 teams, auction format).
---
Get the 2019 season started off on the right foot! Access articles like these and our diverse range of tools with a subscription to BaseballHQ.com. Winning. Fantasy Baseball. Insight.
---
Before we get into the strategy, a quick aside: my first Tout Wars experience was an absolute blast. Having the auction at SiriusXM headquarters in New York City was great, and this league featured many industry friends and First Pitch Arizona speakers. The weekend as a whole—hanging at Foley's with the whole gang, watching other Tout drafts, and drafting in the NFBC's Main Event—serves as a great reminder: you just can't beat the camaraderie of a good ole in-person, live draft.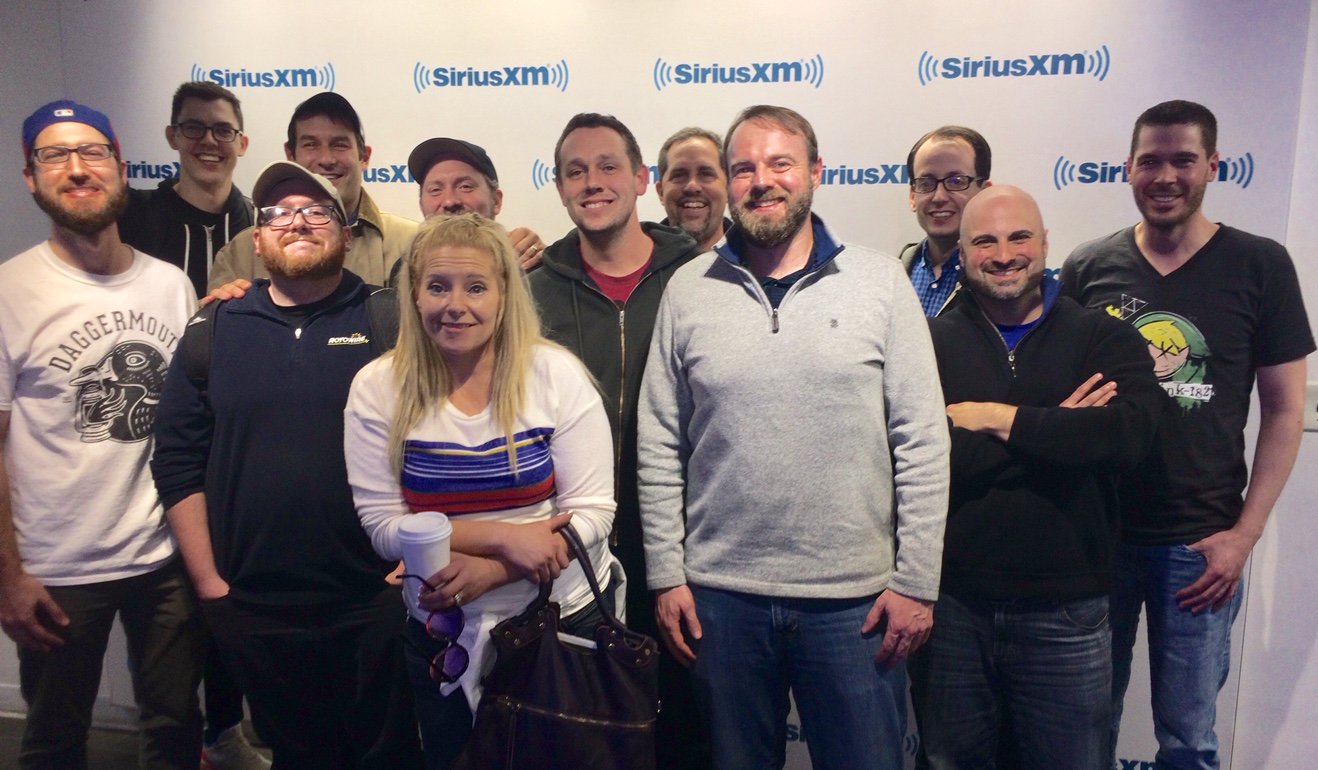 The 2019 Tout Wars H2H post-auction group shot (Twitter: @SiriusXMFantasy)
* * *
Points Leagues—A different kind of prep
By far the most important piece of advice when prepping for a points league—and this is far from earth-shattering analysis—is to know your league's scoring system. It has a massive impact on how you should value the player pool, and every league is different.
Tout Wars, for example, made a change to their scoring this year that completely changed how pitchers are valued. The scoring went from one point per out to one point per inning. The full scoring system is below, from Tout's website (changes from the previous year in red):

Here's the quick-and-dirty process I used for valuing players in Tout Wars, which can be used in any points league:
1. Plug the league's scoring system into our projections to get a projected point total every player.
2. Calculate the replacement level for three groups of players. Tout Wars is a 12-team league with 14 hitters and 9 pitchers, so:
Catchers (24th catcher; replacement level = 189 points)
Non-Catchers (144th non-catcher; 330 points)
Pitchers (108th pitcher; 68 points)
3. Calculate the Points Above Replacement (PAR) by subtracting each player's replacement-level value from their total projected points.
4. Rank all players by PAR. Draft accordingly.
For straight drafts, that's really all you need to do. There are two more steps for auction leagues like Tout, and that's to convert PAR into dollar values. Most draft tools like the Custom Draft Guide or Rotolab also require some type of split to generate dollar values. A "split" is a misnomer in points leagues—Todd Zola recently outlined this in a Subscriber Forums thread—since all points come from one economy rather than from your traditional rotisserie categories.
5. Convert PAR to auction dollars by calculating $ per PAR for the entire player pool:
$3,120 total (12 teams x $260) / 20,904 total PAR in the player pool = 0.14925 $/PAR
For example, JD Martinez: 218 PAR * 0.14925 $/PAR = $33.
6. Take the ratio of total PAR for hitters to pitchers for your split. Mine came out to 63/37%. Again, I'm not going by this split on draft day; it's just to align RotoLab's auction values with the points available in the player pool.
The Plan
After running the numbers and plugging Tout's scoring system into Rotolab, I saw some crazy results: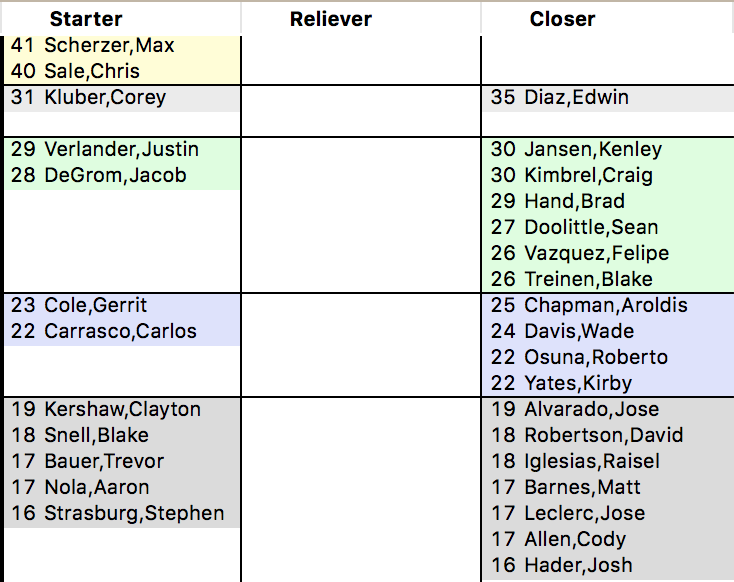 It goes against everything we're taught in traditional roto formats, but closers are just as valuable as (if not more than) most "aces" in Tout Wars' format. Remember: Points are points. It's an unorthodox plan that will raise some eyebrows, but here's my strategy:
Draft five closers: It sounds crazy. It might be. But closers with elite skills and an established role are rare, and since they fetch more points than most aces in this league, I'm going to stock up early, often, and hopefully at a discount.
Draft four cheap starters: There's a 950-inning minimum here, so I can't go full-on bullpen. The replacement level for SP in a 12-team league is quite strong, so I'll speculate on those with juicy skills and if they don't work out, I'll dip back into the FAAB pool. There were 12 sub-$5 pitchers with good enough skills (>110 projected BPV) to build a decent endgame target list.
Focus on consistent hitters: Since this is a head-to-head league, hitter consistency is important. I used David Martin's excellent research on quality-consistency (QC) scores for H2H leagues, tagging those with strong 2019 scores with an orange flag in RotoLab:

The Results
Here's how my roster shook out:

                  HITTERS
Budget  Actual  Player              PAR ($)
======  ======  =================   =======
  $31     $37   Nolan Arenado       227 (34)
  $30     $32   Charlie Blackmon    181 (27)
  $25     $31   Anthony Rendon      186 (28)
  $17     $16   Jose Abreu          106 (16)
  $14     $12   Edwin Encarnacion   136 (20)
  $12     $12   AJ Pollock           96 (14)
  $10     $ 9   Michael Brantley     96 (14)
  $ 9     $ 7   Andrelton Simmons    90 (13)
  $ 7     $ 6   Jonathan Villar      57 ( 9)
  $ 6     $ 5   Jose Peraza          64 (10)
  $ 5     $ 5   Corey Dickerson      85 (13)
  $ 3     $ 1   Adam Eaton           32 ( 5)
  $ 1(C)  $ 1   Jonathan Lucroy      60 ( 9)
  $ 1(C)  $ 1   Carson Kelly         47 ( 7)
 
                 PITCHERS
Budget    Actual  Player            PAR ($)
========  ======  ================= =======
$20 (RP)    $23   Kenley Jansen     188 (28)
$20 (RP)    $17   Felipe Vazquez    163 (24)
$20 (RP)    $14   Brad Hand         179 (27)
$12 (RP)    $14   Craig Kimbrel     185 (28)
$ 6 (RP)    $ 9   Wade Davis        151 (23)
$ 4         $ 3   Joe Musgrove      - 6 (-1)
$ 4         $ 2   Domingo German    -40 (-6)
$ 2         $ 2   Alex Wood          19 ( 3)
$ 1         $ 1   Dylan Bundy       - 6 (-1)

The pitching side went according to plan, but I had to make some adjustments for the hitter pool based on the early bidding:
The Principal's Office: "Bloomfield, we need you in here", was the call from the Sirius XM folks as we stopped for Break #2 in the auction. My five-closer strategy went as planned, and it got me called into the Principal's Office (the XM booth) to explain myself on air—at least they didn't throw me out of the room.
Everyone else went Stars and Scrubs: Auction dynamics at their finest. Notice I "overpaid" on my three $30+ hitters—other top bats were going 10-15% higher than my RotoLab values, so I had to adjust on the fly and go a couple of extra bucks at the top.
RotoLab likes it: As it should—your own projections should have you at or near the top of the standings. But I wanted to see just how much buffer I'd have should the volatility of the closer market hit my team:

Team        Points
==========  ======
Bloomfield   7,294
Kahn         6,965
LaMont       6,668  
Ciely        6,578
Dr. Roto     6,569

Things can change quickly on a team built with so many relievers, but it's nice to know I have a 1-2 closer cushion to work with here. And as a Tout Wars rookie, it's a big relief to know the math behind this plan worked out; on paper at least. Now on to the games...
For more information about the terms used in this article, see our Glossary Primer.
Free Weekly eNewsletter
The industry's #1 analytical weekly e-mail newsletter is ABSOLUTELY FREE!
More Information
Shopping Cart
SAVE THE DATE!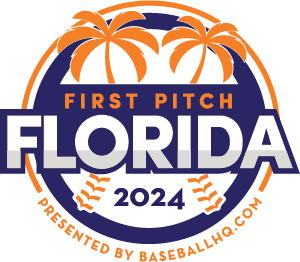 March 1-3, 2024

Clearwater, FL