#HQTurns20, Guest Book #1
Some of Monday's submissions to our HQGuestbook...
A huge thank you to the best rotisserie baseball site ever. Been a subscriber for most of the 20 years and have several titles that I attribute to the knowledge given to me by BaseballHQ. Let's play 20 more! - David Hinsdale, Clymer NY
Congratulations to BBHQ on this milestone anniversary! For not-quite-20 years, I've appreciated the astute approach and information you provide through the books and increasingly on-line. Thank you, and keep up the good work! - Paul Montague, Barton NY
I started playing fantasy baseball in 1987 (rookie named Ellis Burks was on my roster!) and became a subscriber to the Shandler Enterprises monthly newsletter in 1989. What a difference that made in understanding and enjoying this great hobby. But the web page was a quantum leap forward, and remains so. Here's to another 20 years! - Tom Mulhall, Louisville KY
I was introduced to the site in 2006 by a friend who is a fanatic competitor, began subscribing before the next season... I drafted Clayton Kershaw, and Justin Upton; guys I would never have heard of without the site! Using HQ's other tools, I built a three-time champion team in a very tough keeper league. Across the past decade, I have the best track record, by far, in the league. It would not have been possible without Baseball HQ! For the past four seasons, I have added a daily moves team in a different league. I have the best track record in that league as well; all due to BaseballHQ.com. - Mike Berney, Camp Hill PA
I can't recall when I first subscribed to BaseballHQ, but it's been a long time. I have used Baseball HQ to my advantage playing Scoresheet, and have 13 trophies to prove it. My first time to attend the Arizona First Pitch symposium was when it was held in downtown Phoenix even before it moved to the Doubletree Hotel, many years ago. Ron Shandler ran a promotion to see how many license plates across America with the letters PQS 5 could be obtained, and I believe I was the first one to purchase that plate. My Arizona plate still says PQS 5. - John Richards, Phoenix AZ
I have been following baseball all of my life. From Strat-o-Matic on rainy days to playing ball until the dark came it has been a part of my being for my entire life. As I got older and work increased and my body couldn't handle the rigors of playing ball much more, fantasy baseball took full hold of me. I have been playing since 2000. In 2007, my brother went an unbelievable 23-0 in our home 12 team 5x5 category league. He went 3-0 in the playoffs to win the chip. Everyone was astounded. What to do??! How do we stop is guy?
Luckily, through conversation at work I developed a friendship with fellow worker. We had an owner drop out, he wanted in- a sucker for "action". He started spitting out terms like K rate and PX. I asked him where do you get all of this stuff. His response - "chandler", Ron Chandler he tells me. He's one of those guys who will still pronounce it that way even after you correct him. So I went home, went online and started my HQ and Ron Shandler following. Things have never been the same. A couple of titles and ongoing playoffs appearances. Rule changes because of the suprerior insight here at HQ.
I am a math guy and this site is my morning read every day. Maybe when I have a child I will call him Mayberry! Keep up the amazing work guys, it truly is astounding work. Thanks! - Rob Belford, New Jersey
HQ has been our primary "go to" source for the last 6 years. Have also loved the cooperation with RotoLab. - David Parsons, Florence MT
Folks: I really do not remember the year I joined on line, but looking at the bookshelf to my right I note that I have every of Baseball Forecaster beginning 1997 to present. The Bio's in the Forecaster are my favorite, along with the projections that come on line beginning in late November. This fills the void until spring training. I have been reading Shandler stuff for so long, he seems like a friend, though I have never met or talked to him. Just keep up the good work. Even this old guy continues to enjoy the plethora of baseball info. - Ed Skeehan, Sickerville NJ
Joined many years ago after being invited to a deep 20 team league by a friend and getting trounced for a few years. Was intrigued by BBHQ's claim of using the underlying trends, as this league did not use your typical 5x5 stats (thus making the typical fantasy sites at the time useless) BBHQ taught me to look at stats quite differently and even helped hone my learn spreadsheet skills to crank out custom ones. All in all I've been very competitive in my league since, never winning outright (yet!) but finishing in the money many times. Congratulations on 20 years! - Dan Willis, Cary NC
Kudos and congrats! Of the many different ways I use HQ (articles, CDG, SP Report, etc.), the Podcast is my favorite. The back-and-forth of the interviews and discussions provides a dimension that adds depth and flavor to not only the topic at hand, but to the HQ brand as well. Exquisite production value... the steady, dulcet tones of PD... what else could better capture the wonderment of (while preparing listeners for) the upcoming baseball season on a frigid winter's night? Best wishes for the next 20 years! - Pete S, Dalton MA
My profile says I've been a member since 2004, but it's been longer than that. I remember the first time I used HQ to prepare for a draft. I was focused only on dollar value projections, and Paul Lo Duca was projected to earn $6. I got him as a backup catcher for a buck and he hit .320 with 25 homers. Needless to say I was a convert. Over time I've learned a tremendous amount about baseball and enjoyed the company of the HQ staff and community, some of whom I've even met in person. The experience here has really added to my enjoyment of the real game and the analytical game. Here's to another 20 years. - David Katz, San Jose CA
Guys, BaseballHQ.com has been a revelation for my yearly fantasy baseball leagues! I was always in the "middle of the pack" in my baseball leagues, and finally decided to try something new and ordered my 1st Baseball Forcaster in 2005, and of course purchased a subscription to BaseballHQ.com at the same time. Now, you may think that I instantly went on to dominate my fantasy baseball competition, not so fast, my friend.
The Baseball Forecaster and BaseballHQ.com are amazing tools, but with anything in life, you have to "put in the work", and learn how to use your tools, which starts with tutorials in the Forecaster, and then continues throughout the season, with the huge volume of content on BaseballHQ.com. So, as I'm sure several readers will agree, it takes some time to figure out, and work with all these tools. In my case, it took a couple of years, but since that time of bearing down, and putting in the work.
I am happy to admit, that in any league I have participated in over the last 7 fantasy baseball seasons, I can only think of 2 or 3 times where I failed to make the playoffs, or finish in the money, and of course have one a couple of titles along the way, which none of this would have been possible without putting my Forecaster and BaseballHQ.com tools to work. I expanded my horizons, and currently participate in 10 different leagues this season, and plan to do more leagues in the future.
It may be the "dog days" for a lot of fantasy baseball teams this time of year, but I have a fighting chance to come out on top in every league I currently participate in, and a minimum finish in the money, in most. I know it sounds crazy, but Brent and Ray lay it out every year, we will give you the tools at BaseballHQ.com, it's up to you to know how to use them to your OWN leagues benefit. You guys have been true to your word, after all these years, so just keep doing what your doing, or in the immortal words of Will Ferrell in Old School, "just keep on trucking". - Scott Clemons, Denver CO
I've enjoyed rotisserie baseball so much more since I became a BBHQ subscriber. I really appreciate the data analysis methods that you guys have come up with over the years. I read BBHQ every day. :-) - Tim Towns, Longmont CO
I joined BaseballHQ three yeas ago and its what I have been looking for my whole life. Coincidentally, I have played fantasy baseball on and off for the better part of 20 years. I was one of the better fantasy players in my home groups but it felt like I was just grasping at straws. BaseballHQ has changed everything. The game has changed for me. I wish I had spent 20 years with you. The love and appreciation is real. My next step will be First Pitch Arizona. Thanks for everything!!!! - Matt W., Fargo ND
Have subscribed for at least 15 years, possibly longer, and have finished in the money in my main mixed league far more than I have finished out of it. With 15 owners in a league, it isn't the easiest feat to accomplish. Congratulations Baseball HQ on 20 years and wish you many more. - Dan Van Wie, Waterbury CT
Free Weekly eNewsletter
The industry's #1 analytical weekly e-mail newsletter is ABSOLUTELY FREE!
More Information
Shopping Cart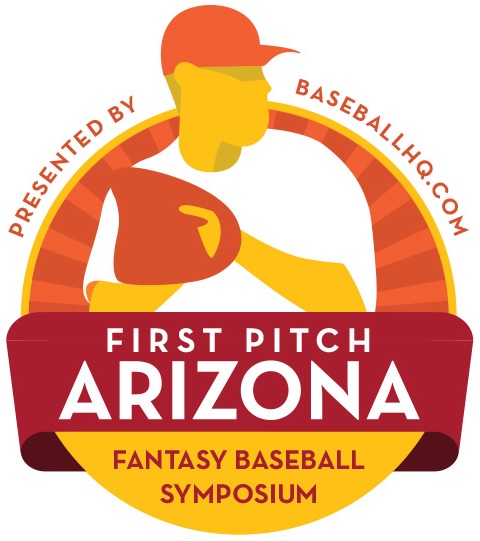 November 2-5, 2023
Mesa, Arizona
SAVE THE DATE!