THE WEEK AHEAD: Hitter Matchups, September 23-29
By Ryan Bloomfield

@RyanBHQ
September 22nd, 2019 6:00am
If you've made it this far and this column is still relevant for your teams, kudos! Nothing is better (and more stressful?) than being in the championship hunt heading into the final week of the season.
This week's matchup scores should be taken with a metric ton of salt, as lineups from non-contenders and teams that have clinched will be extremely fluid. As always, consult our Hitter Matchups tool, which has up-to-date data throughout the week: https://www.baseballhq.com/members/tools/weekly/weeklyhit.
A few final-week tips: volume is key. While the matchups might change, the schedule won't, so target hitters on teams with seven (or eight, in this case) game-weeks. And target teams that are playing for something; they'll be putting their best foot forward for as long as possible:
In the AL, that means CLE, OAK, and TAM will be in it as they battle for two Wild Card spots.
CLE still has an outside shot at the AL Central (4 games back from MIN), but expect a MIN "hangover" lineup the day after they (likely) clinch.
Ditto for STL in the NL Central, as they're now 3 games up on MIL heading into Sunday's games.
As for the NL Wild Card, WAS (1 game up), MIL, and CHC (3 games back) are in near-lockstep and will have their best hitters in the lineup. NYM (4.5 games back) and ARI (5) are hanging on by a thread, but will likely be eliminated before next weekend.
And there's certainly a chance for some Game 163s based on the above. If play-in games count in your league, it's a wise move to stash hitters on any of the Wild Card contenders in case you can squeeze out an extra game next Monday.
***
Our Hitter Matchup Tool is a team-level look at the week ahead... from a hitter's perspective. It combines daily matchup ratings from the 8-day view of our Starting Pitcher Matchup Tool with Park Factors to give general guidance when planning your weekly lineups.
NOTE: Start/sit decisions and weekly FAAB pickups should be limited to the last few spots on your active roster. Skills trump everything else, so don't sit one of your studs for a fringe hitter just because of a better matchup.
Definitions for the Hitter Matchup Tool are below:
Opponents: Opposing teams and home/away for the week, in chronological order.
Games: Total number of games played for the upcoming week.
Rating: Average SP matchup rating for all starters against each team for the upcoming week.

NOTE: Ratings are in bold red type if the average matchup rating is greater than +0.50. They're green if less than zero. Remember: the lower the matchup rating for hitters, the better.
Left/Right Splits
Games vs. LHP/RHP: Total games played against left/right-handed starting pitchers (LHP/RHP) for the upcoming week.
Rating vs. LHP/RHP: Average SP matchup rating for LHP/RHP against each team for the upcoming week.

NOTE: For LHP/RHP matchup ratings, red type signifies the total matchup score (Games * Rating) is greater than +1.50. Green type means a rating less than -1.50.
Park Factors
LHB/RHB HR: The average HR Park Factor for left (or right)-handed hitters for the upcoming week.

For example, if LA right-handed hitters have three games at Coors Field (which boosts RHB HR by +22%) and three at home (-7%), their RHB HR average is +8%. The higher the percentage, the better.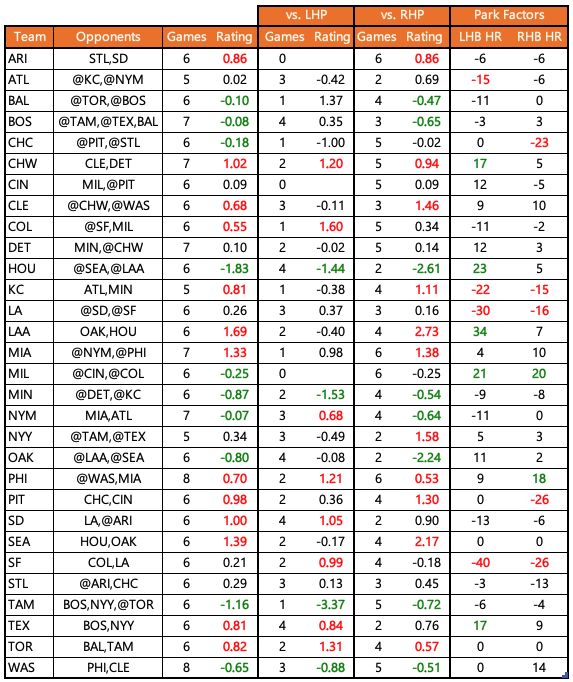 (Click here to download the above table as an Excel file.)
Several things to consider when constructing your weekly lineups, some of which include:
Two teams get a rare eight-game slate this week: the Washington Nationals and Philadelphia Phillies. PHI has nothing to play for at this point, but WAS will be putting their best foot forward as they try and hold on to the NL Wild Card. They'll do so against some pretty favorable pitching (-0.65 average matchup rating), so stack as many WAS hitters in your lineup as possible if you're bunched in counting stats.
On the flip side, three teams play just five games: the Atlanta Braves, Kansas City Royals, and New York Yankees. ATL and NYY have already clinched their divisions while KC is just playing out the string, so it's anyone's guess as to how often these regulars will play. You might only see them 3-4 times.
Teams with the most favorable matchup ratings this week: those Tampa Bay Rays again (6 games; -1.16 rating), Oakland Athletics (6; -0.80), Milwaukee Brewers (6; -0.25 in a pair of great hitter parks), and Chicago Cubs (6; -0.18). HOU and MIN are up there as well, but their hitters are owned in most leagues and it's tough to tell how often the starters will play.
Toughest matchup ratings: the Los Angeles Angels (+1.69) and Seattle Mariners (+1.39) flip-flop between OAK and HOU, while the Miami Marlins face NYM (deGrom, Wheeler, Matz, Syndergaard) and PHI (Nola) for a +1.33 mark.
There are some platoon advantages to possibly look at—HOU, OAK, TEX, SD, and BOS are set for four games vs. LHP—but given our disclaimer at the top, we wouldn't base our lineup decisions off of handedness. Probables and SP length are just too unpredictable.
Best of luck in the final week! We hope this column helped you eek out that extra HR, R, or RBI that leads you to the podium next Sunday.
For more information about the terms used in this article, see our Glossary Primer.
Shopping Cart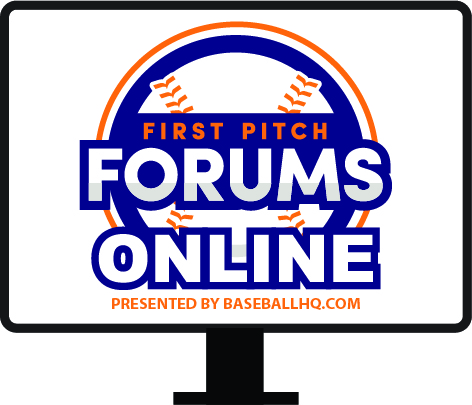 Our virtual First Pitch Forum returns!
Three online-only events: March 5, 11, 17
Join us live, or watch when you want
Just $19!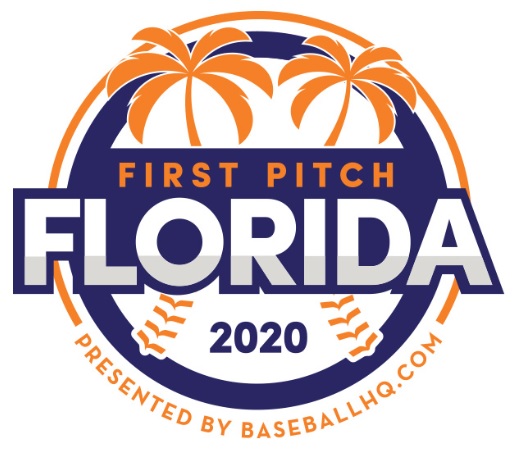 Inaugural Event!
February 28-March 1, 2020
St. Petersburg, FL
A few seats still left!