THE WEEK AHEAD: Hitter Matchups, September 2-8
By Ryan Bloomfield

@RyanBHQ
September 1st, 2019 6:00am
***NEW***: The Hitter Matchup Tool is now LIVE! It's an automated, live-updated version of the table below with sortable columns, custom date ranges (full week, Monday-Thursday, and Friday-Sunday), AL/NL views, and more. You can access it from the "The Week Ahead" link on the TEAMS tab above, or by clicking here: https://www.baseballhq.com/members/tools/weekly/weeklyhit
***
Our Hitter Matchup Tool is a team-level look at the week ahead... from a hitter's perspective. It combines daily matchup ratings from the 8-day view of our Starting Pitcher Matchup Tool with Park Factors to give general guidance when planning your weekly lineups.
NOTE: Start/sit decisions and weekly FAAB pickups should be limited to the last few spots on your active roster. Skills trump everything else, so don't sit one of your studs for a fringe hitter just because of a better matchup.
Definitions for the Hitter Matchup Tool are below:
Opponents: Opposing teams and home/away for the week, in chronological order.
Games: Total number of games played for the upcoming week.
Rating: Average SP matchup rating for all starters against each team for the upcoming week.

NOTE: Ratings are in bold red type if the average matchup rating is greater than +0.50. They're green if less than zero. Remember: the lower the matchup rating for hitters, the better.
Left/Right Splits
Games vs. LHP/RHP: Total games played against left/right-handed starting pitchers (LHP/RHP) for the upcoming week.
Rating vs. LHP/RHP: Average SP matchup rating for LHP/RHP against each team for the upcoming week.

NOTE: For LHP/RHP matchup ratings, red type signifies the total matchup score (Games * Rating) is greater than +1.50. Green type means a rating less than -1.50.
Park Factors
LHB/RHB HR: The average HR Park Factor for left (or right)-handed hitters for the upcoming week.

For example, if LA right-handed hitters have three games at Coors Field (which boosts RHB HR by +22%) and three at home (-7%), their RHB HR average is +8%. The higher the percentage, the better.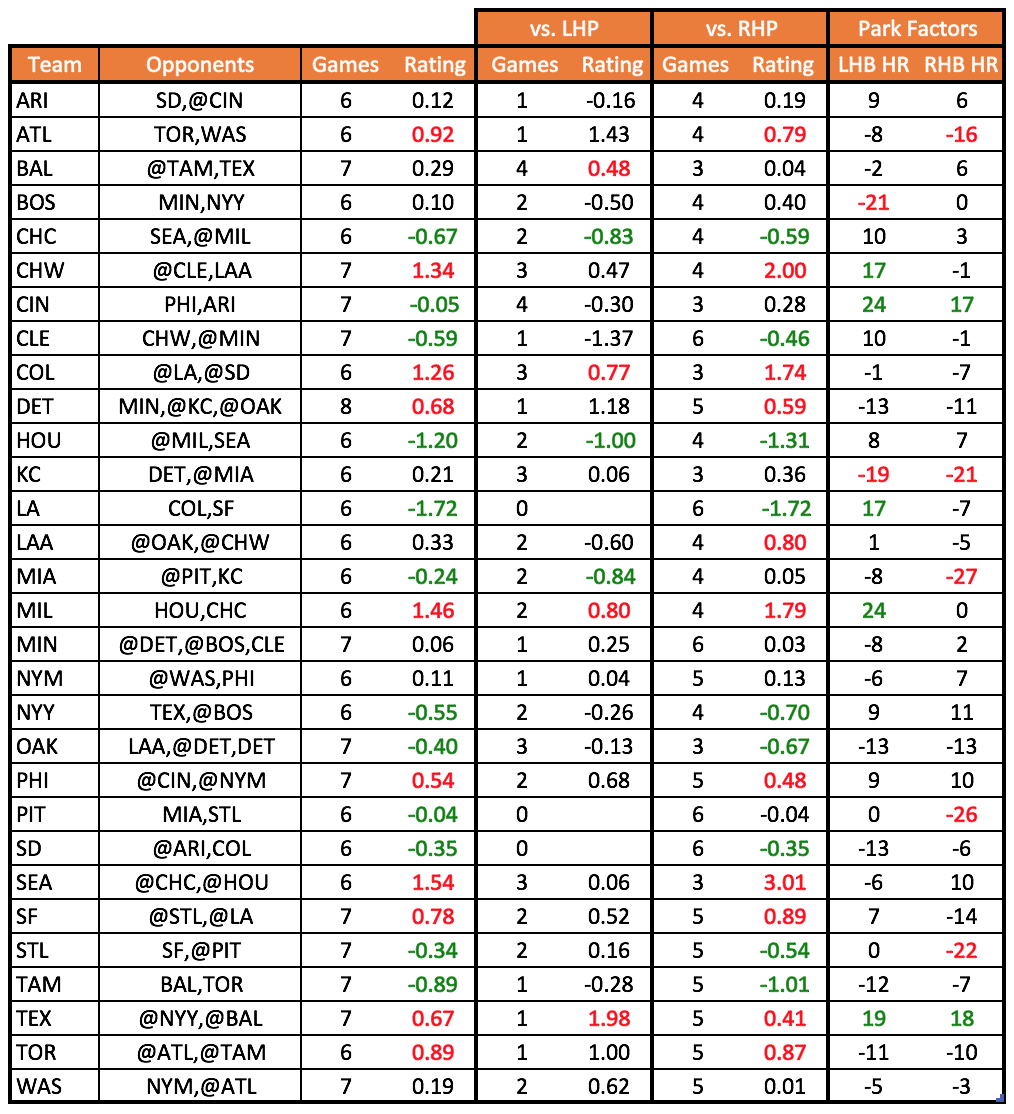 (Click here to download the above table as an Excel file)
Several things to consider when constructing your weekly lineups, some of which include:
It's a pretty heavy slate across the board as every team plays six or seven games, so there aren't many volume advantages to attack this week.
The Cleveland Indians get seven games against some pretty light competition (CHW, MIN rotations). They also face just one lefty, so left-handed hitters like Jason Kipnis make for a fine stream in shallower leagues.
HOU and LA get the easiest matchup scores this week; it's a combination of their excellent bats—most of which are already owned—and juicy opposing rotations (COL, SF for Los Angeles; MIL, SEA for Houston). The Tampa Bay Rays have some stream-worthy hitters and get seven games (one vs. LHP) against anemic BAL and TOR rotations.
Other teams with easier slates and available bats: the Oakland Athletics (though their 3/3 LHP/RHP split neutralizes any platoon advantage), Chicago Cubs (-0.67 rating vs. SEA, MIL), and San Diego Padres (-0.35 rating; all vs. RHP).
It's a brutal week for the Colorado Rockies, who not only avoid Coors Field, but have to do so against LA (Buehler, Maeda, Ryu) followed by SD next weekend. Guys like Arenado, Story, and Blackmon are auto-starts, but take another look at your fringe COL hitters and look for alternatives.
Other teams with tough roads ahead: the Seattle Mariners, whose +1.54 matchup rating is the hardest of the week thanks to a four-game set vs. HOU next weekend (Verlander, Cole); the Chicago White Sox draw CLE and LAA (Clevinger, Bieber, Heaney); and the Milwaukee Brewers get a +1.46 mark against HOU and CHC.
The Cincinnati Reds and Baltimore Orioles each face four LHP this week with matchup ratings of -0.05 and +0.29, respectively. With all seven CIN games at home, it could be a great week to stream their RHB. Guys like Phillip Ervin (career .327 BA and 125 PX against lefties) and Renato Nunez could be sneaky-good rentals, if available.
Four teams lose their DH for a series this week: HOU (Yordan Alvarez), SEA (Dan Vogelbach), and TOR head to NL parks the first half of the week, while KC (Jorge Soler?) goes to Miami next weekend.
For more information about the terms used in this article, see our Glossary Primer.
Shopping Cart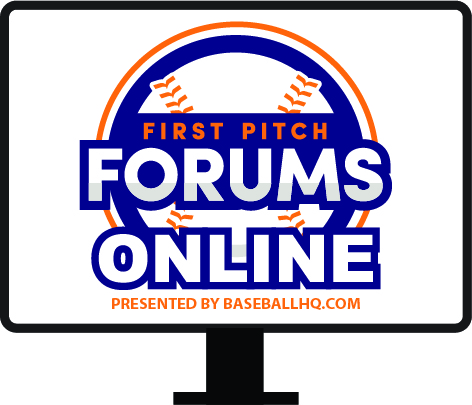 Our virtual First Pitch Forum returns!
Three online-only events: March 5, 11, 17
Join us live, or watch when you want
Just $19!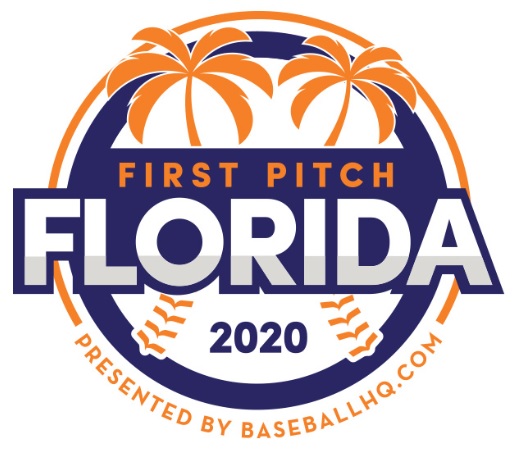 Inaugural Event!
February 28-March 1, 2020
St. Petersburg, FL
A few seats still left!