THE WEEK AHEAD: Hitter Matchups, August 5-11
By Ryan Bloomfield

@RyanBHQ
August 4th, 2019 6:01am
***NEW***: The Hitter Matchup Tool is now LIVE! It's an automated, live-updated version of the table below with sortable columns, custom date ranges (full week, Monday-Thursday, and Friday-Sunday), AL/NL views, and more. You can access it from the "The Week Ahead" link on the TEAMS tab above, or by clicking here: https://www.baseballhq.com/members/tools/weekly/weeklyhit
***
Our Hitter Matchup Tool is a team-level look at the week ahead... from a hitter's perspective. It combines daily matchup ratings from the 8-day view of our Starting Pitcher Matchup Tool with Park Factors to give general guidance when planning your weekly lineups.
NOTE: Start/sit decisions and weekly FAAB pickups should be limited to the last few spots on your active roster. Skills trump everything else, so don't sit one of your studs for a fringe hitter just because of a better matchup.
Definitions for the Hitter Matchup Tool are below:
Opponents: Opposing teams and home/away for the week, in chronological order.
Games: Total number of games played for the upcoming week.
Rating: Average SP matchup rating for all starters against each team for the upcoming week.

NOTE: Ratings are in bold red type if the average matchup rating is greater than +0.50. They're green if less than zero. Remember: the lower the matchup rating for hitters, the better.
Left/Right Splits
Games vs. LHP/RHP: Total games played against left/right-handed starting pitchers (LHP/RHP) for the upcoming week.
Rating vs. LHP/RHP: Average SP matchup rating for LHP/RHP against each team for the upcoming week.

NOTE: For LHP/RHP matchup ratings, red type signifies the total matchup score (Games * Rating) is greater than +1.50. Green type means a rating less than -1.50.
Park Factors
LHB/RHB HR: The average HR Park Factor for left (or right)-handed hitters for the upcoming week.

For example, if LA right-handed hitters have three games at Coors Field (which boosts RHB HR by +22%) and three at home (-7%), their RHB HR average is +8%. The higher the percentage, the better.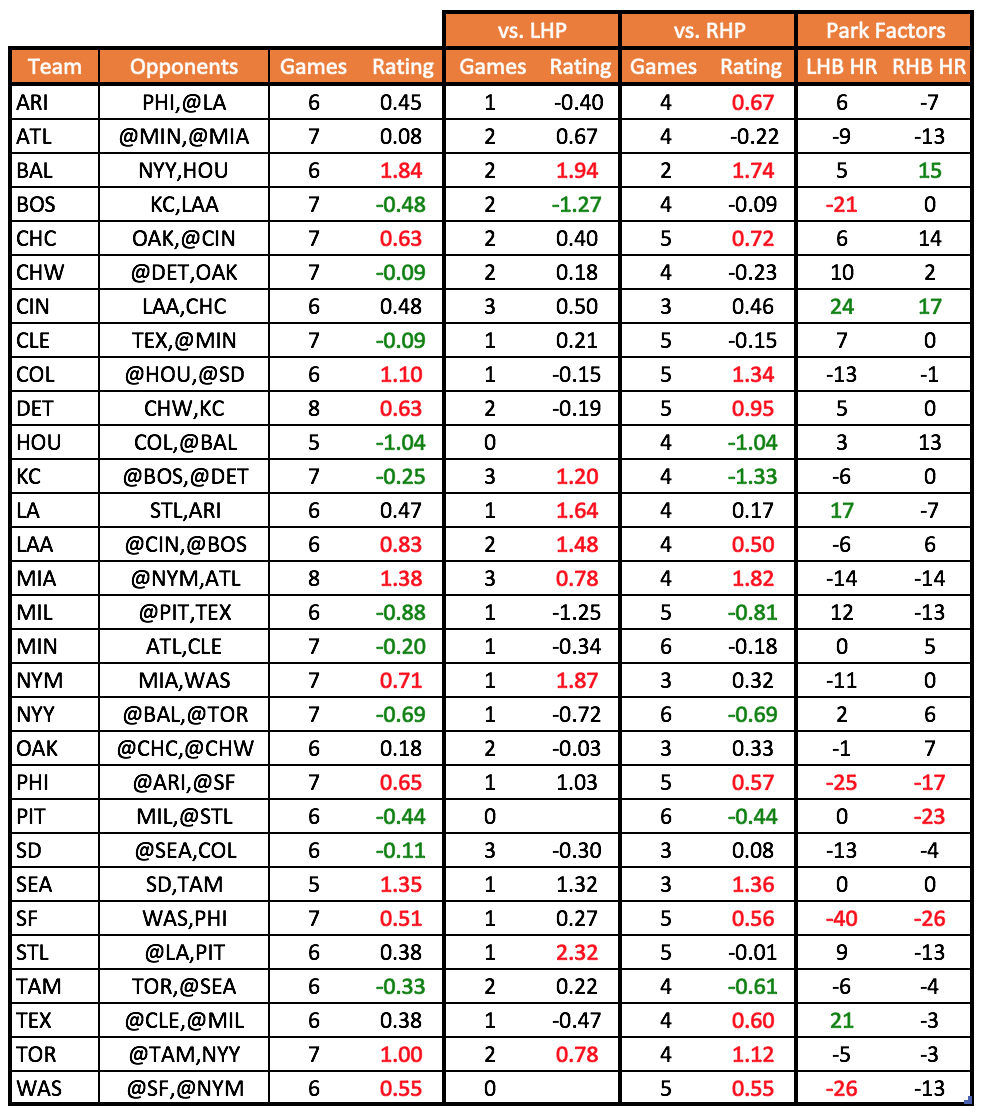 (Click here to download the above table as an Excel file.)
Several things to consider when constructing your weekly lineups, some of which include:
It's probably best to sit your fringe Seattle Mariners this week, as they're one of just two teams (HOU is the other) with two off days. To make matters worse, they face a tough combo of TAM and SD starters that combine for a +1.35 matchup rating.
The Detroit Tigers and Miami Marlins get a rare eight-game slate thanks to a doubleheader and no off days. MIA has some particularly rough matchups—their +1.38 rating is the second-toughest of all teams this week—but the added volume can still yield an advantage. A few recent surgers from these lineups that get moderate bumps in value for the week (ordered by last-31-day BPV):

                               LAST 31 DAYS
Name               Tm   B   xBA  xPX  RSpd  BPV
=================  ===  =  ====  ===  ====  ===
Brian Anderson     MIA  R  .276  144   104   67
Harold Ramirez     MIA  R  .299  135     0   59
Starlin Castro     MIA  R  .278   65   131   34
Miguel Rojas       MIA  R  .265  125     0   30
Jordy Mercer       DET  R  .259  134     0   23
Jeimer Candelario  DET  B  .229  124     0   22
Niko Goodrum       DET  B  .240   71   170   19

A few interleague matchups to consider: The Los Angeles Angels head to CIN, which will limit Shohei Ohtani to pinch-hit appearances for the first half of the week. Ditto for the struggling Khris Davis, as the Oakland Athletics travel to Wrigley Field for a three-game set. The Texas Rangers head to MIL next weekend, which could mean extra day or two on the bench for Hunter Pence or Shin-Soo Choo.
The Milwaukee Brewers and New York Yankees get a pair of cushy matchup ratings with marks of -0.88 and -0.69, respectively. Each team faces a RHP-heavy schedule too, which bodes well for lefties like Brett Gardner and Eric Thames. NYY's seven games against TOR and BAL pitching staffs should remind new 2B Breyvic Valera of Triple-A pitching as he steps in for Edwin Encarnacion, while Mike Tauchman and Cameron Maybin could be in for bigger weeks if Aaron Hicks' elbow injury forces him to miss time.
Other teams slated to face all righties are the Pittsburgh Pirates and Minnesota Twins; each has a soft matchup rating below -0.20. Most MIN hitters should be owned already, but Jason Castro (.900 OPS vR in 2019) gets a favorable platoon advantage if you're looking for a catcher with a pulse. For PIT, Colin Moran should get plenty of playing time, while Melky Cabrera is slashing .319/.363/.457 in 188 at-bats vR this year and should provide deep-league BA relief from a depleted PIT outfield.
No team faces 4+ LHP this week, but four of them (SD, CIN, KC, MIA) face three with hitters that are worth streaming. Manny Margot has been slumping since his mid-July tear, but has hit lefties well throughout his career (.281/.338/.446 in 359 AB). Philip Ervin (assuming CIN ever decides to play him) makes for a speculative deep-league rental in the wake of Yasiel Puig's departure. Cheslor Cuthbert's hitting .340 with a 176 PX against RHP in a small-sample 50 PA this year, but has hit lefties better than righties and makes for a reasonable streaming option as well.
For more information about the terms used in this article, see our Glossary Primer.
Shopping Cart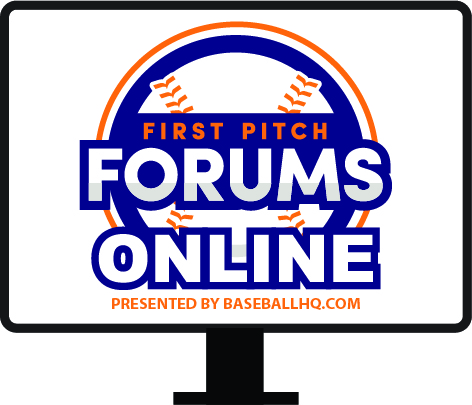 Our virtual First Pitch Forum returns!
Three online-only events: March 5, 11, 17
Join us live, or watch when you want
Just $19!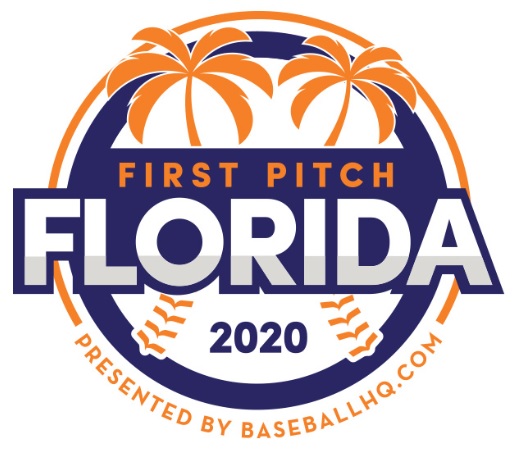 Inaugural Event!
February 28-March 1, 2020
St. Petersburg, FL
A few seats still left!