WATCHLIST: Multi-Category Contributors to Stash
By Alec Dopp

@AlecJDopp
July 4th, 2019 11:07pm
The WatchList offers a weekly quick-hit look at position players and pitchers with potential to impact fantasy rosters throughout the 2019 regular season, whether that be due to injury or outstanding performance. The WatchList aims to illuminate prospects who are not regularly featured in "top prospect" columns, but rather, those prospects who are on the fringe of the HQ100 or lower. Call-ups are often difficult to predict, but these are players to keep in mind if your league rules allow minor-league pickups.
*All statistics current through July 4, 2019* | 2019 WatchList Production Tracker
Hitters
Mauricio Dubon (SS, MIL)
MLBA19 Prospect Grade: 8C
5x5 Impact Category: SB
A proven multi-category bat in the low minors from 2013-2015, Dubon sat out almost all of 2018 with a torn ACL. The news was unfortunate for dynasty owners who'd had some sort of stake in Dubon, who at that point had just come off a season in which he'd hit .274/.330/.382 with 8 HR and 38 SB in the upper minors and was presumably on the cusp of getting the call. Owners who were patient enough with his recovery could be handsomely rewarded soon, though, as Dubon once again looks like he's about to make the jump and be productive right away. Now 24, the former 26th round draft pick has slashed .305/.342/.470 with 12 HR and 7 SB in 78 games in the PCL. There are a handful of things to like about this profile in 12/15 team formats, chief among them being positional versatility, as he projects to be 2B/SS eligible and potentially OF eligible by season's end. Dubon's best fantasy asset is arguably his speed, as he is an nimble, above-average runner with potential to steal 10+ SB from here through the rest of the season. He also brings quality bat to ball skills to the table, owning a career ct% of 86% over 500-plus games along with a .301 AVG as a pro (85% ct% in 2019). Dubon utilizes the entire field well and has an above-average line-drive rate of 24% in 2019, which, along with his speed, suggests an AVG around .280-.285 should be attatinable. He employs an aggressive approach (0.29 Eye and 4.2% bb%; both below league average), so prospective owners should value him a bit lower in OBP formats. A good player comp for his high swing% and contact% tandem would be something akin to Hanser Alberto, who is hitting .315 over 69 games with BAL this year. Dubon's power surge is likely mostly due to the high elevation of the PCL, but he should be a 10-12 HR type bat over a full year. Overall, this is a bat to invest in if you need BA/SB, and his positional flexibility is the cherry-on-top.
Sheldon Neuse (3B, OAK)
MLBA19 Prospect Grade: 7C
5x5 Impact Category: AVG
Oakland's second-round pick in 2016 after a monster junior campaign at Oklahoma (1.111 OPS, 10 HR, 12 SB in 55 G), Neuse scooted up three levels in his 2017 full-season debut and already found himself in the PCL to start 2018. The then 23-year-old's numbers declined precipitously in a notoriously hitter-friendly league, however, as he slashed .263/.304/.357 with only 5 HR in 135 games by the end of last season with an uncharacteristically high strikeout rate of 32% (and 6% bb%). For a hitter whose collegiate reputation was build on high contact and a disciplined approach (15% k%, 0.75 Eye at OU), such a season certainly had an adverse effect on his fantasy stock, as we conservatively tagged him with a "7C" prospect rating in the 2019 MLBA. We all have our sneaking suspicions about what's happening to the baseball in AAA this year, but Neuse's 2019 campaign has still been a complete 180-degree turnaround. Now in his age-24 season, Neuse owns a .312/.393/.523 line with 13 HR and a 38% x/h% in 77 games; an increase of almost 15% from last season. What's fueled the statistical turnaround is really no secret, either. The plate disclipline skills have reappeared (0.51 Eye; up from 0.18 in 2018), his walk rate has almost doubled (11.4%; up from 6%), and he's added nearly eight points to his ct% (77%; up from 71%). We're willing to bet most of his fantasy value this season would be tied to AVG given the previous data, along with the fact that he has a traditionally high h% in the minors and a swing that is geared toward high volumes of line drives. The resurgence of his plate skills could also make him slightly more valueable in OBP formats, too. This is likely still a hitter limited to 10-15 HR over a full season for now, and his increase in power can largely be attributed to the A's switching their AAA affiliate in 2019 (they switched from Nashville to Las Vegas). Still, he's worth scooping up in 15-team formats for his AVG/OBP value alone. He just needs an opportunity.
Brent Rooker (OF, MIN)
MLBA19 Prospect Grade: 8C
5x5 Impact Category: HR
The Twins are slugging at a historic rate in 2019. Could another monster bat be on the way? Rooker, Minnesota's first-round pick from 2017, could be the guy to provide another jolt in the lineup in the coming weeks. The 24-year-old has swung one of the hottest bats in the minors over the last month, owning a .349/.514/.632 slash since the start of June. Though he spent some time on the IL in May, Rooker's OPS has increased every month and has culminated in a healthy slash of .291/.419/.561 with 13 HR in 56 G with AAA Rochester this season. There's no doubt that the Mississippi State product's raw power is real on paper, as he showed fence-clearing ability in college and has stockpiled 53 HR and a career 46% x/h% in three pro seasons. But the underlying skills metrics are supportive of his output, which should give him a chance to make HR impact right from the get-go. Rooker owns a career 25% hr/f rate in the minors thanks to above-average fly ball rates and an ability to pull the ball with authority. His 57% pull-rate in 2019 would be comparable to Hunter Renfroe (55.6%) as one of the highest for a right-handed hitter in professional baseball this year and, to no surprise, Rooker owns a .643 AVG and 1.268 SLG% when he has "pulled" the ball in 2019, according to Minor Graphs. There are some potential drawbacks in this profile, among those being AVG, as he owns a severely questionable ability to make contact (60% contact rate in 2019; league average in the IL is 75%) and such a fly-ball and pull-heavy profile makes him susceptible to defensive shifts. He also can't seem to hit LHP (.626 OPS vL; 1.134 vR), and he does not bring speed to the table. That being said, he projects to be more valuable in OBP formats given his 18% walk rate (10% is average) in 2019. If you're an owner needing HR in OBP leagues, I'd consider keeping close tabs on him, especially in 12/15 team formats.
Pitchers
Deivi Garcia (RHP, NYY)
MLBA19 Prospect Grade: 8C
L5 PQS (AA): 3 2 3 4 4
The industry consensus seems to be that the Yankees are one starting pitching acquisition away from running away with the AL East. Could that acquisition come in the form of an internal promotion from the minors? Garcia, who has been one of the best pitchers in the upper minors so far this year, could be the man for the job. After turning 20 just a few months ago, the right-hander has gone 4-5 with a 3.01 ERA, 1.21 WHIP and 14.9 Dom across 68.2 IP split between the A+ Florida State League and AA Eastern League in 2019 and has established himself as one of the highest-upside arms not included in the HQ100 this past offseason. Garcia is a bit shorter in stature than many top pitching prospects these days, standing 5-9 and 163 pounds, but he is a good athlete and can really bring it from the right side. His plus fastball has sat around 92-96 mph with arm-side run this season and he complements it with a plus-plus curveball with hammer 12/6 action for the majority of his whiffs. He also blends in a slider in the mid-80s as a pace changer and his change-up projects to be an average fourth offering down the road. Garcia possesses very good arm speed and is able to be deceptive with his fastball-curveball combination, leading to one of the best swing-and-miss profiles in the minors right now (17% SwK in AA; 11% is average). Garcia has struggled with command and control workout out of a high-effort, crossfire delivery (4.3 Ctl in 2019; 3.7 as a pro), but with good athletic actions he should develop at least average command and maintain quality K/BB ratios long-term. There's potential for him to transition to a late-inning relief role long-term, as well, but for owners in redraft leagues looking for SP help down the stretch, it might behoove them to at least keep tabs on his rising star.
Dustin May (RHP, LA)
MLBA19 Prospect Grade: 9D
L5 PQS (AA/AAA): 2 3 4 5 1
Starting pitching has not been an issue this season for the Dodgers, who as of Friday morning owned the best rotation in the NL according to WAR (11.4), ERA (3.02) and xFIP (3.60) thanks to the three-headed monster of Kershaw-Ryu-Buehler. That being said, the No. 5 spot in the rotation has remained in flux over the past couple months with Rich Hill still on the IL. This means May could be in line for a cup of coffee at some point in the next few weeks, and frankly, the Dodgers might want to just see how his stuff plays at the big-league level. Prior to being bumped to the PCL last week, May went 3-5 with a 3.74 ERA, 1.15 WHIP and 9.8 Dom/2.3 Ctl mix across 15 starts in the AA Texas League, the last of which he posted a dominant 7 2 0 0 0 14 line against Amarillo. Make no mistake about it: this arm has a chance to be special. Despite long levers and a thin-framed 6-foot-6 build, May displays above-average command on the mound and that has manifested in a 1.9 Ctl as a pro and 2.3 Ctl this season along with some of the best all-around repertoires in the minors. His fastball will top out at 97 mph and sit 93-95 with heavy sinking action required for ground balls (50% gb% in AA earlier this season; league average is 42%). His best pitch is a 80-83 mph curveball that misses bats consistently and also induces worm-burners on the ground. His changeup projects to be an average third offering and he will also sprinkle in a cut-fastball down and again as a pace-changer. The strikeout potential here might not be as high as you'd like given his physical stature and having two plus pitches with which to work, as his SwK% in AA this spring was only 11%, about average for AA pitchers. That being said, this looks like a future #2/3 SP workhorse with exceptional ratios and potential to still add strength to his lanky frame.
Nabil Crismatt (RHP, SEA)
MLBA19 Prospect Grade: N/A
L5 PQS (AA): 4 4 3 3 4
Crismatt signed a minor league deal with the Mariners in January after a rough 2018 campaign, one that included a 5.00 ERA and 1.47 WHIP across nearly 150 innings split between AA/AAA. Now back in the upper minors with a different organization, Crismatt's 2019 campaign has been far better and he could get his shot at a struggling Mariners rotation in the next few weeks. Despite a 2-6 record, the 24-year-old right hander owns a 3.59 ERA and 1.08 WHIP across 80-plus innings, including a 9.9 Dom and 1.7 Ctl in that span. Most of those innings have been with Double-A Arkansas, granted, as Crismatt opened 2019 with AAA and struggled mightily. But his last few months have been impressive, holding batters to a .190/.228/.306 line in the month of June along with posting a 5:35 BB/K ratio across 32.2 IP. This isn't an arm that will be a future workhorse with exceptional ratios, but its a classic 'WatchList' arm in that we can find value in his underlying skills that could project for short-term sucess at the next level. For example, Crismatt owns a 9.3 Dom over eight pro seasons that is supported by a SwK% that usually falls between 12-13% in the upper minors, which is slightly above-avearge. His margin for error is fairly slim given that he lacks plus stuff, but he has a well-balanced reperoite that includes a 90-92 mph fastball with arm-side movement and a two average secondary offerings in his curveball and changeup. Strong and durable at 6-1, 215, Crismatt will have a chance to continue to rack up innings with a back-end starter profile this season, and he could have sneaky Dom ability with solid ratios moving forward.
For more information about the terms used in this article, see our Glossary Primer.
Shopping Cart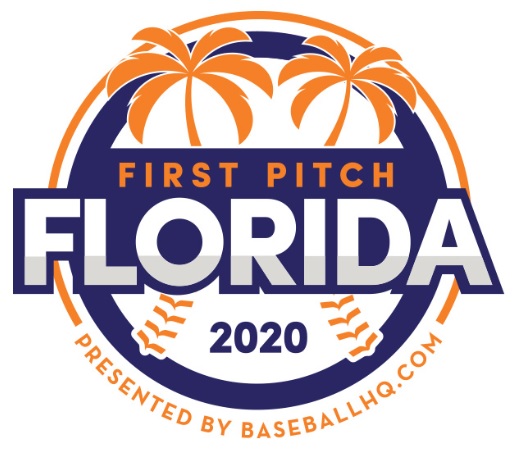 Inaugural Event!
February 28-March 1, 2020
St. Petersburg, FL
A few seats still left!