WATCHLIST: Mullins, Gallen lead deep crop of post-break options
By Alec Dopp

@AlecJDopp
July 20th, 2018 12:03am
The WatchList is a quick-hit look at those minor league prospects who could be on the verge of a callup, whether it be due to injury on the big-league club or sterling performance. Many of the players featured on the WatchList are not top-level prospects, but instead players who could hold some short-term value in the right situation. Of course, there are many unknowns when it comes to callups, but many of these are reserve-worthy players if your league rules allow for minor-league pickups.
Bats
Jacob Robson (OF, DET)
MLBA18 Prospect Grade: 7D (Reserve OF)
2018 (AA/AAA): .309 BA, 10 HR, 14 SB, 35% x/h%, 0.53 Eye (82 G)
Finding players with sustainably elite BA's (.300+) is becoming an ever-difficult task in fantasy play, but Robson might have a sneaky chance to be that type of bat when he gets his shot in Mo-Town. The former eighth-round pick from 2016 is a career .303 hitter across just shy of 1,000 AB as a pro, and he has been especially productive in 2018, slashing .309/.401/.491 with 10 HR and 14 SB in only 82 games against upper minors arms. Helping to support his claim to a potentially elite BA future is a solid contact rate as a pro (career 74% ct%) and overall solid bat-to-ball skills made possible by a swing that epitomizes the "inside out" approach you'll hear and read from scouts and evaluators from time to time, meaning he utilizes the whole field exceptionally well. He's shorter and lean, so Robson's current power pace in the minors likely isn't indicative of his HR output at the next level, as his fly-ball profile and swing path aren't geared toward clearing fences at a prolific (or likely even average) rate. He does, however, possess some speed, and while his overall success rate isn't great (52 SB, 30 CS in the minors), he could provide some SB value for your roster down the stretch. Owners in standard 10 or 12-team mixed formats could stand to benefit from his BA/SB upside, but Robson will likely be of more value for owners in deep formats (15-team+) or those in AL-only league pools. Given the way the Mikie Mahtook experiment has turned out in Detroit (.200 BA, 0 HR, -34 BPV in 105 AB), one has to figure Robson will be on his way to the big league roster sooner rather than later.
Cedric Mullins (OF, BAL)
MLBA18 Prospect Grade: 7C (Starting CF)
2018 (AA/AAA): .298 BA, 10 HR, 15 SB, 39% x/h%, 0.54 Eye (89 G)
While Baltimore's system lacks a fair amount of high-upside positional talent outside of Ryan Mountcastle and Austin Hays, Mullins could be the first of the crop to make a legitimate fantasy contribution as the team transitions into the post-Machado era. Ranked 10th overall in our Orioles Org Report last winter, the 23-year-old outfielder has spent all of 2018 in the upper minors, slashing .295/.349/.484 with 10 HR and 15 SB in 90 games. Mullins missed extended time last season with a nagging hamstring injury in Double-A, but now that he's presumably at full health, he's showing some of the skills that could make him a good waiver-pickup in 12/15-team formats or in AL-only leagues. At 5-8, 175, Mullins is perhaps best defined by his quality athletic actions and plus-plus overall running ability, flashing potential to track down balls in center field with ease, while also displaying moderate SB upside (15 SB/1 CS in 2018; 71 SB/18 CS as a pro). A switch-hitter, Mullins shows a slightly more refined approach and better feel for the barrel from the left side (.859 OPS as LHB in 2018; .740 as RHB), but his comfortably above-average contact rates (85% in the IL), line-drive rates (25%; average is 21%), and ability to get down the line in a hurry suggests he'll have a good shot to provide at least a solid-average BA. His swing does not produce a ton of loft, so don't bank on much HR upside, but this could become a high-volume doubles type profile with 10-15 HR annually. The only thing holding Mullins back is his often aggressive approach, but he should provide at least an average OBP while stealing some bases as an everyday CF.
Rowdy Tellez (1B, TOR)
MLBA18 Prospect Grade: 7B (Starting 1B)
2018 (AAA): .252 BA, 7 HR, 4 SB, 35% x/h%, 0.62 Eye (73 G)
While Vlad Jr., Bo Bichette, and Danny Jansen have quickly become the toast of a solid Toronto farm system, it wasn't long ago when Tellez was also considered a high-upside bat for the Jays, especially in 2016, during which he hit 23 HR with a .297 BA as a 21-year-old in the EL. His stock plummeted after what can only be described as a putrid 2017 campaign in AAA (.222/.295/.333 with 6 HR in 122 games), however, prompting most dynasty owners to take a step back and re-evaluate any shares they had invested in him. Now in his second season in the IL, Tellez is by no means setting the world aflame against AAA pitching, but he's at least starting to look like the guy we saw in 2016 again. As a whole, Tellez has raised his OPS by nearly 100 points from last season (.628 to .726) and his isolated slugging of .143 is steadily climbing back to career norms after bottoming out last season. He's also making slightly more contact (78% ct% to 80% ct%) and displaying better plate skills (0.50 Eye to 0.62), and perhaps most importantly, left-handed pitching has not given him any major fits (.728 OPS vL in 2018; .448 in 2017). Tellez is limited to first base defensively, so the bar for impact in 10/12 team leagues is incredibly high, but owners in AL-only or 15-team mixers could stand to profit. He makes quality contact for a man his size (6'4", 220), and shows a professional approach most nights, and there's enough natural strength and loft in the swing to where 18-20 HR seems like a reasonable expectation in his first full season. The upside may not be as high as we previously thought, but there's still impact potential in this profile.
Arms
Zac Gallen (RHP, MIA)
MLBA18 Prospect Grade: N/A
2018 (AAA): 5-5, 4.05 ERA, 1.55 WHIP, 8.9 Dom, 3.5 Ctl, .293 oBA (91 IP)
Gallen was acquired by the Marlins in the trade that sent Marcell Ozuna to St. Louis this past winter. The 22-year-old right hander pitched across three levels (A+/AA/AAA) in 2017 and was productive each step of the way (2.93 ERA, 3.46 Cmd in 26 combined starts). He has parlayed that success into a solid campaign with his new organization, posting a 4.05 ERA in 17 starts along with a 22.3% strikeout rate that ranks among the Top 10 of qualified PCL arms this summer. Gallen was a quality rotation arm with UNC, and was quite productive in his draft-eligible junior year (0.99 WHIP, 9.4 Dom in 90.2 IP), operating mostly at 92-93 mph with the fastball, and that's generally where he's been as a pro. Gallen will touch 96 mph with his fastball on occasion, but mostly works around 92-94 mph with two-seam and four-seam action to the pitch. His best offering is arguably a high-80s slider/cutter hybrid that he shows good glove-side command of, and it can both generate whiffs and produce a decent amount of ground balls. His curveball and change-up project to be average offerings at the next level, but he'll be able to use them efficiently enough to keep hitters honest. Gallen employs a simple, calculated delivery that he repeats well and is a good athlete, and he will have a solid chance to improve the otherwise average 3.5 Ctl he's sporting in the PCL. There's not a whole lot that jumps off the page with Gallen, but he has a solid SwK floor (10-11%) and knows how to work ahead of hitters. He'll have a chance to be a decent #4/5 SP with limited upside but innings-eating ability.
Bobby Wahl (RHP, OAK)
MLBA18 Prospect Grade: 7C (Setup Reliever)
2018 (AAA): 2.33 ERA, 0.88 WHIP, 14.4 Dom, 4.0 Ctl, .133 oBA (38.2 IP)
Wahl made his major league debut with the Athletics bullpen in May 2017, but was eventually sent back to the minors because he wasn't at full health. Later, it was discovered that he would require thoracic outlet surgery to fully repair his throwing shoulder, so his 2017 campaign ended with just 13.1 IP to his credit. Now at presumably full health, the 26-year-old is quietly piecing together a masterful season in the PCL. Among pitchers with at least 30 innings, no arm owns a higher Dom (14.4) or K-BB% (30.2%) than Wahl, and he's complimented those marks with a WHIP well below 1.00 and has held opponents to a mere .455 OPS. Strong and athletic at 6-2, 210, Wahl has run his four-seam fastball up to 100 mph in the past, and topped out at 98 mph in his MLB debut last season, and he mostly sits in the mid-90s with it. The pitch lacks movement and can be barreled a bit more than you'd expect, which is why his ground-ball rate is a bit lower than PCL average, but he fills the zone and works ahead in the count with it. Wahl's best secondary pitch is a hard 82-84 mph curveball that has mostly acted as a 'get me over' pitch in the past, but it's been a big reason for his success in 2018, and it shows flashes of being a plus offering from the bullpen. He'll also mix in a hard 88-90 mph slider and change-up now and again, but he'll probably only need the FB-CB-SL combo to succeed at the next level. It will be difficult for the A's to consider someone else to close games other than Blake Treinen, but Wahl's swing-and-miss pace (20% SwK% in the PCL in 2018) right now will give him a great shot to contribute to the roster in the near future.
Luke Bard (RHP, MIN)
MLBA18 Prospect Grade: N/A
2018 (AAA): 3.77 ERA, 1.19 WHIP, 9.7 Dom, 2.8 Ctl, .233 oBA (28.2 IP)
The last few months have been rather turbulent for Bard, who was selected by the Angels in the Rule 5 draft from Minnesota last winter. He cracked Los Angeles' opening day roster and made several appearances out of the bullpen, but was DFA'd by the organization in late April, at which point he cleared waivers and has pitched in the IL with the Twins' AAA affiliate ever since. Bard's transition back to the minors has gone smooth thus far, as the 27-year-old righty owns a 9.7 Dom and 1.19 WHIP from a versatile bullpen role with Rochester that has also included some late-inning, high-leverage situations. The former first-round draft pick's stuff doesn't jump off the page at you, but a peek under the hood shows he might have some skills to offer from a relief role in Minnesota soon. His four-seam fastball sits anywhere from 92-94 mph and will max out a 95 mph on occasion, but the pitch produces one of the highest spin rates you'll find in the upper minors, and has potential to be a legitimate swing-and-miss weapon at the next level. Complimenting Bard's heater is a 84-86 mph slider that also flashes plus-plus at its best, which gives him two potential 60-or-better offerings with which to stymie big-league hitters. His SwK production has regressed some in 2018, but just last season he was missing barrels at a 15-17% clip in the upper minors from the bullpen, and a career 9.8 Dom as a pro shows he has some ability to rack up strikeouts. It won't be easy to unseat Fernando Rodney from the closer role in the Twin Cities (3.12 ERA, 10.1 Dom, 120 BPV), but if any arm in the Twins' system has a shot, it's Bard.
For more information about the terms used in this article, see our Glossary Primer.
Shopping Cart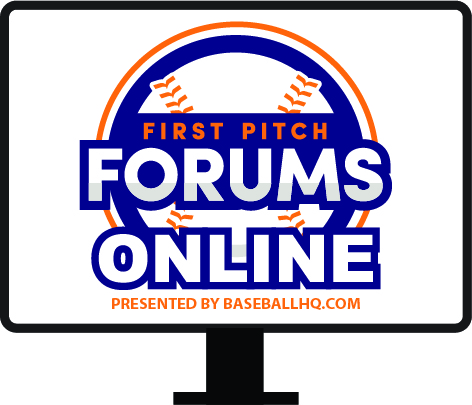 Our virtual First Pitch Forum returns!
Three online-only events: March 5, 11, 17
Join us live, or watch when you want
Just $19!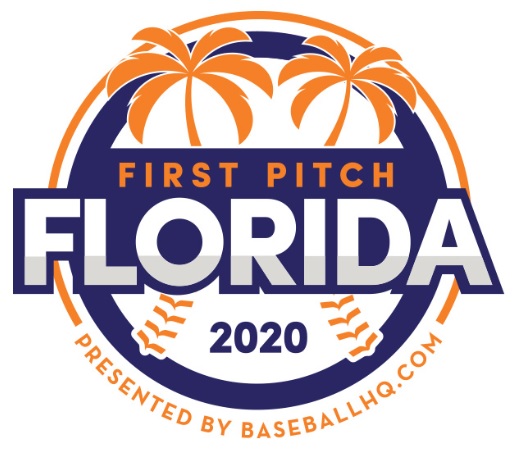 Inaugural Event!
February 28-March 1, 2020
St. Petersburg, FL
A few seats still left!