WATCHLIST: Luzardo, Lopez, and others with fantasy upside heading into the stretch run
By Alec Dopp

@AlecJDopp
August 3rd, 2018 12:03am
The WatchList is a quick-hit look at those minor-league prospects who may be on the verge of a call-up, whether it be due to injury on the big-league club or sterling performance. Many players featured on the WatchList are not top-level prospects, but instead players who could hold some short-term value in the right situation. Of course, there are many unknowns when it comes to call-ups, but many of these are reserve-worthy players if your league rules allow minor-league pickups.
Bats
Ramon Laureano (OF, OAK)
MLBA18 Prospect Grade: 7C (Starting OF)
2018 (AAA): .296 BA, 13 HR, 11 SB, 36% x/h%, 0.44 Eye (63 G)
Laureano was acquired by the Athletics in a low-level minor league swap last November, just a few months after the 24-year-old chalked up a mixed bag of results in his first full tour of Double-A ball (11 HR, 24 SB, .227 BA/.668 OPS in 123 games). The change of scenery appears to have helped, evidently, as Laureano has been one of the most well-rounded offensive forces in the PCL this summer, slashing .291/.376/.515 with 13 HR and 10 SB across 62 games. The former 16th-round pick swung a particularly sweltering stick in the month of July, posting an OPS above 1.100 with 8 HR/5 SB, which figures to only help his cause as he battles for PT in Oakland's outfield. Laureano is an above-average runner and his best chance at fantasy impact will be with his legs, potentially offering 10+ SB down the stretch. His ct% is fringe-average, but a swing geared toward high volumes of line drives should allow for an average-or-better BA with mostly doubles power at the next level. Laureano also employs a relatively patient approach and, aside from last season, has posted quality walk rates as a pro, so he should be valued a touch higher in OBP formats.
Nicky Lopez (2B/SS, KC)
MLBA18 Prospect Grade: 7C (Starting SS)
2018 (AA/AAA): .328 BA, 2 HR, 9 SB, 16% x/h%, 1.43 Eye (100 G)
Given that the fantasy landscape has shifted away from BA/SB, any prospect in the upper minors who has shown ability to produce both should be valued highly. Among prospects not included in our Midseason Top 50, Lopez might have the best shot to step into a major league lineup and provide both for fantasy owners down the stretch. The 23-year-old has enjoyed a breakout campaign in 2018, slashing .331/.404/.441 with 5 HR and 13 SB in 99 games in the upper minors. Lopez employs a simple, compact stroke from the left side that lends itself to the foundations of a quality BA; his 85% ct% in the PCL is nearly 10 points above the league mark. He is a disciplined hitter and regularly finds himself ahead in the count, which has manifested in an impressive 47 BB/38 K mark across nearly 450 PA in 2018, and a 1.12 Eye in three pro seasons. Lopez possesses above-average speed and with his history of high OBPs, projects to have moderate SB impact at the next level. It certainly doesn't hurt that he is a plus defender with athletic actions for either shortstop or second base, which will help his cause for PT when he gets the call in the coming weeks.
Jason Martin (OF, PIT)
MLBA18 Prospect Grade: N/A
2018 (AA/AAA): .314 BA, 11 HR, 7 SB, 32% x/h%, 0.44 Eye (96 G)
Martin was acquired by the Pirates as one of several nearly-big-league-ready prospects in this winter's Gerrit Cole trade, just a few months after the 21-year-old posted a noteworthy .278 BA, 18 HR, 16 SB campaign split between High-A and Double-A. Now 22, not much has changed in the way of production for Martin, who entering Wednesday night owned a .315/.377/.496 slash with 10 HR and 8 SB in 95 games in the upper minors. Though he lacks a true plus tool, the former 8th-round pick brings a well-rounded skill set to the table, and will have a chance to make moderate impact in 12/15-team leagues or NL-only formats. His best chance for impact will likely be BA, as he makes above-average contact (81% in IL; 76% is league average) via a swing that is geared toward hard line-drive contact and mostly gap power. My notes on him in the 2016 AFL mostly consisted of his pitch recognition and ability to work the count (8 BB/4 K in Arizona), but he has become markedly more aggressive since I last saw him, so he should be valued higher in BA formats than OBP ones. He is a good athlete and can run well, so there's also potential for some SB impact here.
Mitch Walding (3B, PHI)
MLBA18 Prospect Grade: N/A
2018 (AAA): .275 BA, 19 HR, 0 SB, 46% x/h%, 0.49 Eye (87 G)
The Phillies have called upon Walding's bat to contribute to the roster on three separate occasions this year, and as one might expect, he hasn't had a chance to get things going offensively (.000 BA, 2 BB/10 K, 14 AB). Chances are he could get an opportunity to contribute again soon though, because few hitters have swung a hotter stick in the upper minors lately than Walding, who owns a .284/.376/.648 line with 9 HR in 25 games in July. He's had a fairly impressive 2018 campaign overall, owning the IL's best mark in ISO (.254) and pairing the power with a well-above-average 14.3% walk rate across nearly 300 AB. The downside here is that Walding could be a potential BA burden for fantasy owners, as a 67% contact rate in Triple-A (52% ct% in his short stint with PHI) suggests there could be a steep MLB learning curve ahead of him. (He's also struggled against lefties in the IL, posting a .960 OPS vR and .682 vL). Having said that, Walding will be of most utility in OBP formats, and the all-fields power he has shown in Triple-A, combined with good walk rates and patience, suggests there could be sneaky value hidden in this profile as a corner infielder.
Arms
Jesus Luzardo (LHP, OAK)
MLBA18 Prospect Grade: 9D (#2 Starter)
2018 (A+/AA): 2.12 ERA, 0.93 WHIP, 10.7 Dom, 2.2 Ctl, .191 oBA (93.1 IP)
The threat of a potential call-up of Luzardo has been mounting for some time, but with the Athletics officially promoting the 20-year-old southpaw to Triple-A on Tuesday, fantasy owners in redraft leagues should consider buying shares. Luzardo was No. 13 in our midseason Top 50 prospects list a few weeks back, and certainly for good reason—as the youngest pitcher in Double-A, the former 3rd-round pick chalked up a 2.32 ERA, 10.3 Dom and 2.1 Ctl along with a sub-1.00 WHIP across 15 starts and held opponents to a .539 OPS. From a strong, athletic frame, Luzardo will produce a sinking 92-95 mph fastball that he displays plus command with for his age. His curveball and change-up both project as above-average pitches at the next level, with the latter a tick more advanced than the former, and he shows good control of both. From a skills perspective, Luzardo has produced ground balls at a better-than-average rate and knows how to fill the zone without allowing a lot of hard contact, and he produced a 13.4% SwK in the TL. In other words, this is the type of arm that, despite his age, should be able to adjust to major-league hitters without as much of a learning curve as most top prospects. There's a lot to like with the profile, so if you're an owner looking for a SP boost in September, grab him while you still can.
Luiz Gohara (LHP, ATL)
MLBA18 Prospect Grade: 9C (#1 Starter)
2018 (AAA): 5.56 ERA, 1.32 WHIP, 9.3 Dom, 2.6 Ctl, .265 oBA (68.1 IP)
Gohara received several starts out of Atlanta's rotation last September and has worked out of the bullpen on a few occasions this season, but has not had an opportunity to see the mound for an extended stretch. That could change soon, because the recently-turned 22-year-old has been solid with Triple-A Gwinnett recently, posting a 1.09 WHIP and 7.67 Cmd over his last four starts since being reassigned to the IL on July 13. Gohara was impressive when I saw him in the AFL two years ago, and not much has changed since then. He will sit comfortably at 94-97 mph with life to the fastball from the left side along with a plus slider in the mid-80s, and the change-up has shown signs of being an average third pitch for him. Previously a ground-ball machine, Gohara has slowly transitioned to a fly-ball profile (35% GB% in IL) and the numbers bear that out in Triple-A, as he's allowed a 1.8 HR/9 in 45-plus innings there. He's still a bit more control than command at this point, but then again, fantasy owners should be willing to stomach a few walks if he's chalking up a Dom above 9.0 consistently. The Braves will probably get creative with the rotation down the stretch, so expect him to be up again soon.
Vladimir Gutierrez (RHP, CIN)
MLBA18 Prospect Grade: 7A (Closer)
2018 (AA): 4.33 ERA,. 1.22 WHIP, 8.9 Dom, 2.4 Ctl, .245 oBA (114.1 IP)
Cincinnati's farm system is quickly becoming one of the most top-heavy in baseball, but Gutierrez could be the first of the crop to make an impact on the roster. In his second pro season since defecting from Cuba, the 22-year-old righty has become one of the better arms in the Double-A Southern League, posting a 4.33 ERA and 8.9 Dom across 21 starts with Pensacola (2.11 ERA, 64 K in 59.2 IP over his last 10 starts). Gutierrez has an ultra-athletic and flexible build at 6-0, 190, and operates around 92-95 mph with a plus fastball that produces significant tailing action in on the hands of right-handed batters. Complementing the fastball is a plus curveball that he will throw in the low 80s, and the pitch generates hard downward 11/5 action and acts as a legitimate swing-and-miss offering against RHB. Gutierrez's change-up remains very raw, and it will require refinement before he can step into the rotation long-term, but the plus combination of the fastball-curveball could play in the majors right now. Gutierrez isn't a true ground-ball pitcher (41% GB%; SL average is 42%), but he generally works ahead in the count, throws strikes at an above-average rate and possesses a 12% SwK profile right now.
Jake Kalish (LHP, KC)
MLA18 Prospect Grade: N/A
2018 (AA/AAA): 3.99 ERA, 1.24 WHIP, 9.0 Dom, 1.1 Ctl, .277 oBA (94.2 IP)
The back end of the Royals' rotation remains somewhat in flux with Heath Fillmyer and Brad Keller currently holding down the #4/5 spots, but odds are the organization dips into the minors soon for auditions heading into next season. Kalish could be one prospect on the verge of a call-up in that likely scenario, as the 27-year-old southpaw has been productive in the PCL, owning a 3.21 ERA and 14.0 Cmd across 56 IP at that level in 2018. Strong and athletic, Kalish doesn't bring particularly loud stuff to the table. His fastball sits in the low-90s, and he'll mix in flashes of an above-average curveball and average change-up, but he gets good extension to the plate, allowing his heater to play up, especially up in the strike zone. Kalish has posted quality control metrics as a pro (1.8 Ctl in 281-plus innings) without sacrificing a ton of hard contact (0.5 HR/9), and he's sporting an otherwise solid 12% SwK in Triple-A right now that should at least give him a chance to have solid-average strikeout production at the next level. Again, this isn't the sexiest of profiles and most owners will steer clear just because of his age, but this could be an arm with some value either as a starter or reliever.
For more information about the terms used in this article, see our Glossary Primer.
Shopping Cart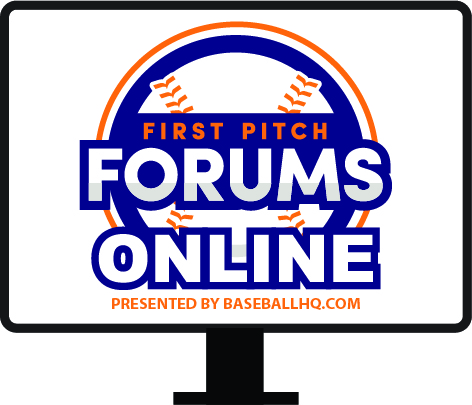 Our virtual First Pitch Forum returns!
Three online-only events: March 5, 11, 17
Join us live, or watch when you want
Just $19!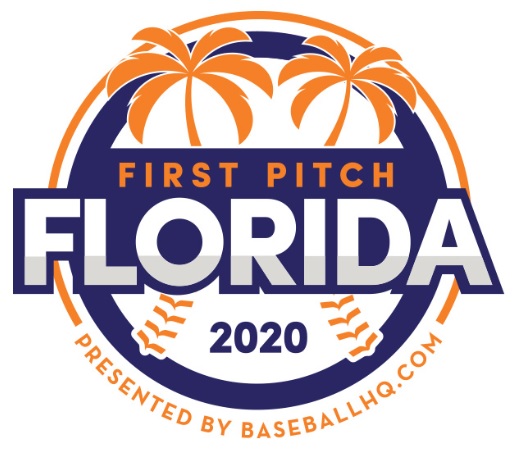 Inaugural Event!
February 28-March 1, 2020
St. Petersburg, FL
A few seats still left!