WATCHLIST: The Lowe-down on prospects with deep league value
By Alec Dopp

@AlecJDopp
July 13th, 2018 12:03am
The WatchList is a quick-hit look at those prospects who may be on the verge of a promotion, whether it be due to injury on the big league club or sterling performance. Many of the players featured on the WatchList are not top-level prospects, but instead players who could hold some short-term value in the right situation. Of course, there are many unknowns when it comes to callups, but many of these are reserve-worthy players if your league rules allow minor league pickups.
Bats
Phil Ervin (OF, CIN)
MLBA18 Prospect Grade: 7C (Starting OF)
2018 (AAA): .288 BA, 4 HR, 9 SB, 38% x/h%, 0.56 Eye (41 G)
A former first-round draft pick whose production in pro ball hasn't quite lived up to his billing (.253/.345/.405 across 567 games in the minors), Ervin has turned things around in a hurry this summer and has become one of the most productive bats in the IL. The 24-year-old holds career-high marks in all three slash categories (.288/.373/.473) through 41 games, along with moderate power production at a 38% x/h%, while also showing some running ability (9 SB). In between those 41 games with Louisville, Ervin has spent scattered time with the major league roster in 2018, just as he did in 2017, and he's held his own despite not having a permanent roster spot. He owns a .237/.315/.361 slash with 3 HR and 5 SB across a small sample of 97 AB with the Reds, including a 0.33 Eye, 72% ct% and 62 HctX/65 xPX tandem. That HctX/xPX production certainly isn't eye-opening, but those metrics can take a while to stabilize at the major league level, so we'll need a bigger sample size to work with before accurately judging Ervin's MLB production. As for his track record in the minors, though, Ervin has produced contact rates a tick above average in the IL (anywhere from 79-80%; league avg is 76%), and he's actually tacked on 10 points to his fly ball rate this year compared to last (from 23% to 33%). Overall, Ervin probably isn't set up to be a dynamic contributor in any one category, but he has a well-rounded skillset with at least average power and some running ability should have moderate value in 15-plus team formats or NL-only leagues.
Brandon Lowe (2B/OF, TAM)
MLBA18 Prospect Grade: 7B (Starting 2B)
2018 (AA/AAA): .305 BA, 17 HR, 8 SB, 48% x/h%, 0.60 Eye (82 G)
The youth movement in Tampa is in full swing right now, with Jake Bauers now the regular at first base, and Willy Adames seeing time at shortstop before his recent demotion. Others will soon follow. Among those potentially eligible for a full-time gig in the near future is Lowe, who has arguably been the best hitter in the system this season. After scalding Double-A pitching to the tune of a .291/.400/.508 line with 8 HR/8 SB in 54 games this spring, Tampa boosted their former third round pick to the IL and he hasn't looked back since. Among IL hitters with at least 120 PA, Lowe leads the pack in OPS (1.043) and isolated slugging (.339) en route to a healthy slash line of .330/.414/.670 with 9 HR in just 28 games. Attendees of First Pitch Arizona last fall got a look at Lowe in the Fall League=, during which the 24-year-old showed off some of the attributes that will surely make him a solid fantasy asset. Chief among those being a second baseman with HR pop; Lowe will have a chance to hit for above-average power at the next level, as he's posted above-average fly ball rates in the upper minors and shows an ability to drive the ball to all fields. Lowe possesses the skills for at least an average BA (.250+) output with Tampa, as his contact rates are average to fringe average (72% ct% in 2018) and his swing isn't necessarily geared toward high-volume line drives; he should be valued higher in OBP formates given his above-average walk rates in the upper minors. Moreover, Lowe has demonstrated an ability to hit L/R quite well and should have positional eligibility at 2B and OF. Start grabbing shares on Lowe while you still can.
Michael Reed (OF, ATL)
MLBA18 Prospect Grade: N/A
2018 (AA/AAA): .337 BA, 9 HR, 7 SB, 37% x/h%, 0.65 Eye, (75 G)
One look at the Braves' depth chart and it becomes immediately apparent: PT is going to be difficult to come by for non-starters down the stretch. That being said, the Braves will also be in the market for pitching at the deadline, which means prospects could be dealt to organizations who could have openings for AB. Reed is one such prospect who is currently blocked at the MLB level, but could find a role with a new club. After inking a minor league deal with the Braves this winter, all the 25-year-old has done is deliver a .337/.464/.535 slash line with 9 HR and 7 SB in 75 games in the upper minors. Reed's best chance for impact will be in OBP formats, as he possesses exceptional plate discipline and patience at the plate (his 18% BB% in 2018 is basically double the league rate for AA/AAA hitters). The issue has always been pairing those plate skills with contact, which is still a bit of an issue for Reed in the upper minors (72% ct% in the IL), and fantasy owners will need to take on the risk involved with that. The good news is that Reed is just plain ol' mashing baseballs when he does make contact, owning a line-drive rate north of 35% and ground-ball rate below 25%, which is encouraging considering that his batted ball profile has always been ground-ball heavy as a pro. Reed is an exceptional athlete and is as chiseled as any prospect in the minors, and I've spoken with folks in the game over the past few years who have raved about his work ethic off the field. Take that for what it's worth, but considering some of the other skills in play here (OBP ability; average power; some running ability), all he may need is an opportunity.
Arms
Josh James (RHP, HOU)
MLBA18 Prospect Grade: N/A
2018 (AA/AAA): 3.13 ERA, 1.14 WHIP, 14.0 Dom, 4.1 Ctl, .190 oBA (74.2 IP)
The Astros are flush with pitching depth, and health, at both the major and minor league level right now. Injuries can strike at any time, though, so it's important for fantasy owners to remain vigilant when looking for potential short-term contributors to the best rotation in baseball. There is a very strong case to be made that James is the most qualified of Houston's minor-league arms for a call-up in such a scenario. In his age-25 season, James has been productive at both levels of the upper minors, posting a 3.13 ERA, 1.13 WHIP and solid 3.4 Cmd through 74.2 IP. He leads all PCL arms with at least 50 IP in what many would consider to be the best metric with which to evaluating pitching, K-BB%, owning a 25% mark in that category while also leading his counterparts in plain ol' Dom (13.3). Tall and strong at 6-3, 206, James operates with incredibly quick arm speed and hides the ball well on the back side, and hitters have a difficult time identifying spin after release. His fastball produces late life in the mid-90s and can reportedly get up to 98 mph once in a while, and he gets good downward angle on the pitch when he's on. His slider doesn't have a ton of length to it but it does have late, tight-breaking action and it will flash above-average for him, and it is responsible for the majority of his whiffs. His change-up also has a chance to be an average offering. All things considered, there's a lot to like about this profile. James has velocity, a potentially plus secondary pitch, a quality SwK floor (15% in AAA) and an ability to neutralize both platoons (.573 OPSa vR; .578 vL).
Kohl Stewart (RHP, MIN)
MLBA18 Prospect Grade: 7C (#4 Starter)
2018 (AA/AAA): 5.24 ERA, 1.58 WHIP, 9.2 Dom, 2.7 Ctl, .312 oBA (79 IP)
The Twins have been patiently awaiting Stewart's arrival to the big-league roster since they invested in him the fourth overall pick in the 2013 amateur draft. But because of scattered injuries, inconsistency and underperformance in general, his timeline has been pushed back over the last two years. Could 2018 finally be the year Stewart makes his debut? It's looking more like it with each start. While the surface stats aren't anything to write home about (3-4, 5.24 ERA, 1.58 WHIP in 16 starts in the upper minors), Stewart has at least started to tap into his swing-and-miss stuff on paper, owning a career-high 9.3 Dom and a 3.24 Cmd that is finally starting to look like it could play at the next level (6.3 Dom, 1.24 Cmd in 17 starts last year). Stewart has been decidedly more aggressive within the strike zone this year, cutting his walk rate almost in half from 2017, which is certainly a good sign of things to come. At the same time, though, his hits and hard contact allowed has also jumped a touch, which, along with an otherwise 10% SwK in 2018, points to the fact that he probably won't have truly dominant strikeout production at the next level. That said, though, he still has decent stuff. His fastball was 92-95 mph in April and he leans heavily on an 82-84 mph slider and 82-86 mph change-up, each of which should be at least average pitches for him at the next level, and he'll sprinkle in a fringe-average high-70s curveball sparingly. With his Dom production in mind and a high ground-ball rate (56% in 2018), he could have some upside as a #4/5 SP.
Justus Sheffield (LHP, NYY)
MLBA18 Prospect Grade: 8C (#3 Starter)
2018 (AA/AAA): 2.44 ERA, 1.14 WHIP, 10.1 Dom, 4.0 Ctl, .192 oBA (89 IP)
New York's rotation has been fortified by the emergence of Domingo German (2-4, 5.06 ERA, 118 BPV, 75 IP), who has stepped in and helped fill the void left by Tommy John victim Jordan Montgomery. But there's a very strong chance that Sheffield gets a look in the second half, if for no other reason than he's killing it, frankly. At 22, the second-youngest pitcher in the IL, Sheffield has produced a 2.53 ERA and 1.18 WHIP across his first 57 IP at that level. Four of his last six starts heading into the IL All-Star Break have been quality starts, and he has done a much better job of pitching deeper into his starts as he has grown accustomed to AAA bats this year. On a more macro-level, Sheffield's 2018 campaign has been very impressive, owning a 10.1 Dom and 2.44 ERA across 15 starts in the upper minors while holding opponents to a .193/.282/.275 slash line. There is no doubt that Sheffield has the stuff to product quality Dom numbers at the next level, with plus fastball that sits 92-95 mph from the left side and an above-average slider in the mid-80s. He's also made strides with a change-up, which gets good velocity separation from his fastball and is sold well by repetition of his quick arm speed. Sheffield's small-ish stature combined with a lack of mechanical refinement has posed problems for him in the past, and some feel those problems haven't been sorted out to the point where he can succeed long-term from the rotation at the next level. That being said, Sheffield's recent hot streak has encompassed an otherwise quality 2.7 Ctl over 29.2 innings, so perhaps he's figured something out that will push him to the Yankees rotation soon.
For more information about the terms used in this article, see our Glossary Primer.
Shopping Cart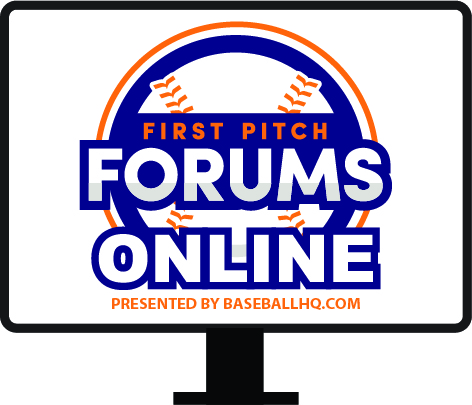 Our virtual First Pitch Forum returns!
Three online-only events: March 5, 11, 17
Join us live, or watch when you want
Just $19!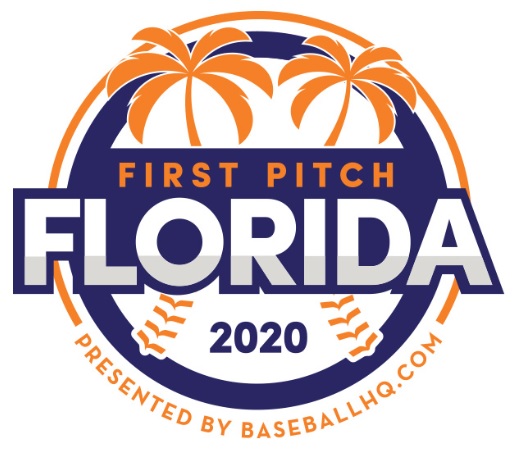 Inaugural Event!
February 28-March 1, 2020
St. Petersburg, FL
A few seats still left!