Top Starting Pitcher prospects 2018
By Robert Gordon
March 4th, 2018 12:04am
Photo: Shohei Ohtani (RHP, LAA)
This week continues our annual review of the top prospects by position. Between now and Opening Day, we'll examine one position a week by looking at both those rookies ready to contribute in the big leagues now, as well as the top 15 long-term prospects at each position. Again this year, our topic schedule will mirror the position covered in Market Pulse that same day, to give you a complete look at the position.
Previous columns in this series: C | SS | 2B | 3B | 1B | OF
Today, we look at the top starting pitching prospects. As usual there is no shortage of elite level pitching prospects and every organization in baseball realizes their long-term success depends on having an endless supply of high-quality arms ready to go. Whether it be via the draft or on the international free agent market, MLB teams have proven willing to invest millions to secure and develop the best pitching prospects available. The result is that there is typically plenty of depth at the position, and 2018 is no exception. A quick look at the most recent HQ 100 shows 40 starting pitching prospects made the list, compared to 41 last year.
At the top of the list this year is Japanese phenom and two-way player Shohei Ohtani (RHP, LAA). The 23-year-old Ohtani generated as much interest and hype as any import since Yu Darvish and is the odds-on favorite to win the AL ROY award. At this point it is unclear how the Angels will utilize Ohtani, but the track record of elite pitchers playing on both sides of the ball is virtually non-existent in the modern era and concerns about injury and fatigue could make this a short-lived experiment.
In the National League, the Cardinals and Braves have stockpiled a cadre of advanced MLB-ready arms and it will be interesting to see which of them breakout in 2018. The Cardinals Alex Reyes (RHP) and Jack Flaherty (RHP) both have previous MLB experience and the potential to yield a modest profit, but neither one will looks likely to start the year in the rotation. In Atlanta the back end of the rotation is up for grabs and the Braves have four arms worth watching - Luiz Gohara (LHP), Max Fried (LHP), Michael Soroka (RHP), and Kolby Allard (LHP). Gohara looks like he will get the first shot at the #5 spot, but the others make for interesting end-game plays in NL-only leagues.
Heading into 2018 Ohtani seems like the only sure thing and we know that projecting playing time and effectiveness of rookie pitchers is a precarious proposition. A review of our list last year is replete with hurlers who either injured, never got their shot, or did but failed to capitalize. In fact, the only pitchers to receive Rookie of the Year votes in 2017 were Jordan Montgomery (LHP, NYY), German Marguez (RHP, COL), Kyle Freeland (LHP, COL), and Luis Castillo (RHP, CIN) - and only Montgomery and Castillo posted sub-4.00 ERAs.
Injuries obviously play a key role here, both in terms of preventing pitching prospects from reaching their potential and in creating unanticipated openings at the major league level. Last year Alex Reyes was our top pitching prospect, but he never took the mound in game action and had Tommy John surgery in February. This year we have already seen Tampa's top prospect Brent Honeywell go under the knife with the same injury and it is safe to assume there will be others to follow. On the flip side, injuries to veterans like Carlos Rodon (CHW), Jimmy Nelson (MIL), Adam Wainwright (STL), Marcus Stroman (TOR) and others have and will continue to create openings for the next wave of rookie hurlers. Just be prepared to take your lumps if you need to roll the dice on anyone besides Ohtani as pitching prospects have proven to be volatile and unpredictable.
The dollar ranges listed below represent projected values for 2018. (See a more detailed scouting report on each player by following the link to his team's organization report.)
$10-$15
Shohei Ohtani (RHP, LAA)
The Angels were thrilled to land Ohtani in December, not only because he's a phenomenal talent, but also because the new Japanese posting agreement limited Ohtani's bargaining power. The Angles ended up paying the $20 million posting fee, but will pay Ohtani the league minimum in 2018 and have control until he turns 30. On the mound, Ohtani's fastball sits at 93-97, topping out at 100 mph and his best pitch is a plus downward breaking forkball. Ohtani has the added benefit of being a gifted hitter and will reportedly see significant action on the OF and at DH. Ohtani is dealing with a elbow sprain and ankle injury, so the Angels have been cautious with him so far this spring, but for now he remains on track for opening day.
$6-$10
Alex Reyes (RHP, STL)
Jack Flaherty (RHP, STL)
Reyes would have made this list last year, but Tommy John surgery kept him out of action all year. The 23-year-old right-hander is slated to make his return to the mound in early May. What his role will be at that time remains to be seen as the Cardinals have more viable rotation candidates than they know what to do with and there has been some talk that Reyes could work in relief while he builds up arm strength. Prior to the injury Reyes featured a plus three-pitch mix highlighted by a mid-to-upper 90s fastball, a plus 12-6 curve, and an average-to-above changeup. Assuming a full recovery, Reyes has the stuff to challenge Carlos Martinez as the staff ace.
While Reyes has the stuff to be a staff ace Flaherty has the savvy and command to slot in as a solid #3, but will have to wait for an opening behind Reyes and Adam Wainwright. Flaherty comes after hitters with four average to above offerings, including a 92-95 mph fastball, a slider, curve, and changeup. After four minor league seasons the 22-year-old Flaherty has a 2.77 ERA, 2.6 Ctl, and 9.0 Dom. Flaherty struggled in 5 big league starts last year, going 0-2 with a 6.33 ERA and was uncharacteristically wild. He isn't flashy but keeps the ball in the park (23 HR in 400.1 IP) and gets the job done.
$1-$5
Michael Kopech (RHP, CHW)
Luiz Gohara (LHP, ATL)
Kolby Allard (LHP, ATL)
Max Fried (LHP, ATL)
Michael Soroka (RHP, ATL)
Walker Buehler (RHP, LAD)
Tyler Mahle (RHP, CIN)
Brandon Woodruff (RHP, MIL)
Franklin Perez (RHP, DET)
Ryan Borucki (LHP, TOR)
Sandy Alcantara (RHP, MIA)
Dillon Peters (LHP, MIA)
Kopech is a physical beast and might have the best power arm in the minors. His double plus fastball sits at 96-99 mph and has been clocked as high as 105 mph, but it comes with a max-effort delivery. Kopech isn't a one trick pony and mixes in a plus hard slider and an improved change-up. Not surprisingly Kopech struggles with control and walked 65 in 134.1 innings last year, but also whiffed 172. Kopech is a long-shot to win a spot in the White Sox rotation, but his career 11.5 Dom makes him a must own in all keeper formats and he could surprise in 2018.
Gohara heads into camp as the odds-on favorite to nail down the #5 spot in the Braves rotations. The left-handed Gohara made five starts for the Braves last year, going 1-3 with a 4.91 ERA after posting 2.62 ERA in the minors. Gohara has a plus 96-98 mph fastball and backs it up with a good, hard slider. The lack of a quality third offering makes him risky, but an improved changeup and career 10.2 Dom gives him a chance of sticking in the rotation.
If Gohara stumbles the Braves have plenty of other options and Fried has the highest upside.. Tommy John surgery slowed his development and he's logged just 342 innings since being drafted in 2012. Fried still features a good low-to-mid-90s fastball and a plus curve, but struggles with control, walking 43 in 86.2 minor league innings and 12 in 26 innings with the Braves.
Allard might have the highest floor of any of the Atlanta contingent, but at 20 is also the youngest. Allard has a nice three-pitch mix highlighted by a low-90s heater with plus movement and an advanced 12-6 power curveball. He can sometimes gets too much movement on his fastball but has nice deception and is tough to square up. Allard logged a full season of action at Double-A Mississippi as a 19-year-old and more than held his own, but realistically needs another half season in the minors before he's ready for his MLB debut.
Soroka is the only right-handed candidate for the back end of the Braves rotation. The 20-year-old breezed through a full season at Double-A going 11-8 with a 2.75 ERA, walking 34 while striking out 125 in 153.2 innings of work. Soroka doesn't blow hitters away and instead works effectively off a good 2-seam fastball with arm-side run and sink and compliments the heater with an above-average slider and change-up. Soroka and Allard are likely ticketed for Triple-A, but should be watched closely throughout the spring.
The Dodgers have the luxury of not needing to rush their top prospects before they are ready which means that Walker Buehler will start the year back at Triple-A OKC building up arm strength and working on his control (3.1 Ctl in 2017). The 23-year-old Buehler has all the tools to be a frontline starter, including an upper-90s fastball, but Dodgers will be conservative with this elite arm, meaning a midsummer call up is most likely. Once called up, Buehler is worth an aggressive FAAB and if things break right could still be in the NL ROY conversation by the end of the year.
Since being drafted in 2013 the Reds Tyler Mahle has seen his profile change from a back-end workhorse to a solid mid-rotation starter. The upgrade is largely the result of an uptick in his fastball velocity, which now sits at 92-95, topping out at 99 mph. The benefit of having grown into his velocity is that he had to learn to locate his once pedestrian fastball and walked just 30 in 144 IP last year while striking out 138. Pitching in GAB is never going to be a walk in the park, but Mahle limits damage vs. LHB (2.93 ERA with a .238 oppBAA) and makes a decent endgame play deep in NL-only formats.
The Brewers Brandon Woodruff had a breakout season in 2016, going 14-9 with a 2.68 ERA and 173 K in 158 IP, but wasn't able to duplicate those results last year. The 25-year-old right-hander still has some of the best stuff in the Brewers system, but struggled to command his plus 92-96 mph sinking fastball. With Jimmy Nelson on the DL, Woodruff has a chance to secure the 5th spot in the rotation, but needs to beat out veterans Junior Guerra and Yovani Gallardo this spring.
The rebuilding Detroit Tigers don't currently have any openings in their rotation, but that could change by mid-season and Franklin Perez is the closest to being major league ready. The 20-year-old Perez came over from the Astros as the centerpiece of the Justin Verlander deal and has four above-average offerings highlighted by a 92-95 mph fastball and a plus curve. Predicting an MLB debut date for Perez is tricky and the suddenly cost-conscious Tigers have an incentive not to start his service clock, but Perez might already be the second best pitcher in a Tigers uniform and letting him languish in the minors could stall his development.
The injury to Toronto ace Marcus Stroman has Jays fans and fantasy owners on pins and needles. If Stroman isn't ready to go in April the Jays could turn to rookie Ryan Borucki. The 24-year-old Borucki is a bit of a late bloomer, but had a breakout season in 2017, going 8-8 with a 2.93 ERA with 36 BB/157 K in 150.1 IP across three levels. Borucki has plus control and a changeup that gives LHH fits.
One outcome of the Miami Marlins fire-sale is that they have numerous openings in their starting rotation. At last count the Marlins had no fewer than 10 candidates for three open rotation spots. Dillon Peters and Sandy Alcantara will both be given extended looks this spring, but have very different profiles. The 22-year-old Alcantara came over in the Marcell Ozuna deal and has a true power arm with a fastball that sits at 95-97 and tops out at 102 mph. Sub-par remains the biggest stumbling block and will need to be addressed before he has consistent success. Peters relies instead on finesse and pounding the strike zone. At 5'9" Peters has a balanced compact delivery and gets enough velo from his low-90s heater to keep hitters honest. At 25 he's figured out who he is and how to get hitters out, but doesn't have much margin for error.
Long-term Top SP Prospects
1. Alex Reyes, STL
2. Walker Buehler, LA
3. Michael Kopech, CHW
4. Brent Honeywell, TAM
5. MacKenzie Gore, SD
6. Forrest Whitley, HOU
7. Mitch Keller, PIT
8. Kyle Wright, ATL
9. A.J. Puk, OAK
10. Sixto Sanchez, PHI
11. Hunter Greene, CIN
12. Triston McKenzie, CLE
13. Luiz Gohara, ATL
14. Franklin Perez, DET
15. Mike Soroka, ATL
16. Kolby Allard, ATL
17. Jack Flaherty, STL
18. Yadier Alvarez, LA
19. Jay Groome, BOS
20. Cal Quantrill, SD
21. Chance Adams, NYY
22. Ian Anderson, ATL
23. Michel Baez, SD
24. Alec Hansen, CHW
25. Riley Pint, COL
26. Anderson Espinoza, SD
27. Matt Manning, DET
28. Dylan Cease, CHW
29. Justus Sheffield, NYY
30. Corbin Burnes, MIL
31. Adonis Medina, PHI
32. Jon Duplantier, ARI
33. Adrian Morejon, SD
34. Shane Baz, PIT
35. Stephen Gonsalves, MIN
36. Joey Wentz, ATL
37. Alex Faedo, DET
38. Brandon Woodruff, MIL
39. Mitchell White, LA
40. Jose De Leon, TAM
41. Luis Ortiz, MIL
42. Sean Reid-Foley, TOR
43. Beau Burrows, DET
44. James Kaprielian, OAK
45. Erick Fedde, WAS
46. Tyler Mahle, CIN
47. Max Fried, ATL
48. Domingo Acevedo, NYY
49. Dustin May, LA
50. Braxton Garrett, MIA
51. Trevor Rogers, MIA
52. Fernando Romero, MIN
53. Jesus Luzardo, OAK
54. Grant Holmes, OAK
55. Sandy Alcantara, MIA
56. Tyler Beede, SF
57. Jorge Guzman, MIA
58. Nick Neidert, MIA
59. Jose Albertos, CHC
60. Oscar de la Cruz, CHC
61. Clarke Schmidt, NYY
62. Bryse Wilson, ATL
63. Cole Ragans, TEX
64. Hans Crouse, TEX
65. Hunter Harvey, BAL
66. T.J. Zeuch, TOR
67. Freicer Perez, NYY
68. Tony Santillan, CIN
69. Anthony Banda, TAM
70. Adbert Alzolay, CHC
71. J.B. Bukauskas, HOU
72. Joey Lucchesi, SD
73. Seth Romero, WAS
74. Jordan Sheffield, LA
75. Jordan Hicks, STL
Padres lefty MacKenzie Gore has a chance to be the best pitching prospect in baseball by 2019. Gore, the 3rd overall pick in the 2017 draft, has four plus or above-average offerings and runs his fastball into the mid-90s with advanced control. Gore posted a 14.3 Dom in his pro debut to go along with a 1.27 ERA in 21.1 IP and has the stuff to be a true #1 starter.
The Cleveland Indians Tristen McKenzie (RHP) is an intriguing prospect. The 20-year-old dominated in his full-season debut, going 12-6 with a 3.46 ERA, 45 BB/186 K, and a stingy .203 oppBAA in 143 IP at High-A Lynchburg. McKenzie works off a solid low-90s fastball that he locates well and a plus curveball. Assuming he adds a tick or two in velocity as he matures and fills out his lean, projectable 6'5", 165 pound frame and the Indians could have a solid #2 starter.
Ohtani wasn't the only two-way player to come on the scene in 2017. The Tampa Bay Rays made two-way college player Brandon McKay the #5 pick in the draft and the Cincinnati Reds took two-way high school phenom Hunter Greene (RHP) at #2. The athletic Greene may have the easiest 100 mph velocity in the history of the sport, but has a lot of work to do before he's ready for the majors, starting with improving his command and refining his secondary offerings. Greene has the kind of tools that scouts and MLB execs dream about, but Reds fans will have to be patient.
The Astros were thrilled to get Forrest Whitley (RHP) with the 17th pick in the 2016 draft and he quickly established himself as a top 20 prospect with a phenomenal full-season debut, 5-4 with a 2.83 ERA, 34 BB/143 K in 92.1 IP. Unfortunately the 20-year Whitley has been in the news recently for all the wrong reasons, earning an 50-game suspension for violating minor league baseball's drug policy (drugs of abuse and not PED). The suspension shouldn't radically alter Whitley's trajectory and his 92-97 mph fastball and plus 12-6 curve will likely keep him on the fast-track to the majors.
For more information about the terms used in this article, see our Glossary Primer.
Shopping Cart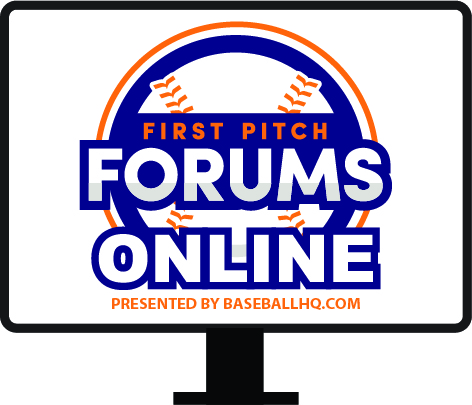 Our virtual First Pitch Forum returns!
Three online-only events: March 5, 11, 17
Join us live, or watch when you want
Just $19!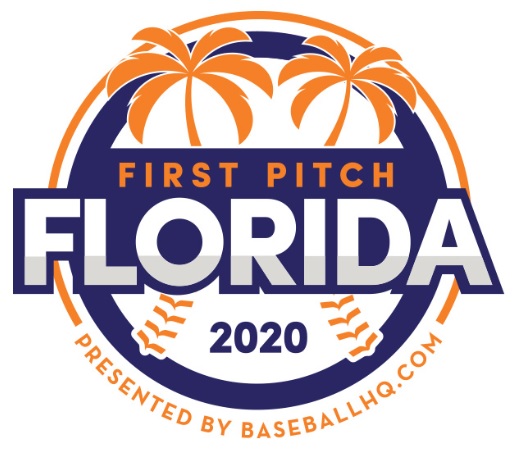 Inaugural Event!
February 28-March 1, 2020
St. Petersburg, FL
A few seats still left!