STARTERS: 2017 Very early slow start sells
By Stephen Nickrand

@StephenNickrand
April 21st, 2017 11:05pm
This is the time of the year when we preach the value of exercising excruciating patience when it comes to early results.
That said, very bad early stats and skills by some SP can be signs that should make you consider selling high on them, especially if their skills show multiple signs of worry. This is especially the case if you have big holes in other areas of your roster that you can patch by trading away SP who have ominous early-season skills.
Here are several SP in each league that might be worth shopping.

AMERICAN LEAGUE
Yovani Gallardo (RHP, SEA) should not be owned in most leagues. His early results underscore why that is the case (6.19 ERA, 1.88 WHIP). And his underlying skills give no reason for optimism: 5.1 Dom, 3.4 Ctl, 49% GB%, 27 BPV. Don't expect much of a turnaround from Gallardo.
Kevin Gausman (RHP, BAL) still carries solid breakout potential given the growth he showed last year and his excellent raw stuff. But owners with strong rotations and huge holes in other areas might consider dangling Gausman. He has a 7.23 ERA and 2.04 WHIP after four starts, and his skills have been horrible: 6.3 Dom, 5.8 Ctl, 42% GB%, -23 BPV. He's not missing bats at a high rate (8.8% SwK%), nor is he getting strikes early (56% FpK%) or often (42% ball%). It's too early to give up on him if you need to carry his breakout potential, but if you're risk-averse or want to use him to upgrade your roster in other areas, now's the time to do so.
Jason Hammel (RHP, KC) has been a streaky 1H-2H pitcher over his career. The fact that he's off to a rough start in 2017 (4.60 ERA, 1.66 WHIP) after a history of being a good 1H pitcher is a big warning sign that he'll struggle to produce value this season. His early underlying indicators are giving no reason for optimism either (-3 BPV).
Ubaldo Jimenez (RHP, BAL) is another volatile pitcher who should not be rostered in most leagues. His surface stats are bad (5.51 ERA, 1.47 WHIP), his skills are bad (6 BPV), and his command sub-indicators are terrible (6.9% SwK%, 57% FpK%, 39% ball). He remains a pitcher who is not worth rostering even in deep leagues.
Ricky Nolasco (RHP, LAA) owns a strong 100 BPV after his first four starts, giving reason to believe that his shaky surface stats (4.76 ERA) will improve. But a deeper look doesn't support that kind of optimism. Nolasco's 1.2 Ctl is a complete fluke, as his 58% FpK% and 39% ball% will catch up with him soon. As his walks increase, his command will erode, returning him to his end-rotation profile.
Jose Quintana (LHP, CHW) has been as steady of a number two pitcher as you could find over the past several seasons. In 2017, that has been far from the case so far (6.75 ERA, 1.62 WHIP). And we can't chalk those up to a ton of bad luck. His base skills have been terrible too: 7.3 Dom, 4.7 Ctl, 38% GB%, 20 BPV. He's not missing bats (7.2% SwK%), nor is he throwing the ball over the plate (39% ball%). Now's the time to play up his consistency and dangle him.
Marcus Stroman (RHP, TOR) had a huge finish to the 2016 season, giving hope that he could put together a full-season breakout in 2017. That hasn't been the case so far. Stroman's surface skills have not been good (4.05 ERA, 1.40 WHIP). While his skills have been good (93 BPV), his swinging strike rate has reverted to its pre-'16 norms (8.1% SwK%), and he's not attacking the strike zone very well (59% FpK%, 35% ball%). In spite of his extreme groundball profile, Stroman's chances of a breakout won't be great until he can miss more bats.
Jordan Zimmermann (RHP, DET) had hope of a rebound in 2017 after a strong spring. So far, that has been far from the case (5.94 ERA, 1.50 WHIP). And his skills give zero reason for optimism (-6 BPV). Zimmermann is not someone you want to rely on in 2017.

NATIONAL LEAGUE
Bronson Arroyo (RHP, CIN) isn't owned in most leagues, and that's a good thing. At age 40, he can't be counted on to produce the sub-4 ERAs we used to expect from him. Not only has he been bad so far in 2017 (8.40 ERA, 1.53 WHIP), so too have his skills (31 BPV).
Jhoulys Chacin (RHP, SD) is the de-facto ace of the SD rotation. It's certainly not due to merit. He has a 5+ ERA after four starts, and underneath that mark is a bad 48 BPV. In fact, few SP generate less swinging strikes than Chacin does (6.9% SwK%). And his 3.1 Ctl is likely to rise further given his 53% FpK% and 37% ball%. He's not someone you should own.
Robert Gsellman (RHP, NYM) entered the 2017 season with some good promise after his strong September 2016. While he still possesses some overlooked upside, few SP have been worse in the early-going (7.56 ERA). We can blame most of that on some terrible luck (36% H%, 43% S%, 20% hr/f), and his skills have been excellent (130 BPV). But his poor command sub-indicators (7.0% SwK%, 55% FpK%, 38% ball%) suggest that skill flash isn't likely to stick.
Kyle Hendricks (RHP, CHC) won't be sold high in most leagues given his breakout 2016 campaign, but the very early signs in 2017 suggest that he could be in store for a bigger regression than you might expect. His skills so far have been pretty bad: 7.3 Dom, 3.9 Ctl, 54% GB%, 57 BPV. While he's still getting strike one at a top clip (70% FpK%), he's missing bats at a very low rate (6.9% SwK%). It's too early to panic, but the window to sell Hendricks at his peak could be quickly closing.
Vincent Velasquez (RHP, PHI) owns an ugly 7.20 ERA and 1.67 WHIP after three starts. While he's continuing to strike out batters at an elite rate (11.4 Dom), his control is not showing any signs of improvement, both on the surface (6.0 Ctl) and beneath it (57% FpK%, 38% ball%). He might be a pitcher who will eventually stick in a relief role given his health and control concerns.
Edinson Volquez (RHP, MIA) was drafted as an end-rotation SP in many leagues (448 ADP). So far that has been a mistake (4.82 ERA, 1.66 WHIP). His strikeouts have been nice (10.1 Dom), but his so-so 9.6% SwK% tells us they are coming down. And his 57% FpK% and 39% ball% give little hope that his 4.8 Ctl will improve much.
For more information about the terms used in this article, see our Glossary Primer.
Shopping Cart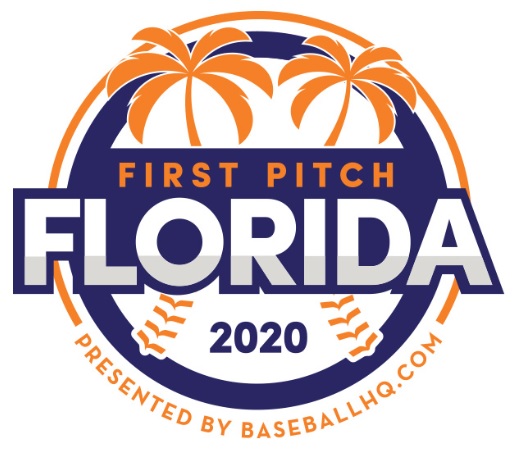 Inaugural Event!
February 28-March 1, 2020
St. Petersburg, FL
A few seats still left!