SPECULATOR: Early 2019 pitch mix changes
By Ryan Bloomfield

@RyanBHQ
May 8th, 2019 2:05am
While we often hear of hitters working on higher launch angles, new stances, and timing mechanisms, it's the tweaks to a pitcher's approach that can have even bigger impacts. Whether it's learning a new pitch, fading a bad fastball, or simply throwing your most effective pitches more often, pitchers are constantly mixing things up to break tendencies and stay ahead of the... curve.
As fantasy owners, we're interested to see if these tangible shifts can lead to buying opportunities, as changes to a pitcher's repertoire can often drive major skill gains. Last year's cover boy for this column was Patrick Corbin, who used more sliders and curveballs to drive a breakout season, while others (Gerrit Cole, Aaron Nola, Trevor Bauer) followed suit with their own adjustments.
So this week, we'll go back to the well and look at pitchers who have mixed things up, honing in on SP whose early skills improvement could stick all year. All pitch mix graphs are courtesy of BrooksBaseball.net.
American League
Shane Bieber (RHP, CLE)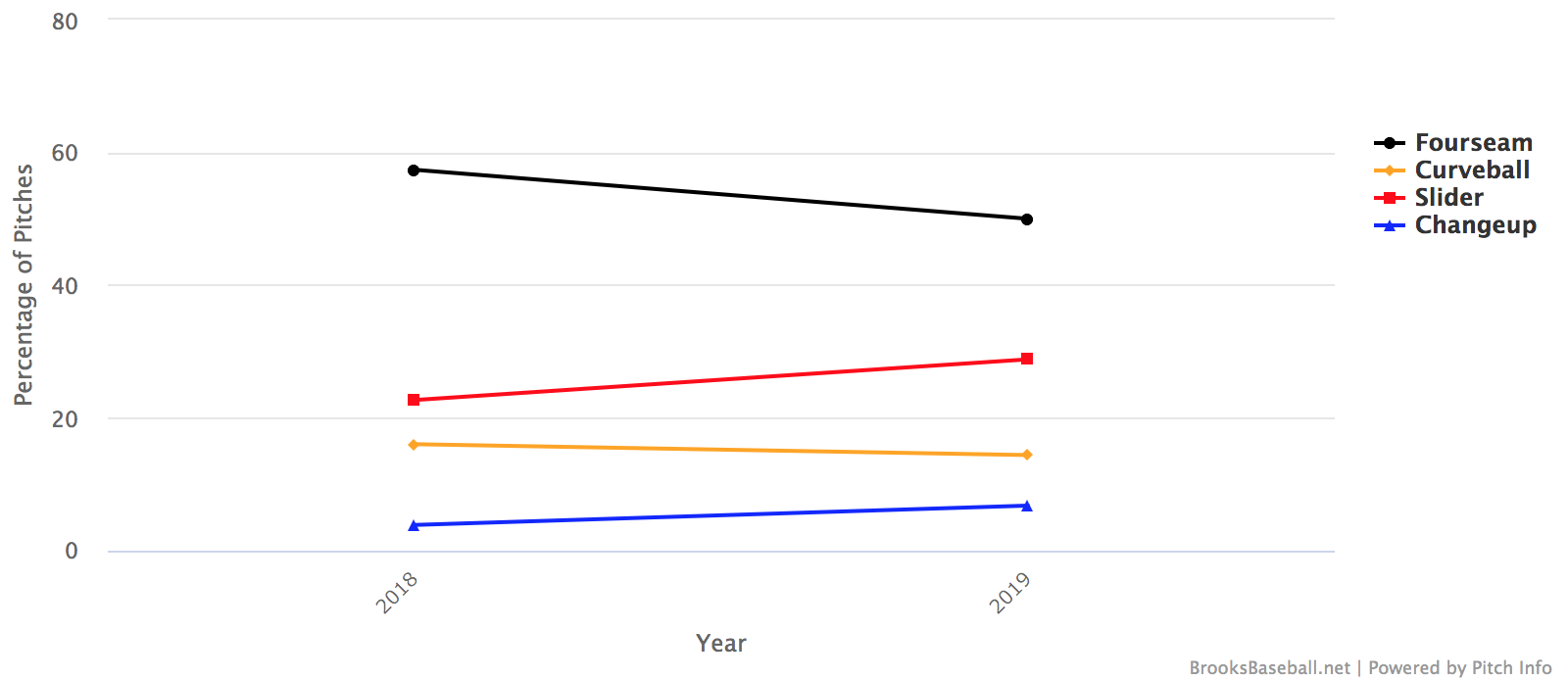 Bieber held his own as a rookie last year, but hitters teed off against his mediocre fastball to the tune of a .502 SLG and .863 OPS in 2018. Bieber's adjusted by throwing the heater a bit less (57% usage in 2018; 50% in 2019) and replacing it with more wipeout sliders. The result? A nice boost in whiffs and strikeouts through his first 37 IP. Armed with two excellent secondary pitches—the slider (28% SwK) and curveball (20% SwK, 50% GB%)—in an organization with a track record of developing SP, Bieber looks poised to continue to his early success.
Matt Boyd (LHP, DET)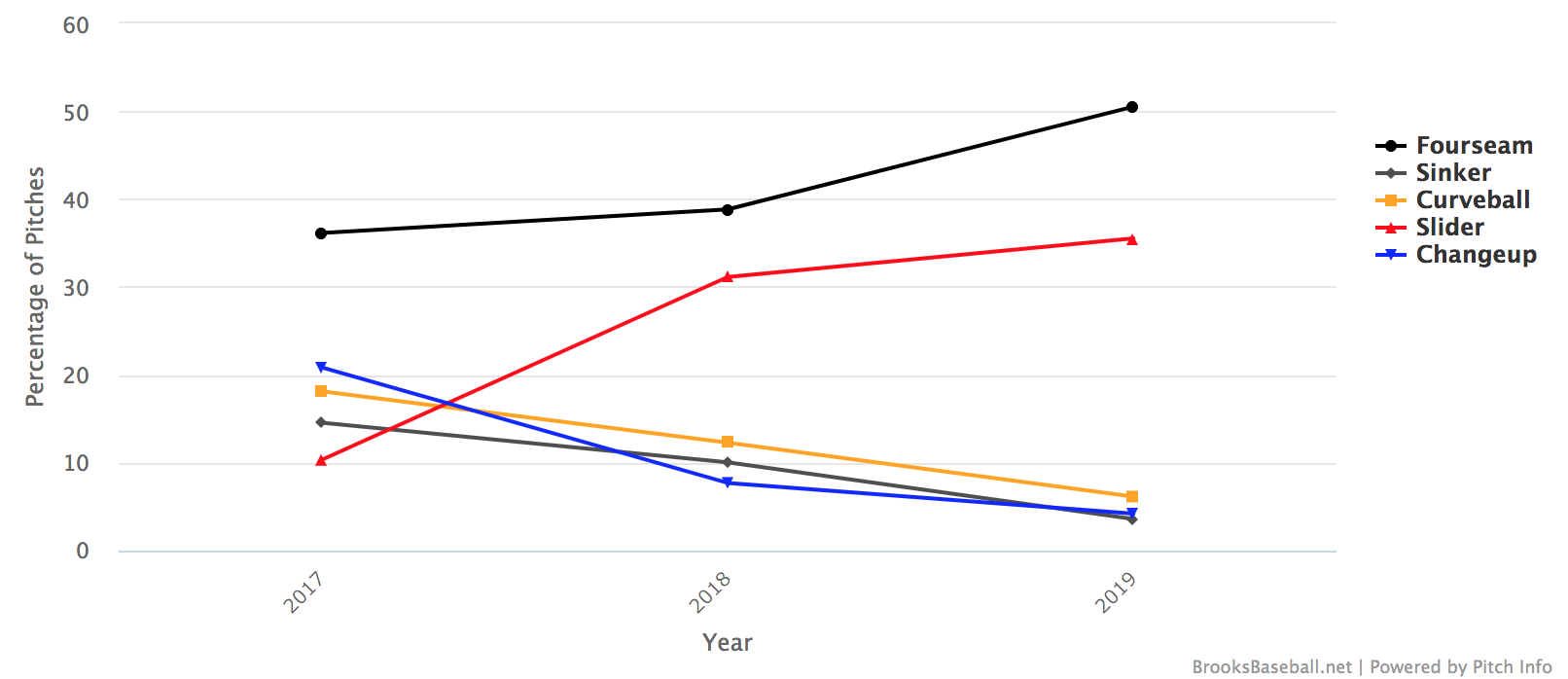 Boyd has shown one of the biggest jumps in swinging-strike rate (SwK) of any pitcher from 2018, going from 11% to 16% through seven starts. He's essentially become a two-pitch pitcher this year, as Boyd's mostly ditched his curveball and change-up for a fastball and slider combo that misses bats at elite rates; 12% and 23%, respectively. We'll have a much deeper dive on Boyd's superb start (3.12 xERA, 164 BPV in 44 IP) coming in a Facts/Flukes Spotlight column later this month.
Mike Minor (LHP, TEX)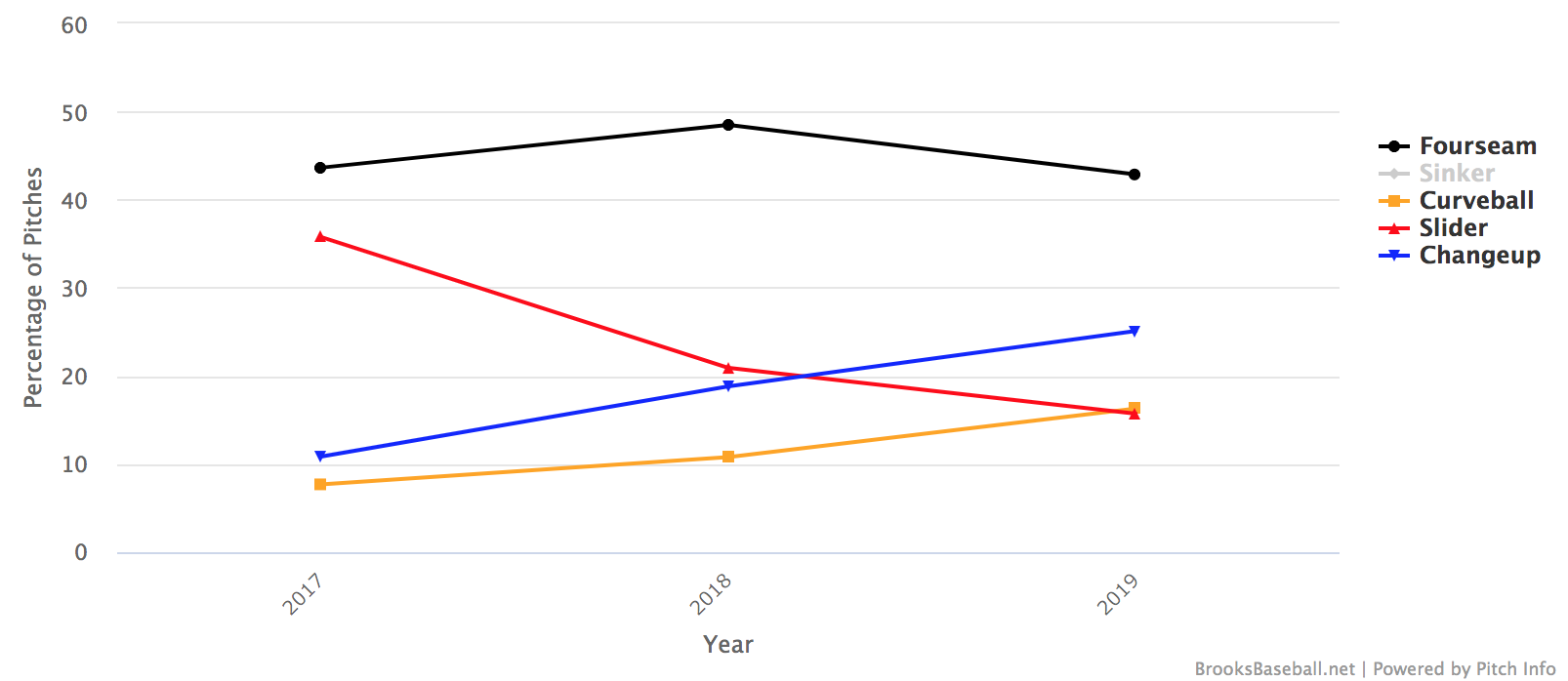 Sure, Minor's pitching over his head right now—nobody is expecting his 2.40 ERA (3.65 xERA) to last much longer—but there are some interesting things going on beneath the hood. Minor's much-improved sub-indicators (65% FpK, 12% SwK) jump off his Playerlink page, as he's throwing more change-ups (16% SwK) and curveballs (13%) in lieu of sliders and fastballs this year. At 31, Minor has a long track record of mediocrity as a starter, so take the early growth with a grain of salt, but this has the makings of a nice "buy high" opportunity.
Tyler Glasnow (RHP, TAM)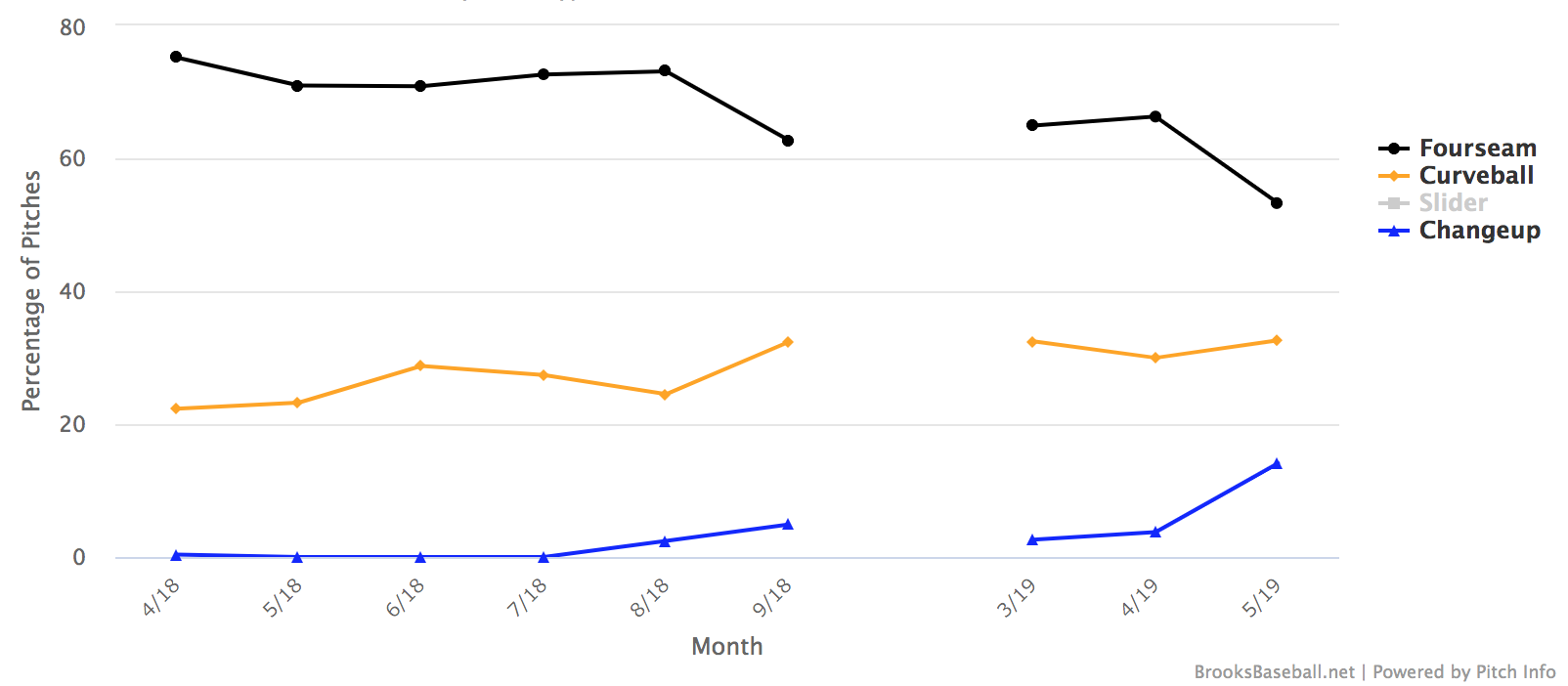 We're taking a monthly look at Glasnow, who moved from the bullpen to rotation when he was traded from PIT to TAM last August. Glasnow's extremely reliant on an electric upper-90s fastball, but he's been going to his dominant curveball (16% SwK, 71% GB% in 2019) a bit more since changing leagues. You can also see a sprinkling of change-ups sneaking into Glasnow's repertoire in recent outings. With an impressive skills display (2.88 xERA, 163 BPV in seven starts) in a savvy organization and a tweaked pitch mix, this former top prospect looks primed to reach his "UP: 3.00 ERA, 200 Ks" from the 2019 Baseball Forecaster.
National League
Luke Weaver (RHP, ARI)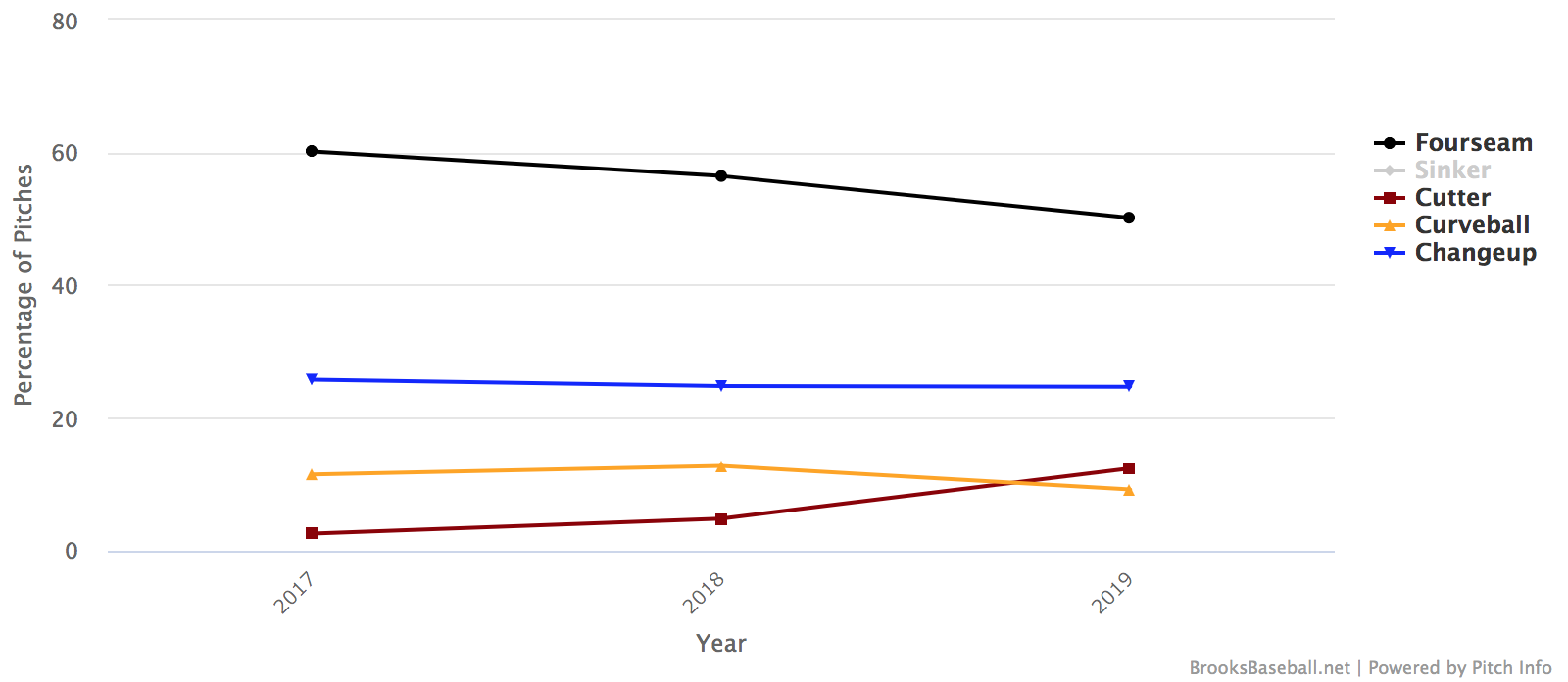 Those who owned Weaver in 2018 won't want to see this, but he's snapped right back to 2017 form so far this year. Weaver's getting more strikeouts (10.3 Dom), missing more bats (12% SwK), and throwing harder (94.0 mph fastball) than in 2018, and it looks like a pitch mix tweak could be helping as well. Weaver's replacing some four-seam fastballs with more cutters, which gets more whiffs and ground balls than the former. His top secondary pitch, the change-up, has been much more effective as well (20% SwK). Weaver's early strides get full support from a 158 BPV and 3.31 xERA—like Corbin, he could be next in a growing list of SP turnarounds under the current ARI front office.
Sonny Gray (RHP, CIN)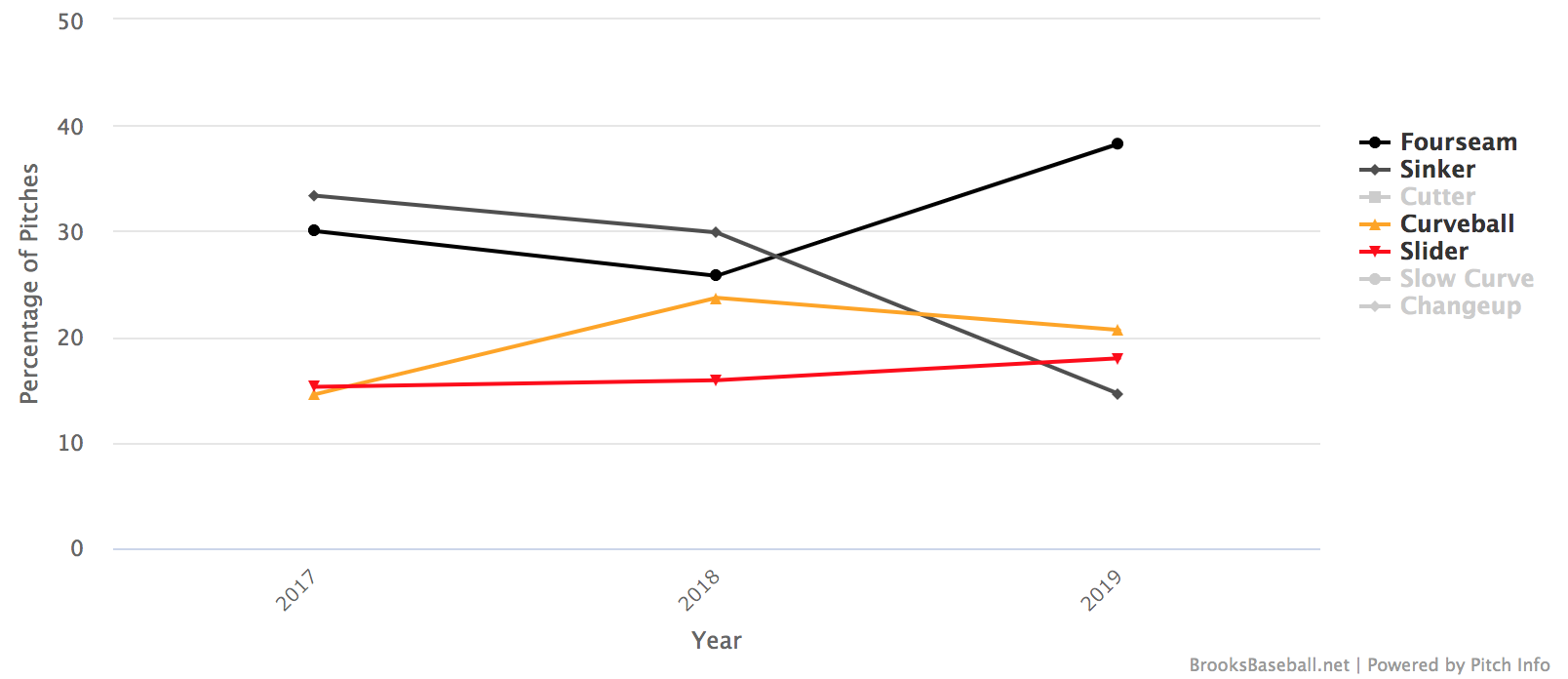 From Gray's box in the 2019 Baseball Forecaster: "If he finds a new club, there's profit here". Spot on so far, as Gray has moved on from 2018's Bronx bust with a 3.89 ERA and 1.04 WHIP through seven starts. The early run comes with skill support (3.18 xERA, 133 BPV), as Gray has ditched his sinker for a four-seam fastball through seven starts. The four-seam misses more bats than the sinker (9% SwK), he throws it for strikes, and while it doesn't produce as many ground balls, Gray has a curveball (70% GB%) and slider (57%) to accomplish that task. A change of scenery and new approach seem to be doing Gray a ton of good right now.
Stephen Strasburg (RHP, WAS)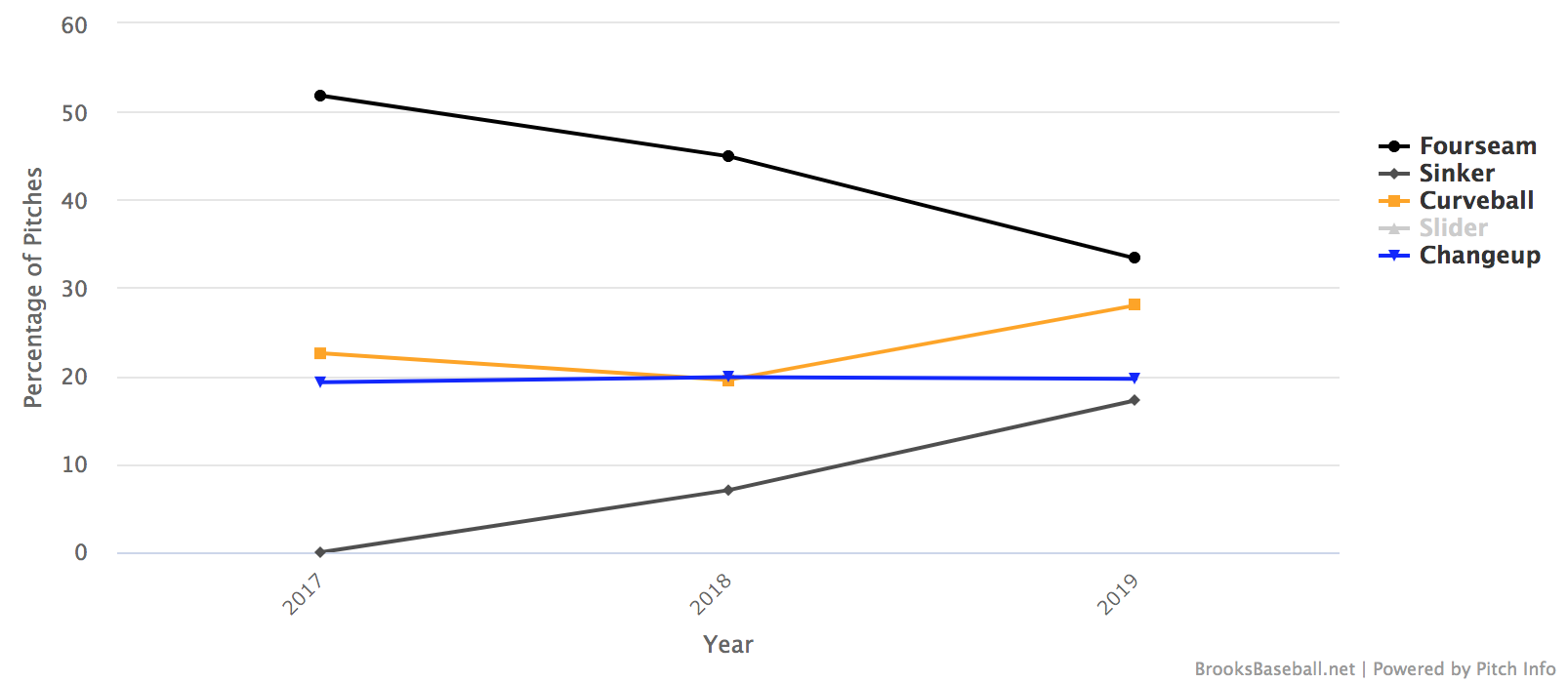 Are we seeing the evolution of Strasburg v2.0? On the wrong side of 30, Strasburg's fastball velocity has now dropped in each of the last two seasons (95.6 mph in 2017, 94.5 in 2018, 93.5 in 2019), but he's adjusting with grace. Strasburg has one of the game's best change-ups with a 30% (!) SwK, and he's paired it with more curveballs for whiffs (17% SwK) and more sinkers for ground balls (67% GB%). Innings and health will always be the rub with Strasburg, but the skills behind this new pitch mix remain ace-worthy despite his declining velocity.
Caleb Smith (LHP, MIA)
Smith was our speculative pick to lead the NL in strikeouts in March, and he has racked up 45 Ks with a 2.00 ERA through his first six starts. He's seen a massive jump in swinging strikes (12% SwK in 2018; 17% this season), thanks in part to a heavier dose of change-ups in lieu of four-seam fastballs. The change-up has been an elite pitch (25% SwK) and he's throwing it nearly one-fourth of the time, while Smith's fastball (15% SwK) and slider (19%) have been excellent too. Some luck has been involved in Smith's hot start—nobody holds a 2.00 ERA for that long—and he's a second-half shutdown candidate (workload), but Smith's 2.99 xERA and 153 BPV strongly hint that much of this is sustainable.
The Speculator is not designed to make definitive assertions about the future; rather, it is designed solely to open reader's eyes to possibilities they may not have previously entertained, and in doing so, provide a different perspective on the future. Many of the possibilities will be of the "out on a limb" variety. All are founded on SOME element of fact. But none should be considered any more than 20% percentage plays.
For more information about the terms used in this article, see our Glossary Primer.
Shopping Cart