SPECULATOR: Early 2018 pitch mix changes
By Ryan Bloomfield

@RyanBHQ
May 9th, 2018 12:04am
This is a constant game of adjustments. We often hear of hitters working on new swing paths, stances, and timing mechanisms; ditto on the mound, as pitchers are constantly playing with new grips or tinkering with new pitches. The need to mix things up and break tendencies are a necessity given the scouting and data advancements in today's game.
As fantasy owners, we're interested to see if these tangible shifts can lead to buying opportunities, as changes to a pitcher's repertoire can often drive major skill gains. So this week, we'll look at pitchers who have mixed things up, honing in on SP that have shown notable skill growth early in 2018.
All pitch mix graphs are courtesy of BrooksBaseball.net.
American League
Trevor Bauer (RHP, CLE)
Building on an impressive finish to 2017, Bauer is stringing together the best stretch of his career with a 2.53 ERA and 1.06 WHIP through seven starts. He's all but traded in his sinker for a new slider that's generating a decent number of whiffs (18% SwK) and groundballs (52%). He continues to lean on an effective curveball to drive a career-high 12% SwK that backs his early 10.5 Dom. Bauer's 3.51 xERA and 7% hr/f suggest some correction is coming, but the increase in breaking balls should keep the Ks steady and have him toying with The 2018 Baseball Forecaster's "UP: sub-3.50 ERA" by season's end.
Gerrit Cole (RHP, HOU)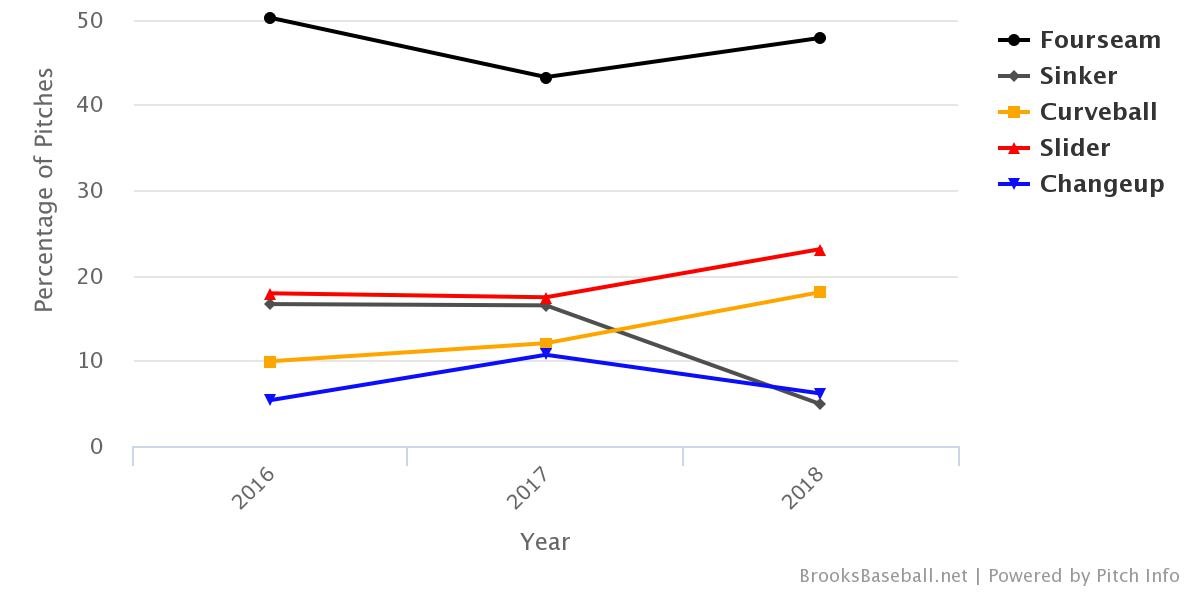 We hinted in February that Cole's move to Houston would be a boon; not just because of a better park and supporting cast, but because of the club's recent success turning around SPs. We didn't expect a 1.42 ERA through seven starts. Cole's video-game like numbers are supported by elite sub-indicators (17% SwK, 66% FpK), and much of that can be pinned on an increase in breaking balls. Like Bauer, Cole has ditched his sinker and is now throwing his slider and curveball more than 40% of the time; both offerings have produced swinging-strike rates above 20%. Cole can't keep this up all year, but the shift in pitch mix has him on track to torch our "UP: see 2015" in this year's Forecaster.
Kyle Gibson (RHP, MIN)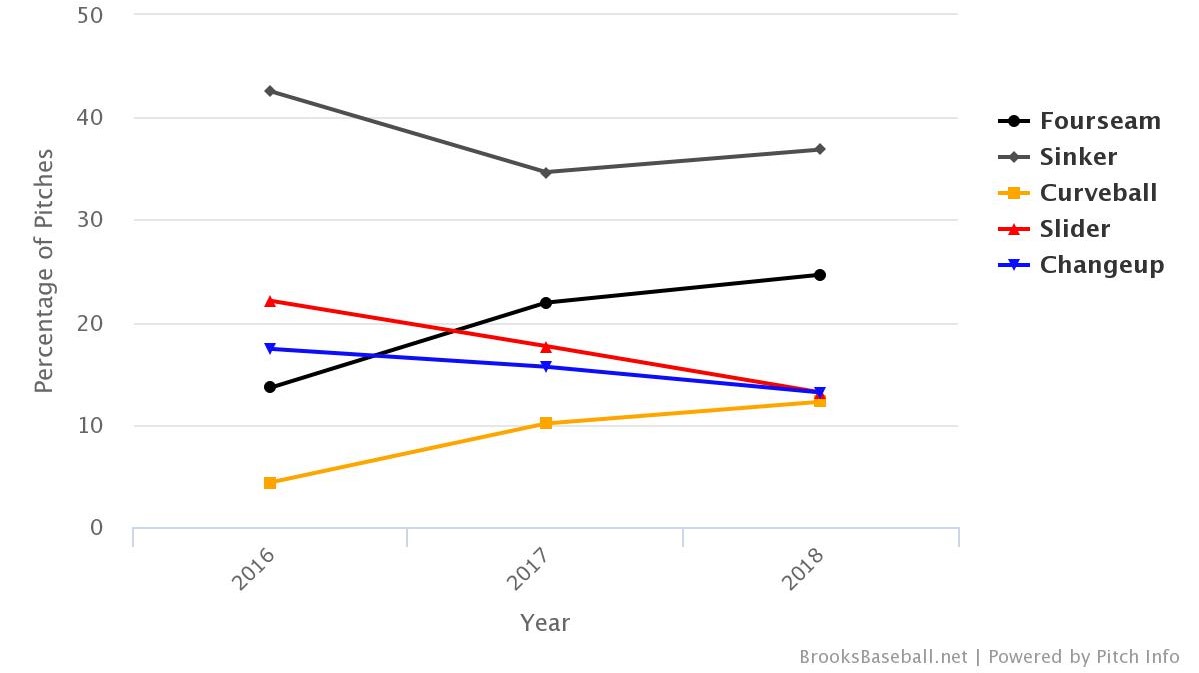 Gibson doesn't exactly fit the mold like others here, as he hasn't drastically altered his pitch mix. This is more of a "what if" play, but Gibson's sitting on three pitches with a 20%+ swinging-strike rate: a killer slider (31% SwK%), curveball (24%), and change-up (20%). He's throwing each of those offerings less than 15% of the time, opting instead for a healthy diet of four-seamers and sinkers. Gibson will need to tackle some early control issues (4.2 Ctl, 56% FpK), but there's growth potential should he opt to mix in more secondary pitches.
James Paxton (LHP, SEA)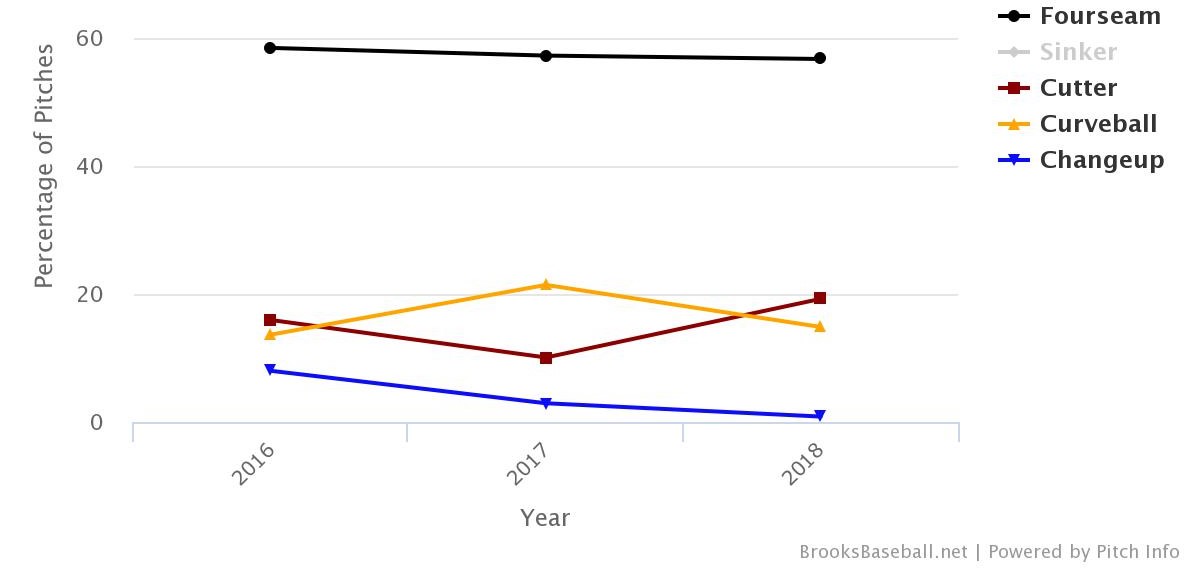 Paxton was one of eight SP to post two straight 130+ BPV seasons entering 2018, and his skills are only improving (3.33 xERA, 157 BPV). He's eliminated a change-up from his arsenal, and has replaced it with a nasty cutter this season. The pitch has produced whiffs galore (28% SwK%), with a heavy mix of groundballs (50% GB%). Paxton's health risk persists—he's yet to throw 140 IP in an MLB season—and the window to "buy low" is likely shut with his 16-K outing on May 2, but his 4.00+ ERA won't last much longer. Paxton's an ace, and a tweak to his pitch mix might have just made him better. [ED. NOTE—And on cue, Paxton throws the no-no on May 7, after this piece was filed. Notch another one for the Speculator.]
Rick Porcello (RHP, BOS)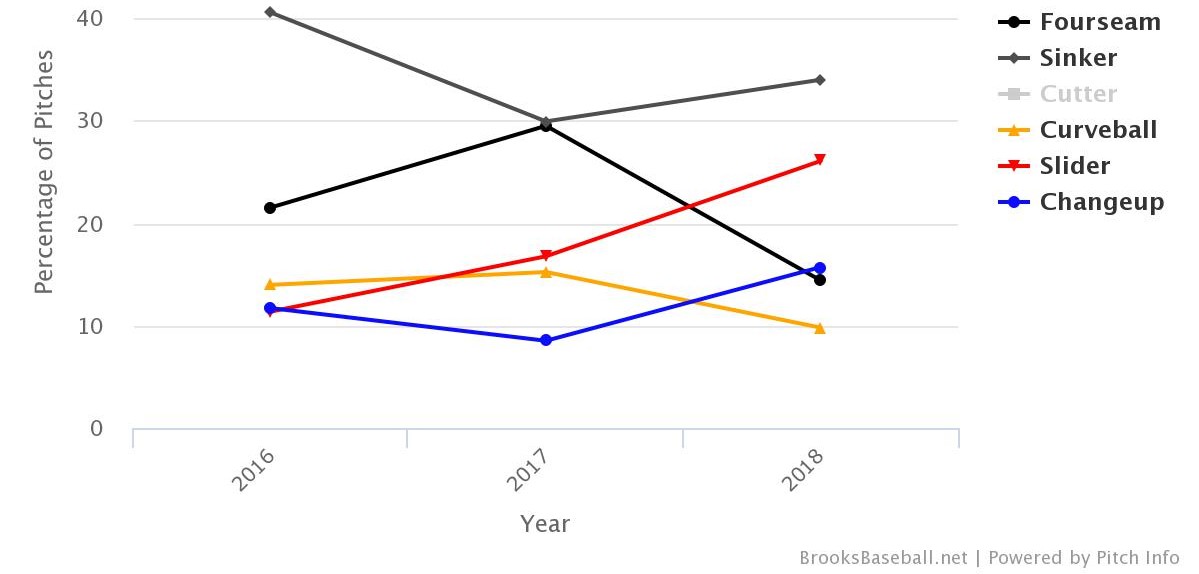 Porcello was a recency bias rebound target back in March—ignore the headliner on that column—but his renaissance season (2.14 ERA, 46/5 K/BB) has been more than just simple regression. He's throwing a healthier dose of sliders, and while they haven't generated many whiffs (11% SwK), he's all but ditched a contact-friendly four-seamer. Porcello's also seen an uptick in groundballs thanks to more worm-killing sinkers (65% GB%) and change-ups (52%). It's an overall package that has enhanced Porcello's base skills (3.04 xERA, 48% GB%, 161 BPV).
National League
Patrick Corbin (LHP, ARI)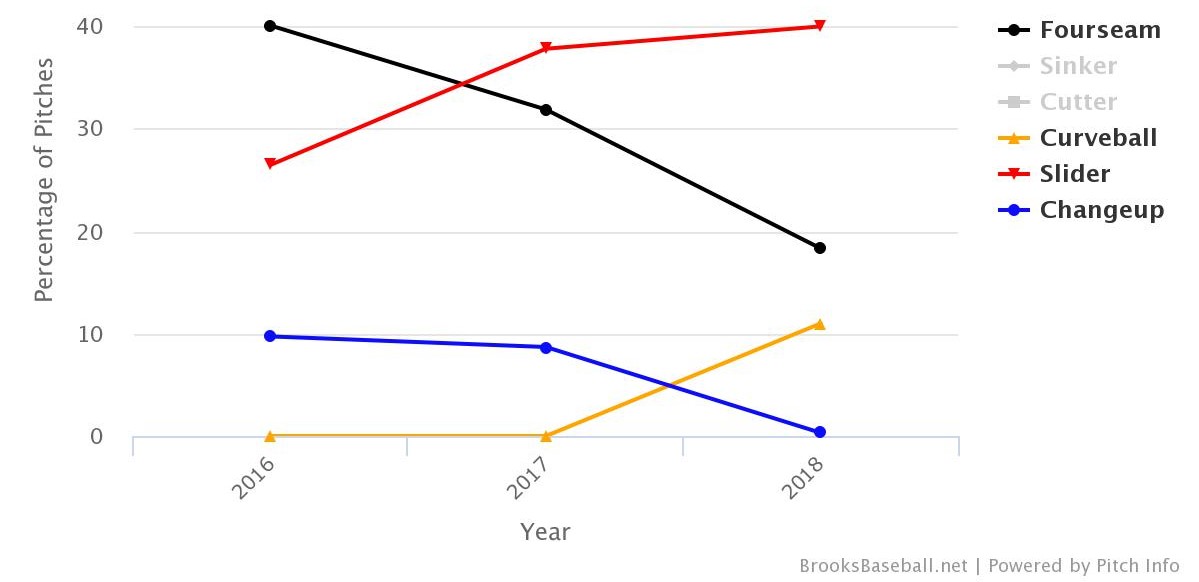 Our most skilled SP in April, Corbin's peripherals (6.7 Cmd, 50% GB%, 2.37 xERA) have been just as dominant as his surface stats (2.15 ERA, 0.76 ERA). A big reason for the surge has been his pitch mix. Corbin has introduced a loopy, 72 mph curveball (14% SwK) while cutting his four-seam usage in half. The slider has been the highlight, however, as its 29% SwK has made it one of the best pitches in baseball. Throwing it nearly 40% of the time, hitters know it's coming, but righties (.089 batting average against) and lefties (.113) alike have done nothing with it. Corbin's revamped pitch mix is paving the foundation for a career year.
Zack Greinke (RHP, ARI)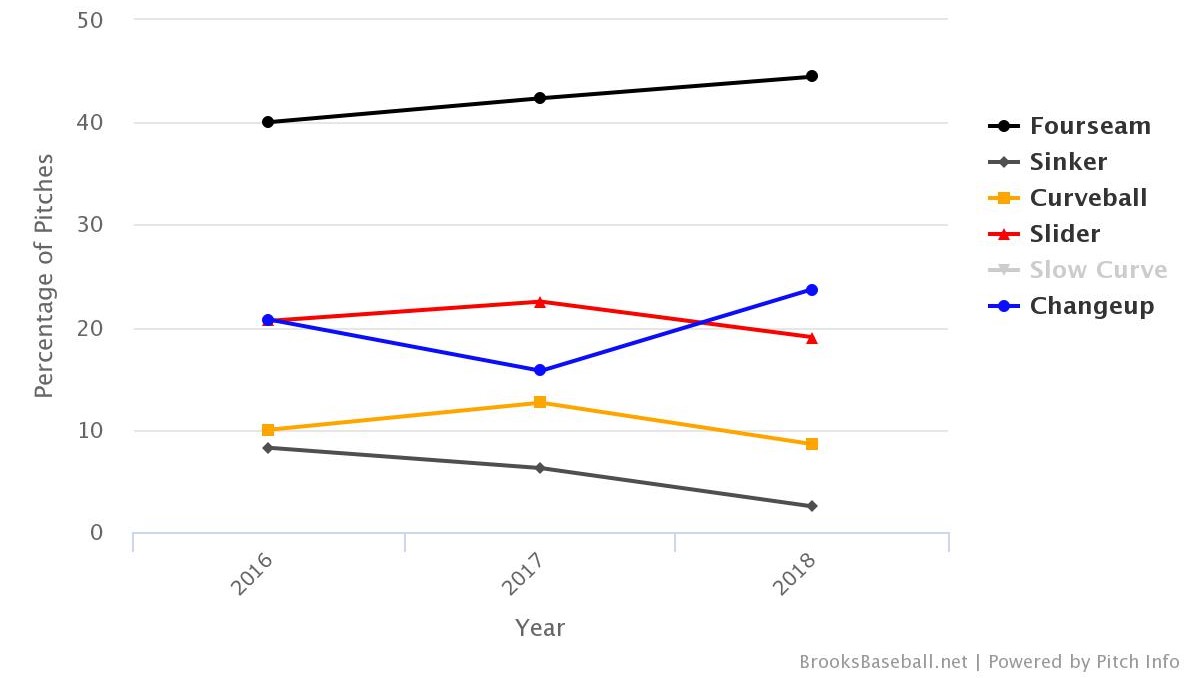 Like Corbin, Greinke might be reaping the rewards of having Dan Haren on staff as Arizona's pitching strategist:
"He's got every hitter down. When Zack pitches, I know exactly what he's going to do basically at any time. That's what's really fun. Watching him pitch, I know exactly what's coming."
And what's been coming in 2018? A heavier dose of change-ups, as Greinke's pulling the string on nearly one-fourth of his pitches compared to 15% in 2017. The pitch has been elite (21% SwK, 76% GB%) and it's helped counter some early-season loss in fastball velocity. At 34 years old, Greinke continues to adapt, and despite a 4.10 ERA, his skills are strong as ever (3.13 xERA, 7.8 Cmd, 169 BPV).
Sean Newcomb (LHP, ATL)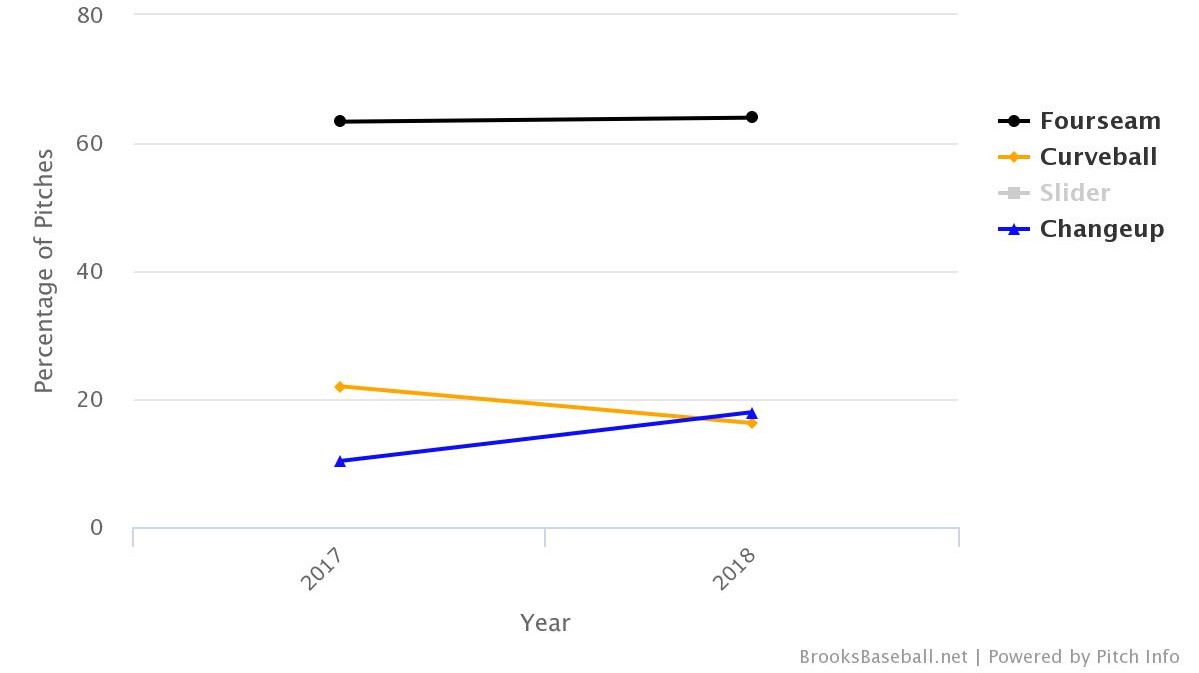 With a risk/reward 9E prospect rating when he was called up last June, Newcomb's rookie year numbers (4.63 xERA, 5.1 Ctl) had us warning of growing pains in the Forecaster. Things look better in year two, as Newcomb's 13% SwK supports his double-digit Dom, while he's better managing control issues with a 64% FpK. Newcomb gets whiffs with a fastball-heavy arsenal, but he's sprinkling in an effective change-up (15% SwK, 61% GB%) more often this season. An early slow start hold in mid-April, Newcomb carries sneaky breakout potential in his age-25 season.
Aaron Nola (RHP, PHI)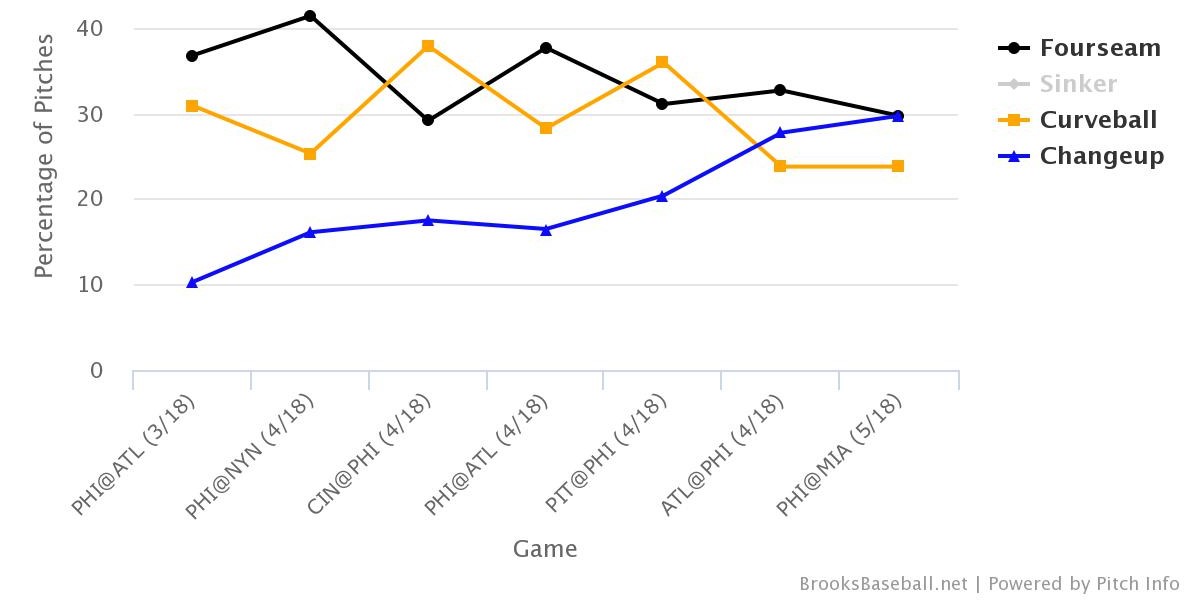 We'll take a slightly different approach with Nola here, as his graph shows his pitch mix by start in 2018. Notice the uptick in change-ups over three outings from April 21 through May 2, where he's put up a combined 20/2 K/BB with double-digit whiffs each time out. On the season, Nola's change-up has produced a 21% SwK and 83% (!!) GB%. He'll need to keep hitters true with the fastball as his primary pitch, but Nola's filthy curveball and increasingly effective change-up could be the combo that makes him an ace.
Nick Pivetta (RHP, PHI)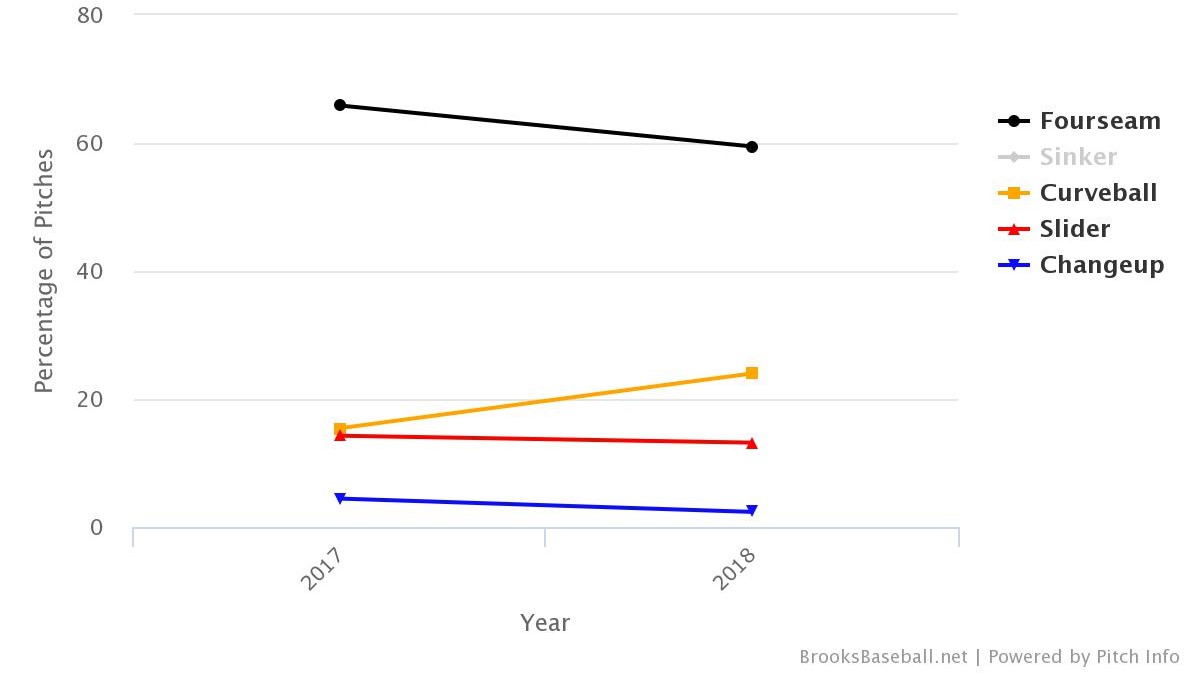 Pivetta's given up 10 runs over his last two outings, but his early-season adjustments have us excited. Backed by a 117 BPV, Pivetta's mixed things up by throwing more curveballs in lieu of his traditional four-seamer. The deuce gets plenty of vertical movement, resulting in a 75% GB% through Pivetta's first seven starts. His already-plus slider and ability to throw strikes have led to an excellent 35/10 K/BB with strong sub-indicators (11% SwK, 70% FpK). Pivetta has the skills and stuff to be a better pitcher than his 4.76 ERA would indicate.
The Speculator is not designed to make definitive assertions about the future; rather, it is designed solely to open reader's eyes to possibilities they may not have previously entertained, and in doing so, provide a different perspective on the future. Many of the possibilities will be of the "out on a limb" variety. All are founded on SOME element of fact. But none should be considered any more than 20% percentage plays.
For more information about the terms used in this article, see our Glossary Primer.
Shopping Cart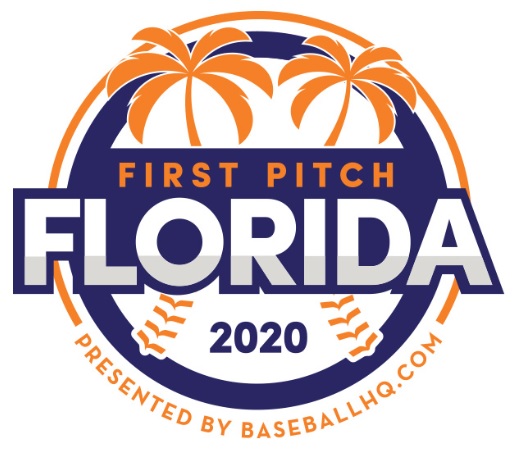 Inaugural Event!
February 28-March 1, 2020
St. Petersburg, FL
A few seats still left!