SPECULATOR: The BF23 UP: list—Pitchers
By Ryan Bloomfield

@RyanBHQ
February 1st, 2023 2:05am
Within the player commentaries of the 2023 Baseball Forecaster, we offer some UP: (and DN:) projections that are intended to reflect a ceiling (or floor) beyond the accompanying 2023 projection. As described in the book:
Upside (UP) and downside (DN) statistical potential appears for some players; these are less grounded in hard data and more speculative of skills potential.
Speculative? That sounds awfully familiar. We continue our 2023 Speculator series with a review of some of those UP: projections found in the Forecaster. Last week, we looked at batters, and now we'll head to the mound. The full list of pitchers is included here with a few thoughts on some of the outlooks that have evolved during the offseason (in bold). Feel free to ask about others in the comments.
Average Draft Position (ADP) data is courtesy of the NFBC through January 29:

Pitcher                ADP  UP:
====================   ===  =========================
Adam, Jason            322  25 Sv. 
Ashby, Aaron           234  3.25 ERA, 180 K. 
Baker, Bryan           734  20 Sv.
Bautista, Felix         60  40 saves
Brash, Matt            465  sub-3.00 ERA, 20 Sv
Brogdon, Connor        738  25 Sv.
Castillo, Luis          62  first 200 IP/200 K season
Chafin, Andrew         702  20 Sv
Cobb, Alex             230  3.00 ERA
Coleman, Dylan         529  20 Sv
Detmers, Reid          205  3.25 ERA, 200 K.
Dominguez, Seranthony  234  25 Sv
Duran, Jhoan           124  30 Sv
Gausman, Kevin          58  Cy Young
Graterol, Brusdar      421  25 Sv
Greene, Hunter         113  3.00 ERA, 220 K
Harvey, Hunter         521  20 Sv
Helsley, Ryan           68  40 Sv
Hicks, Jordan          658  20 Sv
Hudson, Daniel         343  25 Sv
Hughes, Brandon        344  30 Sv
Jameson, Drey          344  3.75 ERA
Javier, Cristian        63  190 IP, 17 W
Jax, Griffin           663  20 saves
Jimenez, Joe           609  20 Sv
Junis, Jakob           652  10 wins, sub-4.00 ERA
Kelly, Joe             733  20 Sv
King, Michael          626  20 Sv
Kirby, George           94  sub-3.00 ERA
Lamet, Dinelson        683  20 Sv
Lange, Alex            367  30 Sv
Luzardo, Jesus         142  2nd half x2
Mantiply, Joe          587  15 Sv  
Marinaccio, Ron        691  15 Sv
Matz, Steven           338  3.50 ERA, 1.15 WHIP
Minter, A.J.           458  25 Sv
Munoz, Andres          147  40 Sv
Peralta, Freddy        143  160 IP, 180 K. DN: More IL time.
Peterson, David        394  3.50 ERA, 160 K. 
Phillips, Evan         289  25 Sv
Puk, A.J.              387  30 Sv
Schreiber, John        541  25 Sv. 
Stephan, Trevor        578  20 Sv
Strider, Spencer        32  Cy Young
Suarez, Robert         420  25 Sv
Swanson, Erik          536  25 Sv
Vesia, Alex            534  15 Sv

Starting Pitchers
Aaron Ashby (LHP, MIL) got one of our more eye-opening UP:s with a "3.25 ERA, 180 K" box thanks to his elite combination of strikeouts and groundballs. MIL has since signed Wade Miley to be the team's fifth starter, presumably leaving Ashby on the outside looking in. We're taking a glass-half-full approach here, though, thinking the temporary lack of role is hiding some real breakout appeal. "Draft skills, not roles" a wise (bearded) one once said… Ashby is a prime example here as a sixth starter.
(For more on Ashby and the MIL rotation, see Dan Marcus' recent NL West Playing Time Tomorrow column)
We're purely speculating here (duh), but related to the Ashby news, why would MIL even sign Miley? He's certainly not an upgrade over Ashby on a per-inning basis, and might not be much of one over Adrian Houser either. Perhaps some sort of insurance policy for "UP" (and "DN") sider Freddy Peralta (RHP, MIL)? Peralta has spent 123 days on the IL with shoulder issues since 2019 and has one of the wider ranges of outcomes among starters in the Top 150. We're not saying Peralta's an avoid, but it IS interesting MIL felt the need to add a seventh starter to its roster this offseason.
A mixed bag for Kevin Gausman (RHP, TOR; pictured) since press time. His outfield defense saw multiple upgrades with the additions of Daulton Varsho and Kevin Kiermaier, but those gains may have been wiped with last week's news that TOR's walls are moving in, particularly to right-center field. We covered the impact on a few "UP:" side hitters last week; here's a similar spray chart of all balls Gausman gave up at home over 350 feet last season: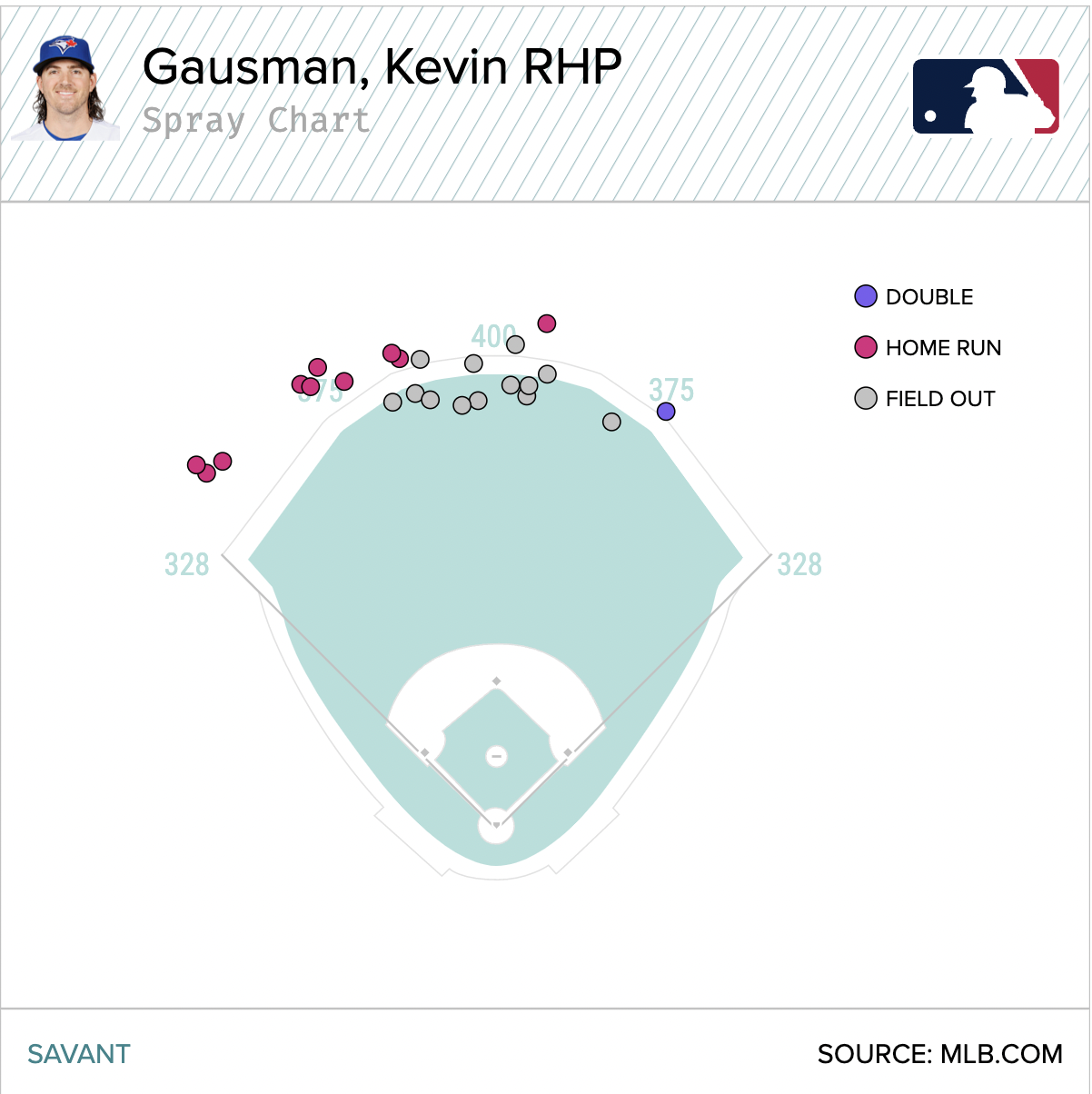 Perhaps 2-3 more errant gusts of wind, but not enough to soften our "UP: Cy Young" stance (hey, we nailed it with Sandy Alcantara last year!).
Hunter Greene (RHP, CIN) might be this year's "market guy". Nothing has changed with Greene himself—The Forecaster lays out all the valid reasons to be excited—we just didn't know his ADP at the time. Now we do... and it's expensive. Greene has the skills to hit our "UP: 3.00 ERA, 200 K" if everything clicks; just know there isn't much of a track record, he's still in a bad park, and he's pitching for a CIN team that didn't even have a starter with over five wins last season.
Similar to Ashby above, David Peterson's (LHP, NYM) present status as the Mets' sixth starter might soften his draft price, but not our excitement over his 2023 outlook. Peterson absolutely pops if we ignore playing time thanks to his ability to miss bats and keep the ball on the ground—his place on this "UP: list" is a testament to his ceiling despite lack of (current) role.
Relievers
Alex Lange's (RHP, DET) odds of reaching our "UP: 30 Sv" got a nice boost when the club dealt closer Gregory Soto to PHI in January. Lange's combination of missed bats and groundballs were the main drivers of our rosy outlook—he was one of just three pitchers with a 30% K% and 55% GB% last season (min. 50 IP). Control is an issue (career 11% BB%), but the latter of our two qualifiers for Lange's "UP" (control and opportunity) might have already been met.
It might be time to cool the jets on Lange's former teammate Joe Jiménez (RHP, ATL) and his "UP: 20 Sv", which is unfortunate given the nice blend of skills he put together in 2022 (28% K-BB%, 3.12 xERA, 15% SwK). Jiménez was dealt from DET to ATL in December, which puts him firmly behind Raisel Iglesias and (potentially) fellow UPsider A.J. Minter (LHP, ATL) for saves.
We hedged our bets a bit with LA's bullpen, anointing both Daniel Hudson (RHP, LA) and Evan Phillips (RHP, LA) with "UP: 25 Sv" speculations in the book. LA didn't sign an outside closer this offseason, which puts Hudson atop our LA Depth Chart with a 50% Sv share. But the 35-year-old is coming off a torn ACL and we haven't heard an update on his status for Opening Day, which keeps the door ajar for Phillips. Both relievers posted sub-3.00 xERAs with 160+ BPVs last year, so keep close tabs on spring training tea leaves here. With 275+ ADPs, both Phillips and Hudson make for excellent dart throws should they end up closing on one of the best teams in baseball.
Erik Swanson (RHP, TOR) was dealt from SEA to TOR since we made our "UP: 25 Sv" call, and while he's firmly behind Jordan Romano in the pecking order, we see the move as an upgrade. A best-case pre-trade scenario for Swanson was a minor piece of the SEA saves pie, but coming off an elite season (29% K-BB%, 15.9% SwK, 2.97 xERA), he's potentially just a Romano injury away from being an upper-tier closer.
Speaking of the SEA bullpen, news has been sparse on Andres Muñoz (RHP, SEA) since his October foot surgery. Muñoz earned an "UP: 40 Sv" as one of the best relievers in baseball last year, but he's being drafted like he's The Guy (147 ADP) despite getting just four saves last season. Tack on the injury uncertainty, and fellow "UP" sider Matt Brash (RHP, SEA) suddenly makes a ton of sense as an insurance policy going outside the Top 400. Paul Sewald will be a factor too, of course, but he's coming off heel/elbow surgery and might be delayed for spring training as well. Something to track when pitchers and catchers report (this month!).
The Speculator is not designed to make definitive assertions about the future; rather, it is designed solely to open readers' eyes to possibilities they may not have previously entertained, and in doing so, provide a different perspective on the future. Many of the possibilities will be of the "out on a limb" variety. All are founded on SOME element of fact. But none should be considered any more than 20% percentage plays.
For more information about the terms used in this article, see our Glossary Primer.
Free Weekly eNewsletter
The industry's #1 analytical weekly e-mail newsletter is ABSOLUTELY FREE!
More Information
Shopping Cart