SPECULATOR: The BF19 DN: list
By Ryan Bloomfield

@RyanBHQ
February 6th, 2019 12:04am
Within the player commentaries of the Baseball Forecaster, we offer some UP: (and DN:) projections that are intended to reflect a ceiling (or floor) beyond the accompanying 2019 projection. As described in the book:
Upside (UP) and downside (DN) statistical potential appears for some players; these are less grounded in hard data and more speculative of skills potential.
We've spent the last two weeks looking at the "UP:" siders (batters | pitchers), and we'll now turn our attention to the more pessimistic side of the coin.
The "full" lists of DN: hitters and pitchers are included here; maybe we should be harsher next season. Average Draft Position (ADP) data is courtesy of the NFBC and through February 4.
Batters

Batter              ADP  DN:    
==================  ===  ==========
Bautista, Jose      746  0 AB
Camargo, Johan      309  10 HR, sub-400 AB
Duffy, Matt         458  300 AB, .260 BA, 6 SB
Encarnacion, Edwin  122  Sub-30 HR| sub-100 RBI
Escobar, Alcides    721  Bench job
Fowler, Dustin      516  More inconsistency, AAA time
Galvis, Freddy      560  400 AB
Gardner, Brett      352  400 AB
Gonzalez, Carlos    487  400 AB, 12 HR, .250 BA
Jones, JaCoby       622  JaCoby who?
Mancini, Trey       222  15 HR, still
Palka, Daniel       301  15 HR
Pence, Hunter       748  Retires
Pujols, Albert      467  300 AB, 10 HR, 50 RBI

Johan Camargo (3B, ATL): Camargo's direct path to playing time took a hit when ATL signed Josh Donaldson to man third base for 2019. The Braves are planning to use Camargo in a "Marwin Gonzalez-type role", which doubles as optimistic offseason code for just "utility guy." Donaldson carries plenty of injury risk and Camargo is also slated to back up Dansby Swanson at shortstop, but ATL doesn't seem comfortable handing him everyday AB. And for good reason—Camargo's second-half fades in bb%, ct%, and xPX all suggest he was a bit ahead of skis in 2018.
Edwin Encarnacion (DH, SEA): The most expensive hitter on this list, Encarnacion was involved in one of many Jerry Dipoto shuffles, moving from CLE to SEA in December. There's still a chance Encarnacion doesn't play an inning in a Mariners uniform, but for now, it's mostly a neutral move from a park factor standpoint. Encarnacion figures to slide into the team's DH role vacated by Nelson Cruz, and while SEA won't be fielding a bare-bones lineup, Encarnacion's RBI total should take a hit compared to the Francisco Lindor-Michael Brantley-Jose Ramirez trio he hit behind last season. Encarnacion's draft price accurately reflects some troubling skills—namely a five-year declining ct% trend—though his new digs fan the flames for a potential "DN: sub-30, sub-100 RBI" in his age-36 season.
Dustin Fowler (OF, OAK): Oakland's outfield should look the same as it did at the end of 2018, which is bad news for Fowler, who will likely play second fiddle to Ramon Laureano in center field. A trendy sleeper this time last year, Fowler struggled with a lack of plate discipline (0.17 Eye) and power (70/88 PX/xPX) in his first exposure to MLB pitching. Fowler's just 24 and he has great wheels, so while our "DN: AAA time" might come to fruition early in 2019, he remains a decent stash in keeper leagues, as well as a lucrative FAAB option should an opening eventually present itself.
Albert Pujols (1B, LAA): The decline continues, as one of the best hitters of this generation can be had outside the top 450. Pujols' "DN: 10 HR, 50 RBI" reflects our concern for degrading skills, health, age, and...now since press time... more competition. Justin Bour, who signed with the team in December, and Shohei Ohtani—once he returns from Tommy John surgery—figure to cut even more into Pujols' dwindling playing time. In the past, Pujols' massive contract has been a (not great) reason to keep him in the everyday lineup, but with LAA offering a bunch of one-year deals to fill out their pitching staff, they're a little more "in" this year, perhaps more willing to eat Pujols' salary on the bench. A changing team context, new manager, competition at first base, and of course, that injury risk, are all reasons to hedge "DN: 300 AB" as your baseline.
Pitchers

Pitcher           ADP  DN:    
================  ===  ==========
Allen, Cody       231  pricey setup 
Fulmer, Michael   319  5.00 ERA 
Gausman, Kevin    201  $5 bid nets a $5 loss
Gonzalez, Gio     425  5.00 ERA
Green, Chad       510  LIMA stash
Herrera, Kelvin   410  4.50 ERA; more DL time
Holder, Jonathan  749  4.50 ERA
Lester, Jon       181  2nd half x2

Cody Allen (RHP, LAA): Allen's worst season in recent memory left a bad taste in our mouths at press time; we tagged him as a "DN: pricey setup" option entering free agency. He's since been bailed out by LAA, who signed the age-30 reliever to a one-year deal and immediately confirmed him as their closer. The skills warning flags are still there—Allen's coming off a 4.43 xERA that reflects an uptick in fly balls and walks—but he should have plenty of leash in a bullpen lacking another 100+ BPV pitcher. If you're fishing in the deep end of the closer pool, Allen's relative role security makes him a decent #2 closer in hopes that 2018 was just a blip.
Gio Gonzalez (LHP, FA): Perhaps Gonzalez is just another victim of the glacial free agent market—he's currently without a team for 2019—but perhaps teams are also seeing what drove us to a "DN: 5.00 ERA" in the Forecaster. Gonzalez's fastball velocity hung below 90 mph for the second straight year, while he posted his first sub-2.0 Cmd since 2010. The price is cheap (ADP: 425), but we'd rather speculate on skills and upside instead of 33-year-olds with minuscule ceilings at that point in the draft. Gonzalez remains a hard pass for us in the endgame, no matter where he lands.
Chad Green (RHP, NYY): Green's "DN: LIMA stash" is about as good a DN you'll see in the Forecaster. Unfortunately for Green owners, NYY's monster bullpen grew larger with the signing of Adam Ottavino, further limiting any chance Green has to reach the other part of his projection: "UP: finds save opps". As back-end starting rotation ERAs rise, Green still offers plenty of value—he's totaled 145 innings with $28 in mixed-league earnings with a 171 BPV over the last two years. Best yet, Green is available for free thus far in early drafts (ADP: 510).
Kelvin Herrera (RHP, CHW): Herrera parlayed his 2.44 ERA from 2018 into a cool two-year, $18 million contract and a chance to close with CHW. A few problems with that plan: Herrera's 4.34 xERA reflects a fluky 87% S% last year, his strikeouts were down and fly balls were up, and he dealt with shoulder issues in the second half followed by surgery on his foot in September. Herrera still hits the mid-90s and misses bats, but your better bet is to heed Doug Dennis' advice and speculate on Alex Colome's skills winning out in CHW's race for saves.
The Speculator is not designed to make definitive assertions about the future; rather, it is designed solely to open reader's eyes to possibilities they may not have previously entertained, and in doing so, provide a different perspective on the future. Many of the possibilities will be of the "out on a limb" variety. All are founded on SOME element of fact. But none should be considered any more than 20% percentage plays.
For more information about the terms used in this article, see our Glossary Primer.
Shopping Cart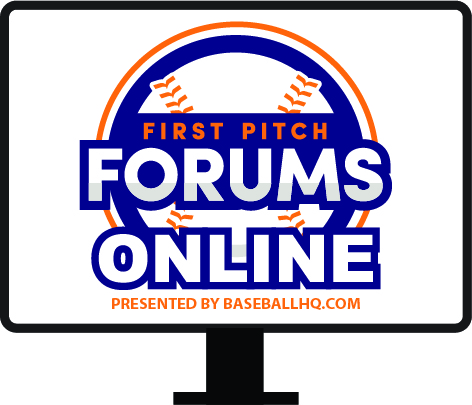 Our virtual First Pitch Forum returns!
Three online-only events: March 5, 11, 17
Join us live, or watch when you want
Just $19!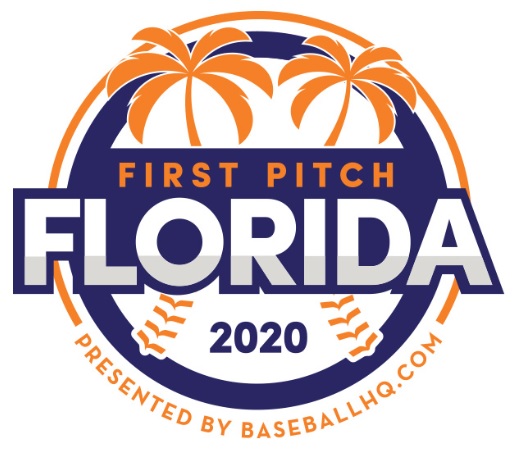 Inaugural Event!
February 28-March 1, 2020
St. Petersburg, FL
A few seats still left!