SPECULATOR: 2018's End-of-season first round
By Ryan Bloomfield

@RyanBHQ
March 28th, 2018 12:04am
So much blood, sweat, and ink go into dissecting every season's first round. We all see the same 15-20 names atop overall ranking lists for months, and it seems like a foregone conclusion that this group will finish near the top by season's end.
Truth is, we have little clue how the end-of-season first round will turn out, and if history is any indication, it'll look drastically different than it does in March.
Ron Shandler's research in the Baseball Forecaster tells us that, on average, just one-third of the market's top-15 players will return first-round value at the end of the year. Here's the total breakdown of first-round earners—defined as the top 15 overall players in standard 5x5 mixed leagues—grouped by their preseason Average Draft Position (ADP) from 2014-17.

  ADP    Count  Avg
=======  =====  ===
  0- 15    20    5
 15- 45    17    4
 46-105     9    2
106-195     8    2
   195+     6    2
-------------------
     SP    16    4

They come from all walks of life.
So this week, we'll take a stab at a speculative first round. We'll pick the average number of players from each of the five ADP groups listed above, keeping in mind that we'll need to choose four SP along the way. All ADP is taken from the National Fantasy Baseball Championship (NFBC) since March 1.
Picks 1-15 (5 players)
With just a one-in-three chance to return to full value, this is no time to speculate. We always err on the side of caution in the first round, minimizing risk by banking on players with an elite track record of skill and performance. Let's whittle this down by group:
Don't pay for performance that a player has never achieved: We're looking at you, Trea Turner, Carlos Correa, and (to a slightly lesser extent) Kris Bryant. They're all keeper league gold with mega-ceilings, but how many first-round seasons do they have between them? Just one, Bryant, who stands the best chance at returning full value of this trio at his 15 ADP.
Regression and track record: Despite his move to NYY, the percentage play for Giancarlo Stanton is to expect regression. He's coming off a career-high hr/f that didn't get much support from his underlying xPX in 2017, and you're paying for a full repeat. Bryce Harper, though he's still pre-peak, has hit 30 HR just once in his six-year career with only two 500-AB seasons since 2012. Both are priced for what they could do, but haven't done with enough frequency.
"The Big Four": Clayton Kershaw, Max Scherzer, Corey Kluber, and Chris Sale have first-round price tags. The odds of all four returning first-round value? Slim to none. They all have ace-worthy skills, but track record separates the pack, as 2017 was the first time Sale or Kluber returned first-round value. Kershaw (even with his back issues) and Scherzer have been fixtures atop recent end-of-season leaderboards. We'll side with them.
Just missed the cut: Mookie Betts, Charlie Blackmon, and Paul Goldschmidt have the skills and track record worthy of an anchor pick, but with only five slots to choose from, we have to nitpick. Goldschmidt could feel the effect of Chase Field's humidor, Blackmon's SB could continue to wane on the wrong side of 30, and Betts has just one first-round season to date. All three are worthy choices, but real estate is tight.
With the filtering complete, here are our five first-rounders most likely to return top-15 value:
Nolan Arenado (3B, COL)
Jose Altuve (2B, HOU)
Clayton Kershaw (LHP, LA)
Max Scherzer (RHP, WAS)
Mike Trout (OF, LAA)
Picks 16-45 (4 players):
Rounds 2-3 of the 2018 player pool is extremely deep. Our choices have either 1) been in the first round before, but may be discounted due to recency bias, or 2) put up first-round level skills over an extended period of time. Four of our favorites:
Joey Votto (1B, CIN; 19 ADP) has earned more than $30 in each of the last three seasons, making him one of the safest choices out there. Perhaps Votto's age (34) is discounting him in drafts, but with a .320 BA and 30+ HR per year since 2015, he's a fairly easy choice.
Dee Gordon (OF, SEA; 29 ADP) is one of five hitters to return first-round value in three of the past four seasons—it could've been four were it not for his 80-game PED suspension in 2016. There's some risk in an "all eggs in one basket"-type approach with Gordon, but in an age where steals and batting average are down, Gordon's BA/SB/R production floor is unparalleled.
Christian Yelich (OF, MIL; 42 ADP) is where we loosen our track record constraint just a bit. He hasn't been a first-rounder yet, but Yelich has an impeccable "4455 AAB" Mayberry Method score at peak age, he's put up $25 in each of the last two seasons, and his move to the top of MIL's lineup should inject even more value. Our base projection for Yelich (.305 BA, 23 HR, 19 SB) already has him on the fringe of the first round.
There's a small army of SP options available behind "the big four", at least one of which should flirt with a first-round season:

                      PROJECTIONS
Pitcher              MM Score  BPV
==================   ========  ===
Strasburg, Stephen   4505 DAA  149
Bumgarner, Madison   3305 DAA  135
Severino, Luis       4405 ABD  138
Carrasco, Carlos     4405 CAA  147
Syndergaard, Noah    5403 FCA  167
deGrom, Jacob        4405 AAA  140
Verlander, Justin    2405 AAA  106

A lot to choose from, but if we filter out the poor health grades (Strasburg, Bumgarner, Carrasco, Syndergaard), relatively weaker skills (Verlander), and the lack of track record (Severino), we'll happily go with Jacob deGrom (RHP, NYM; 36 ADP). He's thrown 190+ IP in two of the last three seasons with sub-3.05 ERAs in three of the last four. DeGrom's anchor-worthy skills led us to an "UP: Cy Young talk" in the 2018 Baseball Forecaster.
Honorable mention: Kris Bryant, Francisco Lindor, JD Martinez, Jose Ramirez.
Picks 46-105 (2)
In the middle rounds, we need to start turning a blind eye to those with injury/track record risk, focusing instead on those with first-round skills.
Starling Marte (OF, PIT; 47 ADP) was being drafted as a fringe first rounder just one year ago, but a slow start and 80-game PED suspension have dropped his draft cost. Has anything really changed, though? From 2013-16, Marte averaged 37 SB with a .292 BA, making him productive in a pair of increasingly scarce categories. We gave Marte an "UP: 20 HR, 50 SB" in the Forecaster and he's coming at a lost-season discount. The perfect time to pounce.
James Paxton (LHP, SEA; 74 ADP) is the lowest-priced SP to put up back-to-back 130+ BPV seasons in 2018 drafts. The lower cost is warranted—Paxton has a laundry list of recent ailments (forearm, pec, elbow, finger, lat)—but frankly, aren't all starters injury risks? If we're speculating on a mid-round SP to break through, we'll lean on ones with the skills to make it happen. A 180-inning season from Paxton should have him in the conversation.
Honorable Mention: Byron Buxton, AJ Pollock, Aaron Nola.
Picks 106-195 (2)
Everyone here has their warts, but scoring first-round production from this group will go a long way towards a championship. Last year's cohort from this tier? Elvis Andrus and Marcell Ozuna.
Lance McCullers (RHP, HOU; 133 ADP) has one of the widest ranges of outcomes for 2018. Our $4 projection earned him a spot on the 2018 All-Avoid team, but how many other pitchers in this tier share McCullers' ceiling? He was one of the best first-half SP in 2017 before a back injury derailed his 2H. McCullers' rare blend of strikeouts (10.2 career Dom) and groundballs (54% GB%) provides all the tools to become a legit ace... if he can stay healthy. It's a big if and a longshot, but he's made it through spring training unscathed, at least.
Manuel Margot (OF, SD; 136 ADP) already earned some Speculator ink this preseason thanks to his Whit Merrifield-type skill set. The 23-year-old adjusted well to MLB pitching as a rookie, posting gains in FB% (42%), xPX (98), and SB% (10-for-11) in the second half. Margot's league-average ct% says he'll need some h% luck to truly break out, but with plenty of volume atop SD's lineup, the five-category skill set is there for a big sophomore season.
Honorable Mention: Ozzie Albies, Orlando Arcia, Jonathan Villar.
Picks 195+ (2)
This is where it gets fun. Put "first round" next to any of these names you're liable to get thrown out of the room, but history says it's going to happen. Perhaps twice.
Aaron Hicks (OF, NYY; 224 ADP) was on fire to start 2017—he hit .290 with 10 HR and 7 SB when a late-June oblique injury torpedoed the rest of his season. With some excellent pre-injury skills (.278 xBA, 130 PX, 79 BPV), limited lefty/righty splits, and a friendly home park, the pieces are in place for a post-hype breakout. He'll need regular time in a crowded NYY outfield, but that door is already ajar with Jacoby Ellsbury on the DL to start the season.
Jose Martinez (1B/OF, STL; 250 ADP) has a Mayberry score (3353 ADF) worthy of first-round consideration alone. His 2H performance in 2017 (.338 BA, 9 HR, 3 SB in 157 AB) was driven by excellent peripherals: .288 xBA, 126 xPX, 114 RSpd. Martinez is a late bloomer, doesn't have much of an MLB track record, and needs to show he can hang vs. RHP, but with multiple paths to playing time in STL, he owns the skills that you speculate on in the endgame.
Honorable Mention: I posed the following question to the Twittersphere and received a wide range of responses; including Matt Chapman, David Dahl, Hanley Ramirez, Blake Snell, and Jorge Soler. Feel free to peruse the thread below and see how foolish we might look come September:
From 2014-17, we've had six players post first-round value with a 195+ ADP:

2014: Brantley, Rendon, DGordon
2015: Keuchel
2016: Villar
2017: Judge

Recent history says 1-2 will do it this year. Who ya got?

— Ryan Bloomfield (@RyanBHQ) March 21, 2018
Hopefully, this exercise opens your eyes to the types of performances that will undoubtedly happen when the season starts. So to pass time on this Opening Day eve: Who ya got? Let us know your own speculative first round here in the comments.
And play ball!
The Speculator is not designed to make definitive assertions about the future; rather, it is designed solely to open reader's eyes to possibilities they may not have previously entertained, and in doing so, provide a different perspective on the future. Many of the possibilities will be of the "out on a limb" variety. All are founded on SOME element of fact. But none should be considered any more than 20% percentage plays.
For more information about the terms used in this article, see our Glossary Primer.
Shopping Cart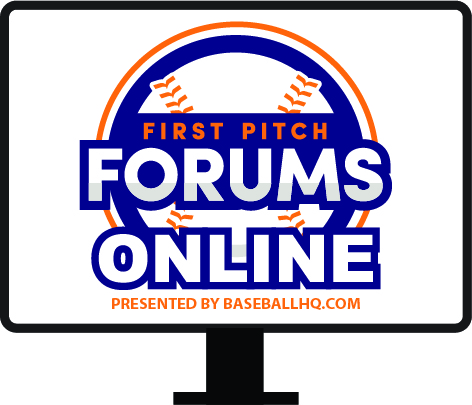 Our virtual First Pitch Forum returns!
Three online-only events: March 5, 11, 17
Join us live, or watch when you want
Just $19!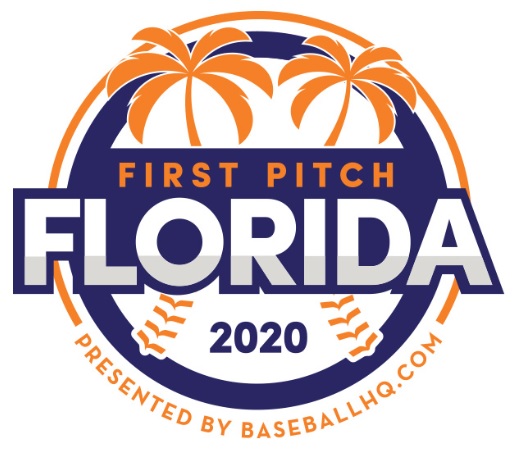 Inaugural Event!
February 28-March 1, 2020
St. Petersburg, FL
A few seats still left!