ROTISSERIE: Plans gone awry in 2022 AL Tout Wars
By Ryan Bloomfield

@RyanBHQ
March 21st, 2022 1:02am
The coffee was brewing, RotoLab was refreshing, my two young boys were (kind of) still sleeping, and at 7:15 am local time on Saturday morning… it was time to draft. This was my third time drafting in AL Tout Wars, and while I still haven't been able to do so in-person, the adrenaline was flowing for this one.
Before we get into my plan, my team, and other various rambling thoughts: a quick shout to Justin Mason, who was honored by Tout Wars on Saturday with the 2022 Lawr Michaels Zen and Now Award. I remember "meeting" Justin when he invited me on his Friends with Fantasy Benefits podcast back in 2016 or 2017—my first-ever podcast guest appearance, if I remember correctly—and having an absolute blast. Watching him since spawn The Great Fantasy Baseball Invitational, shepherd in new writers to the industry via his FWFB website, and become a positive and inclusive voice in this industry has been a joy to see. Congratulations, Justin, on a well-deserved honor.
The gameplan
My LABR Mixed Draft draft plan revolved around the fruitful (in my opinion) mid-round starting pitcher pool, and I wanted to go back to that well in Tout Wars. A quick screencap of my RotoLab setup (green squares = "target" flags) shows several arms I could build around in the $10-$20 range: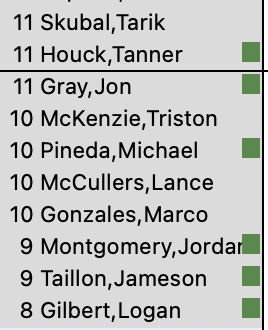 Pair those types of arms with the rare commodity that is an established AL closer (more on that later) and we've got a plan! On the hitter side, I wanted to copy last year's spread the risk strategy in an effort to avoid $1 bats given the cesspool that is the free agent market in a 12-team AL-only league.
The execution
The execution of said plan? Questionable at best, as deep-league auctions have a habit of throwing several wrenches into the best-laid plans. Here's the roster I ended up with:

Pos  Player              $
===  =================  ==
  C  Gary Sanchez       11
  C  Cal Raleigh         1
 1B  Bobby Bradley       3
 3B  Santiago Espinal    1
 CI  Eric Thames         1
 2B  Josh Harrison      10
 SS  Corey Seager       22
 MI  Nicky Lopez        13
 OF  Mike Trout         38
 OF  Teoscar Hernandez  30
 OF  JD Martinez        24
 OF  Robbie Grossman    18
 UT  Aaron Hicks         3
SUT  Kevin Kiermaier     1
--------------------------
  P  Shohei Ohtani      19
  P  Nate Eovaldi       18
  P  Tarik Skubal       13
  P  Marco Gonzales      8
  P  Michael Pineda      5
  P  Luis Patino         5
  P  Dylan Bundy         2
  P  Gregory Soto        9
  P  Hector Neris        5
--------------------------
RES  Ryan Yarbrough      0
RES  Greg Holland        0
RES  Travis Shaw         0
RES  Matt Duffy          0

Four $1 hitters obviously didn't jibe with my "spread the risk" intent. I started with a $30 Teoscar Hernandez, which was fine, but he was my only buy through the first 50 nominations. With so much extra money on the table, I spent a couple of extra bucks on Mike Trout ($38) and had to quickly switch to a more stars-and-scrubs approach (translation: I panicked). I'm a little light on speed given my star hitters are more of the four-category variety, but I should at least be competitive in SB after biting the bullet on Nicky Lopez later in the auction.
On the pitching side, my rotation was more-or-less as expected, though I didn't pull the trigger on any of the elite closers.
Closer Madness
So about that small pocket of established closers I wanted to target—they all went for over $20 on Saturday and were brought up early in the bidding:

(Nom. Order) Closer         $  Team
=========================  ==  =========
( 1) Ryan Pressly          21  Erickson
( 7) Liam Hendriks         23  Schechter
(11) Jordan Romano         23  Leibowitz
(23) Emmanuel Clase        23  Bender
(25) Aroldis Chapman       23  Podhorzer
(35) Raisel Iglesias       22  Blessing

Notice "Bloomfield" isn't listed anywhere in the Team column. I ducked once the bidding hit $20, ultimately being shut out and having to pivot on the fly. My consolation prize was potential closer Gregory Soto ($8) along with a couple of Hail Marys on Hector Neris ($5) and Greg Holland ($0; reserve round) to try and patch together saves.
The downside of "going the extra buck"
It's always easy to say "go the extra buck" on a player you really like. It can certainly work out if you trust your player evaluations and believe in someone beyond their base projection, but man, it burned me on Saturday.
I "went the extra buck" several times, taking Trout ($38; projected $35), Nathan Eovaldi ($18; projected $16), and JD Martinez ($24; projected $22), as I tried to play catch-up after that tepid early-auction bidding. It cost me later when those "extra bucks" could have come in handy on the mid-range players. Two distinct spots (I'm sure there were more) where this got me was when trying to fill 1B late in the auction. I was the runner-up to Doug Dennis on Miguel Cabrera ($5; projected $15) and to Patrick Davitt on Ji-Man Choi ($5; projected $14). Speaking of Doug and PD (as well as AL Tout newcomer Chris Blessing)...
...So many HQers!
Here's a screencap I took during the bidding that I thought would sum things up:

This was far from the only time where we got into bidding wars with ourselves. I don't think we're all just blindly following BHQ projections, but my guess is most of us were using RotoLab and looking at pretty similar dollar values throughout the auction. The Valdez screenshot here, the Cabrera and Choi examples above, and a randomly-hot bidding process instigated by Blessing for Kevin Smith all made for an even tougher-than-normal room knowing the "HQ darlings" wouldn't slip by one-third of the league.
Other strategies
Enough about my own team. If you're in a deep -only league you probably want to see what some other teams did, right? There were several other interesting strategies deployed on Saturday worth considering in your own drafts:
Doug being Doug. Resident RP Buyers Guide expert and staff closer Doug Dennis lived up to his name with an all-reliever pitching staff. Doug spent $61 on nine relievers, using his excess draft capital to bully the hitting categories. The plan worked like a charm per RotoLab, as Doug cleaned up the hitting side while essentially punting wins and strikeouts:

Santana Plan? The defending champions, Glenn Colton and Rick Wolf, went with a classic Santana Plan strategy, spending $37 on Gerrit Cole and a combined $27 on the rest of their pitching staff combined. They also punted catcher, spending $1 on each backstop, and used that excess capital to attack other positions. Cole is head-and-shoulders above the rest of the AL pitching pool, making this a completely viable plan of attack if you have cheaper arms to target late. The BHQ projections are suspect, but Rick and Glenn are fantastic players who should once again be in the mix as they attempt to repeat.
Spread the risk. Mike Podhorzer is in LABR Mixed with me. He made some waves going for an entire high-risk, high-reward squad in that league taking Ronald Acuña, Jacob deGrom, Adalberto Mondesi, and Byron Buxton with four of his first five picks. It was the complete opposite AL Tout, as Mike was the only manager to not spend $30 on a single player. If you're going to spread the risk in an -only league, this might be the blueprint: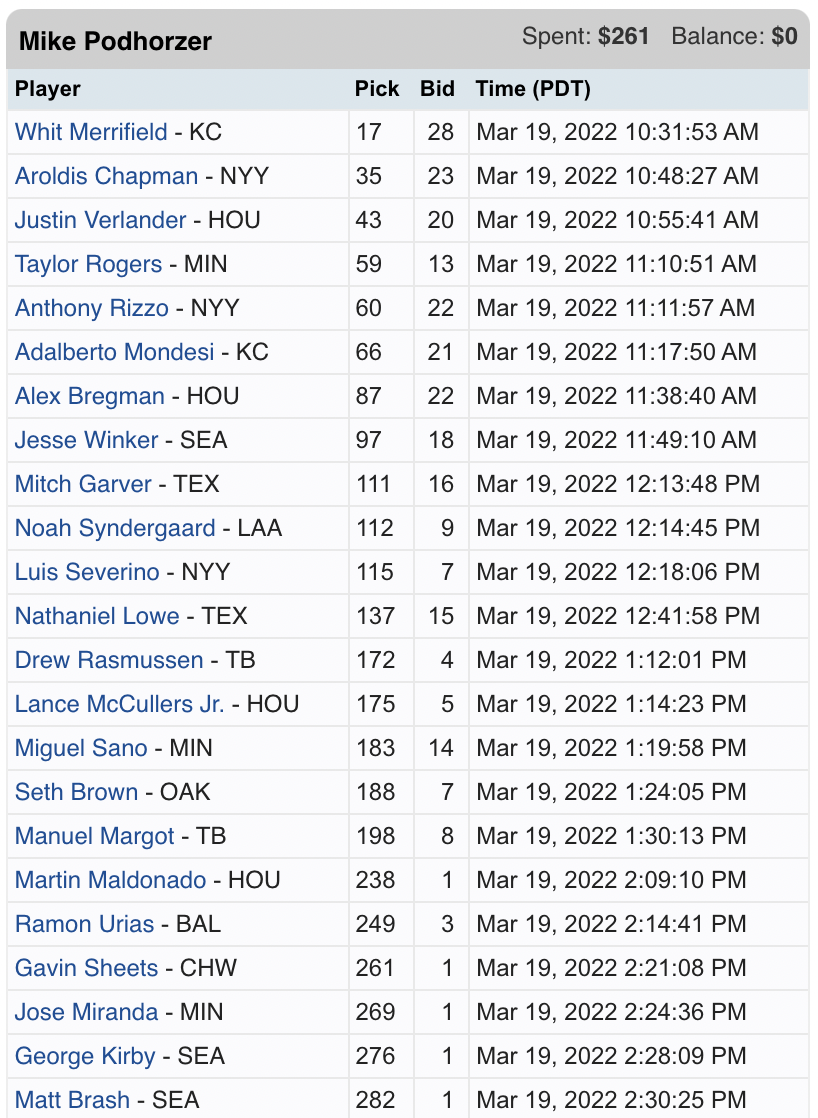 All you need is one sheet! I'm a RotoLab diehard for auctions—using the tool to quickly input bids and see money remaining, flag player targets, and track category progress are just three of a seemingly endless list of in-auction benefits. But you can always just go with this too:
A peek behind the curtain: this was my prep sheet for AL #ToutWars. I had budgeted *loose* dollar amounts for every roster position and players (in no particular order) which I liked for each spot. I spent the event only throwing players from that list. pic.twitter.com/QtD8wWIZSR

— Jason Collette (@jasoncollette) March 20, 2022
Jason's approach makes a ton of sense, as limiting the player pool to only your targets and having multiple options for each price point/position can streamline things during the madness of an auction (especially an online auction, where things were extremely fast-paced). Jason's final roster matches his list to a T, meaning he stuck to his process and was (presumably) happy with the results. Different strokes for different folks, but the takeaway here is to go with the approach you feel most comfortable with heading into a fast-paced auction.
Time to play the games
As we all toiled through CBA hell these last few weeks (months!), I had a fear that like in 2020, we'd be drafting without a clue as to when the season would start. I've never been happier to be wrong. Refrains of "Baseball is back!" these past ten days have rejuvenated things in the lead-up to Opening Day, and I was as fired up for this auction as I've ever been.
Two-and-a-half more weeks of draftin'... then it's play ball.
For more information about the terms used in this article, see our Glossary Primer.
Free Weekly eNewsletter
The industry's #1 analytical weekly e-mail newsletter is ABSOLUTELY FREE!
More Information
Shopping Cart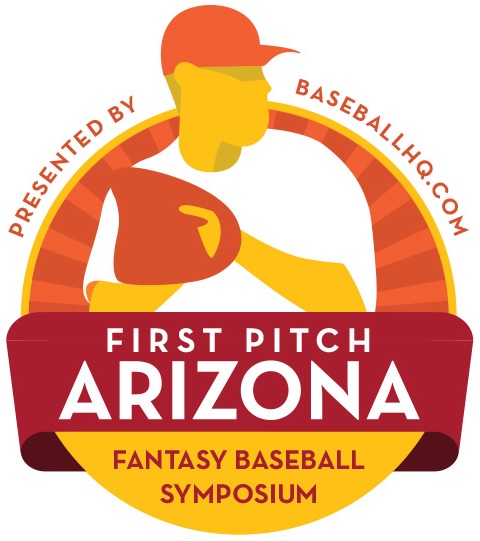 November 2-5, 2023
Mesa, Arizona
SAVE THE DATE!