ROTISSERIE: Mid-round team building in LABR Mixed
By Ryan Bloomfield

@RyanBHQ
February 25th, 2022 2:06am
Industry draft season officially kicked off Tuesday night with the LABR Mixed Draft. And it felt great to jump back into a "live" draft.
LABR is a 15-team, traditional 5x5 mixed league with trading allowed, which like most of your home leagues, allows for several unique ways to build a team. Unlike in the NFBC, where we often cite Average Draft Position (ADP), teams don't need to be balanced coming out of the draft.
Click here for the full LABR Mixed Draft results.
Just to make things harder on myself (but more fun!), I streamed the majority of my draft live on our YouTube channel. Here's the archive version for whenever you have 3.5 hours to kill:
Instead of a typical pick-by-pick analysis of my team, which you probably don't care much about, I want to give you a peek into part of my draft prep process. Hopefully, you can mix some of this into your own process for next month's drafts.
Building a draft plan from the middle rounds
I recently appeared on the excellent Benched with Bubba podcast with Brian Entrekin where we focused entirely on the middle rounds. We gave picks and pans for each round, but more importantly, it gave us the opportunity to explain why focusing on the middle rounds is so important:
So I practiced what I preached with this in LABR. I mapped out my favorite targets from Rounds 6-17 in two-round increments (having the 5th slot, this simplified things) to see which positions/categories I could happily grab later on. I'll then build my early-round draft plan around those targets.
Opening the books a bit with my cheat sheet, here's a quick rundown of what you're about to see alongside my stream-of-consciousness notes:
Hitters are listed on the left side for each round pair, ordered by ADP; starting pitchers on the right.
These are only my targets, not the entire pool. Players who I like have a "2", and players who I REALLY like are "1". HQ colors, of course.
The green cells represent the chance that each player is available at each pick based on NFBC ADP. For calculation details, check Page 59 of the Baseball Forecaster for details. A quick shout to leaguemate Rudy Gamble of Razzball for the idea of implementing this into my cheat sheet.
Rounds 6-7

Hitters — With the exception of maybe India and Bellinger, there's no speed whatsoever here. Martinez would be my top priority if available (but only if I have an SB cushion).
Pitchers — This is a GREAT SPOT to grab a couple of starters if I start with hitter-heavy. Rogers, Montas, and Castillo are top priorities; ditto Morton despite the age coming of an (admittedly non-arm) injury. Snell's pitch mix change makes him a decent gamble in Round 7; he might even make it back to me in Round 8).
Rounds 8-9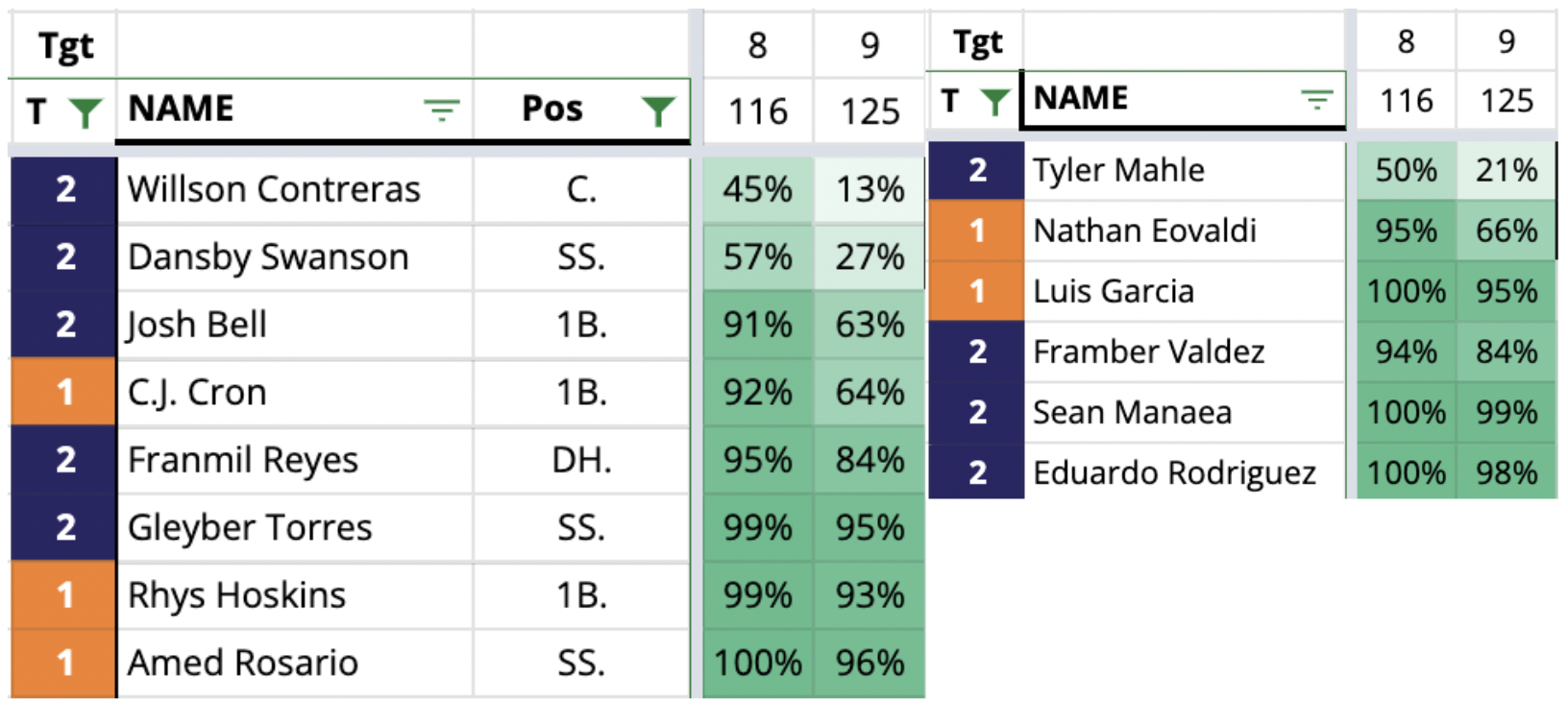 Hitters — LOVE this pocket of value at 1B (Bell, Cron, Hoskins). It's fine to pass on early 1B (Alonso, Olson, Goldschmidt, Abreu) if I want to take a similarly-skilled alternative several rounds later. The SS options (Swanson, Rosario, Torres) show how deep the position is this year as well. Rosario is a rare middle-round SB option to consider if I'm short on speed.
Pitchers — Have to grab one starter out of this bunch if I wait on starters. Eovaldi and Garcia would be the main targets, but I'd be happy with any of the other "2"s.
Rounds 10-11

A lot more hitter targets than pitchers here:
Gurriel is the priority; love him (and his lineup) at the draft spot.
Garcia/McMahon aren't far behind; maybe Votto if I didn't grab a Round 8-9 1B.
Wong is a rare speed source at a scarce position.
Rounds 12-13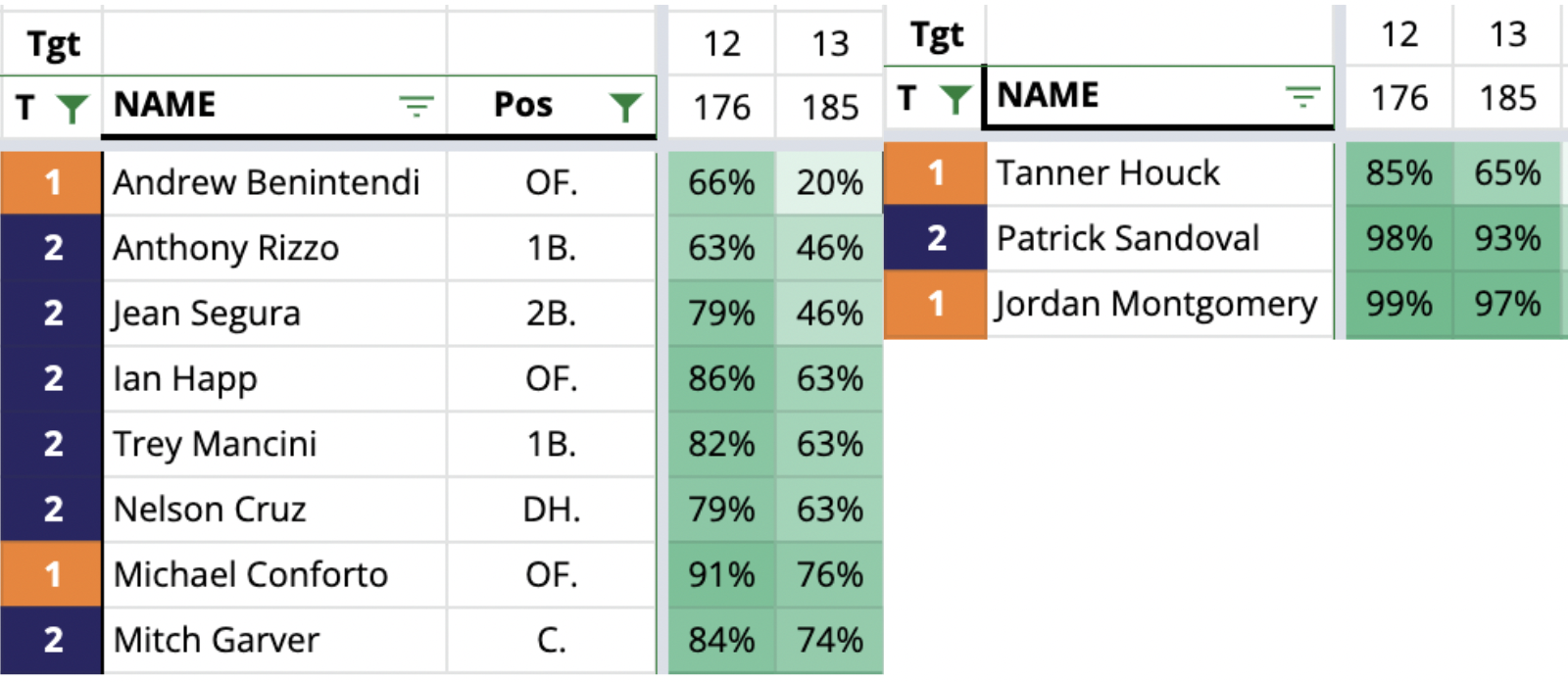 Hitters — Not much speed among the hitter targets (sensing a theme here?); maybe Segura or Benintendi based on category/position need.
Pitchers — Love this trio. All three are targets and I won't hesitate to grab two of Houck, Sandoval, and Montgomery if I need the innings (spoiler alert: I ended up with all three!).
Rounds 14-17

Hitters — Finally, a few SB targets (Cruz, Pham, Hampson, Myers). I'll likely be tapping into this portion of the draft pool to round out my stolen base portfolio.
Pitchers — A sufficient number of names to round out the rotation late in the draft. Megill can probably slide to Round 20 if I need him.
The early-round plan takes shape
Based on my middle-round targets, I have three goals early in the draft:
Goal 1: Prioritize speed early. You hear it all the time, and it's true: stolen bases really are few and far between. Grabbing bags is an absolute must in the early rounds since SB targets fall off a cliff after ~Round 6.
Goal 2: Get saves early. I didn't include closers in the mid-round analysis since the pool dries up quickly after the 6th round. That may change given LABR is a stand-alone trading league, but I still want to snag an elite closer while loading up on bats before I start building the rotation.
Goal 3: Wait on starting pitchers. Something has to give. You can't have well-rounded speed, saves, AND starting pitching early in a 15-team league. From the exercise above, I count 11 starting pitcher targets between Rounds 6-9. This is the pocket I want to aggressively target to make up for my hitter-heavy start.
The results
Here's how it shook out (Rounds 1-10 on the left; 11-20 in the middle; 21-29 on the right):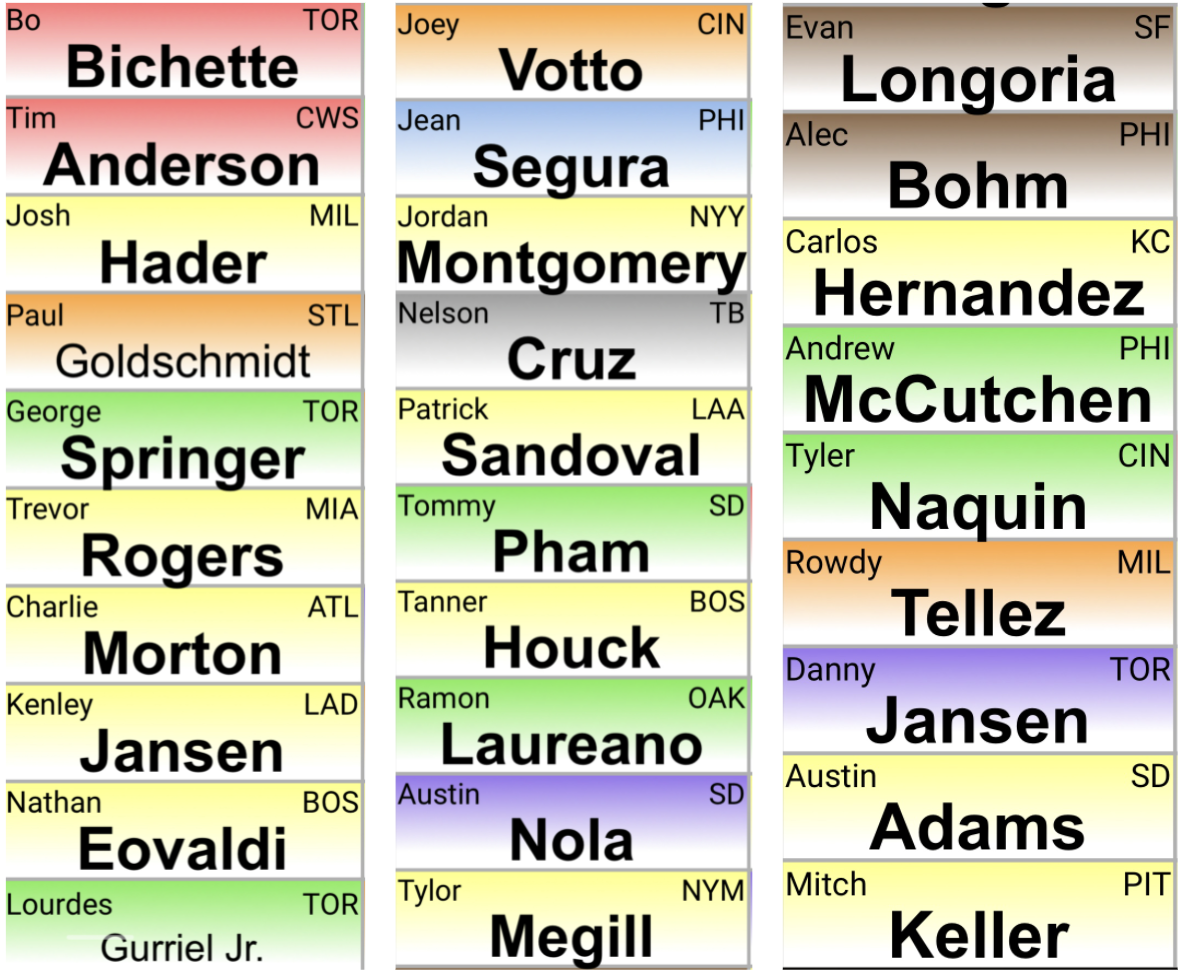 And in tabular form with HQ projections for category balance:

Rd  Hitter            Pos   AB   BA    R   HR  RBI  SB 
==  ================  ===  ===  ====  ===  ==  ===  ==
 1  Bo Bichette        SS  610  .288  102  28   93  22
 2  Tim Anderson       SS  589  .301  105  22   67  23
 4  Paul Goldschmidt   1B  567  .288   97  28   88   8
 5  George Springer    OF  510  .267  101  38   89   6
10  Lourdes Gurriel    OF  543  .281   71  27   93   4
11  Joey Votto         1B  519  .259   83  32   87   2
12  Jean Segura        2B  569  .278   80  15   61   9
14  Nelson Cruz        DH  552  .267   86  32   98   2
16  Tommy Pham         OF  414  .236   63  15   46  10
18  Ramon Laureano     OF  378  .252   48  15   46  10
19  Austin Nola         C  371  .264   39  13   57   1
21  Evan Longoria      3B  372  .258   59  18   63   1
24  Andrew McCutchen   OF  442  .242   72  24   68   6
27  Danny Jansen        C  336  .254   56  18   54   0
------------------------------------------------------
    TOTAL                       .269 1062 325 1010 104


Rd  Pitcher                 IP   ERA  WHIP   K    W  Sv
==  =================  ==  ===  ====  ====  ===  ==  ==
 3  Josh Hader         RP   58  2.17  0.90   99   3  33
 6  Trevor Rogers      SP  174  3.21  1.17  204  12   0
 7  Charlie Morton     SP  174  3.67  1.13  202  13   0
 8  Kenley Jansen      RP   58  3.57  1.12   74   4  28
 9  Nathan Eovaldi     SP  174  3.83  1.17  186   9   0
13  Jordan Montgomery  SP  174  3.93  1.28  177   8   0
15  Patrick Sandoval   SP  145  4.16  1.27  151   8   0
17  Tanner Houck       SP  131  3.57  1.13  157   7   0
20  Tylor Megill       SP  131  4.19  1.22  148   7   0
-------------------------------------------------------
    TOTAL                 1233  3.69  1.18 1398  71  61

Revisiting my early-round goals:
Speed was a priority early on with Bichette and Anderson (though taking two shortstops hamstrung me later on) and a peppering of bags from Goldschmidt and Springer as a semi-decent decent foundation.

I tried to supplement that with a few late SB targets (Segura; Laureano, who is suspended for the first month of the season; and Pham).

The Hader/Jansen combo should provide a solid Sv foundation. Hader was in the draft plan given the dearth of middle-round closer options, but Jansen was a surprise. I nearly took him in the 7th round and couldn't resist once he made it back to me in the 8th.

After Jansen, only Will Smith and (maybe) Giovanny Gallegos were left as the last highly-skilled closers with a likely job.

The mid-round SP target strategy went swimmingly. I was able to grab several targets (Rogers, Morton, Eovaldi) as my SP1A, 1B, and 1C. My ratios look great, but I might need a few more Wins and Ks.
While it might not be a traditional build in this age of early starting pitchers, I feel comfortable leaving the draft table with enough pitching to be competitive. But enough about my team, hopefully you can use this glimpse into my mid-round prep process and integrate it into your own prep (and leave any questions in the comments!).
For more information about the terms used in this article, see our Glossary Primer.
Free Weekly eNewsletter
The industry's #1 analytical weekly e-mail newsletter is ABSOLUTELY FREE!
More Information
Shopping Cart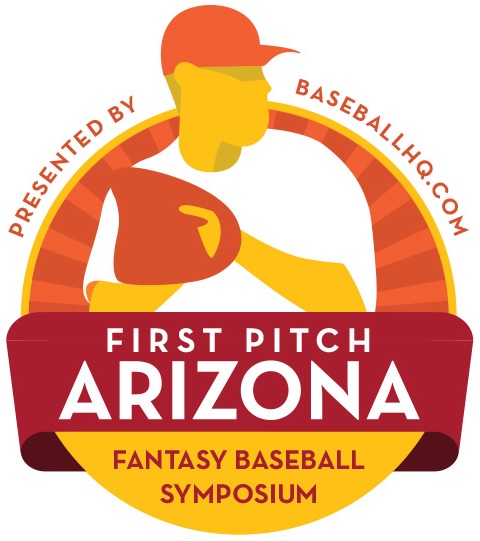 November 2-5, 2023
Mesa, Arizona
REGISTRATION NOW OPEN!