RELIEVERS: Week one observations, 2016
By Doug Dennis

@DougDennis41
April 12th, 2016 11:03pm
This column has two or three innings per reliever to analyze! The truth is, you cannot tell a single thing about a reliever from two or three innings. Fantasy owners may have a knee-jerk reaction. So might real managers of teams. But the truth is, throwing out months of preparations and projections without injury or bona fide role change is foolish. So try to be patient. Having said that, here is a whirlwind through 12 pens—subject to change as quickly as tomorrow comes.
Let's start this week with Texas. I was on SiriusXM the day after Rangers closer Shawn Tolleson (RHP, TEX) blew a save in spectacular fashion against Seattle and was asked if he is out, who is next. It is a legitimate question. But one blown save is not going to cause the Rangers to remove Tolleson from the closer role. But if he were hurt, they would have to do it. If he blew four more in a row, they would have to consider it. Especially since the Rangers have some options. Here are truncated projections to just give a snapshot gist of projected roles/skills.

TEX (proj)         Sv xERA WHIP BPV
================   == ==== ==== ===
Tolleson           36 3.40 1.18 114
Dyson               2 2.92 1.26 112
Kela                2 2.69 1.09 142
Tolleson did get beat in that one game. But he has two saves since and is being ably set-up by Sam Dyson (RHP, TEX) and Keone Kela (RHP, TEX). Of those two, Kela has the better skills projection, although both are excellent. If something happens to Tolleson—really something, not just a blown save here and there—then consider Kela right alongside Dyson. By the time it happens, if at all, Kela may be ahead of Dyson, even.
In Tampa Bay there has not been a save chance yet (as of April 11). But the likeliest recipient of the first save chance remains Alex Colome (RHP, TAM) with Brad Boxberger (RHP, TAM) out until mid-May after core muscle surgery. Daniel Farquhar (RHP, TAM) looked better in his two innings than Colome looked in his two innings, but repeat the mantra: "Two innings means nothing."

TAM (proj)         Sv xERA WHIP BPV
================   == ==== ==== ===
Boxberger          25 3.38 1.20 106
A.Colome           14 3.73 1.30  94
Farquhar            2 3.69 1.31  96
It might be smarter to consider this a job-share, with Colome as the primary, until Boxberger returns. There is little difference, skills-wise, to separate Colome from Farquhar. The Rays have generally used match-ups to determine who pitches when during times when the incumbent closer is out. Having said that, if Boxberger is slow to return to 100 percent, and either Colome or Farquhar has a hot hand, that hot hand could go a lot further than mid-May. And it could eventually be Farquhar, not Colome. This is definitely a situation to watch carefully for usage patterns in the early going.
The Seattle Mariners love analytics, and yet generally overpay for experienced relievers on the downslide, skills-wise. That was the case this winter when they grabbed Steve Cishek (RHP, SEA) to close and Joaquin Benoit (RHP, SEA) to set him up. Both struggled more than expected the first week, but (you will get sick of this): "Two innings means nothing."

SEA (proj)         Sv xERA WHIP BPV
================   == ==== ==== ===
Cishek             34 3.67 1.31  80
Benoit              9 3.64 1.11  86
Zych                2 3.36 1.26 132
J.Peralta           0 3.91 1.19  96
Take a look at the skills. You tell me how this is going to play out. Cishek and Benoit had lousy first weeks and Joel Peralta (RHP, SEA) blew a save. Meanwhile, Tony Zych (RHP, SEA) made the team, pitched well in his outings and skills-wise, seems poised to take over when the team gets through Cishek and Benoit. It could take awhile. It probably should take awhile, as Seattle has set roles for these relievers and demotions don't always lead to better outings. Things can happen in the meantime, too—Zych could fail, for instance, or he could get hurt. Another reliever could get added to the mix with a hot hand. This is a bullpen that bears watching, though. A change could come soon enough and you want to know what to do when it does.
I was told by a respected expert that he thought Ryan Madson (RHP, OAK) was the new closer for Oakland. Already. But that is not what is happening. What happened the first week is that Oakland had two games where the tougher part of the lineup came to bat in the eighth inning and contained some lefties. Oakland deployed Sean Doolittle (LHP, OAK) in both instances, snuffed out the fire, and Madson closed both games out. Later in the week, without a lefty matchup to exploit, the A's sent Madson out for the eighth and Doolittle got the ninth and the save.

OAK (proj)         Sv xERA WHIP BPV
================   == ==== ==== ===
Doolittle (L)      26 3.30 1.08 124
Madson             12 3.03 1.03 130
Axford              2 3.58 1.45  77
This flexible match-up play to take advantage of platoon splits during high leverage moments in games is smart. More teams are doing it. But it means that both Doolittle and Madson will get save chances and will get used flexibly for high leverage match-ups tailored to their skills. And if one of them falters or gets hurt, then the A's will adjust. Owners should adjust expectations accordingly.
Something entirely different is going on in Minnesota. Closer Glen Perkins (LHP, MIN) has blown a save. But so have the two set-up hopefuls, Kevin Jepsen (RHP, MIN) and Trevor May (RHP, MIN). May and Jepsen were "BABIP'd" (a new verb on twitter!) and as we know (all together now), "Two innings means nothing." But the Twins have lost some games this week and will look for a stabilizer.

MIN (proj)         Sv xERA WHIP BPV
================   == ==== ==== ===
Perkins (L)        36 3.38 1.17 130
Jepsen              7 3.70 1.24  85
Fien                2 3.91 1.11  93
T.May               0 3.69 1.18  93
Perkins remains the best projected skill set and the strong incumbent. If he falters or gets hurt, it is hard to choose one of the set-up arms over another. It will be the hot hand, if anyone, and we cannot know who that is until and unless Perkins fails. One thing we do know: Perkins will get plenty of rope—he has earned it.
Francisco Rodriguez (RHP, DET) had an inauspicious first week for the Tigers with a quiet save and an epic blown save. Tigers fans have some PTSD from past bullpens, so this first week did not help their sanity. The problem is that there is little place to turn, although converted starter Shane Greene (RHP, DET) also saved a game the first week, so he might be in the mix if Rodriguez falters.

DET (proj)         Sv xERA WHIP BPV
================   == ==== ==== ===
F.Rodriguez        38 3.08 0.98 123
M.Lowe              2 3.70 1.22  84
S.Greene            0 4.30 1.50  53*
J.Wilson (L)        0 3.54 1.21  84
Greene's projections are built on starter statistics, so you should anticipate a fair bit better than this (hence the asterisk). If Greene can turn himself into a blow-em-away reliever, which is possible, he will be Rodriguez's main challenger. Stay tuned and pay attention to both Rodriguez and Greene—particularly Greene's usage—as April wears on. Otherwise, there is no reason to expect Rodriguez to lose his job, short of a complete implosion—something his projected skill set says is unlikely.
Let's slide over to some NL teams. Atlanta had about as poor a week as any team and both Jason Grilli (RHP, ATL) and Jim Johnson (RHP, ATL) blew saves. "Primary" closer Arodys Vizcaino (RHP, ATL) didn't get into a game with a save chance, but he did manage to throw 1.3 innings anyway. Remember: "Two innings means nothing."

ATL (proj)         Sv xERA WHIP BPV
================   == ==== ==== ===
Vizcaino           23 3.54 1.32 100
Grilli             12 3.34 1.18 119
J.Johnson           2 3.53 1.38  80
Atlanta is going to have a tough year. Fredi Gonzalez has intimated that he will use Vizcaino and Grilli to defuse high leverage situations earlier in games, in order to stay in them. So far, this has not been all that evident, however. The Braves had a 6-5 lead against the Cardinals on Sunday through seven innings. Gonzalez called on Johnson—not Grilli and not Vizcaino. Johnson gave up two runs to make it 7-6 Cardinals. Vizcaino and Grilli never got into the game. "One game doesn't matter"—ok, ok. But we shall see if Gonzalez can figure out how to take care of these higher leverage events in the days to come.
The Reds got off to a hot start; three home games against the Phillies will do that. The bullpen had some good games and one bad one in which closer J.J. Hoover (RHP, CIN) allowed a go-ahead grand slam to lose a game against the Pirates. The reliever who pitched the best was Tony Cingrani (LHP, CIN) but don't get too excited yet.

CIN (proj)         Sv xERA WHIP BPV
================   == ==== ==== ===
Hoover             26 4.36 1.38  50
J.Diaz              7 3.39 1.31 108
Cingrani (L)        2 4.26 1.50  46*
Cotham              0 3.67 1.32 103
Ohlendorf           0 4.52 1.93  65*
B.Wood              0 4.40 1.66  53
Both Cingrani's and Ross Ohlendorf's (RHP, CIN) projections reflect starter projections and should be expected to be better as relievers. Hoover had a good 2013, had severe gopheritis in 2014, was ok in 2015 and now has to avoid gopheritis in 2016 to remain the closer. One blown save isn't going to cost him his job, but the fact that it was a grand slam with a 3-run lead isn't going to help him. The skill projections say that Jose "Jumbo" Diaz (RHP, CIN) is the biggest threat to Hoover's role as closer. Newcomer Caleb Cotham (RHP, CIN) looks sneaky good as well, albeit he is under the radar at the moment. If Cingrani shows consistency—and he had a good first week—he will join that mix. Diaz, Cotham and Cingrani will try to be the "hot hand" when Hoover inevitably fails.
Colorado's least effective reliever the first week was closer Jake McGee (LHP, COL) and he got two saves. McGee is a notoriously slow starter, but in the past once his mechanics click, he is lights out the rest of the way, health permitting. McGee has the best projected skill set here. The issue is whether the Rockies decide to trade him in July and if so, then who's next.

COL (proj)         Sv xERA WHIP BPV
================   == ==== ==== ===
McGee (L)          30 3.04 1.05 147
Qualls              2 3.22 1.22 121
Motte               2 4.31 1.24  68
Logan (L)           0 3.80 1.40  86
M.Castro            0 5.01 1.68   3
Jason Motte (RHP, COL) is on the disabled list. Chad Qualls (RHP, COL) has the skill set to take over if/when McGee is traded (or gets hurt). It is hard to imagine anyone else in this pen coming even close to the role. Miguel Castro (RHP, COL) had a terrific first week, but (you know this by now): "Two innings means nothing." Expect McGee to run with the job as long as he is with the Rockies.
The Phillies Opening Day closer was Dalier Hinojosa (RHP, PHI) and he did not get into the game as the rest of the pen, including David Hernandez (RHP, PHI) exploded. When Hinojosa got into a save chance the next day, he too exploded. The Phillies next turned to Jeanmar Gomez (RHP, PHI) and he saved two games against the Mets. Accordingly to Pete Mackanin, Gomez is not the named closer—we'll "just have to see" how it goes. So with the Phillies, the mantra is not true. Two innings can cause a role change on a dime—and in the case of Hernandez and Hinojosa, it did.

PHI (proj)         Sv xERA WHIP BPV
================   == ==== ==== ===
J.Gomez            14 4.02 1.37  66
D.Hernandez        11 3.46 1.17 107
Hinojosa            7 4.88 1.71  26
A.Bailey            2 3.94 1.27  65*
J.Russell (L)       2 4.43 1.30  50
Neris               0 4.44 1.40  58
This projection changes more often than the wind blows in Chicago. Gomez is now the projected save leader. But don't bet on it. In pens like this one, the best skill set (if healthy) always emerged over time and that is Hernandez. No one else is even close. Just because two innings mattered to Mackanin doesn't mean they should matter to you. If you can get Hernandez for nothing from his owner, do it—before Mackanin changes his mind again.
Nothing to see here. The Padres did not generate any save chances or even hold chances. Closer Fernando Rodney (RHP, SD) pitched a good inning. Competitor Brandon Maurer (RHP, SD) gave up a home run to Trevor Story (SS, COL) but who hasn't? Drew Pomeranz (LHP, SD) had a strong start in the rotation and looks like he will stay there, with Tyson Ross (RHP, SD) going on the disabled list with shoulder inflammation and Colin Rea (RHP, SD) and Robbie Erlin (LHP, SD) behind him.

SD  (proj)         Sv xERA WHIP BPV
================   == ==== ==== ===
Rodney             29 3.66 1.36  74
Maurer              5 4.15 1.38  64
Quackenbush         5 3.48 1.17  97
With Pomeranz out of the picture, Rodney will get more rope. Especially if Maurer cannot keep up, as his skill projection suggests. The guy to have here might be Kevin Quackenbush (RHP, SD) if/when Rodney fails. But PETCO Park might keep Rodney around a little longer, especially if the team can't generate a lot of save chances. This one is going to require patience for Quackenbush owners.
Last, but certainly not least, is the curious use of Santiago Casilla (RHP, SF) as the Giants closer once again, while far superior skill sets Sergio Romo (RHP, SF) and Hunter Strickland (RHP, SF) set-up, at least for now. Casilla has two saves and one blown save for a busy first week.

SF  (proj)         Sv xERA WHIP BPV
================   == ==== ==== ===
Casilla            32 3.44 1.23  92
Strickland          9 3.21 1.00 130
Romo                5 2.76 1.00 162
Romo is also a notoriously slow starter each year and then is ridiculous from mid-May onward. He already has four (!) holds this week, but it hasn't all been guns and roses. Strickland has been the better reliever than the other two, but as we know, "Two innings means nothing." The skills mean little to the Giants, either. This is a team to look at Leverage Index to determine roles over time. If Casilla falters at some point, it may not be Romo, it might be Strickland. Either could handle the job just fine.
Next week, this column looks at early leverage index, to see how teams are deploying their relievers. If you want to get a head start, take a look at the Bullpen Indicators pull down under "Teams" on the BaseballHQ.com webpage, or simply click here.
For more information about the terms used in this article, see our Glossary Primer.
Shopping Cart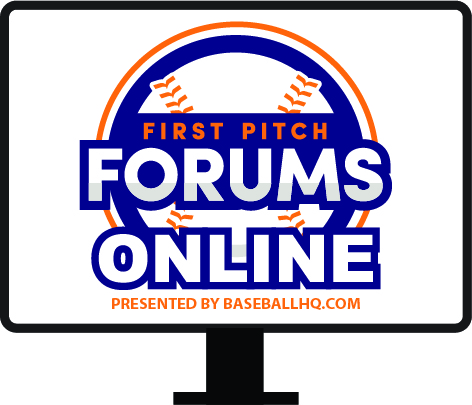 Our virtual First Pitch Forum returns!
Three online-only events: March 5, 11, 17
Join us live, or watch when you want
Just $19!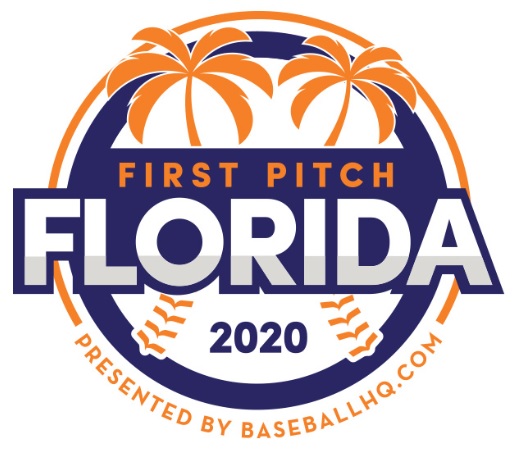 Inaugural Event!
February 28-March 1, 2020
St. Petersburg, FL
A few seats still left!