RELIEVERS: Some 2016 May BPIs
By Doug Dennis

@DougDennis41
May 31st, 2016 11:03pm
This week, the column looks how 10-15 innings in May alters the perception of closers. Here are six skill sets:

May 2016            IP   ERA WHIP  Dom  Cmd HR/9 xERA   G/F   BPV
================   ==== ==== ==== ==== ==== ==== ==== ======= ===
Papelbon (WAS)     10.3 2.61 1.26  6.1  1.4  0.0 4.71  39/46    9
Rosenthal (STL)     9.0 2.00 2.11 10.0  1.1  1.0 4.73  67/21  -18
Melancon (PIT)     11.7 1.54 1.37  5.4  2.3  0.0 5.02  37/44   49
Ziegler (ARI)       9.3 6.75 1.71  3.9  0.8  0.0 5.04  59/12  -24
Jepsen (MIN)       11.7 6.94 1.97  6.2  2.7  2.3 5.17  25/39   52
Madson (OAK)       10.7 3.38 1.78  5.9  1.2  1.7 5.33  38/35  -14
You have probably guessed that these are the worst closer xERAs in May. This is significant, not because these are lousy relievers, but because they have had a lousy month. In the case of Jonathan Papelbon (RHP, WAS), the 2.61 ERA and 1.26 WHIP mean he is likely in no immediate danger, despite the 1.4 Cmd ratio, 4.71 xERA and 9 BPV. But if those indicators continue, even an established guy like Papelbon could have a problem keeping the actual ERA down. These are the first indications that Papelbon could be struggling. But because it is just 10.3 innings and the outward facing stats are still ok, it is not actionable. Instead, think of it as an early warning; something to monitor.
The scenario fits Trevor Rosenthal (RHP, STL), who suddenly has a 1.1 Cmd ratio with a 10.0 Dom, a 4.73 xERA and -18 BPV in May, but has maintained a 2.00 actual ERA. It also fits Mark Melancon (RHP, PIT) who has a strong actual ERA (1.54) but has just a 5.4 Dom, 5.02 xERA and 49 BPV. The Cardinals and Pirates have good back-up options too. But 9-12 innings are not enough to get either team to make a move. If it continues in June, though, and the actual ERA goes up and a couple of saves get blown, neither team will hesitate. Again, something to watch.
Things appear tougher for Brad Ziegler (RHP, ARI), Kevin Jepsen (RHP, MIN) and Ryan Madson (RHP, OAK). In the case of Ziegler and Jepsen, the outward ERA in May is over 6.00 to go with lousy BPIs. In Madson's case, the actual ERA is ok, but two blown saves and a 1.78 WHIP with lousy BPIs seem enough for a change. Contrast Madson's May with Oakland's alternative, Sean Doolittle (LHP, OAK):

May 2016             IP   ERA WHIP  Dom  Cmd HR/9 xERA   G/F   BPV
================    ==== ==== ==== ==== ==== ==== ==== ======= ===
Doolittle (OAK) (L) 10.3 2.61 0.77 13.1  7.5  0.0 2.09  45/35  211
When the season started, it was Doolittle who has the rough start as closer and Madson swooped in and took the job with a strong first week. Now Doolittle has had an elite May and Madson is stumbling. It is not going to take much for Doolittle to wrestle the job back. In fact, Doolittle got his first save since April 20 on May 29.
So back to Ziegler--what should Arizona do? Ziegler's 3.9 Dom and -24 BPV are untenable. Here are the Diamondbacks options:

May 2016            IP   ERA WHIP  Dom  Cmd HR/9 xERA   G/F   BPV
================   ==== ==== ==== ==== ==== ==== ==== ======= ===
Clippard (ARI)     10.0 2.70 1.30 12.6 14.0  1.8 2.91  31/50  211
Barrett (ARI)      12.0 1.50 0.75  9.8  6.5  1.5 3.13  37/47  150
D.Hudson (ARI)     10.0 1.80 1.10  5.4  2.0  0.0 4.15  47/33   49
Ziegler (ARI)       9.3 6.75 1.71  3.9  0.8  0.0 5.04  59/12  -24
Daniel Hudson (RHP, ARI) has a soft 5.4 Dom, which has led to weaker BPIs in May. Tyler Clippard (RHP, ARI) has had a banner May with a 12.6 Dom and 14.0 Cmd ratio, but the 1.8 HR/9 supported by a 50% FB rate, has to give one pause, even with the 2.91 xERA and 211 BPV in May. Jake Barrett (RHP, ARI) has a similar problem to Clippard's. But all three are clearly outpitching Ziegler.
So let's consult leading indicator "leverage index" to see where Chip Hale is using these guys right now:

LI                  YTD  L30
================   ==== ====
Clippard (ARI)     1.11 0.96
Barrett (ARI)      1.15 1.23
D.Hudson (ARI)     1.24 1.01
Ziegler (ARI)      1.15 0.88
In May, Hale used Ziegler a lot less and Barrett a lot more. Hudson and Clippard also dropped off—Hudson significantly. Barrett appears to have taken over Hudson's role and vice versa. If Ziegler were dumped from the role today, it could very well be Jake Barrett closing, not Tyler Clippard and not Daniel Hudson. But it hasn't happened yet, so pay attention to see what happens next.
Here is one more data set—this time a closer who should keep his job:

May 2016            IP   ERA WHIP  Dom  Cmd HR/9 xERA   G/F   BPV
================   ==== ==== ==== ==== ==== ==== ==== ======= ===
A.Colome (TAM)     13.7 1.32 0.73 13.2 10.0  0.7 1.52  63/19  242
Only Aroldis Chapman (LHP, NYY) has a better BPV in May than Alexander Colome (RHP, TAM) has been for Tampa Bay. Only Zach Britton (LHP, BAL) has a better xERA in May. Brad Boxberger (RHP, TAM) could come back and take save chances away from Colome. But with Colome's massive skill set, don't bet on it just yet.
These small data sets do not tell us the big picture for what to expect for June's skill set. Projected and full season BPIs are better for that. But what we can see is the stark reality of where managers start to make different day-to-day decisions as a reliever works out of a slump, or gets past an injury, or fixes mechanics, or facing too many tough LHers in consecutive games or whatever other micro-reason for the poor results even just over a couple of weeks. When the xERA is over 4.50 and the BPV is under zero for a month, closers don't always lose their jobs. But when those BPIs precede a set of blown saves and bloated actual ERA, change comes every time.
Next week, this column makes a case for buying some non-closers on the cheap in-season.
For more information about the terms used in this article, see our Glossary Primer.
Shopping Cart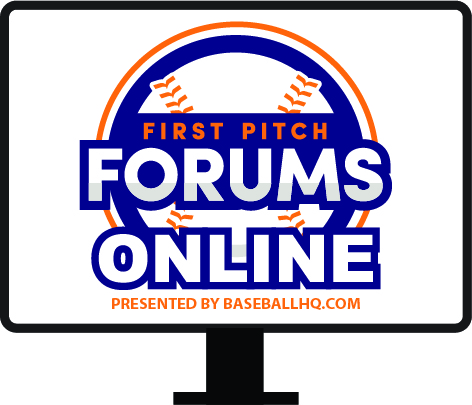 Our virtual First Pitch Forum returns!
Three online-only events: March 5, 11, 17
Join us live, or watch when you want
Just $19!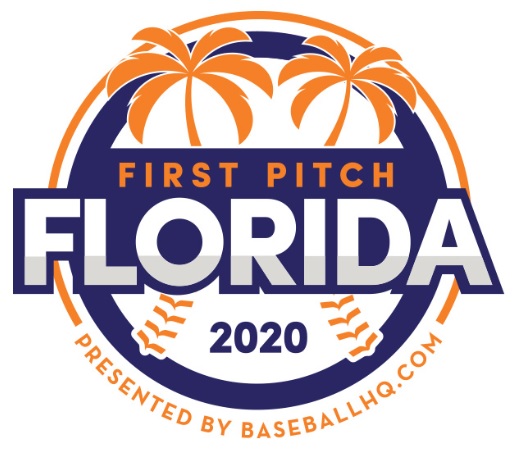 Inaugural Event!
February 28-March 1, 2020
St. Petersburg, FL
A few seats still left!