RELIEVERS: 2016 Gambles
By Doug Dennis

@DougDennis41
March 9th, 2016 12:03am
Today we are looking at gambles. In this context, we define a gamble as someone who is going overpriced for the risk/reward, either due to a lacking skill set or an uncertain role. During last week's look at sleepers, we also touched on some gambles, such as Jake McGee (LHP, COL) who may be traded in-season to a non-closer role; Huston Street (RHP, LAA) and Sean Doolittle (LHP, OAK) who are injury risks; Santiago Casilla (RHP, SF) and Fernando Rodney (RHP, SD) who have better skill sets behind them; Brad Boxberger (RHP, TAM) who has bouts with inconsistency; and Roberto Osuna (RHP, TOR) who may be slated for a more flexible, multiple-inning role, rather than closing games.
These are not the only gambles, though. In Atlanta, there are two capable relievers fighting it out to close games: Jason Grilli (RHP, ATL) and Arodys Vizcaino (RHP, ATL):

ATL              Sv  IP  xERA WHIP  Dom  Cmd HR/9  G/F  BPV  R$ ADP
============     == ==== ==== ==== ==== ==== ==== ===== === === === 
Vizcaino         19  73  3.53 1.32 10.0  2.9  0.5 35/37 100   2 233
Grilli           16  58  3.33 1.19 10.7  3.5  0.6 31/43 118   2 339
It remains an open question whether Vizcaino or Grilli will close. Grilli may not be available on Opening Day as he recovers from an achilles injury, but he won't be far behind. Vizcaino was terrific as closer after Grilli was injured. Owners who have to choose now have a 50/50 chance of being correct, as the Braves are going to let it play out through March before deciding. Owners at First Pitch Chicago overwhelmingly voted that they would rather have Grilli at ADP 339 than Vizcaino at ADP 233, for what it's worth. There is not much in the BPIs to separate them and the one who gets the job is likely to run with it. It makes both Vizcaino and Grilli a gamble, at the moment.
In Cincinnati, the Reds are going to try J.J. Hoover (RHP, CIN) at closer. Good luck with that:

CIN              Sv  IP  xERA WHIP  Dom  Cmd HR/9  G/F  BPV  R$ ADP
============     == ==== ==== ==== ==== ==== ==== ===== === === === 
Diaz             18  58  3.38 1.31  9.8  3.0  0.9 42/33 108  -2 429
Hoover           18  65  4.32 1.37  8.7  2.0  1.3 33/47  52  -2 304
Jumbo Diaz (RHP, CIN) is not a perfect option, but he has far superior BPIs compared to Hoover. Hoover had a deceptively good 2015 in actual ERA, but his projected xERA for 2016 is 4.32. That is not the skill set of a viable closer and Hoover is likely to blow up at some point. Diaz is probably a gamble too. He is being drafted as a Plan B, but there are no guarantees that the Reds won't get creative with excess starters and use one of them. Michael Lorenzen (RHP, CIN) might be an option. Also, Tony Cingrani (LHP, CIN) could return to form and pitch well enough to close. Right now, there is no one in the Reds pen worth spending closer money to get and no one who stands out as a solid speculation play. Without question, Hoover is a gamble.
Milwaukee has a jumble of options while rebuilding. ADPs say that Will Smith (LHP, MIL) is the frontrunner:

MIL              Sv  IP  xERA WHIP  Dom  Cmd HR/9  G/F  BPV  R$ ADP
============     == ==== ==== ==== ==== ==== ==== ===== === === === 
W.Smith (L)      12  65  2.97 1.26 11.5  3.8  0.8 44/37 146   3 259
Jeffress         12  58  3.10 1.29  8.5  2.5  0.5 58/17  97   2 316
Knebel           11  58  2.99 1.22 10.9  3.0  0.9 49/31 126   0 444
This grouping was fun at First Pitch Chicago. Voters selected Jeremy Jeffress (RHP, MIL) at ADP 316 over Smith at ADP 259 and Corey Knebel (RHP, MIL) at ADP 444. But of the Brewers fans in the room (there were six), five voted for Knebel, one for Smith and none for Jeffress. When you look at the BPIs and ignore the sizeable experience advantage that Smith holds, Knebel does look appealing. Any owner getting Smith or Jeffress on the information we know today are taking a gamble. Knebel might be a really good sneaky value pick at the moment at ADP 444.
Aroldis Chapman (LHP, NYY) may be electric and automatic, but the 30-day suspension without an appropriate discount makes him a huge gamble. And the Yankees have options:

NYY              Sv  IP  xERA WHIP  Dom  Cmd HR/9  G/F  BPV  R$ ADP
============     == ==== ==== ==== ==== ==== ==== ===== === === === 
Chapman (L)      41  65  2.34 1.02 14.5  3.5  0.6 40/38 168  17  68
Miller (L)        5  58  2.03 0.95 14.0  4.7  0.5 49/31 199   6 152
Betances          5  87  2.64 1.10 12.6  3.1  0.6 47/32 140  10 213
It seems that Andrew Miller (LHP, NYY) goes back to closing during Chapman's suspension and that Dellin Betances (RHP, NYY) will have the same multi-inning role regardless. Right now, Chapman is going way way too high at ADP 68—a significant gamble. Miller at ADP 152 seems to be costing full closer rate as well, which makes little sense. Consider both to be gambles at their current ADPs, despite the obvious elite BPIs. Pay for the BPIs and a discount for the save totals and you probably won't get either one—but that is ok.
Philadelphia will throw retread David Hernandez (RHP, PHI) at the closer position and hope for the best, as long as this week's sore elbow clears up quickly. If Hernandez doesn't work, who knows what Plan B will be:

PHI              Sv  IP  xERA WHIP  Dom  Cmd HR/9  G/F  BPV  R$ ADP
============     == ==== ==== ==== ==== ==== ==== ===== === === === 
D.Hernandez      16  58  3.45 1.16 10.7  3.0  1.2 32/47 106   0 305
L.Garcia          9  58  3.73 1.52  8.2  1.7  0.6 61/20  53  -6 612
Mujica            4  44  3.70 1.20  6.8  4.7  1.6 45/37 106  -6 667
This is an ugly bunch. Hernandez had better get healthy. Owners are hedging, though, with Hernandez at a soft 305 ADP. And they are right to do so, with his checkered injury history. It is an acceptable risk only if you must roster a closer in a deep league to gamble on Hernandez. Otherwise, avoid Philadelphia altogether until a new solution pops up. It could end up being Andrew Bailey (RHP, PHI) if he has a big spring.
The Opening Day closer for Seattle is expected to be Steve Cishek (RHP, SEA) with Joaquin Benoit (RHP, SEA) in the wings:

SEA              Sv  IP  xERA WHIP  Dom  Cmd HR/9  G/F  BPV  R$ ADP
============     == ==== ==== ==== ==== ==== ==== ===== === === === 
Cishek           34  65  3.66 1.31  8.5  2.4  0.7 47/31  80   3 247
Benoit            7  65  3.63 1.11  8.5  2.7  0.8 42/40  86   2 326
Cishek will have to put 2015 in the rear view mirror to hit the projections. That is a sizeable risk, and rostering Cishek is a gamble without an appropriate discount. Benoit might be a decent Plan B, but his age alone makes him a gamble as well.
If you are going to take the risk and roster one of these gambles, make sure that you take an appropriate discount so that you actually earn a nice profit if your selection pans out. Otherwise, it is all risk and no reward. Next week, we look at some end game options ($1 or less) on BaseballHQ.com's projections.
For more information about the terms used in this article, see our Glossary Primer.
Shopping Cart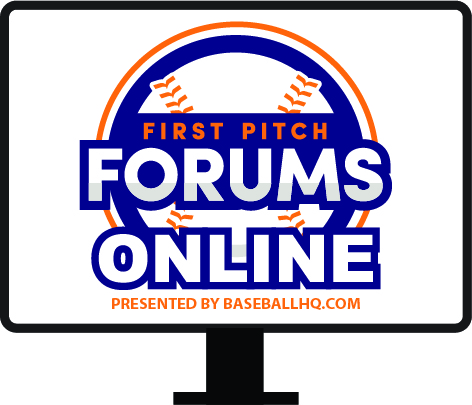 Our virtual First Pitch Forum returns!
Three online-only events: March 5, 11, 17
Join us live, or watch when you want
Just $19!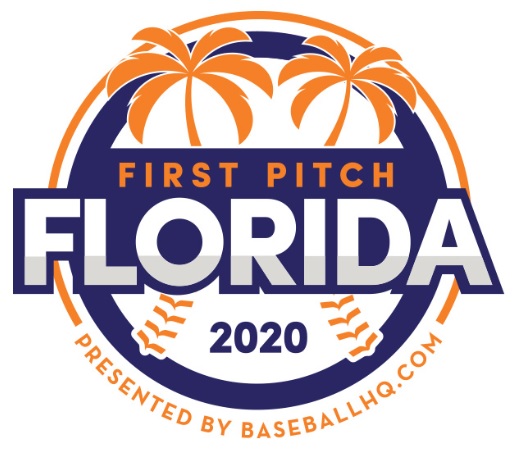 Inaugural Event!
February 28-March 1, 2020
St. Petersburg, FL
A few seats still left!