RE-WATCH1: Tampa Bay at Texas
By Brent Hershey

@BrentHQ
December 2nd, 2014 9:03am
(Follow this link for an introduction and overview of this series.)
Date and venue: August 14, 2014 at Globe Life Park, Arlington, Texas.
Pitching matchup: RHP Jake Odorizzi (8-9, 3.89 ERA) vs. LHP Robby Ross Jr. (2-4, 5.61 ERA)
Setup and context: Final game of a four-game series. The Rays (59-61) were at the tail end of a five-week hot stretch. From July 12 through August 15, the team won 19 of 27 games that pulled them to an even .500 record. The Rangers (47-73) were slogging through their disappointing, injury-riddled season.
Result: The Rays defeated the Rangers 6-3; Odorizzi got the win, Ross took the loss, Jake McGee notched save number 13.
Links: Game stories, box score, video highlights here. MLB.tv (subscription required) here.
Fanalytic Storyline #1: Odorizzi, 2014 style
As his owners well know, Jake Odorizzi (RHP, TAM) was surprisingly good for the 2014 Rays, and this outing was one of his excellent ones. He registered a perfect 5 on the PQS scale, with 7 IP, 4 H, 2 ER, 1 BB, 7 Ks in winning his ninth game of the season. He worked ahead in the count—he delivered first-pitch strikes to 18 of 26 batters—and pounded the strike zone, which made up for only average stuff. His fastball was 90-91, but he kept hitters guessing with four additional pitches (cutter, curve, slider, and splitter). And though TEX was decimated by injuries in 2014, the lineup this night still included regulars Choo, Andrus, Beltre, Rios and Martin. After giving up a two-run homer to Geovany Soto in the 4th, Odorizzi retired the next 10 batters in a row before exiting after the 7th.
The big question with Odorizzi as we look forward to 2015 is whether his big bump in strikeout rate (9.3 Dom; 174 Ks in 168 IP) is sustainable. Curiously, though a strong 10% swinging strike rate legitimizes the Ks, his seasonal ERA/xERA (4.13/3.96), Ctl (3.2) and WHIP (1.28) are not all that enticing, especially in this pitcher-dominated environment. (In fact his seasonal BPX, or BPV indexed to the league average, was only 108.) In addition, consider that his Dom tailed off from 1H to 2H; from 10.6 to 8.1, and that he was an extreme fly ball pitcher in 2014 (49% FB%). That didn't hurt him at home (4 HR given up in 100 IP), but did cause problems on the road (16 HR in 68 IP).
On the plus side, Odorizzi's newfound success with whiffs corresponded with a pitch-mix adjustment. According to PITCHf/x, Odorizzi added his cutter in 2014, but more importantly, he scrapped his traditional change-up in favor of a splitter. He threw the splitter almost 25% of the time, and it became his best swing-and-miss pitch, with a 15% SwK%. One has to think with the success he had in his first full MLB season, that arsenal will return in 2015.
Fanalytic Storyline #2: Ross started strong, but …
Robbie Ross (LHP, TEX) made his 10th start of the season, his first MLB appearance in two months. He opened the season in the Rangers rotation and lasted nine rough starts (combined 4.78 ERA) before heading back to the bullpen. In mid-June, the Rangers sent him back down to Triple-A to stretch him back into a starter, and this start was his first upon being recalled. Rangers TV commentators noted that the team wanted Ross to work on his glove-side command when they sent him to the minors.
In the first inning, this was exactly what Ross did. Pounded the zone and ran his 90-92 fastball down and in to right-handed batters Brandon Guyer, Ben Zobrist, and Evan Longoria, striking out the side. It was an impressive inning.
But some bad luck played a part in subsequent frames. After two quick outs in the second, Yunel Escobar reached on an infield single, then Logan Forsythe turned on a tough pitch—a fastball up and in—a deposited it over the left-field wall. After another bloop hit in the third inning, Longoria went deep on a high cutter—again, a great swing on a good pitch (picture above). Ross only lasted 4.1 IP, and allowed 8 H and 6 ER overall, with only those three first-inning strikeouts.
Rangers commentator Ivan Rodriguez made an interesting observation as some of the damage in the early innings unfolded. He mentioned that Ross should be going to his soft stuff more, that all of his pitches were too close to the same velocity. Indeed, PITCHf/x backs up that Ross has this tendency: the velocity of Ross' four-seamer, sinker, slider and change-up in 2014 were all between 85-92 mph. In addition, he threw those pitches 93% of the time. His curve ball, at 77 mph, is really his only change-of-pace pitch, but he employed it very infrequently—just three times in 95 pitches in this outing.
Ross picked up two more starts—a PQS-3 vs. HOU, and a disastrous PQS-0 vs. SEA—before going back to bullpen for September. His SP/RP splits for the season were both awful (5.70 ERA/1.8 Cmd as a SP; 7.85 ERA/1.50 Cmd as a RP), and it will be interesting to see how TEX handles Ross in 2015. A full-time bullpen role, which he thrived in earlier in his career, seems the likely destination. But on the other hand, that first inning from this night did happen, and Ross is just 25 years old.
Fanalytic Storyline #3: Klein impressed
Reliever Phil Klein (RHP, TEX) took over for Ross and had his best and longest outing of the season. He faced eight batters, retired each of them, and had five strikeouts. Klein is big guy—6-7, 260—but one of those pitchers who seems like he should have more velocity than he does given his frame. His fastball was 90-92, and he complemented it with an 84-86 slider. The breaking pitch was inconsistent—it was effective more times than not, but Klein got away with a couple hangers, too. For his 17-appearance season, Klein benefited from a 21% H% that created an ERA/xERA gap (2.84/3.55), and he still walked too many (4.7 Ctl). But his 10.9 Dom, supported by a 14% SwK%, indicate that he could develop into an effective reliever for the Rangers.
Fanalytic Storyline #4: Odor's HR
Sometimes overlooked in the Rangers train-wreck season is the unexpected contributions of Rougned Odor (2B, TEX). While firmly on prospect radars coming into 2014 (he was #66 in the 2014 HQ100), most thought he was still a couple years away from having an impact. But the small-framed (5-11, 170) Odor got called up on May 9 and hit right away (.281 BA/.744 OPS in 57 May AB). While he could benefit from more patience at the plate (4% bb% for the season), his power and hard contact improved as the season went on (1H/2H HctX: 68/99).
It's the punch that stood out in this game, as the lefty-hitting Odor was facing left-handed pitcher Jeff Beliveau in the 8th inning. In a 2-0 count, Beliveau threw a 90 mph fastball here (catcher's point of view):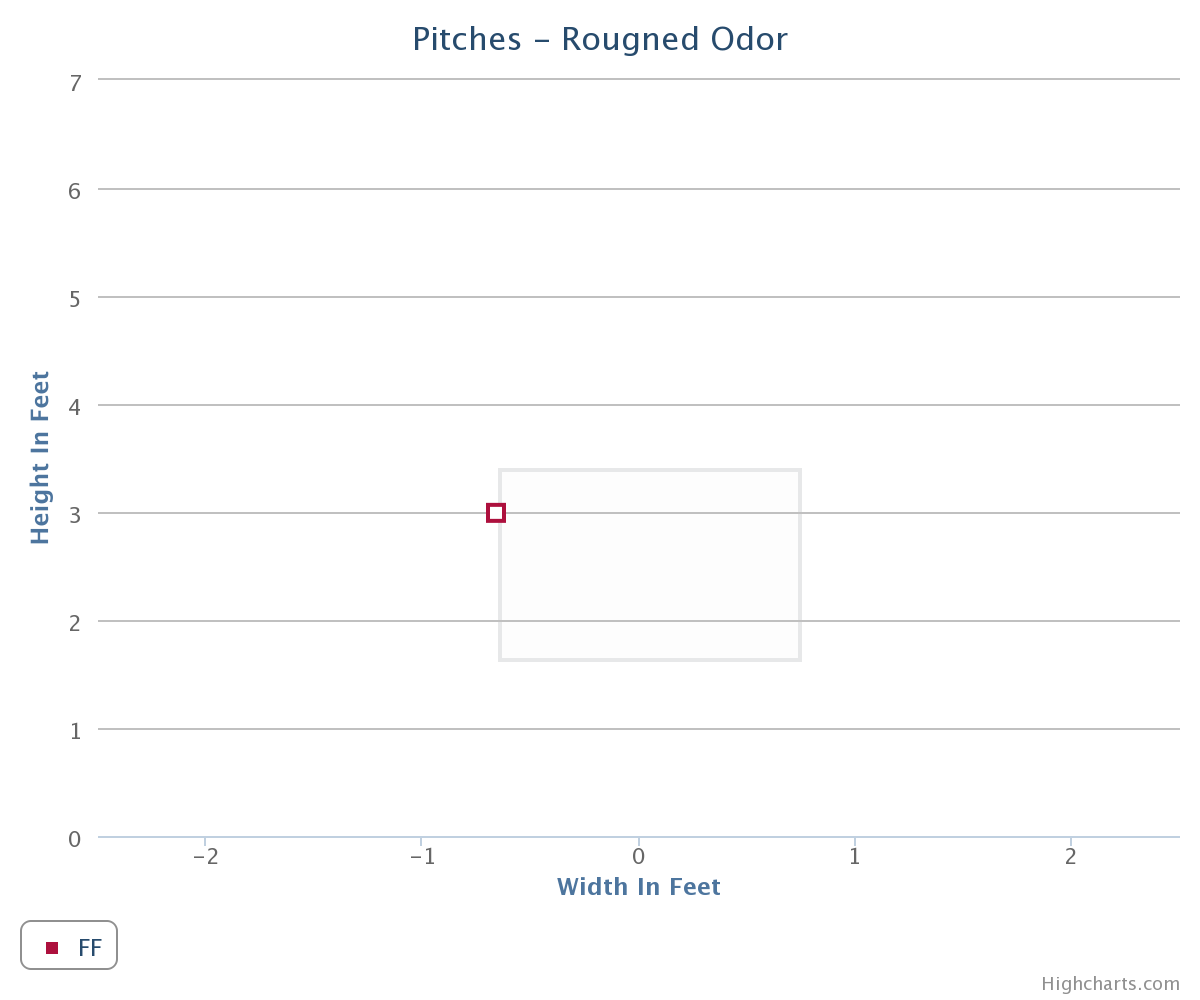 Odor was able to drive this pitch over the left-center field fence for an opposite field home run, his second against LHP in 2014. While he is neutralized some by LHP in general (.626 OPS vL / .727 OPS vR), it's tempting to extrapolate Odor's 9 HR/48 RBI/4 SB rookie year (386 AB) into a full MLB season. Most impressive is that he accomplished this while playing all year at 20 years old, when most prospects are mired in the lower levels of the minors. While he has shown some weaknesses that he'll need to compensate for at some point, there's a lot to like about Odor's future.
Fanalytic Storyline #5: McGee's one (devastating) pitch
Jake McGee (LHP, TAM) came on to close the door on the Rangers in the ninth. After being touted as having the skills to close for several years, he finally got a realistic shot mid-way through June, and made good on his opportunity the rest of the way.
Notable about McGee in this contest was his one-track mind: he threw 18 total pitches, and every one of them was a 97 or 98 mph fastball. In fact, in 41 of his 71 outings in 2014, he did not use a second pitch; he threw a curve ball only 3.5% of the time. In this game, he didn't get a single swing-and-miss, but with 14% SwK% for the season, this game was an anomaly. Like Ross above, it sure seems like it's better for a pitcher to have more, rather than less, options. But with McGee's success and ability to throw strikes (2.0 Ctl), as long as he's able to pump upper-90s heat, one wouldn't expect a radical change in his arsenal.
Next week: St. Louis at Colorado, June 25, 2014.
Unlock all of our insights on your way to a fantasy title! A BaseballHQ.com subscription provides complete access through the entire 2015 season.
For more information about the terms used in this article, see our Glossary Primer.
Free Weekly eNewsletter
The industry's #1 analytical weekly e-mail newsletter is ABSOLUTELY FREE!
More Information
Shopping Cart
Listen to Baseball HQ's weekly audio programs.
Subscribe today!
Learn More