PT TOMORROW: NL West—Several spots unsettled
By Ryan Bloomfield

@RyanBHQ
March 27th, 2014 11:04pm
The battle for the 5th spot in Arizona's rotation is still down to Randall Delgado (RHP, ARI) and Archie Bradley (RHP, ARI) in the wake of Patrick Corbin's Tommy John surgery. Delgado hasn't exactly impressed thus far, as he's given up seven runs in just 11.1 IP this spring. He fared much better down the stretch in 2013, posting a 3.3 Cmd and 76 BPV after July. Delgado's previous MLB experience is likely to work in his favor.
Bradley started hot this spring, but has since thrown a couple poor outings himself—he gave up three runs, three walks, and six hits in his last start against Team Australia (3.2 IP). Bradley's Top-10 status in this year's HQ100 hints at his overall potential, though he has shown control problems in the past with a 4.3 Ctl last season with AA-Mobile.
A final decision hasn't been made to this point, but the popular call is that Delgado will likely start the season in the rotation. Bradley's immense potential will be tough to keep down for long though, which would make Delgado a prime candidate in the bullpen at some point. Don't be surprised if Bradley winds up with more innings than Delgado—even if he doesn't make the Opening Day rotation.
The fragility of San Diego's starting rotation has been previously highlighted in the space, and those concerns have already proven to be valid with the injury to Josh Johnson (RHP, SD) (forearm). Robert Erlin (LHP, SD) and Matthew Wisler (RHP, SD) are the most likely candidates to take Johnson's spot in the rotation. Erlin has the MLB experience edge, as he finished off 2013 with an excellent September (4.4 Cmd, 114 BPV in 26 IP). Wisler was the team's #3 prospect this offseason with an 8C prospect rating after posting 3.00 ERA and 1.07 WHIP at AA-San Antonio (105 IP) in 2013. With no indication yet from the club, it seems Erlin would be the more likely choice here as Wisler, who is only 21, could stand to use more development in the minors.
Casey Kelly (RHP, SD) is a speculative option at this point, but will be one to keep an eye on. Kelly is currently rehabbing from Tommy John surgery himself, and he's expected to return by the end of April. The injury risk alone with Kelly makes him a shaky option at this point.
Alexander Torres (LHP, SD) is bound for a mid-inning relief role to the start the season, but he owns electric skills (9.6 Dom, 3.14 xERA, 109 BPV in 2013). Torres has significant starting experience in the minor leagues, and he started nine games last season at AAA-Durham (61/21 K/BB, 3.52 ERA in 46 innings). He should already own enough value to be rosterable in deep NL-only formats, and he has more upside potential if he makes his way into the rotation.
Despite some early speculation that the 2B job could be open heading into camp, DJ LeMahieu's (2B, COL) Cactus League performance has only solidified his grip on that position. LeMahieu is 15 for his first 42 so far this spring with three steals. His 124 Spd and 24% SBO last season resulted in 18 steals over 404 AB in 2013, and that total could rise with a full year of playing time. Josh Rutledge (2B, COL), who will serve as the backup at 2B and SS, has gone 10 for 37 this spring with a couple HRs, but it hasn't been enough to supplant LeMahieu from the role. Rutledge owns enticing skills that could play well in NL-only leagues if he gets regular ABs at some point this season.
It doesn't appear that Boone Logan (LHP, COL) has completely recovered from offseason elbow surgery, and he's likely to begin the season on the DL. Logan, who just this week started pitching in Cactus League games, would leave a Colorado bullpen in which Rex Brothers (LHP, COL) could be the only left-handed pitcher. Currently, the saves are split at 50/50 on BaseballHQ.com between Brothers and LaTroy Hawkins (RHP, COL). While Hawkins was signed this offseason to be the team's closer, manager Walt Weiss had indicated that Brothers will get his fair chance at saves this season. If Logan's injury lingers further into the season, Brothers would likely be required to handle situational matchups while Hawkins could stand to gain more saves.
In somewhat of a surprising move, Justin Turner (2B, LA) appeared on the lineup card as the Opening Day starter in Sydney for the Dodgers. Turner was rewarded with the start after getting 11 hits in 31 spring ABs. The Dodgers were also facing lefty Wade Miley (SP, ARI), indicating this could be a platoon situation between Turner and Dee Gordon (2B, LA) to start the season. Alexander Guerrero (2B, LA) had also been in the picture throughout the spring, and he will still likely play a role here at some point despite being optioned to Triple-A this week. From a long-term standpoint, Gordon and Guerrero are still the ones to target.
Scott Van Slyke (OF, LA)'s power potential was on display in Sydney as he hit an opposite field home run and a double off the wall in Game 1. Van Slyke, who got the start since Matt Kemp (OF, LA) and Carl Crawford (OF, LA) did not make the trip, posted an excellent 166 PX in 129 AB last season. Van Slyke is currently the 5th outfielder on the roster, but he could see playing time due to injury concerns among the starters as well as fellow backup Andre Ethier's (OF, LA) issues hitting lefties (.221 BA vs. LHP since 2011). Keep an eye on Van Slyke as a cheap power source in deep leagues, especially against left-handed pitchers.
Brandon Hicks (SS, SF) has come from seemingly nowhere to quickly become a legitimate candidate for the 25-man roster. Hicks is now 16 for his first 42 this spring with three HR and a couple steals thrown in as well. He is looking like a legitimate candidate to back up Brandon Crawford (SS, SF) at shortstop as well as potentially Marco Scutaro (2B, SF), who is currently dealing with back issues.
Hicks, 28, was signed by San Francisco as a minor league free agent this offseason after hitting for an impressive .283/.348/.450 at AAA-Las Vegas. Hicks also hit 11 HR with nine steals in the offense-inflated environment. He has only 90 career ABs at the MLB level with some unimpressive numbers (53% ct%, -23 BPV) in limited action. Hicks' spring training performance doesn't turn this career minor-leaguer into a fantasy target, but it could put him in a position for playing time as a utility infielder.
The battle for the 5th OF job is now down to Tyler Colvin (OF, SF) and Juan Perez (OF, SF). Perez has received the most ABs on the team this spring, going 18 for 60 so far, while Colvin has been slowed by a back injury this month. Perez has the slight edge here, but the defensive advantages he brings to the table provide little fantasy value.
For more information about the terms used in this article, see our Glossary Primer.
Shopping Cart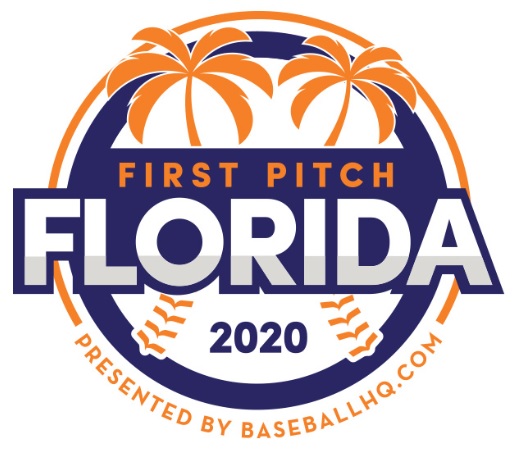 Inaugural Event!
February 28-March 1, 2020
St. Petersburg, FL
A few seats still left!