PT TOMORROW: NL West—COL adds another to the infield mix
By Brian Slack

@That_glg20
January 4th, 2019 12:05am
Coming off their first NLDS appearance since 2009, the Rockies recently made a splash with the signing of Daniel Murphy (2B, COL), who by all reports figures to log most of his time at 1B while Ian Desmond (1B/OF, COL) moves to the outfield on a more regular basis.
Murphy spent much of the first half recovering from offseason knee surgery, and took a little while to find his footing—ultimately hitting .317 (.285 xBA) with 12 HR across 278 AB in the second half. The season-long HctX (84) and xPX (82) metrics were both uninspiring, but the 34-year-old is landing in about the best situation possible, and he should have the added benefit of playing the less taxing infield position this coming season.
Absent another offseason addition, the 2B battle would likely play out this spring between Ryan McMahon (1B, COL) and Garrett Hampson (2B, COL), with a potential platoon in the cards as well.
The left-handed McMahon surprised many when he cracked the Opening Day roster last season, but his sporadic playing time led to an overall lackluster line (.232 BA, 65% ct%, 5 HR in 181 AB). Interestingly though, his June 20 demotion to Triple-A was apparently for the purpose of him working on a specific swing change—one geared toward helping him catch up to fastballs. His small-sample numbers (.256 BA, 3 HR in 86 AB) upon return don't reveal too much, but it's worth remembering that McMahon was the team's #2 prospect entering last year, having posted a .355/.403/.583 line with 20 HR and 11 SB in 470 AB across two levels in 2017.
Hampson, meanwhile, has the speed to be a difference-maker for fantasy rosters. Across two levels last year (444 AB), Hampson posted a .311/.382/.462 line with 10 HR and 36 SB. He enters this season as the team's #3 prospect, with an impressive hit tool and on-base ability from the right-hand side of the plate. He has the ability to handle both MI positions as well as CF, and his defensive prowess could quite possibly give him the edge over McMahon.
Finally, it wouldn't be terribly surprising to see top prospect Brendan Rodgers (SS, COL) debut at some point this season. Rodgers has struggled to stay healthy the past couple of seasons, but did enjoy a fine stretch (.275/.342/.493 with 17 HR, 12 SB in 357 AB) at Double-A before struggling (.232/.264/.290 in 69 AB) in his limited audition at Triple-A. The 22-year-old has exciting tools though, and should contribute in BA, power and speed when he hits the big leagues.
After saying goodbye to long-time first baseman Paul Goldschmidt (1B, STL), the Diamondbacks will attempt to fill the void as they usher in a new era. The most likely scenario entails moving Jake Lamb (3B, ARI) to first base, where he's started just 2 games in his career. Lamb was plagued for most of the season by a shoulder issue that eventually led to late-July surgery, although as of now he appears on track for spring training. A career .160/.265/.292 line vL casts doubt on full-time at-bats, but he should be able to provide power (career 124 xPX) when in the lineup.
Kevin Cron (1B, ARI) and/or Christian Walker (1B, ARI), both right-handed, could also factor into the equation. Cron will be entering his age-26 season, currently ranking as the team's #15 prospect and coming off a nice Triple-A season in which he hit .309/.368/.554 with 22 HR. His defense at 1B appears serviceable, and his large physical frame suggests his power output won't disappear once he reaches the majors. And with a decent bb% (8%) and ct% (74%), that power could come without a ding in the BA department.
Walker, on the other hand, is less than spectacular from a defensive standpoint. He saw a nice bump in ct% (73% to 80%) at Triple-A between 2016 and 2017, but reverted back to his 73% mark in 2018. At the MLB level, Walker has been unable to approach those numbers—with a career 55% ct% across parts of four seasons (a total of just 88 AB)—but he's shown power (134 xPX, 6 HR) in that limited time. If he can bring his contact skills more in line with his MiLB history, he could earn a spot on the Opening Day roster.
With many waiting on the other shoe(s) to drop in the wake of their big trade with CIN, the Dodgers have already brought in some reinforcements to bolster their bullpen, signing Joe Kelly (RHP, LA) to a three-year deal.
Kelly posted a rather pedestrian 4.39 ERA (3.96 xERA) across 66 IP with BOS last season, and his continued control issues (4.4 Ctl, 58% FpK) suggest the road ahead will not be without bumps. But Kelly's velocity (98.1 mph) remains elite, and he should benefit from getting out of the AL East.
In terms of pecking order, Kelly should slot in right ahead of Kenley Jansen (RHP, LA), who will be looking to bounce back from an up-and-down 2018—one in which he struggled with velocity early and was ultimately forced to miss time with a heart condition later in the year. Despite all the turbulence, however, Jansen still managed to post a 168 BPV in the second half, with a 3.39 xERA, 12.0 Dom (15% SwK) and 2.1 Ctl (66% FpK) in 34 IP. With successful offseason surgery already under his belt, Jansen appears ready to hit the ground running this spring.
Though another left-handed reliever remains on the shopping list, the team will likely again lean on Scott Alexander (LHP, LA) and Caleb Ferguson (LHP, LA) in high-leverage situations. Alexander, in his first year with the Dodgers, flashed similar skills as he did with the Royals, including a whopping 71% GB% to go along with his 7.6 Dom and 3.7 Ctl. Ferguson, meanwhile, tossed 49 IP in his debut season, posting an impressive 159 BPV (3.07 xERA, 10.8 Dom, 2.2 Ctl) in the process.
Finally, though not necessarily in line for saves, Dylan Floro (RHP, LA) quietly had a nice 2H after coming over from the Reds. Across 28 IP with LA, the righty had a 2.69 ERA and 10.1 Dom, and consistently generated ground balls at a nice clip (55% in 2018, 54% career). As noted in the Baseball Forecaster, there is some sneaky upside if he can regain the control he displayed during his time in the minors.
General Manager A.J. Preller has apparently been active when it comes to inquiring about trade possibilities, and at this point trading one of the current OF crew—Manuel Margot (OF, SD), Franmil Reyes (OF, SD), Hunter Renfroe (OF, SD), or even Wil Myers (3B/OF, SD)—seems not only possible, but likely.
One name that seems less likely to be dealt is Franchy Cordero (OF, SD), who along with Travis Jankowski (OF, SD) offers one of the few left-handed bats on the roster. Preller recently sang Cordero's praises, noting the offensive boost (.237 BA, 7 HR, 5 SB in 139 AB) Cordero provided prior to being shut down with an elbow injury in May. Considering Cordero had been playing through the soreness prior to being shut down, his offensive performance looks even more explosive (.254 BA, 6 HR, 3 SB in 67 AB) when looking at just April alone—not to mention the 20 HR and 16 SB he amassed across 482 AB in Triple-A and the majors in 2017. Either way, the team has long spoken highly of Cordero's athleticism, and has alluded to his ability to play all three OF positions, even if he is not defensively on par with Margot in center.
With so much left unsettled, it's also worth noting that the team could partially clear up the logjam by moving Myers to 3B on a more full-time basis—at least until top prospect Fernando Tatis Jr. (SS, SD) is ready. That might require a leap of faith though, as Myers didn't exactly excel defensively at the hot corner over the season's final month and a half.
Six-time All-Star Buster Posey (C/1B, SF) was shut down in August after it was revealed he'd been dealing with a hip injury for the better part of the season, requiring surgery with an estimated 6-8 month timeframe for return. Recent reports are that he is expected to begin running sometime in mid-January, and that while he'll likely miss the beginning of spring training, he should be ready by (or close to) Opening Day. 

Giants' management has expressed confidence that they will see an improved Posey this year, after the injury limited him to a mere 5 HR and .284 BA (.264 xBA) in 398 AB in 2018. As he enters his age-32 season, Posey is now staring at back-to-back years with fewer than 100 games started behind the plate, but there don't appear to be any plans to move him to 1B as of now. That said, with Brandon Belt's (1B, SF) name reportedly dangled in trade talks, such a move at some point this season can't be ruled out.
A reunion with last year's backup, Nick Hundley (C, FA), is not out of the question, but his current status as a free agent leaves the depth chart somewhat barren at present. Aramis Garcia (C, SF), the team's #14 prospect, got a taste of MLB pitching in a late-season call-up after going .233/.285/.381 across two MiLB levels. He popped 4 HR in just 63 AB, but his woeful 51% ct% suggests he could use more minor-league seasoning.
The team also signed Cameron Rupp (C, SF) to a minor-league deal earlier this offseason. Rupp has shown power at the MLB level, with 16 HR (2016) and 14 HR (2017) in the not-too-distant past. Contact issues (61% in 2017) ultimately spelled the end for his time with the Phillies, and he spent all of last season in Triple-A (with three teams), where he hit .223 with 15 HR and a 63% ct%.
Ultimately, with the team in a retooling mode, the idea would seem to be to tread water until handing the keys over to Joey Bart (C, SF)—the #2 overall pick in the 2018 draft and #1 prospect in the Giants system.
For more information about the terms used in this article, see our Glossary Primer.
Shopping Cart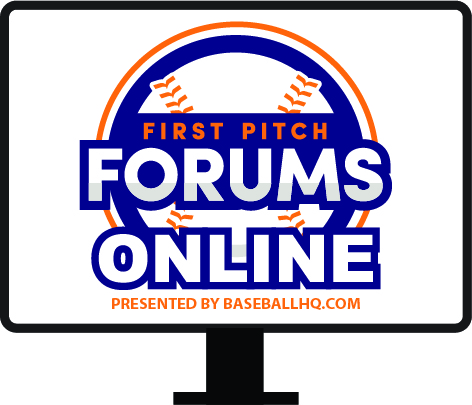 Our virtual First Pitch Forum returns!
Three online-only events: March 5, 11, 17
Join us live, or watch when you want
Just $19!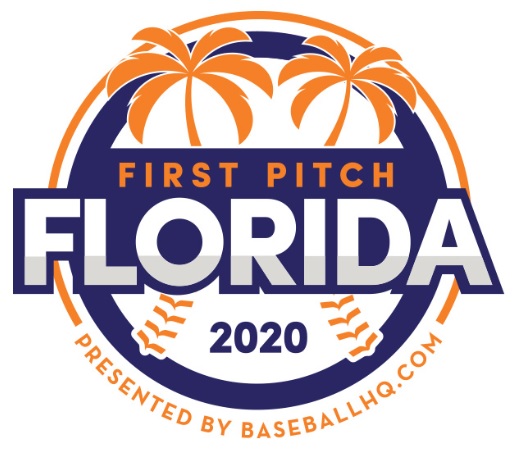 Inaugural Event!
February 28-March 1, 2020
St. Petersburg, FL
A few seats still left!