PT TOMORROW: NL East—Smyly Face
By Alain De Leonardis

@Acdeleon
January 28th, 2021 1:05am
The Braves enter 2021 with their young core mostly intact. Their starting rotation shed Cole Hamels (LHP, FA) after a disappointing abbreviated season marred by injury (again) but has added two intriguing arms, Charlie Morton (RHP, ATL) and Drew Smyly (LHP, ATL).
There were some questions about whether the 37-year-old Morton would retire if TAM didn't pick up the club option on his contract. After spending 24 days in the IL with right shoulder inflammation in 2020, he came back strong in September (3.51 xERA, 27.7% K%, 93.9 Vel) but even those numbers are off his recent highs over the past couple seasons. Furthermore, according to our Ballpark Tendencies charts, Morton is trading a favorable home field in TAM that has suppressed LHB BA by 6% and LHB HR by 12% while boosting K by 7% from 2017-19 for one in ATL that has played neutral in those categories. He's had a remarkable late-career run of success supported by excellent skills (BPV '17-20: 127, 127, 155, 135); as long as you factor in a less-than-full workload—our projections currently have him pegged for 160 IP—he should still slot in as a fantasy SP 2/3.
Smyly wrapped up a season in SF that had many touts licking their chops ahead of 2021 drafts: 26 IP, 3.42 ERA, 2.97 xERA, 1.10 WHIP, 38% K%, 195 BPV. He hit new highs on the radar gun (93.8 Vel) while ditching his change-up and throwing his curve more. Smyly had shown promise once upon a time with DET but staying healthy has been huge problem. Smyly spent 243 days on the IL over the past three seasons (missing all of 2017-18 while recovering from Tommy John surgery) and has exceeded 150 IP only twice in his nine-year MLB career. With his skills history and the flashes of brilliance he showed last season, Smyly is worth a gamble, but keep in mind that what you're betting on isn't so much the skills but the playing time.
What happened to Brian Anderson (3B, MIA) in 2020—besides, you know, what happened to the rest of humanity as well? Coming off a 2019 that saw jumps in his PX/xPX and HR/F, we felt good enough about him to slap a "UP: 30 HR" on him in the 2020 Baseball Forecaster. During the shortened season last year, Anderson powered up even more, achieving a 125 PX and 120 xPX with a 27% HR/F in 200 AB. Those gains came at the expense of his contact (career-low 67% ct%), as both his BA (.255) and xBA (.239) tumbled to new lows.
So how much stock should we put into that small sample? The easiest thing to say would be "none," and indeed, we've been careful not to weigh 2020 feats too much across the board, evaluating each player's performance on a case-by-case basis. For Anderson, it does appear that his continued progress in the power department at least partially validated our projections for him after his 2019 season. The power potential remains, and the Marlins don't have anyone else really pushing Anderson for playing time at 3B, so factoring in his decent health record—and given his ability to also play OF—he should approach full-time PT and make a run at 25 HR with a BA in the .250-260 range.
Other options at 3B for MIA include Jon Berti (2B/OF, MIA), and Miguel Rojas (SS, MIA). Fantasy managers drafted Berti for his speed and positional flexibility heading into 2020, and in a shortened season further truncated by a finger injury that cost him 11 days on the IL, he basically delivered on that promise (.258/.388/.350, 2 HR, 9 SB, $15 5x5 in 120 AB). He was deployed as a true utility player and figures to pick up time all over the field again in 2021, although a chunk of his PT could depend on the fortunes of Isan Díaz (2B, MIA) and Jazz Chisholm (2B/SS, MIA). Rojas is the starter at SS, and while modest, the expectations for him could push double-digit HR and SB with a high BA floor—not super exciting, but valuable in NL-only, 15-team, and the later rounds of draft-and-hold leagues.
Rookie owner Steve Cohen has wasted no time remaking the Mets in his own image, signing a flurry of free agents and completing a blockbuster deal for superstar Francisco Lindor (SS, NYM) and Carlos Carrasco (RHP, NYM). Those additions are extremely consequential, both in real life and fantasy, but a less heralded move to bolster the relief corps also has significant ramifications.
The addition of Trevor May (RHP, NYM) was a welcome shot in the arm for the back end of the bullpen, giving the Mets another option to close out games alongside Edwin Díaz (RHP, NYM). May's skills spiked in 2020: 3.15 xERA, 40% K%, 19.2 SwK, 96.4 Vel. He more than doubled his slider usage (14.5% -> 32.6%), which apparently improved the SwK% not only on that pitch (8.7% -> 14.6%) but also his four-seamer (16.1 % -> 20.6%).
The 2020 version of May was definitely closer-worthy, and if that guy shows up in 2021, it'll take some pressure off Díaz, who weathered a couple shaky outings en route to a dominant abbreviated campaign (1.75 ERA, 2.45 xERA, 43% GB, 45% K%, 21.5% SwK, 204 BPV). His biggest challenges moving forward are tamping down on the walks (13% BB%) and commanding the slider—one of the keys to his improvement over the previous season as evidenced by the heatmaps below (L: 2019, R: 2020; courtesy of Baseball Savant):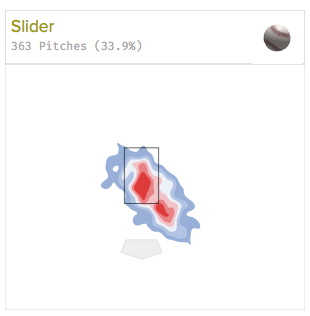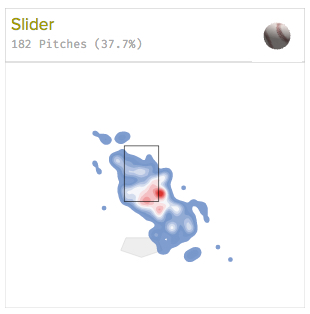 May's addition also allows the Mets to use Seth Lugo (RHP, NYM) as a stopper, opener, or whatever other flexible role they can dream up. The acquisition of Joey Lucchesi (LHP, NYM) added much needed rotation depth and greatly increased the chances of Lugo remaining a fixture in the bullpen.
The Phillies' offseason took a huge turn for the better this week, as they re-signed J.T. Realmuto (C, PHI) and returned him to his customary spot behind the plate.
Realmuto—by most accounts occupying a tier by himself as the top catcher in fantasy—continued his excellent run in 2020. The 5-category unicorn at C posted a .266/.349/.491 triple-slash with 33 R, 11 HR, 32 RBI, 4 SB, eclipsing the $20 mark for a second consecutive year. He's been remarkably durable, with only 20 days on the IL in the past three seasons, and his 6 games at 1B could give him additional positional eligibility in some formats. His importance to the Phillies' offense, as well as his value on defense, make him a must-sign for rookie GM Sam Fuld, not least because the step down from him to the internal replacement options or what's left on the free agent market would be enormous.
Andrew Knapp (C, PHI) will back up Realmuto again and is the proud owner of a comely 2020 line: .278/.404/.444 with 9 R, 2 HR, 15 RBI in 72 AB. Obviously that's a tiny sample, but he did achieve career best skills in bb% (17%), ct% (74%), xBA (.263), PX (98), and BPV (41). That's nice, but it's totally fair to wonder how much of that would translate over a larger sample in a beefier role. We didn't write up a player box for him in the 2021 Baseball Forecaster, which tells you a little something about how we regard his chances to impact the Phillies' totals. Still… he's registered roughly league-average xwOBA over his last 250 PA, along with better-than-average xwOBACON and Hard Hit% over his career, so he's not exactly swinging an overcooked bucatini, either.
Rafael Marchan (C, PHI) is the other internal option at catcher. He ranked 10th on the PHI 2021 Organization Report and the book on him is thus: great arm, good bat-to-ball, developing defense/framing, one professional HR (in MLB, no less). After logging 8 AB for the big club in 2020, he'll likely head to Double-A for additional seasoning.
Because Howie Kendrick (INF/OF, FA) retired and the option on Eric Thames (1B, WAS) wasn't exercised, the Nationals opted to repopulate first base by trading for Josh Bell (1B, WAS), one of the most enigmatic (and polarizing) sluggers in fantasy.
Bell followed up his breakout 2019 ($23) with a 2020 dud ($8), posting a .226/.305/.364 while whiffing more (70% ct%) and pounding the ball into the ground (56% GB%). His QBaB score of ADd tells us that while he possessed excellent Exit Velocity (A), his Launch Angle (D) was poor, and, making matters worse, his Launch Angle Variability (d) played a role in tanking his BA. He's never been especially adept at lofting the ball despite his strength and stature, but the good news for him is that he only has to return to a merely mediocre LA to take advantage of his EV (see his run of mostly impressive HctX: 110-104-99-122-117) and return to the 30-HR plateau.
Returning for a 16th season—all with WAS—is Ryan Zimmerman (1B, WAS), who opted out of the 2020 season due to concerns over COVID. At 36, he's not expected to play all that much, but could cover 1B against tough lefties, as Bell has a history of trouble against LHP, and he could also pick up some AB at DH, whether the NL opts to keep it or not. Expect Zimmerman to remain a matchups play, with limited value in deeper leagues with daily transactions.
For more information about the terms used in this article, see our Glossary Primer.