PT TODAY: Yankees weigh options to fill in for Bird
By BaseballHQ
March 27th, 2018 12:07am
Team-by-team playing time allocation charts can be found in our Teamview pages.
American League

| National League
Yankees | Greg Bird in the nest a while
New York Yankees 1B Greg Bird (ankle) is expected to miss six to eight weeks as he will have surgery Tuesday, March 27, to remove a small broken spur on the outside aspect of his right ankle. Source: yankees.mlb.com
BHQ take: Bird's latest injury will keep him on the shelf until late May/early June, forcing the Yankees to make adjustments. Tyler Austin has been informed he will take Bird's place on the roster, and will likely form the short side of a 1B platoon with Neil Walker for the near-term. Austin has shown big-time power in the majors (11 HR in 123 AB), but has struggled to reach the 65-68% contact rate that his MLEs project (57% ct% thus far in MLB). With Walker covering more AB at first base (and his 100+ points of OPS advantage against RH pitching supporting that strong-side platoon assignment), the other Tyler, Tyler Wade, should also see some more playing time opportunity at 2B. Wade is projected to provide a helpful batting average and plus speed after a strong 2017 season at AAA-Scranton/Wilkes-Barre (.310/.382/.462 in 339 AB; 26-for-31 in stolen base attempts). —Matt Dodge
Impact: High
Wade, Tyler

PT Gain:

10%
Austin, Tyler

PT Gain:

10%
Bird, Gregory

PT Loss:

-30%
Walker, Neil

PT Gain:

10%

---

Rangers | Texas brings back two players
Free-agents RHP Bartolo Colon (Rangers) and 3B Trevor Plouffe (Rangers) were re-signed to minor league contracts and assigned to Class AAA Round Rock Monday, March 26. Source: MLBRosterMoves
BHQ take: Colon appears likely to be added to the major league roster to make one start at OAK next Monday, April 2. After that, his future is up in the air; for now, though, we'll have to assume he'll see a dramatic IP reduction. As we noted upon his signing, Colon's skills collapse in 2017 doesn't give much optimism for success with the Rangers. Plouffe will go to Triple-A hoping for a big league shot; like Colon, his skills have nosedived. But Plouffe is still just 32 years old, and showed plus power as recently as 2015 (124 PX). It's a long shot that he'll rediscover that stroke, but he's perhaps worth watching in very deep leagues just in case. —Rod Truesdell
Impact: Low
Colon, Bartolo

PT Loss:

-7%
Plouffe, Trevor

PT Loss:

-20%

---

Red Sox | Brandon Workman sent down
Boston Red Sox RHP Brandon Workman was optioned to Class AAA Pawtucket Monday, March 26. Source: The Boston Globe - Peter Abraham
BHQ take: Workman, finally healthy after missing the entire 2016 season for Tommy John surgery, was expected to play a middle relief role in Boston in 2018, but instead his demotion clears the way for the MLB debuts of Bobby Poyner and Marcus Walden. Poyner will serve as the lone lefty in the Red Sox pen, replacing Robby Scott, who also was demoted. Poyner's stellar 2017 results at AA-Portland (12.2 Dom, 4.7 Cmd, 0.94 ERA in 38.1 innings) earned him a spring training invite, and he did not disappoint there with 8/1 K/BB in 10.1 innings. The 28-year-old Walden has kicked around the minors for 10 seasons in five different organizations, compiling an unexciting 5.8 Dom and 1.9 Cmd over 427 innings combined across Double-A and Triple-A. What's probably most relevant in Walden's background is that he was used as a swingman in 2017 (15 starts, 14 relief appearances), averaging 3.6 innings per game; an important competency with two members of the BOS rotation on the DL for the start of the 2018 season. —Matt Dodge
Impact: Low
Poyner, Bobby

PT Gain:

2%
Scott, Robby

PT Loss:

-2%
Workman, Brandon

PT Loss:

-2%
Walden, Marcus

PT Gain:

2%

---

Orioles | Three vets break camp with BAL
Baltimore Orioles 1B Danny Valencia, OF Craig Gentry and 1B Pedro Alvarez have been told they will be on the roster when the team breaks camp this week. Source: The Baltimore Sun
BHQ take: Gentry's defensive and pinch-running experience won him the fifth OF role in BAL, banishing youth (Austin Hays and Joey Rickard) to the minors for the start of the 2018 season. On the non-running Orioles, Gentry led the team with a 31% SBO but only succeeded on five of his nine attempts, so he is only fantasy-relevant in the deepest of leagues. Valencia will have plenty of opportunity in April to provide day-to-day injury recovery coverage at 1B (Chris Davis—forearm), 3B (Tim Beckham—groin) and LF (Trey Mancini—hamstring), although as of this writing, none of those three players are expected to be placed on the disabled list. Alvarez will scoop up DH at-bats while Mark Trumbo is on the DL for part of April, but be warned: Alvarez has 18 strikeouts in 53 spring training AB (66% ct%), right in line with his career mark (68% ct%). —Matt Dodge
Impact: Low
Alvarez, Pedro

PT Gain:

5%
Hays, Austin

PT Loss:

-5%
Rickard, Joey

PT Loss:

-5%
Trumbo, Mark

PT Loss:

-5%
Valencia, Danny

PT Gain:

5%
Gentry, Craig

PT Gain:

10%

---

National League

| American League
Diamondbacks | Arizona designates Chris Herrmann
The Arizona Diamondbacks designated C Chris Herrmann for assignment Sunday, March 25. In a corresponding move, they purchased the contract of LHP Jorge De La Rosa. Source: MLBRosterMoves
BHQ take: If held up to his lifetime figures, Herrmann's .284/.352/.493 line in 2016 stands out like spats at an Iowa picnic. That each one of those numbers plunged 100 points in 2017 shouldn't have come as a surprise, and his .300 spring BA wasn't enough to save him. He still had some utility last year as the left-hander in a three-catcher rotation, but the signing of LH backstop Alex Avila made that less of a factor. Each of those three ARI catchers did have over 200 plate appearances in 2017, so if that usage pattern is to be repeated in 2018, John Ryan Murphy would serve as the third option behind Avila and Jeff Mathis. Neither backup has any fantasy shine. Mathis' -19 BPV last year was actually a tad better than his career mark, and while Murphy's resume is scant (.228 xBA lifetime), he can at least hold up his 2015 season with the Yankees in which he hit .277 in 155 AB. De la Rosa's 65 appearances ranked second on the Diamondbacks' staff last year and he held LH batters to a .292 Slg. —Rob Carroll
Impact: Med
Avila, Alex
de la Rosa, Jorge A
Herrmann, Chris

PT Loss:

-15%
Mathis, Jeff

PT Gain:

5%
Murphy, John R

PT Gain:

10%

---

Padres | Dinelson Lamet to open on DL
San Diego Padres RHP Dinelson Lamet (elbow) will start the season on the disabled list but is expected to miss 'minimal time' after experiencing pain in his right elbow. An MRI revealed no structural damage. Source: The San Diego Union-Tribune - Kevin Acee
BHQ take: As projected in the March 26 Playing Time Today column. Obviously, this diagnosis and type of injury is a point-in-time, and things can easily slide from here. Chris Young was informed that he wouldn't make the Opening Day roster in a mild surprise—though this could even be the end of the line for the 39-year-old Young. Long-time-ago prospect Robbie Erlin will reportedly get the first crack at Lamet's rotation spot—and after missing the past two seasons (16 IP) with elbow and other injuries, he's a blank slate as to skills and durability. Owners looking to speculate on the opportunity will buy shares of Joey Lucchesi, who posted a 2.20 ERA (148/33 K/BB) over 139 IP between A+/AA last year before tossing 12 IP of two-run ball this spring—and has the upside of a No. 3 SP. Opportunity in a weak SD rotation makes Lucchesi a good keeper league flyer over the next couple of seasons. —Jock Thompson
Impact: High
Lucchesi, Joey

PT Gain:

1%
Lamet, Dinelson

PT Loss:

-1%
Erlin, Robert
Young, Chris

PT Loss:

-2%

---

Braves | Atlanta adds Ryan Flaherty
Free-agent INF Ryan Flaherty (Phillies) signed a one-year deal with the Atlanta Braves Monday, March 26. Financial terms were not disclosed. Source: MLBRosterMoves
BHQ take: Flaherty has literally played every position except catcher and center field, including pitcher. That's probably the best thing that can be said for him as far as fantasy is concerned. In a six-year career, he has never returned positive value. For his career, he has a .232 xBA, an 85 xPX and a 92 RSPD. In other words, pass. —Phil Hertz
Impact: Low
Flaherty, Ryan

PT Gain:

10%

---

Pirates | Three Pirates sent out
Pittsburgh Pirates OF Jose Osuna and RHP Kyle Crick were optioned to Triple-A Indianapolis Monday, March 26. LHP Kevin Siegrist was sent to minor league camp. Source: The Athletic - Rob Biertempfel
BHQ take: Osuna led the Pirates this spring with five home runs, but it wasn't enough to break camp with them. He was the victim of the team starting the season in Detroit with the DH in use, making a fifth bench spot expendable. GM Neal Huntington told The Athletic that the eight-man bullpen setup could last a while. Osuna is a natural first baseman, but he's blocked there by Josh Bell. Osuna will play mostly third base with Triple-A Indianapolis. No change in playing time projections for Osuna as rumors of his start in the minors were factored in. —Rick Green
Impact: Med
Osuna, Jose
Crick, Kyle

PT Loss:

-1%
Siegrist, Kevin

PT Loss:

-1%
News feed provided by: Fantasy.USATODAY.com
Playing Time Key
The playing time percentage changes at the bottom of most news items correspond to BaseballHQ.com's Teamview pages. The percentages approximate changes in AB, IP and Saves in the following manner:
For batters, each 5% of PT% ~ 31 AB (100% total for each position = 618 AB)
For pitchers, each 3% of PT% ~ 44 IP (100% total for a team's entire pitching staff)
For relievers, each 5% of Svs ~ 2 saves (100% of a team's total = about 40 saves)
A complete explanation of BaseballHQ.com's playing time allocations can be found in the article "How the Projections are Created."
For more information about the terms used in this article, see our Glossary Primer.
Shopping Cart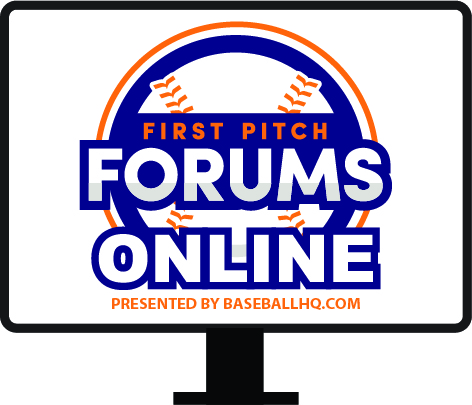 Our virtual First Pitch Forum returns!
Three online-only events: March 5, 11, 17
Join us live, or watch when you want
Just $19!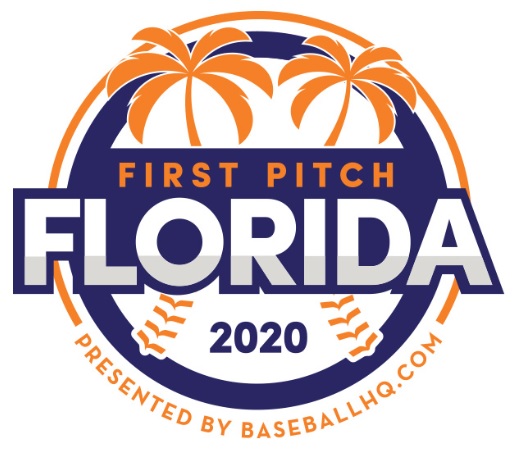 Inaugural Event!
February 28-March 1, 2020
St. Petersburg, FL
A few seats still left!