PT TODAY: LeMahieu stays put with Yankees
By BaseballHQ
January 18th, 2021 12:05am
Team-by-team playing time allocation charts can be found in our Teamview pages.
American League

| National League
Yankees | DJ LeMahieu agrees with Yankees
Free-agent 2B DJ LeMahieu agreed to a six-year, $90 million deal with the New York Yankees Friday, Jan. 15. Source: ESPN - Jeff Passan
BHQ take: While Lemahieu remaining in New York had been the expected result, it is good to have his destination settled. Tyler Wade, Thairo Estrada and Andrew Velazquez are now clearly battling to provide infield support off the bench, while Lemahieu remains in a hitting environment where he has thrived, hitting 27 of his 36 HR over the past two seasons. —Kris Olson
Impact: Low
LeMahieu, DJ

---

Yankees | Corey Kluber contract update
Updating a previous report, New York Yankees RHP Corey Kluber agreed to a one-year contract with the Yankees Friday, Jan. 15, worth $11 million. Source: USA TODAY Sports - Bob Nightengale
BHQ take: Kluber seems to have impressed in his throwing session for interested teams, as competition for his services was fierce, but Kluber's connections to trainer Eric Cressey, hired last year as the Yankees' director of player health and performance, and pitching coach Matt Blake, who worked with him at Cressey Sports Performance and during his tenure as a Cleveland Indians pitching coordinator, seems to have held sway as Kluber picked a team for which he will try to prove he can stay healthy and regain something resembling his Cy Young form. But that may be a bit much to hope for, given the skills slippage Kluber had been showing prior to the first of his two serious injuries over the past two years. Kluber's arrival enhances the chances that Schmidt will start 2021 in the minors, at least as long as Domingo Germán shows enough form to hold down the No. 5 role in the New York rotation until Luis Severino is ready to be activated. —Kris Olson
Impact: High
Schmidt, Clarke
Kluber, Corey

---

Red Sox | Martín Pérez contract details
Updating a previous story, LHP Martín Pérez's one-year deal with the Boston Red Sox will pay him $4.5 million in 2021 with a $6 million club option for 2022 that includes a $500,000 buyout, according to a source Saturday, Jan. 16. Source: MLB.com - Mark Feinsand
BHQ take: After losing out on Corey Kluber to their division rival, the Red Sox decided to bring back a devil they know, though Pérez may not be the last addition to the team's rotation depth. Depending on how manager Alex Cora wants to set up his rotation, Pérez should slot in as the team's No. 3 starter behind Nathan Eovaldi and Eduardo Rodriguez, who is reportedly on track for Opening Day after suffering from myocarditis as a complication from a bout with COVID-19 in 2020. Scanning down Perez's xERA, xWHIP and BPV history, it's hard to see the allure, and Pérez can be safely left in the free agent pool in most leagues, despite his role. Pérez's return makes it less likely Andriese will be needed to pitch out of the rotation, unless Tanner Houck starts the year in the minors. —Kris Olson
Impact: Low
Andriese, Matt
Pérez, Martín

---

Angels | Kurt Suzuki signing with Angels
Free agent C Kurt Suzuki (Nationals) on Friday, Jan. 15, agreed to a one-year, $1.5 million contract with the Los Angeles Angels, according to a source. Source: The Athletic - Ken Rosenthal
BHQ take: Suzuki posted another decent offensive showing as part of a 2020 job-share, courtesy of more plus contact and plenty of LDs. But his .745 OPS was a decline from his previous three seasons, his power metrics are eroding and even his ct% isn't what it once was—as to be expected from a now-37-year-old. He'll share duties with Max Stassi, who could start the season on the IL following off-season hip-surgery, and Suzuki could be a decent #2 fantasy catcher once again. But there seems to be more downside than up at this point in his career. —Jock Thompson
Impact: Med
Suzuki, Kurt

---

White Sox | Liam Hendriks joining White Sox
Free-agent RHP Liam Hendriks agreed to terms on a multi-year contract with the Chicago White Sox Monday, Jan. 11, according to sources. Terms of the contract were not disclosed. Source: Yahoo! Sports - Tim Brown
BHQ take: Hendriks, who was 14-for-15 in save opportunities in 2020, takes over as the closer in the CHW pen as free agent Alexander Colomé looks for a deal. Hendriks has had quite the run over the past two seasons and turned that into a $54 million deal. He struck out 37 batters in 25.1 IP in 2020, had just three walks, a 1.78 ERA and 0.67 WHIP. And that BPV was pretty nice to look at, too: 218. In 2019, he had 124 K/21 BB in 85.1 IP to go with a 1.80 ERA, 0.96 WHIP and 185 BPV. While closers can be unpredictable, he looks like one of the go-to relievers for saves in 2021. —Rick Green
Impact: High
Hendriks, Liam

---

National League

| American League
Giants | Alex Wood signs with San Francisco
Free-agent LHP Alex Wood signed a one-year contract with the San Francisco Giants Thursday, Jan. 14, worth $3 million. Wood can earn an additional $3 million in performance bonuses. Source: The Athletic - Andrew Baggarly
BHQ take: Wood has tossed just 49 IP over the past two seasons due to assorted back and shoulder injuries, and hasn't had a year without IL time since 2015. This year he was injured in late July after just one 3 IP start, and wasn't at all effective when he returned in Sept, allowing six runs in 9 1/3 IP. Still, Wood is just 30 years old and he posted a 3.68/3.75 ERA over 152 IP in 2018. The Giants hope he's healthy enough to produce in a multi-inning role of some sort, but he's a fantasy end-gamer at best. —Jock Thompson
Impact: Med
Wood, Alex

---

Phillies | Archie Bradley headed to Philadelphia
Free-agent RHP Archie Bradley reportedly agreed to terms on an undisclosed contract with the Philadelphia Phillies on Thursday, Jan. 14. Source: Sportsnet.ca - Ben Nicholson-Smith
BHQ take: Bradley should be a welcome addition to the Phillies bullpen that was a significant source of concern in 2020. The former Diamondbacks closer had another solid season in 2020 despite a slight loss in his velocity. He had an xERA of 3.71 and a K% of 25% that was combined with a career low BB% of 4%. Small sample warnings are applicable. After all, Bradley only pitched 18 innings, but he should be a candidate to pitch in high leveraged situations and could wind up closing if Héctor Neris struggles. —Phil Hertz
Impact: Med
Bradley, Archie

---

Phillies | Sam Coonrod acquired by Philly
San Francisco Giants RHP Sam Coonrod was acquired by the Philadelphia Phillies Saturday, Jan 9, in exchange for RHP Carson Ragsdale, according to sources. Source: ESPN.com - Jeff Passan and Kiley McDaniel
BHQ take: On the surface, Coonrad had a nice debut in 2019, but then struggled in 2020. While he had a 3.58 ERA in 2019, his xERA was 5.11. In 2020, his ERA ballooned to 9.82, but his xERA was basically the same: 5.10. Aside from his xERA, there were some areas of improvement in 2020 that may pique fantasy owners' interest. His K% climbed from 18% to 21% while his BB% dropped from 13% to 10%. Nevertheless, with a BPV of 71 in 2020, Coonrad's probably not worth more than a spot on owners' watchlists. —Phil Hertz
Impact: Low
Coonrod, Sam

---

Nationals | Kyle Schwarber heading to Washington
Free agent OF Kyle Schwarber (Cubs) and the Washington Nationals on Saturday, Jan. 9, agreed to terms on a one-year, $10 million deal, according to sources. Source: ESPN - Jeff Passan
BHQ take: As things currently stand, Schwarber is expected to be the Nationals' left fielder on most days. For now, he has little competition for that role although it would not be a surprise to see Washington add a righthanded hitting outfielder to spell, or even platoon with, Schwarber. 2019 appeared to be a break out season for Schwarber. Pretty much every number represented a career high. He had his biggest homer output, best xBA, best ct%, and best PX. Lots of numbers regressed in 2020, notably his ct% fell to earlier career levels and his Brl% was the worst of his career. However, not all was lost, his PX remained solid and his hard contact was as good as ever. Owners should not write off 2020, but they also should not expect a repeat of 2019. One final note: Nats Park enhances LHB power while Wrigley Field depresses LHB power. That could mean an extra homer or two for Schwarber as the season progresses. —Phil Hertz
Impact: High
Schwarber, Kyle
News feed provided by: Fantasy.USATODAY.com
Playing Time Key
The playing time percentage changes at the bottom of most news items correspond to BaseballHQ.com's Teamview pages. The percentages approximate changes in AB, IP and Saves in the following manner:
For batters, each 5% of PT% ~ 31 AB (100% total for each position = 618 AB)
For pitchers, each 3% of PT% ~ 44 IP (100% total for a team's entire pitching staff)
For relievers, each 5% of Svs ~ 2 saves (100% of a team's total = about40 saves)
A complete explanation of BaseballHQ.com's playing time allocations can be found in the article "How the Projections are Created."
For more information about the terms used in this article, see our Glossary Primer.
Free Weekly eNewsletter
The industry's #1 analytical weekly e-mail newsletter is ABSOLUTELY FREE!
More Information
Shopping Cart
SAVE THE DATE!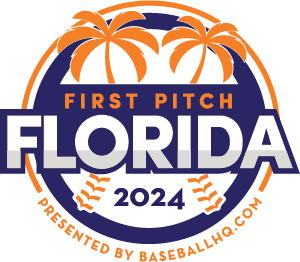 March 1-3, 2024

Clearwater, FL