PT TODAY: Giants giving Dubon a look in infield
By BaseballHQ
August 29th, 2019 12:07am
Team-by-team playing time allocation charts can be found in our Teamview pages.
National League

| American League
Giants | San Francisco makes a bevy of moves
San Francisco Giants SS Mauricio Dubon and OF Joey Rickard were recalled from Class AAA Sacramento on Tuesday, Aug. 27. The club also selected the contract of RP Tyler Rogers from Sacramento, placed RP Trevor Gott (elbow) on the 10-day injured list with a right elbow strain, optioned SS Abiatal Avelino to Sacramento and released 2B Scooter Gennett. Source: Giants.MLB.com
BHQ take: The Giants' Scooter Gennett experiment lasted 21 games, the same number he played for CIN earlier in the season. His once-decent plate skills have completely cratered (41/2 K/BB ratio for the year), with two HR in 133 AB a far cry from the 50 he produced in 2017-2018. With Joe Panik and now Gennett out of the picture, the Giants appear to be all-in on prospect Dubon, who was their main get in the Drew Pomeranz trade with MIL. Dubon made two July appearances for the Brewers but has spent the bulk of 2019 in the AAA-Pacific Coast League. Between the two franchises, he's put up a 20-56-.302 line with 10 SB in 503 AB, and, with an occasional assist from MI Donovan Solano, should see ample playing time in September. (Dubon's skill set is analyzed in BaseballHQ.com's Call-Ups column). Reliever Gott has been both solid (118 BPV) and opportunistic (7-0 record), and being diagnosed with a Grade 1 sprain of the UCL in his right elbow invites the possibility of his being shut down for the year. Outfielder Rickard went 3-for-14 with a HR earlier this month for SF. —Rob Carroll
Impact: High
Avelino, Abiatal
Dubon, Mauricio

PT Gain:

65%
Rickard, Joey
Gott, Trevor

PT Loss:

-1%
Gennett, Scooter

PT Loss:

-75%
Solano, Donovan

PT Gain:

10%

---

Diamondbacks | David Peralta done for 2019
Arizona Diamondbacks OF David Peralta (shoulder) will undergo surgery on his right shoulder soon and miss the remainder of the 2019 season, according to manager Torey Lovullo. Source: Diamondbacks.com
BHQ take: Advancing an earlier item, Peralta's season-ending injury reduces the balance of his 2019 playing time to zero. His 99 games played is his fewest since 2016, and 2019's muted .275/.343/.461 slash line shouldn't be too surprising in light of his shoulder not fully cooperating. With Peralta out of the picture, the Diamondbacks may have to rely on veterans Adam Jones and Jarrod Dyson a bit more than they anticipated at this point in the season. Jones has been serviceable, but only two of his 15 longballs have come after June 15, and Dyson's contributions (and fantasy value) are limited to what he does on the basepaths. His 27 SB are sixth most in MLB. —Rob Carroll
Impact: High
Rojas, Josh

PT Gain:

20%
Locastro, Tim

PT Gain:

20%
Peralta, David

PT Loss:

-60%
Dyson, Jarrod

PT Gain:

5%
Jones, Adam L

PT Gain:

5%

---

Rockies | Colorado shuffles roster
Colorado Rockies RPs Phillip Diehl and Joe Harvey were optioned to Triple-A Albuquerque on Tuesday, Aug. 27; to fill their spots on the roster, OF Sam Hilliard was recalled and RHP Rico Garcia had his contract selected from Albuquerque. RHP Chad Bettis (hip) was also transferred to the 60-day IL. Source: Rockies PR
BHQ take: Garcia, profiled in BaseballHQ.com's Call-Ups column, had a forgettable big league debut against the Red Sox on Aug. 27: 5 IP, 6 ER, 5 BB. Even so, between injuries to and ineffectiveness of their other SP, COL has few options from which to draw, so expect an extended audition for Garcia. Outfielder Hilliard made his first MLB appearance in the Aug. 27 game as well, homering in his third AB during a 1-for-3 night. Hilliard, profiled in our Call-Ups column as having 20/20 upside, has a genuine opportunity to position himself for 2020 consideration. With COL fading from the post-season and with several of their OF on the shelf, he should see ample playing time. Bettis' PT has been reduced to zero—which is also the amount of fantasy attention Diehl and Howard should be receiving. —Rob Carroll
Impact: High
Hilliard, Sam

PT Gain:

25%
Garcia, Rico

PT Gain:

3%
Harvey, Joe
Diehl, Phillip
Tapia, Raimel

PT Loss:

-10%
Bettis, Chad

PT Loss:

-5%
Desmond, Ian

PT Loss:

-5%

---

Marlins | Jordan Yamamoto on injured list
Miami Marlins RHP Jordan Yamamoto (forearm) was placed on the 10-day injured list Wednesday, Aug. 28, because of a right forearm strain. The team also recalled RHP Robert Dugger from Class AAA New Orleans. Source: MLB.com - Joe Frisaro
BHQ take: After starting his career with six starts in which he gave up no more than two earned runs, Yamamoto has given up at least four earned runs in all but one of his last seven starts. Overall, he has a 4.66 xERA and a 70 BPV. It's quite possible that Miami will shut him down for the rest of 2019, but even if he does pitch again this year, he's probably not a good option for fantasy owners. Dugger was up earlier in 2019 for a single start. At that time, he was only given a 6C rating by BaseballHQ.com. His one start did little to raise expectations. He lasted five innings and gave up two homers and six earned runs. Aside from that one start for the Marlins, Dugger has split 2019 between Double-A and Triple-A. Between the two, he compiled a 5.81 ERA over 124 innings. That strongly suggests Dugger should be avoided in 2019. —Phil Hertz
Impact: Low
Dugger, Robert

PT Gain:

3%
Yamamoto, Jordan

PT Loss:

-4%

---

Padres | Nick Margevicius recalled
San Diego Padres LHP Nick Margevicius was recalled from Class AA Amarillo Wednesday, Aug. 28. The team also optioned C Austin Allen to Class AAA El Paso. Source: MLB.com
BHQ take: No projection changes here. Allen (12-for-47, no HR) will return in September. After winning a rotation spot out of spring training and a fast April start, the soft-tossing, control-over-stuff Margevicius was shelled in his next six outings (27 runs allowed over 18 IP). He's done little to heighten expectations in Double-A (4.30 ERA, 53/13 K/BB over 69 IP), and will likely be used for low-leverage relief work and rotation gaps as SD plays out the string. —Jock Thompson
Impact: Low
Allen, Austin
Margevicius, Nick

---

American League

| National League
Tigers | Niko Goodrum shut down
Detroit Tigers INF Niko Goodrum (groin) has been shut down for all baseball activities over the next two weeks and could missed the remainder of the 2019 season. Source: The Associated Press
BHQ take: Goodrum had ranked among DET's leaders in games and at-bats as one of the team's few regular starting position players despite being a utility player. He played primarily in the middle infield, though he also played extensively at 1B and OF before being sidelined, with 20-plus games at 2B, SS and OF, and 18 games at 1B. His already marginal ct% had slipped slightly from his rookie 2018 season, showing slightly more speed and slightly less power. Goodrum sports an intriguing speed/power mix, provided he can make enough contact to stick as a starting regular. Recently promoted SS prospect Willi Castro, veteran SS Jordy Mercer and 1B/DH Brandon Dixon appear to be PT winners here. Mercer is seeing time at 1B with Castro seemingly likely to see the bulk of SS PT. Dixon is a multi-positional player who has played primarily 1B in recent weeks, though he is now likely to see more OF PT with Mercer manning 1B frequently. Castro was previewed recently in the Daily Call-ups column. —Tom Kephart
Impact: High
Goodrum, Niko

PT Loss:

-85%
Dixon, Brandon

PT Gain:

20%
Mercer, Jordy

PT Gain:

15%
Castro, Willi

PT Gain:

50%

---

Astros | Brad Peacock placed on IL
Houston Astros RHP Brad Peacock (shoulder) was placed on the 10-day injured list Wednesday, Aug. 18, because of a shoulder injury. The team also recalled RP Cy Sneed from Class AAA Round Rock. Source: The Athletic - Jake Kaplan
BHQ take: Peacock's second DL stint for shoulder pain since late June, and now he's reportedly awaiting MRI results. Regardless of how this turns out, Peacock can't be relied up on for the remainder of 2019. Fortunately for the Astros, a deep bullpen should help cushion the blow. Sneed gets a low-leverage IP bump. Even with his chronic control problems, Framber Valdez—(62% GB%, 8.5 Dom, 4.21 xERA through 56 IP—is getting starts from the No. 5 rotation spot in place of Aaron Sanchez. Fantasy owners seeking September flyers will find him more interesting. —Jock Thompson
Impact: Med
Peacock, Brad

PT Loss:

-4%

SV Loss:

-5%
Sneed, Cy

PT Gain:

1%
Valdez, Framber

PT Gain:

2%

---

Angels | Keynan Middleton returns; Taylor Cole optioned
Updating previous reports, Los Angeles Angels RHP Keynan Middleton (elbow) was activated from the injury list Tuesday, Aug. 27. In a corresponding move, RHP Taylor Cole was optioned to Class AAA Salt Lake. Source: MLBRosterMoves
BHQ take: Middleton's addition helps fill our projected LAA IP gap; Cole will return when rosters expand. Before his 2018 Tommy John surgery in 2018, Middleton had flashed dominance (9.4 Dom, 16% SwK) over 76 career IP that included nine saves and plenty of high-90s velocity. A September flyer, a 2020 closer possibility if healthy. —Jock Thompson
Impact: Med
Cole, Taylor
Middleton, Keynan

PT Gain:

2%

---

Astros | Aledmys Diaz reinstated
Houston Astros INF Aledmys Diaz was activated from the 10-day injured list Tuesday, Aug. 27. The club also optioned SS/OF Myles Straw to Class AAA Round Rock. Source: Houston Chronicle - Chandler Rome
BHQ take: Diaz returns from a bout with dizzy spells and should re-assume his role as the primary infield utility. He was back in the lineup at 3B on Wednesday, Aug. 28, at 3B—as Alex Bregman continues to man the SS spot in place of injured Carlos Correa (back). Depending on Correa's health, Diaz (.270 BA, 87% ct%, 7 HR through 137 AB) or rookie Abraham Toro-Hernandez could win more playing time than projected here. —Jock Thompson
Impact: Med
Toro-Hernandez, Abraham

PT Loss:

-5%
Straw, Myles

PT Loss:

-5%
Diaz, Aledmys

PT Gain:

10%
News feed provided by: Fantasy.USATODAY.com
Playing Time Key
The playing time percentage changes at the bottom of most news items correspond to BaseballHQ.com's Teamview pages. The percentages approximate changes in AB, IP and Saves in the following manner:
For batters, each 5% of PT% ~ 31 AB (100% total for each position = 618 AB)
For pitchers, each 3% of PT% ~ 44 IP (100% total for a team's entire pitching staff)
For relievers, each 5% of Svs ~ 2 saves (100% of a team's total = about 40 saves)
A complete explanation of BaseballHQ.com's playing time allocations can be found in the article "How the Projections are Created."
For more information about the terms used in this article, see our Glossary Primer.
Shopping Cart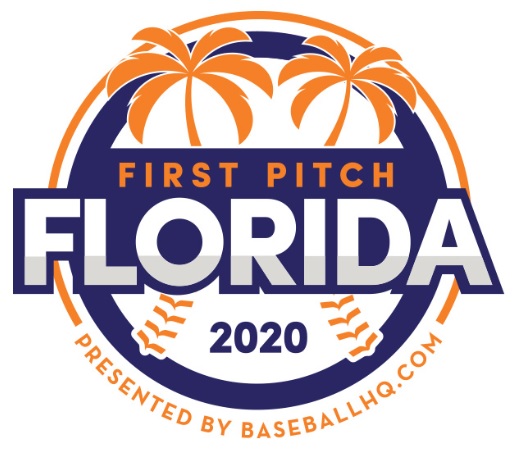 Inaugural Event!
February 28-March 1, 2020
St. Petersburg, FL
A few seats still left!