PLAYING TIME: Down-Harted again in Milwaukee
By Jock Thompson

@JOCKatHQ
March 5th, 2012 12:05am
NATIONAL LEAGUE
Hart to have knee surgery; Opening Day in jeopardy
For the second consecutive spring, Corey Hart (OF, MIL) will miss most of spring training due to an injury. The Brewers announced Sunday that an MRI showed Hart with a torn meniscus in his right knee, resulting in arthroscopic surgery that will sideline him for 3-4 weeks and put his Opening Day in jeopardy. Without spring training, it's very likely that Hart won't play in his first MLB game until mid-April or later. He'll need some rehab time and some AB vs. minor league pitching before he steps on the field in MIL.
Now once again after Ryan Braun's reinstatement, Milwaukee is faced with a thin OF and playing time questions. A first take suggests that Nyjer Morgan's job in CF is solidified, while Carlos Gomez (OF, MIL), light-hitting contact import Norichika Aoki (OF, MIL) and one-trick speedster Corey Patterson (OF, MIL) fight for the vacated AB. Gomez' plus running metrics—42 Spd, 89% SB%—and that 2011 power surge suggests that he has the most upside of the current choices. But dreadful patience, pitch selection and plummeting ct% leaves him just as likely to hurt you as to help. Barring a 3-4 week hot streak, all these names should be avoided if possible, particularly until the dust clears on the Brewers' plans.
Davis with Valley Fever?
Reports out of Mets camp in Florida and from MLB.com indicate that NYM doctors are treating Ike Davis (1B, NYM) for Valley Fever, the fungal disease that felled Conor Jackson back in 2009 and contributed to the derailment of his MLB career. While the blood work is reportedly incomplete, Davis is claiming that he feels fine, which suggests this could be a mild case of this illness that could clear on its own. But Davis owners should monitor the news carefully, and those considering a bid on Davis during their drafts should at least knock him down a few spots. This news is too incomplete to project out or pass judgment on.
The immediate effect is to up the value of Lucas Duda (OF/1B, NYM), who would likely move to 1B in Davis' absence. Duda enjoyed a stellar across-the-board second half with the Mets in 2011, including a .311 BA, 11% bb%, a 146 PX and a .907 OPS in 235 AB. Duda would likely move from the OF, opening up a playing-time competition for a cast of part-timers. There's no immediate favorite; again, stay tuned.
NL short take
San Diego Union Tribune beat writer Bill Center suggested on Baseball HQ Radio on March 2 that Kyle Blanks (1B/OF, SD) is likely ticketed for the minors to begin the season. With LF and 1B manned by Carlos Quentin and Yonder Alonso, there may not be room for even semi-regular PT for Blanks. Blanks' track record suggests that he has nothing to prove at AAA-Tucson. He put up his usual low-BA, high power performance—134 PX—in 170 AB late in the year after returning from elbow surgery. Owners with deep reserves should take a flyer on Blanks; he still has value, particularly if he can escape PETCO ...
AMERICAN LEAGUE
Barton's slow recovery clouds OAK 1B situation
After an injury-ravaged 2011, Daric Barton (1B, OAK) was still listed as the OAK 1B favorite on most playing time grids entering 2012. But with a right shoulder that is still healing from July labrum surgery, Barton will be unable to field or throw until at least mid-March. And the news Saturday that Barton had undergone an MRI due to persistent shoulder soreness, followed up by an announcement of a second cortisone shot to combat biceps tightness, doesn't exactly inspire confidence as to his Opening Day readiness. Then again, neither do the recent numbers.

Year    AB   BA    xBA  bb%  ct%  h%   OBP   PX    G/L/F    HR
====   ===  ====  ====  ===  ===  ===  ====  ===  ========  ==
2009*  413  .237  .258  13%  82%  27%  .335  101  31/20/48  10
2010   556  .273  .261  17%  82%  32%  .393   92  39/21/39  10
2011*  297  .199  .203  14%  79%  26%  .310   48  38/19/43   0
*Includes MLEs

The plan is to use Barton strictly as a DH until mid-March, but his offensive profile doesn't exactly scream "DH." After batting just .212 in 236 AB with OAK in 2011, Barton was demoted to AAA-Sacramento in June to serve his final option. His shoulder issue became public in July, but while it's difficult to pinpoint whether this affected his offense, Barton has obvious unrelated shortcomings. With woefully sub-par power for the position and average speed at best, Barton is solely dependent on excellent patience/selectivity and h% luck for value. His upside can be seen in his 2010 production, during which he recorded his only 30%+ h% in the past four seasons. Minus good fortune, average-at-best contact will limit Barton's value, regardless of health.
The other OAK 1B options couldn't be more different than Barton. Chris Carter (1B, OAK) has displayed patience and consistent plus power in the minors—123 MLE PX in 2011—but has been unable to break the 70% ct% barrier in his brief MLB stints. Off-season acquisition Kila Ka aihue (1B, OAK) has shown similar power and patience in the minors with 80%+ ct%, but he was moved by the Royals after failing an April DH audition in 2011, during which he hit only two HR and his contact collapsed. Well-travelled Brandon Allen (DH, OAK) completes this power-and-patience-skilled trio, but Allen has also struggled with contact in repeated MLB trials—and was unable to crack the 70% barrier in 2011 even while laboring in the offense-friendly PCL. For what it's worth (little, given the thin air of AZ) Allen had a HR and seven RBI Sunday vs. CHC.
Simply put, with or without Barton, pickings are slim at 1B in OAK, suggesting that another option might emerge as teams make trades and cast off players without options near the end of spring training. Barton still remains the best bet to start in April if he's healthy, simply because he's out of options. Carter is the youngest of the four 1B listed here, and the most highly regarded by most scouts. All are flyers at best, and if any of them are on your team, you'd better have a good backup plan, regardless of league depth and format.
AL short take
In the tell-us-something-we-don't-know category, Angels manager Mike Scioscia said that barring an OF injury, rookie Mike Trout (OF, LAA) will begin 2012 in the minors. The 20-year-old Trout didn't embarrass himself in his MLB debut, swiping four bags and mashing five HR while recording a 116 PX in part-time role over 123 AB. His 7% bb% and 76% ct% suggests he needs a little more seasoning, which he'll get either at AAA-Salt Lake or AA-Arkansas. Vernon Wells (OF, LAA) remains on track to start the season in LF, but he'll need to show better pitch selection and rebound from a 4% bb% / .218 BA combination to hold off Trout past May …
For more information about the terms used in this article, see our Glossary Primer.
Shopping Cart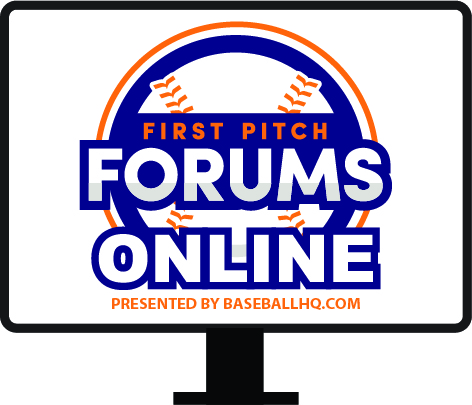 Our virtual First Pitch Forum returns!
Three online-only events: March 5, 11, 17
Join us live, or watch when you want
Just $19!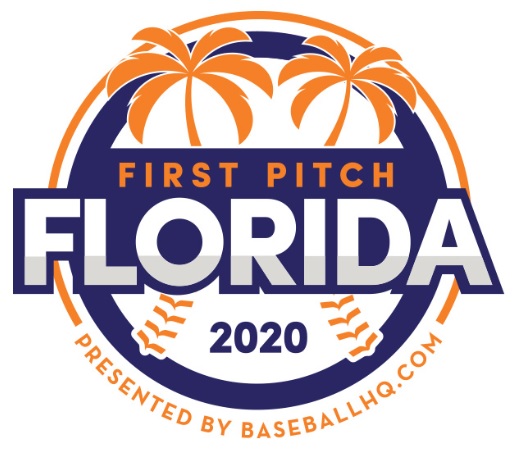 Inaugural Event!
February 28-March 1, 2020
St. Petersburg, FL
A few seats still left!