PLAYING TIME: CFs Upton, Span find new homes
By Jock Thompson

@JOCKatHQ
November 30th, 2012 12:05am
NATIONAL LEAGUE
Braves replace Bourn with B.J. Upton
Faced with the pending free agency of CF incumbent Michael Bourn, ATL decided to go younger-with-power by signing free agent B.J. Upton (OF, ATL) to a five-year, $75M+ deal. Having never quite lived up to his hype, Upton remains a somewhat polarizing player among most analysts and fantasy owners. The pluses for the Braves include inking Upton during his prime years, from age 28 through 32. They also get a right-handed hitter to complement a left-handed-leaning lineup—and one with steadily-increasing 20+ HR power to go along with a running game that has produced 196 SB over the past five years.
Along with being at least a slight defensive downgrade from Bourn, Upton's minuses include a 70% ct% that regularly fuels sub-.250 BAs, and a wavering bb% that doesn't compensate. Still,a 2H contract drive that produced 23 HR and 17 SB—backed by a 184 PX and an 85% SB%—along with an A Health grade and a fresh start suggests that Upton is worth an extra buck or two in speculation, if you can neutralize his batting average. One caveat: The potential of reduced SB opportunities in a lineup that should have less need to manufacture runs than Tampa Bay—particularly given Upton's less-than-stellar 69% SB% over the past three seasons.
Span takes over CF in WAS
Following ATL's signing of Upton, the Nats moved quickly to resolve their long-standing CF needs by acquiring Denard Span (OF, WAS) from MIN for minor league pitching prospect Alex Meyer. Span's value to WAS is a combination of excellent defense and a consistent contact/speed game. A 2011 concussion and some 2012 shoulder issues are responsible for his current "D" Health grade, but he's been otherwise durable. NL fantasy owners can project a BA in the .270-.280 range, with 20 SB and little power.
Barring another trade, Span's acquisition creates a logjam in the Nats OF, which now projects Bryce Harper and Jayson Werth at the corners—solid OF defense, for those of you owning WAS pitchers—and Michael Morse back to 1B. This configuration doesn't appear to leave room for 2012 comebacker 1B Adam LaRoche, who now projects to move on via free agency.
CIN signs Broxton to close, Chapman preps for the rotation
CIN signed one of their 2011 trade deadline pickups, Jonathon Broxton (RHP, CIN), to a somewhat surprising three-year, $21M deal. Normally a re-sign such as this wouldn't garner much notice, but it accompanied an announcement by the Reds that Broxton will be expected to take over their closer role. Even though Broxton hasn't rebounded to the dominance of his peak in LA, clearly his 27 saves, a 2.48 ERA, 50%+ GB%, and a 4.4 Cmd in the 2H helped convince CIN that this move was in their best interests—but he'll need to prove he can hold up in his second season following elbow surgery. Broxton has plenty of closing experience, and that 118 BPV speaks volumes, but as with most closers these days, it will pay to keep tabs on the Reds' other options.
Afterwards, Reds GM Walt Jocketty noted that the team had already told 2012 closer Aroldis Chapman (LHP, CIN) at season-end to come to spring training prepared to start. This will be the Reds' second attempt to make this move, and while it's risky given Chapman's limited innings, he has huge upside if successful. Chapman's 15.5 Dom is obviously going to decline as an SP, and he'll be on a pitch/innings count that likely depresses his wins and value in 2013. And there is always the chance that he could be moved back to the pen and closer role for good. But particularly in keeper leagues, Chapman remains a talent worth holding—or watching, if you don't own him.
NL short take
Chicago announced the signing of ex-Rangers swingman Scott Feldman (RHP, CHC) to a one-year $6M deal. GM Jed Hoyer pointed to a 5.09 ERA and described Feldman as "one of the most unlucky pitchers in the game last year,'' a contention supported by a 3.0 Cmd, a 33% H% and a 64% S%. But apart from a 2012 Dom spike, Feldman has produced similar metric discrepancies over most of an MLB career that includes ERAs regularly near or above 5—and an .808 OPS with runners on base. Poor road numbers suggest that playing in offense-friendly Arlington wasn't a factor last year, and while an NL move may help, Wrigley Field may not. He's still at least one adjustment away from being effective; roster only if you really need starting help and have reserve capabilities ...
AMERICAN LEAGUE
LAA signs Madson... to close?
The Angels have signed Tommy John outpatient Ryan Madson (RHP, LAA) to a one-year $3.5M incentive-laden contract. Madson underwent TJS in April 2012, with the standard 12-month time-frame for recovery suggesting that he could either barely be ready for Opening Day, or need as much as 4-6 weeks before his first regular-season appearance. The 32-year-old Madson's previous season produced a 2.37/3.06 ERA/xERA with a solid 49% GB% and a 94% Sv% as PHI's closer. With a solid FB/change-up combo, Madson maintained good dominance and terrific Ctl over his most recent three active seasons, logging a 128 BPV in 2011.
Initial reports and comments by the LAA front office suggest Madson will eventually close for the Angels, but they stopped short of handing him the job. And given his murky recovery timetable combined with a good 2011 performance by first-time closer Ernesto Frieri (RHP, LAA), there are more questions than answers. Health permitting and everything else being equal, Madson would appear to have an edge over Frieri, whose overpowering 13.4 Dom was somewhat tempered by a 2.0 hr/9 and an 81% Sv% in the 2H. But if Madson isn't ready, Frieri may get the opportunity to hold the role until he loses it. And Mike Scioscia's 2012 success in using Frieri along with lefty Scott Downs as situations warranted suggests a possibility for further Angels saves balkanization over the long season. In short, Madson might be a slight LAA closer favorite, but the situation has "fluid" written all over it.
AL short takes
BOS signed lefty-killing power source Jonny Gomes (OF/DH, BOS) to a two-year $10M contract. Gomes hit 18 HR for OAK in 2011—and has in fact averaged 18 HR over the past four seasons while hitting mostly against LHPs. He's challenged from a contact and BA standpoint, but Gomes is likely to find more success in Fenway, even though the Red Sox are likely to limit him to another platoon role. How his acquisition affects the other Red Sox corners remains to be seen ...
With Denard Span's departure from MIN, Ben Revere (OF, MIN) now looks like the uncontested front-runner to take over the Twins CF spot. Revere is not quite the CF defensive equal of Span, though he held his own in 2012 while Span was out. But more importantly for fantasy owners, he brings an elite running game to the table (40 SB, 80% SB%), backed up by a 150 Spd and an 89% ct%. With poor patience and zero power, think the second offensive coming of Juan Pierre at his best, and buy the SBs ...
The upshot of B.J. Upton's departure in TAM remains hazy as the Rays take a hard look at the trade and free agent markets for OFs. Barring the acquisition of a true CF, Desmond Jennings (OF, TAM) looks like a good bet to move from LF to CF, with left-handed-hitting Sam Fuld (OF, TAM) sticking around to caddy for him off the bench against the occasional tough RHP. The overall TAM OF picture should be clearer by March ...
For more information about the terms used in this article, see our Glossary Primer.
Shopping Cart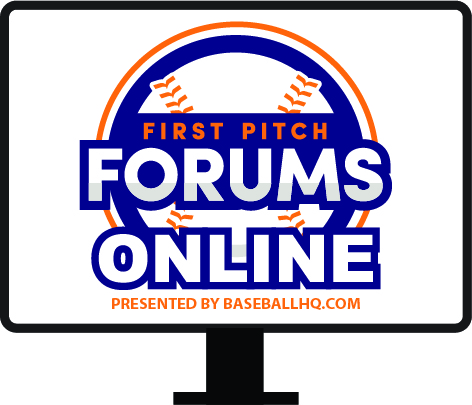 Our virtual First Pitch Forum returns!
Three online-only events: March 5, 11, 17
Join us live, or watch when you want
Just $19!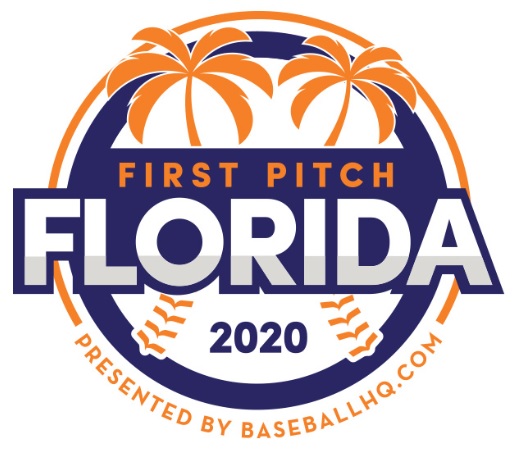 Inaugural Event!
February 28-March 1, 2020
St. Petersburg, FL
A few seats still left!