More from Baseball HQ Subscribers
"Too many other services make predictions without backing them up. Baseball HQ tells you how a player should perform but most importantly, why. They help you understand how previous seasons support their projections and teach you tools that help in making your own decisions during the year. Baseball HQ has given me the ability to look beyond the numbers to make an educated decision on who to go after and who to leave for the less informed. I feel as though I have 30 more years of experience after subscribing to Baseball HQ." C.Wrona, Boston MA
"Most advisory services tell you who to pick and why - Baseball HQ teaches you how to fish for yourself. So you can ride the charters and catch what everyone else is catching, or you can hire Baseball HQ to be your guide." N.Stokes, Dalton GA
"This site is fantastic. I have been playing since 1985 (primarily AL only standard rotisserie style) and this is the single most useful set of analytical data that I have ever seen. The tips and insights are fine, don't get me wrong, but you provide the numbers that allow users to draw their own conclusions. Easily worth the price (I would say "double the price" but you might take me up on it), especially for those who don't have time to do their own number-crunching." M.Leitner, Mequon WI
"I continue to be amazed at the quality of the content on the web site. You simply can't get this kind of insight anywhere else in on the web or in print, for any price. I would like to tell my competition about you so you'll have more business but I don't dare. At $7 per month this information is a steal." M.Pate, GOLD4 member, Pasadena TX
"Great job with the bballhq site. This is my first year as a subscriber. At first I didn't see the real value, I just signed up for the draft prep materials. As the season has gone on, I have spent more time familiarizing myself with the site, and the research materials that it offers, and now firmly believe that this site is indespensable as a tool to be used throughout the season." P.Howard, Acton ON CANADA
"In my opinion, the best forecaster out there is Ron Shandler. While folks like John Benson and Bill James are better known, I find Shandler's methodology and reasoning behind his projections to be the most fundamentally sound." S.Cohen, Briarcliff Manor NY
"I walked into draft day and one of the other owners nearly died when he saw I had your draft cheat sheets too. What I really like are the formulae/player evaluation methods." J.Baillie, Sutton MA
"You can get player projections anywhere. I haven't found analysis like Baseball HQ anywhere." C.Minton, Sleepy Hollow NY
"HQ offers better news than anywhere on the web." M.Pachter, Saylorsburg PA
"HQ, taken on the whole, is so far ahead of everything else on the net as to render comparisons laughable." B.MacCallum, Palmyra VA
"Service and content is outstanding -- only complaint -- too many of my competitors use the service. Raise the price or something." M.Rosenswig, Toronto ON CANADA
"I've recommended the site to numerous friends of mine that don't even play rotisserie - they're just rabid baseball fans who would enjoy the insights Baseball HQ offers." J.Winick, Chicago IL
"I like Benson and all, but I think you and your team have set the new standard in fantasy news and projections." D.Mairs, Calgary AB
"It's fun to read your analysis and articles on Baseball HQ. It reminds me of the same excitement when I first read Total Baseball and Bill James." K.Yao, Taiwan
"I enjoy your site and numbers a great deal - I was looking for more than John Hunt and Rod Beaton. Thank god I found you. I'm not sucking up by the way, I mean it." R.Levine, Chicago IL
"The daily call-ups feature is one I could not live without! It helps me know NOT to pick up players who come up and are hot right away because it won't last." D.Wattermann, Owatonna MN
"The opportunity for one-on-one advice from the Fantasy Advisor is probably the greatest fantasy tool available... anywhere! I can get specific answers to all MY questions, when I need them most." S.Money, Leesburg VA
"This is my first year on the Net, and subscribed to HQ and (a competitor). Next year, I don't need (the competitor) as long as I have my HQ!" B.Blalock, Grand Rapids MI
"The PQS pitching logs are great. It gives me a real advantage when trying to obtain pitchers who are pitching well despite poor traditional roto stats." S.Borushko, Ashburn VA
"Whether the reader is a long-time fantasy participant or a newcomer to the game, every HQ writer comes across in a clear, concise way, and connects with all of us." R.Murphy, Staten Island NY
"Without a doubt, the best draft prep in the business. I look forward to the cutting edge articles presenting me with new ideas on a weekly basis." K.Sloan, Margate NJ
"I used to spend a lot of time making lists of players and transferring them to poster board for easy reference during our draft. Now I simply print out the cheat sheet, alter as necessary, and go on in." A.Bensky, Detroit MI
"After 10 years of playing this wonderful game, I have learned several different approaches on HQ, including the LIMA Plan, and philosophies that have expanded my thinking and strategizing." M.Manion, Bartlett IL
"Even though I have won my league the last three years, I'm not getting cocky. I know my best chance to make it four in a row is by subscribing to Baseball HQ. I sent my online order tonight. Thanks for providing the best fantasy info available." L.Crumpler, Magnolia, AR
"First let me say that this is the first year that I have subscribed to your service, and I wish I had subscribed BEFORE I drafted my teams! Your information is quite valuable and helpful in evaluating trades. Keep up the good work, your service is worth the money." S.Jacques, Manchester CT
"I really enjoy your analysis. I was a management major undergrad and I'm currently working on my MBA at BU so you know that I'm a numbers guy. Your stuff shows legitimate trends and wipes away the emotion of picking players, which is awesome. Anyhow, thanks for writing the only stuff that has any guts and numbers to back it up. I don't buy anything else now." D.Crowley, Wilmington MA
"Of the many baseball sources I subscribed to this year (ESPN, Sportsline, STATS), your site is at the top of the list as far as completeness, insight and projections. I especially look forward to the Friday Forecast, which has been invaluable in helping me in the free agent draft each week. It's almost like having a crystal ball, but much more analytical." M.Field, Irvine CA
"I've been a subscriber to the Baseball Forecaster and the website for three years. I am in a very competitive league that has been around for 15 years. This year I won (finally) and wanted to thank you for the insight and assistance. The two previous years included a second place and 4th place finish." A.Moos, Los Angeles CA
"Thanks to my first year with your material, I was not subject to my annual pitching staff betrayal. In good part because of your advice, I finished second (and would have finished first but for a very suspicious trade) in the fifth year of my Grand Two-Year Rebuilding Plan." A.Bensky, Detroit MI
"I thoroughly enjoy Baseball HQ. Love being able to drop in whenever I need to procrastinate at work, and look forward to Friday afternoons with the blitz of new stuff." J.Bogin, Springfield MA
"Congratulations on the Mark McGwire (1998) forecast. Beginning with the Baseball Forecaster, then throughout the season, there you were in print, continuing to predict a baseline of over 60 HRs. So congrats for both the keenly honed predictive engine that generates your numbers and for having the confidence to place them in public without fudging or backtracking." V.Koloski, San Francisco CA
"The site is very well organized and the news and info sections are outstanding! This site provides me with the kind of useful info that I just don't see anywhere else. Throw in all the outstanding links and Baseball HQ has become my homepage on the web." K.Sloane, Margate NJ
"The new starting pitcher logs are an awsome addition to your web site. The pure quality start method was very helpful to me last year. Your site is awesome anyways, but this was a huge addition to it." B.Andres, Hayden Lake ID
"Using the player projections, the draft guides, and the cheat sheets, plus reading the Forecaster and the Workbook, I kicked butt at the draft. For the first time, I left our draft looking forward to the rest of the year with confidence. They never knew what hit them and I plan on keeping it that way." C.Gonzalez, Fairbanks AK
"I really enjoy your analysis and use of indicators rather than rotisserie categories to measure performance. Our league has been around since 1987, so I've had a chance to review a number of magazines, books, and web sites. Your site is head and shoulders above the rest. For a while I really liked the StallValue System, but he doesn't quite go all the way. Benson is OK, too, but he falls short as well." P.Reynolds, Westborough MA
"I'm into a steady routine with HQ, pigging out Friday and Saturday, then daily hitting Today and Daily Updates the rest of the week. It's taken me awhile to accommodate your style and pace, but now you provide 90% of what I see, in a tenth the time I might otherwise spend. A fabulous value." L.Rosenthal, Lido Beach NY
"I have dumped all my other baseball information and use your sources exclusively." T.Mullooly, Wall Twp NJ
"Baseball HQ is a breath of fresh air in a stale industry." G.Robinson, Milwaukee WI
"I like your service because I think you do the most professional job of analyzing the data and making projections. Also you do a lot of the research on playing time, prospects, injuries, reasons for exceptional performance (good and bad), managers' thinking etc. that gives me access to." J.Graves, Alexandria VA
"My wife gave me Baseball HQ for Christmas, and I have not felt the need since then to look anywhere else." L.Crumpler, Magnolia AR
"You guys are far and away the best at evaluating pitching. Each year I pick up a very good pitcher that you have recommended, and they usually come through." T.Cortese, Seal Beach CA
"It's great. HQ really delivers. I've thrown everything else away." R.Steinberg, Thornhill ON
"The up to date info and insights. You and your staff seem to be right on the money often...and can see things happening well before anyone else. I love trading in my league, with Baseball HQ's inside scoop! I feel like I always have the advantage." E.Hershey, Hanover PA
"The amount of information on Baseball HQ is staggering." M.Gervase, Tucker GA
"On Saturday, I sat through my first auction (a 5X5 AL only 11 team). Everyone at the table was a fantasy veteran and I could tell by their looks and words that they were prepared to feast on the "rookie". Well I had a surprise for them. I studied all the information provided on your web site and came in well prepared. I knew the difference between Jose Lima and LIMA like nobody's business! Overbidding was fast and furious. I used your guides extensively to gauge my prices. I took note of your bevy of mid-priced players and sought to duplicate your efforts. Well into our auction, I still hadn't purchased my first player. As you might expect, I received my share of comments and jokes. But as the sun started to set and the big name players disappeared, I came to life. Your words of patience, patience, patience -- kept me back. I may not win my league -- there is plenty of work and fun to managing the season but you and your staff provided me with the information I needed to put myself in position. You can't ask for more than that! Baseball HQ was a great investment!" B.Romero, Poulsbo WA
"Excellent service that gives information on an extremely timely basis so I can use it not only in planning my draft, but manage my team as well." A.Monroe, McLeansboro IL
"As a long-time (20 years) Rotisserie participant, I find your approach the most useful that I have ever seen. And, the information is timely and well presented. My compliments on a fine site and general philosophy." S.Knowles, Peterborough, ON CANADA
"I can assure you that, not only will I not be giving my password to anyone, but I have never uttered your name to any of my competitors and I cringe when I see a link to your page in some of the other fantasy spots on the web." J.Carr, Cape Neddick ME
"BPVs and dollar values are incredibly insightful to predicting player performance. I base my entire auction on your cheat sheet and rankings. I also base my free agent pickups on the Friday Forecast. I love your service!" B.Weaver, Owings Mills MD
"Probably the single most used feature on BHQ for me was the team-by-team depth chart. Great summary of what players are projected to start/backup, along with their BPV listing. I used this, along with the detailed charts, everyday leading up to drafting." J.Sweet, Laytonsville MD
"I think you guys are doing a hell of a job. I was a subscriber to the monthly newsletter, and I thought that was a goldmine. However, your web site hits the jackpot. Trying to find this information in a time frame that mattered was pretty much impossible. I really had to work to get the info, and that made me feel pretty good when I had leg up on the rest of my fantasy league. Now, with BHQ, I almost feel guilty using the info without putting in the time to dig it out." G.Cranshaw, Fall River MA
"The insider information and projections as to players' future values is the best. The information is also generally very timely and informative. I find that the other league members do not have access to comparable sources. You are doing a great job." F.Bopp, Falmouth ME
"I find the information here so interesting I would just remain a member even if I am not in a league." M.Keyes, Toronto ON
"Quality reporting, ease of use, analysis. Great job! The site has become the best source for one-stop information." R.Miller, Lithia Springs GA
"You have the best rotisserie web site on the internet. Nobody else is even close." J.Dressel, Palatine IL
"I like the educated and informed opinions and observations about a player's performance and abilities, which help me to draw my own conclusions - and more likely, wise ones." R.Morin, Auburn ME
"HQ is most useful for those $5-$10 acquisitions." M.Huntington, Prattville AL
"Each year's Draft Guide beats all other publications hands down." T.White, Ottawa KS
"Thanks to HQ, by the time the average rotisserie player hears about an upcoming star, I have him tucked away on my roster." C.Corley, Alpharetta GA
"HQ has become my primary source for rotisserie intelligence and this is only my second year subscribing to your services." A.Jurkat, Kinderhook NY
"I wish I had subscribed a long time ago. This coming from a veteran rotisserie player who usually finishes in the money in a league of mostly veterans." D.Willenbrink, Naperville IL
"I wouldn't think of trading a player during the season without checking his projected balance in HQ's Friday Forecast." J.Terrell, Atlanta GA
"Your web site has given me the best hitting team the last two years." T.Corkill, Winnetka CA
"Excellent insight into future performance, especially valuable for young players. HQ is great at showing which players are over or underachieving, therefore making trading a lot easier." J.Knoll, San Francisco CA
"You rule! You continue to amaze me with the level of service that you and your staff provide your customers. Just another reason why I can't imagine not doing business with HQ." D.Dempsey, Taylors SC
"I take the Sporting News Fantasy Owners' Manual into our draft to throw people off, then I put all the Baseball HQ goodies on handwritten sheets -- sandbagging works!" M.Tedrick, Atlanta GA
"I put the Shandler numbers into (a competitor's) Draft Software and get a great picture of the value of each player in my league." R.Denton, Colorado Springs CO
"HQ's stats are great and the game-playing advice is very incisive and useful." S.Holland, Swarthmore PA
"Most professional information service out there - timely, thorough, thought- provoking, lots of useful analysis, strategy, insight - all with humor and straightforward writing." A.Hirsch, Piedmont CA
"Straightforward, no-nonsense and slightly irreverent attitude. Honest evaluations with the stats to back up why. I love the in-season stats - no one else has them. Helpful for trade and FA pickups." B.Schultz, Miami FL
"Baseball HQ takes a wider look at a player's abilities, rather than the "who's hot this week" approach you get on TV, newspapers and some fantasy prognosticators." T.Greiner, Camp Hill PA
"Your pre-season projections and roster analyses are invaluable tools." M.Campbell, Warren PA
"The in-season balance-of-year projections really help me in evaluating trade possibilities." P.Weston, Middletown CT
"I enjoy the analysis written with a touch of humor and sarcasm. I like the broad range of info for all types of fantasy leagues." T.Godard, San Jose CA
"I use your stats on my radio show and get great comments." N.Hunter, Nashville TN
"I believe that the regular projections of batter and pitcher performance are invaluable tools in managing a fantasy baseball team throughout the season." O.Fontecchio, Philadelphia PA
"I really can't imagine a more valuable service when it comes to up-to- date stats and projections. The work that is done for me in statistical analysis allows me more time to watch the games." D.Peeno, Cincinnati OH
"I use Baseball HQ as the primary input into my draft strategy, my free agent moves, and for analyzing grades." D.Gorin, Green Bay WI
"I find your off-season major league equivalencies for minor leaguers invaluable." F.Jordan, Federal Way WA
"I enjoy your progressive, proactive attitude. There is no doubt that my champion Califonia Quake was built with the assistance of the Forecaster Draft Guide." P.Gladis, Newport Beach CA
"I love the early season position predictions -- who plays where!" A.Schembri, Danville CA
"I am really impressed with your work. I have used your numbers and recommendations almost exclusively in assembling my team and it is improving." J.Morrison, Rockwood ON, Canada
"Glad I found you. Will subscribe again. Fantasy is an art. Stats are tools. The Baseball Forecaster is a good tool." S.Sanchez, Agana, Guam
"I like it all. I'm hooked. It's more in depth than anything I've ever read." K.James, Newborn GA
"Best available on the market." L.Hall, Seattle WA
"This is the first year I have used HQ and the info has been invaluable. Having one quality source is definitely effective for me so far." J.Schwarz, North Olmstead OH
"Any chance I can pay you NOT to take subscriptions from a list of 23 certain people? Hey, that's part of the price of being a jealously guarded secret." M.Alberty, Urbana IL
"When I use HQ, I know I'm getting the best, most advanced and timely info available." R.Dodge, Bowie MD
"I've read just about everything and your stuff makes the most sense. Baseball HQ makes (other services) obsolete to me. It is outstanding work and the class of the field." Mark Raymond, Swartz Creek MI
"I would have to be broke or dead not to renew my subscription." T.Svoboda, Highwood IL
Success stories from subscribers...
What makes Baseball HQ unique?...
More from Baseball HQ subscribers...
More from Baseball Forecaster readers...
Beyond Rotisserie...
Free Weekly eNewsletter
The industry's #1 analytical weekly e-mail newsletter is ABSOLUTELY FREE!
More Information
Shopping Cart
Listen to Baseball HQ's weekly audio programs.
Subscribe today!
Learn More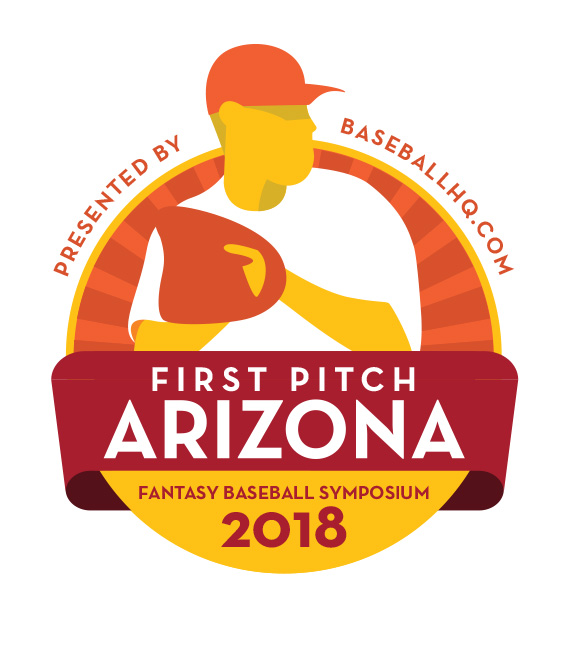 Nov 1-4, 2018
SOLD OUT!