MINORS: The Eyes Have It—Triston Casas & Simeon Woods-Richardson
By Chris Blessing

@C_Blessing
April 18th, 2019 1:04am
Writers' note: While no requests have been made by Minor League Baseball to remove my video content, I've decided to curtail my use of in-game scouting video within my scouting articles, effective immediately, due to other media outlets being asked to cease and desist their usage of in-game video. Whenever possible, I will provide video from batting practice or warm-ups in my articles.
The early season is always rough for putting together relevant Eyes Have It coverage. Usually, it means traveling beyond my regular coverage area just to get enough coverage to feel like this article is subscription-worthy content. This year has been different. Last week, I was blessed with some great early-season Double-A coverage with Jesus Sanchez, Lucius Fox, and others coming to Chattanooga for a weekend series. This week, I've been equally blessed.
By the time prospects get to Double-A, the prospect book has been written about a dude. My job is to find a way for the prospect to fit into a MLB role and determine how valuable he may be to fantasy owners in that potential role. Single-A prospects are different. It's projection over role. Single-A or lower pieces are my favorite sort of Eyes Have It article to write because with them, nothing has been written in stone. This week, there are two Single-A prospects to talk about, Red Sox prospect Triston Casas and Mets prospect Simeon Woods-Richardson.
Triston Casas (BOS, 1B/3B)
#4 Red Sox Prospect (Single-A)
Dates Seen: 4/11/19 & 4/13/19
Preseason Grade: 9D
Current Grade: 8D
Projected Role: Starting 1B
The Red Sox went for power potential when they took Triston Casas with their 1st round pick last year out of American Heritage High School (FL). Comped on draft night to Braves 1B Freddie Freeman, Casas certainly looked and acted the part in most every attribute but one in my scouted look. Casas's hit tool is much further away than Freeman's at the same age and level.
My first exposure to Single-A ball was 2008. The 2008 Rome Braves had one headline-stealing prospect, current Cubs OF Jason Heyward. Heyward was very good, but there was another guy who was just as good of a hitter, Freddie Freeman, who didn't have the same press than his teammate. Freeman was a big guy with the innate ability to find gaps. His hand/eye coordination was super advanced. His 83% ct% was fantastic, especially for a kid who would grow into his raw plus power. It was easy to project future seasons of .300-plus AVG & 25-30 HR on Freeman.
Casas has power, maybe more raw power than Freeman at the same age and level. He's also maxed out physically (6'4'', 240 Ilb), whereas Freeman still had room to grow into his frame. In BP, Casas sprayed the field with line drives. He carried the line-drive approach into the game, focused on driving pitches to the middle and the gaps. Casas was patient, but struggled with contact. He was patient and identified spin well for a 19-year-old. However, he got beat a lot with FBs and CUs in my look.
The LHH Casas sets up in a wide, crouching, closed stance. His hands are shoulder high with his elbow pointed towards the catcher. As his energy rocks back, his hands move slightly back and drift up to the hitting position. His lower half coils back with his lead foot coming slightly off the ground before he begins forward. Expecting the lower half to explode from the coil, it slugs forward. Casas's hands actually begin extending as they move forward, causing his swing to lengthen and adjust to pitch location. If the pitch isn't in the middle of the zone, Casas struggles adapting his swing for contact. If he hits a ball below his natural swing path, all of his energy is sapped, leading to slower swings (mostly misses on the FB) and lighter contact. In a limited sample coming into play Tuesday, Casas has a 53% ct%, which was nothing like I expected after hearing amateur reports last year.
I didn't expect Casas to be this raw at the plate. Looking at amateur video from last season, his setup was much different. The hope here is that these early-season struggles are more Casas adapting to pro ball and not some prolonged issue. When he makes contact, he's hitting the ball hard. Unfortunately, these hit tool concerns have forced me to lower his upside rating to an 8. To me, a 9 rating at 1B (defensively, only Casas's arm fits at 3B) in recent years has been Joey Votto, Freddie Freeman, and Paul Godlschmidt. I can't see, at maturity, Casas being among the Top 3 1B in the game. We've got time and hopefully another snapshot of Casas later this season to evaluate him further.
Simeon Woods-Richardson (NYM, RHP)
Unranked Mets Prospect (Single-A)
Date Seen: 4/15/19
Preseason Grade: Not Covered
Current Grade: 8D
Projected Role: #2/#3 Starter
Most draft observers considered Simeon Woods-Richardson (SWR) a reach in the 2nd round of last year's draft. No one denied SWR's athleticism or ability to add muscle or arm strength. Mostly, scouting departments were scared off in the 1st and 2nd rounds because they didn't like the odds of SWR becoming a SP long term. Drafting a high school pitcher in the early rounds who only has reliever upside is a big no-no in most amateur scouting circles. Of course, there are reasons to believe there is more here than just reliever upside. Seeing SWR through both the lens of a pro evaluator and an amateur scout during his 3 innings of work on Monday, I saw a pitcher with a better than 50% probability ending up a SP.
The 18-year-old RHP is a 3-pitch pitcher in warm-ups and a 2-pitch pitcher in games. His FB sat 92-94 mph, touching 96, with some late tailing action. SWR missed only 2 bats with the 25ish FBs he threw. Mostly, he relied heavily on locating to both sides of the plate, which he did better to the arm side than the glove side. Keeping the ball mostly down, he induced a high percentage of ground balls. When up, the FB missed bats. Assuming SWR adds 15 lbs of muscle to his 6'3'', 210 Ibs frame, the FB should sit mid-to-high 90s at maturity, with the giddy-up to miss bats up in the zone. In other words, the definition of a plus-plus FB.
Five swing and misses came courtesy of a tight, 82-85 mph 11-5 CB. SWR had a feel for the break, which allowed him to control the offering. He got misses mostly out of the zone and no one really offered at it in the zone. At times, he was overzealous and spiked the ball into the ground. Tight spin plus solid depth will play up the pitch as he gains continued feel for the offering. A plus pitch at projection.
SWR threw a very flat CU during warm-ups. I see why amateur scouts weren't enthused by it enough to hand out a 1st or 2nd round grade on SWR. It's a bad pitch. On the other hand, I see why the Mets took the chance. Athleticism.
One knock on SWR as an amateur was his struggle repeating his delivery. With less than a year in pro ball, his delivery looked solid. It's a 3/4s cross-armed delivery with minimal torque on the shoulder or elbow during his follow-through. He achieves solid extension with his lower half, creating the power needed for his FB to maintain velocity. SWR maintains his arm slot with both his FB and CB, which is advanced for an 18-year-old pitcher, especially one with plus arm speed. He maintains control of his delivery throughout and doesn't alter his arm slot throwing his CB. In less than a year, he went from a kid with delivery repetition issues to a kid repeating his delivery at an advanced level. Why? Athleticism.
A CU is an athlete's pitch. Athletic pitchers who are able to replicate their delivery over and over have a better chance of discovering a CU than a non-athletic hurler. Sometimes it just takes finding the right grip or feel for the pitch as a pitcher throws it. While SWR's CU is poor now, I'd bet, a year or two down the road, the CU will become a viable 3rd option for the hard-throwing RHP, which gives SWR a future #2/#3 upside.
For more information about the terms used in this article, see our Glossary Primer.
Shopping Cart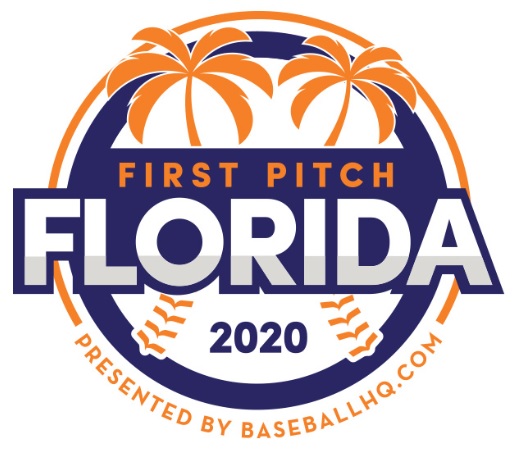 Inaugural Event!
February 28-March 1, 2020
St. Petersburg, FL
A few seats still left!