MINORS: The Eyes Have It—Nick Pratto, Seuly Matias, and M.J. Melendez
By Chris Blessing

@C_Blessing
June 21st, 2018 12:04am
The Royals enjoyed the highest of highs in 2015, winning their first World Series since 1985 over the New York Mets. The cost of assembling that 2015 team, plus some scouting decisions that didn't quite work out, caused the Royals farm system to become depleted. Recent drafts have helped their system. However, almost all of the talent is in High-A or lower. Three of the most promising prospects are the 3-4-5 hitters in their Single-A affiliate's lineup. Let's look at these three Lexington Legends prospects:
Nick Pratto (1B, KC)
Royals #1 Prospect (Single-A)
Dates seen: 6/16/18 & 6/17/18
ETA: 2021
Current Scout Grade: 8C
The Royals selected Nick Pratto in the 1st round of the 2017 draft. Regarded as having the best hit tool among high school bats, Pratto's full season debut with Lexington hasn't gone as well as expected. For starters, the LHH 19-year-old is slashing .238/.288/.367 through 63 games with an abysmal 67% Ct. Not trends you'd expect from someone regarded as possessing one of the best hit tools in last year's draft. Is it a mechanical issue or an issue with his approach? Let's find out.
Pratto's stance is slightly open in the hitter's crouch. His hands are low with a direct path to the trigger position. As his hands move forward, notice the swing's progression. Easy bat speed and a balanced finish. It's almost picture perfect. However, look at how far the ball is traveling into the zone. By the time Pratto connects with the pitch, it isn't out in front of the plate. This results in a lot of unproductive contact. In other words, the poor numbers are not a system of the swing. However, there is an issue with Pratto getting his swing started, which is a product of his inability to read and react to spin. Essentially, he's trying to react to something he's not completely seeing.
Can pitch recognition get better? Yes. And he's going at it the right way too, instead of just going up there and sitting fastball. He's learning what spin looks like. I believe he'll make the proper adjustments and will be able to differentiate the different variances of spin. By all accounts, he has a good sense of the strike zone, wants to use all fields, and has moderate power potential. Projecting a long term .280/.340/.460 is probably a good baseline to start with. As a 1B only type, think more of an Eric Hosmer type hitter when projecting out his future worth, which makes him a starter in most formats but not an upper-echelon 1B buy. Because of the issues offensively, Pratto is a buy low and hold in most formats.
Seully Matias (OF, KC)
Royals #8 Prospect (Single-A)
Dates Seen: 6/16/18 & 6/19/18
ETA: 2021
Current Scout Grade: 9D
Every so often you run into a prospect who just jumps out at you. The Royals Seully Matias is such a player. The 19-year-old Matias brings two plus-plus tools to the table, a plus-plus throwing arm (think velocity, accuracy, and little hump in throws) and raw plus-plus power. I've seen guys present with both these tools and nothing else, and then find it hard to progress past Double-A. Matias is different. While he carries substantial swing-and-miss risk (59% Ct), the bat speed leaves hope he'll figure it out and hit for enough average to make the pluses of his profile work.
The RHH Matias has a physically strong frame. Listed 6'3'', 200 Ibs, Matias has room to add 15-to-20 pounds of solid, lean muscle to his frame. While RF fits his profile best, he has the reactions and the route running ability to play a workable CF, despite average foot speed. He doesn't get out of the box well. However, Matias has good acceleration as he's rounding bases and tracking fly balls.
The power is huge. Against Braves prospect Huascar Ynoa (Scouting Report), he was early on a 94 MPH FB, sending the pitch into the far reaches of foul territory down the LF line. In the 8 years I've been covering the South Atlantic League, only Joey Gallo has hit a ball harder, and a rehabbing David Ross has hit the ball further than this Matias foul ball. Later in the game, Matias, not even getting the fat part of the bat on the pitch, slugged a 91 MPH fastball off Braves prospect Jacob Belinda (Stan's nephew) out to LCF for his league-leading 22nd HR. 22 HRs in a full-season isn't a small feat in the Sally. 22 in one half is something you might see from a LHH with Asheville. (Remember Ian Stewart?)
The lack of a hit tool is creating an extreme variance in potential outcomes for Matias. He is a hacker with crazy bat speed, geared only towards fastball contact. Like the Gallo, the swing-and-miss issues will continue to follow him through the minor leagues and likely to the big leagues, if he even gets that far. Matias also doesn't recognize spin well and will expand the zone, especially on breaking balls diving down and away. He does have an idea for the zone and will recognize spin enough not to swing early in the count. However, all bets are off with swings late.
I'm never the high guy on the big power, big strikeout guys. He is currently a borderline Top 100 mid-season prospect, likely on the outside looking in. The variance of outcomes makes ownership of Matias extra risky. Best-case scenario would be a .230/.330/.540 line with lots of HRs and strikeouts. Worst-case scenario, he doesn't make it out of Double-A, like former Mets prospect Aderlin Rodriguez.
M.J. Melendez (C, KC)
Royals #5 Prospect (Single-A)
Dates Seen: 6/16/18 & 6/19/18
ETA: 2021
Current Scout Grade: 9C
M.J. Melendez is neck and neck with the best catching prospect I've seen this season, Giants prospect Joey Bart (Scouting Report). As my look at Melendez marinates, I may push Melendez higher than Bart. Like Bart, there are intangibles, especially as a defender, that you can't teach. An agile defender, Melendez is so quiet and compact in the crouch, he's a dream to throw to. His ability to frame pitches and lead a staff could get him Gold Glove consideration in the majors. The arm (average strength, above-average accuracy) also plays too, even though it will make a lesser impact than his receiving skills.
The glove makes the 19-year-old Melendez a play at the big-league level. The hit and power tools aren't too shabby either. Like his teammates Pratto and Matias, there is swing-and-miss potential in the LHH's profile (67% Ct). His swing gets long at times, and he's not very consistent with the swing's path, especially when trying to drive the ball. However, Melendez's mechanical issues are issues that can be corrected. Deeper in counts, Melendez shortens up his stroke, looking better mechanically too.
Melendez has plus raw power. In the scouted game, he slugged a HR over the high wall in straight away CF at State Mutual Stadium. Melendez turned on a FB, creating an enormous amount of backspin that just kept carrying the fly ball out of the park. As the swing mechanics improve, expect the power output to continue to evolve. I see a 25-30 HR bat at maturity.
Long-time readers know I'm usually the low guy on lower level catching prospects. With Melendez, it's different. Matched up opposite Braves catching prospect William Contreras (Scouting Report), a likely Top 100 mid-season prospect, Melendez was clearly the better overall prospect, mainly based on his ability to stay at the position long-term. Finding catching in deeper formats is hard. This is a guy you should pounce on and soon, especially in AL-only formats. .275/.330/.480 line at maturity would be a good outcome. He could be more than that. Regardless, the power should carry the profile, much like Bart's does, to fantasy stardom at catcher.
For more information about the terms used in this article, see our Glossary Primer.
Shopping Cart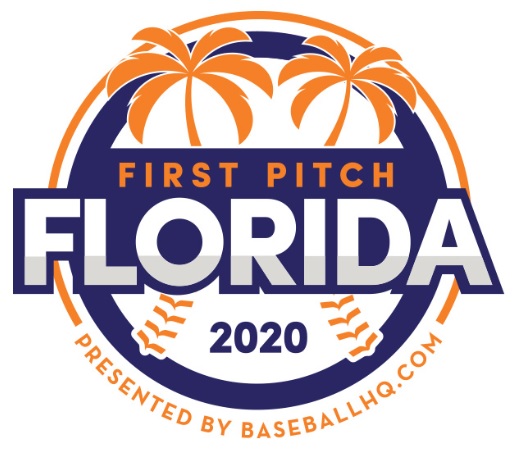 Inaugural Event!
February 28-March 1, 2020
St. Petersburg, FL
A few seats still left!