MINORS: The Eyes Have It—Nick Neidert & Jorge Alcala
By Chris Blessing

@C_Blessing
August 30th, 2018 12:04am
This season has been a strange trip. It started with a bang, with early looks at Ronald Acuna and Juan Soto. Coverage dried up by mid-season, with a lot of repeat squads coming through town. The end of July and most of August brought a lot of new players to cover, with aggressive promotions getting in the way of scouting some breakout dudes like Bryse Wilson and Nolan Gorman. The end of the season has brought on the pitching. So far, I've only covered DL Hall, a LHP in the Orioles farm system. Let's go back to the pitching well again today and profile two Southern League pitchers, Marlins RHP Nick Neidert and Twins RHP Jorge Alcala. Both could be part of big league rotations next season.
Nick Neidert (RHP, MIA)
#7 Marlins Prospect (Double-A)
Date seen: 8/25/18
ETA: 2019
Preseason Grade: 8B
Current Grade: 8B
The Marlins sell off last off-season netted several top position prospects but few impactful arms. There is RHP Sandy Alcantara, who the Marlins acquired in the Marcell Ozuna deal. Alcantara made his MLB debut this season and figures to be in the Marlins rotation to begin 2019. The other impactful arm acquired last off-season is Nick Neidert. Neidert, acquired in the Dee Gordon deal, has pitched solidly at Double-A Jacksonville this season. A future Marlins starter, will the 21-year-old make a significant impact on your fantasy roster? Let's find out.
Listed 6'1'', 180 Ibs., Neidert is on the small side compared to today's starting pitchers. However, he gets every bit of energy out of his frame, utilizing an unorthodox, 3/4s delivery. From a semi-stretch windup on the 3rd base side of the mound, Neidert jerks his lift leg up to the balance position, pauses for a full second, and then begins forward. His lift leg hovers momentarily near the ground before his arm begins its progression towards the plate. As his arm moves forward, Neidert achieves terrific extension with his lower half, stepping towards the RHH's batting box. His pronounced cross-fire delivery fires toward the target, which causes terrific deception and allows below-average velocity to play up. Most cross-fire guys struggle with command at this level. Neidert is the exception. His release point is consistent, despite the funkiness of his delivery, and hits the catcher's target at a high clip.
Neidert is primarily a three-pitch pitcher. He peppers the lower half of the zone with an 89-92 MPH 2-seam FB with solid arm-side action and plus sink. Neidert combines natural downward plane with late drop caused by the 2-seam spin. Also, the extension and funkiness in his delivery makes his FB velocity deceptive, which makes his FB to appear much harder. Neidert mixed in a few 92-94 MPH 4-seam FB, mostly to change eye-levels and give hitters another look.
Few pitchers at this age/level present with better CU mechanics. Sitting 81-83 MPH, Neidert struggled with the late fading action that has become the hallmark of his development. Still, the pitch was effective due to flawless deception. Thrown at the same arm speed, from the same arm angle, and without changing his delivery, opposing hitters couldn't adapt to the pitch, even if the movement wasn't there in the scouted start. The movement will make Neidert's CU a plus offering.
Neidert threw two variations of an 11-5 SL. The better of the two breakers was 83-85 MPH. The SL doesn't have SL shape, making it more of a slurve. It tends to be very sweepy too and will lack two-plane break. Tightening up the shape could push this pitch closer to an average MLB offering. Still, it wouldn't profile as a swing-and-miss offering. Neidert also throws a slower version (70-73 MPH). He slows his delivery significantly to achieve break and velocity drop. It will not work in the big leagues.
Nick Neidert has all the necessary tools to be an effective MLB starter, even without average or better velocity. The issue is predicting his fantasy value. On the surface, he's a run-of-the-mill #4-#5 starter. However, diving into his peripheral stats, projecting a #3 outcome isn't far-fetched. In fact, It's a likely outcome.
Throughout development, Neidert has consistently posted a low Ctl (1.6) and a high Cmd (5.0). In Double-A this year, his DOM is 9.3, a career best, while his Cmd is 5.2, slightly better than his career average. The steadiness of his profile from level to level and the 141 BPV the 21-year-old is sporting this season in Double-A makes Neidert one of the more undervalued upper-level pitching prospects in baseball. Nick Neidert is already where Sandy Alcantara owners hope Alcantara can at least get to. That's why acquiring a lower-risk pitcher like Neidert makes sense for owners in all formats.
Jorge Alcala (RHP, MIN)
Unranked Astros Prospect (Double-A)
Date Seen: 8/6/18
ETA: 2019
Preseason Grade: 8E
Current Grade: 8E
The Twins acquired RHP Jorge Alcala from Houston in the Ryan Pressly deal right before the July deadline. While rookie league OF Gilberto Celestino is making a bid to be the more impactful player Minnesota acquired in this deal, Alcala is closer to helping the Twins at the big league level.
Alcala is an intriguing arm. Sitting 93-96 MPH with his 2-seam FB, there are tons of red flags that pushes the profile to the bullpen. For starters, Alcala has a skinny, athletic build, not conducive for added development. His shoulders are sloped and his upper body doesn't look like it will put on much more shape. The plus arm speed Alcala generates from a very short arm circle, combined with the sudden, violent end to his arm progression, puts tremendous stress on Alcala's shoulder and elbow. His delivery reminds me of a young Jenrry Mejia (High-A version), even though Alcala has much more length at 6'3'' than the under 6'0" Mejia.
In addition to his 2-seam FB with solid armside run and lacking command, Alcala features three additional pitches. His best pitch is a 76-78 MPH power CB with great shape, solid depth, and significant break. It was a plus pitch already in the scouted appearance and could project out to be a plus-plus pitch, especially in a reliever role. An 82-83 MPH SL was thrown sparingly. Although it's held together tightly, additional break is needed to push the pitch to reliability. Alcala did not have a feel for his 4th offering, an 85-87 MPH CU. It doesn't project to be even a below-average offering.
Alcala's arm speed is his best attribute. However, I don't believe he has the pitches, the delivery, or the durability to make it as a starting pitcher long-term. Still, with health, Alcala profiles as a high-Dom, two-pitch late-inning reliever, especially if he curtails some of his FB command issues, which would force hitters into put-away counts and give Alcala more reasons to unleash his best pitch, the power CB. While I wouldn't recommend Alcala in formats with limited rostering opportunities, I could see him as a fit building a cheap bullpen in the mid-term.
For more information about the terms used in this article, see our Glossary Primer.
Shopping Cart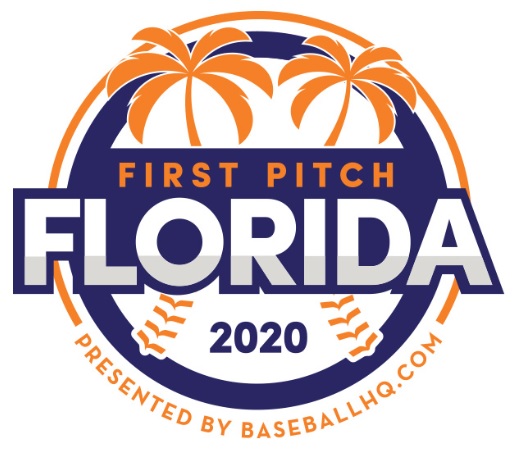 Inaugural Event!
February 28-March 1, 2020
St. Petersburg, FL
A few seats still left!