MINORS: The Eyes Have It—Lucas Erceg, Zack Brown, and Brewers prospect notes
By Chris Blessing

@C_Blessing
July 5th, 2018 12:04am
The Milwaukee Brewers Double-A affiliate in Biloxi is one of the deepest teams in terms of prospects I've seen. Last week, I profiled three Shuckers, including two of the Brewers top prospects, Keston Hiura and Corey Ray. I warned you more Brewers content was coming your way and here we are. Let's take a look at 3B Lucas Erceg, RHP Zack Brown, and four more prospects in the Brewers Notebook: LHP Kodi Medeiros, 1B Jake Gatewood, OF Trent Grisham, and OF Troy Stokes.
Note: Due to an issue with my camcorder, there will be no video provided.
Lucas Erceg (3B/MIL)
#9 Brewers Prospect (Double-A)
Dates Seen: 4/29/18, 6/21/18 & 6/22/18
ETA: 2019
Preseason Grade: 8C
Current Scout Grade: 8D
This season was supposed to be Lucas Erceg's coming out party. Having dealt with a back injury last season that limited his power and bat speed, Erceg was poised for a big breakout as he left camp this spring. Unfortunately, Double-A pitching has mostly gotten the better of him. Entering play on Tuesday, the 22-year-old Erceg is slashing a disappointing .242/.301/.360 with 6 HR and only 21 XBHs in 75 games. The LHH has struggled with consistent hard contact. However, in my late June look, it appeared that Erceg is coming out of his funk. He was hitting the ball with authority and driving the ball to the gaps.
Listed at 6'3'', 210 Ibs, Erceg is close to physical maturity. He's not much of a runner, but has quick actions around 3B, making him a solid defender. His biggest attribute at 3B is his plus-plus arm strength and accurate arm. He'll stick at the position as long as he hits. Otherwise, the former Menlo College closer may end up back on the mound.
At the plate, Erceg is a bit upright in his stance, with his hands up near his ear flap. There is a slight hitch in his trigger, which doesn't cause his hands too much issues getting back to the hitting position. The biggest issue with Erceg's swing is its length. He's out and around the baseball more than to the baseball or through the baseball, resulting in softer contact. The only reason the longer swing isn't leading to more strikeouts (.83 Ct%) is his strong wrists and hands generating plus bat speed. As Erceg works to clean up his swing, expect his hard contact rate and BABIP to improve, which will result in an improved average.
There is a good bit of power in Erceg's bat. Much of his power remains untapped due to the swing length issues. At maturity, Erceg has 25-30 HR potential, even though his highest minor league HR output is 15. On a double to LCF, his bat was able to generate solid carry and the ball ended up off the top of the wall. In BP, Erceg showed power to the opposite field gap. While his approach is to all fields now, expect Erceg to be more of a pull hitter at maturity.
I downgraded Erceg's fantasy scout grade one letter grade to an 8D. While the potential is there for Erceg to become a solid regular, the probability of Erceg reaching that outcome has been downgraded from 50% to 30%. Cleaning up a swing isn't easy, and we can't pretend he'll take to the change. However, the history of contact and quick hands/wrists gives him more than a puncher's chance of reaching a solid regular outcome.
Zack Brown (RHP/MIL)
Unranked Brewers Prospect (Double-A)
Date Seen: 4/29/18
ETA: 2019
Preseason Grade: 7C (Not in MLBA)
Current Scout Grade: 8C
Every year, there is a guy I regret leaving off my MLBA coverage. This year, it's Zack Brown. No, this isn't the Zac Brown of "Chicken Fried" fame. Rather, it is RHP Zack Brown, who is the rare helium name emerging out of Double-A.
Listed at 6'1'', 180 Ibs, Brown is close to physical projection. He's a three-pitch pitcher with two of his pitches projecting as above-average or better offerings. His workhorse pitch is a low-to-mid 90s FB. He throws a 4-seam variation and a 2-seam variation, both effective offerings. Brown has better command of his 4-seam FB, working well to the corners, especially to his glove side. The 2-seam FB has better movement, arm-side with late sink. However, the ball tends to end up outside the zone. Against advanced competition, Brown will need to establish location with his 4-seam FB to get the full-effect of his 2-seam FB's late movement.
Brown's best pitch is a hard curve. It projects to be plus pitch at maturity. It has solid depth and late-breaking action. From a high 3/4s delivery, the pitch comes out of the hand more like a SL. However, the depth and break of the pitch profiles like a CB. Brown adapts the CB break depending on the situation. With two strikes, he'll choke the ball back to get additional break, resulting in the CB breaking hard, down and away to RHH. A third-pitch, a mid-80s CU is a workable pitch with solid fading action, mirroring his 2-seam sinker movement. He struggles slowing down his delivery or releasing the ball from a different arm slot, which causes the pitch to lack deception Brown will need to improve his CU to start in the big leagues.
The CU isn't the only thing holding Brown back. His delivery is incredibly violent. It's a cross-arm delivery from a high 3/4s slot. It's max-effort with the arm coming to an abrupt stop right after he delivers the pitch, creating significant torque. I've seen similar deliveries before, mostly from relief pitchers. It doesn't usually work as a starter.
Zack Brown has the pitches to be a MLB starting pitcher. However, the delivery limits his overall upside to a reliever. Still, I believe in the FB & SL combo enough to upgrade his fantasy scout grade to an 8C. Brown has a chance at becoming a solid late-inning relief pitcher. Maybe even a closer if his raw stuff plays up. While his Dom is 8.7 this season, a tenth point off of his career average, there is more strikeout potential with his stuff than presently stated, especially working shorter outings in the pen. Brown also has solid command of his pitches and would continue to limit base-runners, regardless of role. Brown is a future play in most dynasty formats.
Brewers Prospect Notes
Kodi Mederios (LHP/MIL) appeared in relief after rehabbing MLB LHP Wade Miley had worked two innings. Mederios was a far cry from the hard-throwing pitcher I expected. Medeiros is a three-pitch pitcher from multiple slots. His FB sits 87-91 MPH with some arm-side run. The pitch only plays when located down in the zone since he doesn't have enough on the pitch to get guys out up. His best pitch is a fading CU and he also throws a slurve. Given the lack of velocity, I don't see how he can keep hitters off his FB. I saw more of a situational LHP. If you own shares in Mederios, it's probably time to dump them (Present Grade: 6B).
Jake Gatewood (1B/MIL), Trent Grisham (OF/MIL), and Troy Stokes (OF/MIL) are all hitters with upside in the Shuckers lineup. Gatewood is one of the organization's best power prospects, Grisham has the best strike zone discipline in the Southern League, and Stokes has 20-20 potential. Unfortunately, each has a lacking hit tool. In Gatewood (.68 Ct%) and Stokes's (.67 Ct%) case, they have contact issues. With Grisham, he doesn't make enough hard contact. Each guy is hard to give up on given their respective tool sheds. However, if I ranked on likelihood of a fantasy impact at maturity, it would go Stokes, Gatewood, then Grisham. I really don't believe Gatewood will be a sustainable lineup presence at 1B and Grisham won't hit enough. Stokes is the least-heralded of the group and has the most fantasy upside.
For more information about the terms used in this article, see our Glossary Primer.
Shopping Cart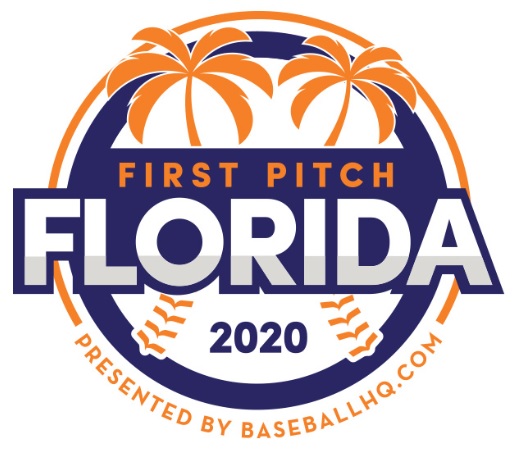 Inaugural Event!
February 28-March 1, 2020
St. Petersburg, FL
A few seats still left!