MINORS: The Eyes Have It—Keston Hiura, Corey Ray & Luis Ortiz
By Chris Blessing

@C_Blessing
June 28th, 2018 12:04am
The Milwaukee Brewers are playing good baseball despite little production from their middle infielders and a rotation without any big names. Currently 1st in the NL Central, Milwaukee is expected to be buyers as the trade deadline approaches. While they sent several top prospects, including Monte Harrision (Scouting Report), to acquire OF Christian Yelich during the offseason, their farm system still has plenty of upper minor depth and quality prospects to fix the issues the Brewers have run into this season. Their Double-A Biloxi affiliate is especially jam-packed with quality prospects. So much so, next week I'll be revisiting the Biloxi Shuckers once more. Today, we focus on three of the four biggest names on Biloxi's roster, 2B Keston Hiura, OF Corey Ray, and RHP Luis Ortiz.
Note: Due to an issue with my camcorder, there will be no video provided in this article.
Keston Hiura (2B/MIL)
#2 Brewers Prospect (Double-A)
Dates Seen: 6/21/18 & 6/22/18
ETA: 2018
Pre-season Scout Grade: 9C
Current Scout Grade: 9B
Last year, while talking to a regional cross-checker (a scout who sees every big draft prospect in a specific region) about guys like Royce Lewis (Scouting Report) and Hunter Greene, he kept bringing up his favorite guy in the entire draft, a 2B prospect named Keston Hiura out of UC Irvine. He said Hiura was the safest bet in the entire draft, despite being unable to play the field after offseason TJS. My contact predicted he wouldn't last past the Top 10 picks.
The Brewers took Hiura with the 9th pick of last year's draft. Already hitting the snot out of the ball in Double-A, an MLB call-up is a realistic option as the pennant race with the Cubs and Cardinals heats up. He could also be used as trade bait, allowing the Brewers to acquire a veteran piece to add to their 1st place club. A big contingent of scouts were in this weekend to see the Biloxi team, with one scout telling me he was mainly in town for Hiura. Let's look at this dynamic hitter.
The RHH Hiura sets up with a slightly open stance. His feet are shoulder length apart and his hands slightly above the letters. As his hands move effortless back to the hitter's position, he lifts his lead leg up. With his hands and hips firing through the zone and his lead leg moving towards the pitcher, Hiura deliberately feels out the pitch and unleashes a short, quick, and compact swing through the zone. All of this goes on as his hips fire towards the ball, creating incredible torque while also remaining balanced throughout.
The speed he gets on his barrel through the zone is incredible. However, his ability to let a pitch travel so deep in the zone and barrel the ball is a trait rarely seen, if ever, by yours truly. It's an easy 70 grade hit tool (20-80 scouting scale) at maturity. A 70 grade hit tool roughly translates to a .305-.320 average, depending on the organization's scouting scale. The only thing I found issue with the 21-year-old's hit tool was his inability to make contact with MLB average or better breaking balls, swinging and missing five times at SLs or CBs. The struggle is with reading the degree of break, not the recognition of the pitch, since he wasn't off-balance or out of sorts swinging through the pitches. He also doesn't work deep counts, usually pouncing on FBs close to the zone.
I saw 20-25 HR potential in Hiura's bat, and he's an absolute doubles machine with his approach and line-drive swing plane. Hopefully, there isn't a hitting coach wanting to put his mark on this kid by making an adjustment to get more HRs out of his swing.
While his future defensive position is up for debate (2B, LF, or DH) and the fact that he'll never be a noted base-stealer, the hit tool drives the profile. There really isn't a good comp for Hiura in today's game. Expect a .315/.375/.515 hitter at maturity with potential for higher returns if he develops a better idea of the strike zone.
Corey Ray (OF/MIL)
#7 Brewers Prospect (Double-A)
Dates Seen: 4/29/18, 6/21/18 & 6/22/18
ETA: 2019
Preseason Scout Grade: 8E
Current Scout Grade: 7C
23-year-old LHH Corey Ray is enjoying more success this year compared to a disastrous High-A campaign last season. Drafted in 2016 out of Louisville, most believed Ray would hit, earning high marks from amateur scouts for his hit and power tool. Unfortunately, issues with swing length and spin recognition plagued his 2017 season with Carolina. While he has shown overall improvement, slashing .247/.343/.442 with improved peripheral stats after a promotion to Double-A, scouts have given up on him reaching the potential seen in him as an amateur. Still, it's a solid profile and one that is currently vastly underrated. Let's take a look at Corey Ray.
Ray has an athletic frame with some room to grow. His plus foot speed makes him an asset on the base paths, swiping 18 bases in 22 attempts so far this season. He'll stick in CF as long as there is room for him there. However, he isn't a plus defender and lacks the arm to play RF full-time. Best bet, it's either CF or LF.
At the plate, he works pitchers well, with a good sense of the strike zone, and, since I last scouted Ray in the AFL, he has improved on his spin recognition skills. With his hands high and his feet slightly open and shoulder-length apart, Ray's trigger back to the hitting position is clean, putting him in good position to react. As he move his hands forward, he reveals himself as more of a hands-through-the-ball hitter than a swing path hitter. His long, upper-cut swing is geared for mostly pulled, fly-ball contact but he struggles to consistently get barrel to ball to take advantage of the tilt generated by the swing and power from his lower half, depressing his hard-contact rate and HR/FB rate. At maturity, maybe 20-25 HRs. More, if he completely sells out for it. There is significant swing-and-miss in the profile and I don't see it getting better (67% contact rate).
Corey Ray has a Curtis Granderson-like profile and skill set. I don't see Ray coming close to the type of production Granderson had with the Tigers and early on with the Yankees, outside of his SB rate (18-25 SB). However, Granderson's age 31-36 seasons look pretty close to the sort of hitting production I'd expect from Ray at maturity. A .234/.333/.448 Slash with 25 HRs and 51 XBHs. It's not a bad player, but likely more of an average regular profile than a solid average profile.
Luis Ortiz (RHP/MIL)
#10 Brewers Prospect (Double-A)
Date Seen: 5/21/18
ETA: 2019
Pre-season Scout Grade: 8C
Current Scout Grade: 7D
A quick hit on Luis Ortiz. I am very concerned with the discrepancies between the reports I received on Ortiz last season compared to what I saw last week in his scouted start. While the overall numbers have improved this season, the stuff is way down. Previously, I had Ortiz's FB sitting 93-96 MPH. Last Friday, he was 88-92 with some late 2-seam movement but below average command (50 Grade). His SL velo, 82-84 MPH, matched previous reports. However, the movement isn't as sharp, tending to be more of a sweeping pitch than the tight spinner reported last season when it was a swing-and-miss offering. The CU, like the FB, was softer, but the differential in velocity compared favorably to Ortiz's FB last season. He did a solid job commanding either side of the plate and wasn't afraid to throw RH-on-RH CUs because the late-fading action was good enough to keep RHH off the pitch. Although, too many CUs resulted in back-to-back HRs in the fourth inning.
When reports don't jibe, it's always good to get another look at a pitcher. Unfortunately, like most organizational scouts, this is my lone look at Ortiz. His stocky stature, arm slot and FB velocity/plane likely works best in short bursts, where hopefully velocity plays up, making the FB less susceptible to hard contact due to missed location. I downgraded the grade and believe his arm is best in the pen as a middle reliever.
For more information about the terms used in this article, see our Glossary Primer.
Shopping Cart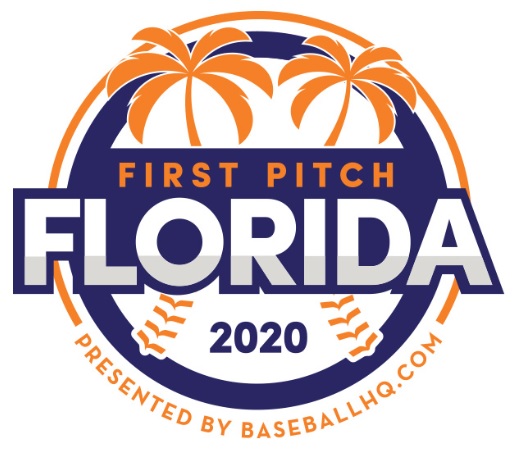 Inaugural Event!
February 28-March 1, 2020
St. Petersburg, FL
A few seats still left!