MINORS: The Eyes have it—Juan Soto & Nationals prospect notes
By Chris Blessing

@C_Blessing
April 11th, 2018 11:04pm
One of the most exciting (and sometimes disappointing) days of the year is when minor league rosters are released. Once MLB rosters are settled, us prospect guys are in a state of flux, waiting to find out where we'll be on MiLB Opening Day (in this year's case, one week later than MLB Opening Day) to cover the next great fantasy prospect. For me, I had thought my priority would be Double-A White Sox and Twins prospects on April 5-8. However, a situation presented itself in Single-A, pushing my Double-A coverage to Sunday and Monday. Outfielder Juan Soto was returning to Hagerstown (Single-A Nationals) and bringing some new friends with him, like top infield prospects Luis Garcia and Yasel Antuna. And Hagerstown was in my area ... so off to Rome, GA I went.
Juan Soto (OF, WAS)
#2 Nationals Prospect (Pre-season)
Dates Seen: 4/5/18 & 4/7/18
ETA: 2019
Juan Soto showcased skills rarely seen in Single-A—or Double-A, for that matter. Despite missing most of last season with ankle, wrist and hamstring injuries, most believed Soto was ticketed for High-A to begin 2018. However, the Nationals player development department had other plans. Instead of sending him to High-A, the Nats wanted Soto to build on his 23 games of domination from the previous season. During those games with Hagerstown, Soto slashed .360/.427/.523 with 3 HRs and more walks (10) than strikeouts (8). If batting practice and game action is any indication, his business in Single-A will be finished soon enough—barring injury, of course!
The 19-year-old Soto is physically mature for his age. Still, there is room for him to grow, especially in the upper torso region. Soto's an average runner with decent range in RF. His strong arm will keep him in right field, as long as he improves the path of his throws. Soto is a 50 grade (20-80 scouting scale) runner and defender in RF at maturity.
Soto is every part of the offensive juggernaut I imagined going in (and more). From a wide stance, Soto uses every part of his LH swing to generate electricity. His hands and wrists are lightning quick; yet, incredibly smooth, attacking pitches with a line-drive oriented, uppercut swing. His hands glide effortlessly through the ball, with plus bat control. Soto's power comes from dynamic hip rotation. It's rare to see a swing as developed at such a young age. The closest comp may be a young Jason Heyward. Soto's not as disciplined as Heyward was at the same point in development. However, Soto does have a good sense of the zone. The one in-game struggle worth mentioning was his inability to respond to LH-on-LH spin. While some of the Rome Braves LHPs he faced are solid prospects, he didn't face any plus breaking balls in my looks.
I could spin a yarn here, talking about Soto's BP session. However, the in-game power display I saw with his first swing tells a better story. 1-0 count facing Kyle Muller, a big, tall LHP with a low 90s FB. Muller delivers a 2-seam FB that starts outside and gets a little too much of the outside upper quadrant of the plate. Soto explodes and drives the pitch the other way for a 2-run HR. Fans don't normally respond to the power displays of road players. But with Soto's shot, several gasps of wonderment were heard from the fans around home plate. It was an impressive drive.
Two weeks ago, while talking about Braves prospect Cristian Pache's power display against Sean Newcomb in the Braves Future Stars Game, I talked about what scouts look for when grading out power. I wrote...
"Is the power for real? The scouting test is to see him achieve loft the other way. If the ball explodes with carry the other way, that is what scouts call plus raw power."
Let's add another nugget to this. Plus-plus power is when a guy can consistently showcase over-the-fence power to all fields. In BP, Soto flashed raw plus-plus power potential. Plus-plus power projection is 30-plus HRs. Soto could very likely be a plus-plus HR hitter at maturity.
Going into the series, I knew about as much as everyone else knew about Soto. I've talked to several evaluators, including BaseballHQ.com's own Brent Hershey, who swear by the kid—and seeing is believing. Jump on the hype train with me; there are plenty of seats available. If Soto stays healthy throughout the season, he's a top 5 prospect or better next off-season, especially for fantasy observers looking for the rare combination of power and average in today's game. Soto projects as a .300 hitter, capable of hitting 30 HRs a season.
Nationals Prospect Notes
Other than the jump to the big leagues, the biggest jump prospects face in their professional careers is the move from short-season ball to full-season ball. Guys either struggle initially or the grind gets to them at some point during the season. Only the most refined or experienced prospects make their way through the league without many hiccups. The rawest guys seem to have the hardest time with the jump. Enter the Nationals top two infield prospects, Luis Garcia and Yasel Antuna (#6 & #8 Nationals prospects), who both struggled mightily through the first weekend of play.
A natural SS, the 17-year-old Luis Garcia appeared at 2B and 3B in the two games. He wasn't challenged at either position. However, he looked more comfortable handling the turn on the double play at 2B than the reaction plays 3B are accustomed too. At the plate, the LHH Garcia mostly looked indecisive, especially facing LHP. Against RHP, Garcia is more apt to grip-it-and-whip-it. When he does, it is an extremely raw, quick swing that generates line-drive or groundball contact. Garcia wasn't able to utilize his best tool, his plus-plus run tool. Dreaming on Garcia's tool shed, he'll be a contact bat with below-average power but dynamic wheels.
Eighteen-year-old Yasel Antuna manned SS in both scouted looks. He was rangy, with some problematic footwork issues, especially when setting up on throws. He's an average runner and may lose some foot speed and range as he puts on bulk. A move to 3B may be in the cards by maturity. Like Garcia, the switch-hitting Antuna struggled mightily against LHP, looking very raw and a bit hitchy from the right side. From the left-side, he was much more refined. Antuna has the better upside as a hitter too. In BP, he does a great job driving the ball to the gaps by utilizing leverage. I like Antuna's bat, especially from the LHH side, much more than Garcia's. I expect, long-term, for Antuna to be the better hitter, especially with more power potential overall.
RHP Brigham Hill (#15 Nationals prospect) pitched game one of the series. The 22-year-old RHP was 87-90 MPH with his 2-seam FB, just like he was last spring when I saw him pitch for Texas A&M. Hill struggled commanding the pitch in his full-season debut. He complements his two-seam fastball with a mid-70s CB and a low-to-mid-80s CU. All three pitches grade out as slightly below average. Hill's long-term projection is a #5 starter/swingman.
RHP Jackson Tetreault (Unranked) pitched game three of the series. The 6'5'' RHP showed a heavy, 90-94 MPH FB early that lacked command. His velocity decreased 2-to-4 MPH in innings 3 through 5. The 21-year-old threw two additional pitches, a 77-80 MPH CB with some potential and a very raw CU. Physically, Tetreault is listed 170 lbs and has significant room to grow. Velocity will come as he fills out. He should have a plus FB, an average-to-above-average CB at maturity. The Nats hope he develops a good CU to remain as a starter. Tetreault's long-term projection is a #4 starter/set-up man.
For more information about the terms used in this article, see our Glossary Primer.
Shopping Cart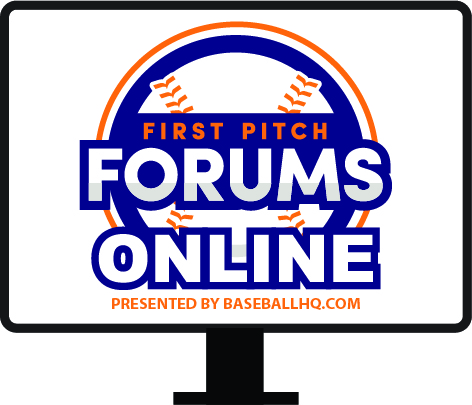 Our virtual First Pitch Forum returns!
Three online-only events: March 5, 11, 17
Join us live, or watch when you want
Just $19!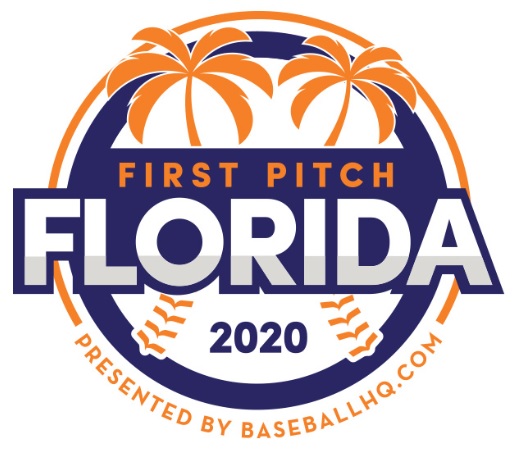 Inaugural Event!
February 28-March 1, 2020
St. Petersburg, FL
A few seats still left!