MINORS: The Eyes Have It—High-A Rangers including Taveras, Martinez, Tejeda
By Brent Hershey

@BrentHQ
April 30th, 2019 1:04am
Photo: Leody Taveras (OF, TEX) at the 2018 Futures Game
At the beginning of April, I had pegged the Rangers' high-A Down East club as one to see when they rolled through my area. With an initial roster that included three hitting prospects in the Rangers Top 10—OFers Bubba Thompson (#2) and Leody Taveras (#3) as well as SS Anderson Tejada (#6)—it was a natural fit to try and catch several games of the mid-month series and produce a column that would share some thoughts on these three.
But then two things happened to alter my best-laid plans:
Thompson fractured his hamate bone in his left hand the the prior series and will likely be out of action for four weeks. The team, did, however, promote their #4 prospect, OF Julio Pablo Martinez, from Low-A Hickory to take his place. So although I was interested in seeing Thompson for the first time live, Martinez is a legit prospect in his own right and someone I only saw briefly in the Arizona Fall League.
But the bigger issue was the first game of the series against Wilmington pitted RHPs Jackson Kowar (RHP, KC) against RHP A.J. Alexy (RHP, TEX). Only an inning or two into that game, I realized that a feature article centered on these two pitchers, both also in the Top 10 of their respective organizations, would be a chance that I should not miss. The result was last week's article on Kowar and Alexy, framed within the context of working on a third pitch.
But I of course took in the hitters as well—and in going back over my notes, realized that I had enough quality looks and material to write up the trio of hitters I did see. All three of Taveras, Martinez and Tejeda seem to be destined for the big leagues at some point, and all have some fantasy-specific qualities that we'll likely need to consider soon enough. Here's my thoughts—along with two bonus quick-hits at the end.
Leody Taveras (OF, TEX)
6-1 171; 20 years old
Dates seen: 4/18-4/20/19 (3 games)
#3 on Rangers Organization Report
There's a sense in which Taveras is in a transitional state in the current prospect community. A big fish on the international scene upon his high-profile signing as a 16-year-old in 2015, he's been ranked as a Top-3 player in the TEX system since 2017 due to his power/speed potential, along with his stay-in-CF defense. But the production over the past several years just hasn't lived up to those expectations; he started 2019 with a MiLB career OPS below .700, and though he's stolen some bases he's not necessarily a burner. The flip side is that he's been playing against older competition at every level, so perhaps his tools are taking longer to mature into solid production. The Rangers chose to have him repeat High-A at least to start the season, and the early returns are making that decision look good.
The switch-hitting Taveras has always put on a show in batting practice; with hands cocked high, he coils, transfers his weight smoothly, and gets the bat head through the zone quickly as you can see in the Twitter post below. The results are hard liners all around in BP; his athleticism shines and there is some explosion in his hands. But in the past, he's had trouble translating this to game conditions, and has had trouble consistently driving the ball.
A couple #Rangers rounds of BP to follow ...

OF Leody Taveras pic.twitter.com/uchVcsSmOL

— Brent Hershey (@BrentHQ) April 18, 2019
In my three-game look, there were some positive signs. He took good at-bats for the most part, and though no hits went for extra bases, several singles and several outs were squared up, including two on hard sliders in which he showed pitch recognition and the ability to adjust and still put a good swing on the ball. There's enough loft in BP to believe that there's some power there, though likely more in the 15-18 HR range than anything consistently higher. I was especially interested in his AB against lefty Royals prospect Daniel Lynch, to get a sense of how Taveras faces off against tough competition. After a quick three-pitch strikeout in the first inning (finished off by two 95 mph heaters on the outside black—nothing he could do with them), Taveras battled in a seven-pitch AB that ended with a fly out to right field, then hung in with a tough 87 slider from Lynch and drove it into LF for a single.
Taveras has put together a very strong first month, and sits at .311/.380/.411 through April 28 (90 AB). One figures that if he continues at this range, he'll earn himself a mid-season promotion to Double-A. The other aspect to his game is his defense—he has the skill set to play in CF, though played in RF in these three games (Julio Pablo Martinez roamed CF). But his arm strength allows him to play RF adequately; it's a weapon from any of the OF positions and gives him more chances to excel at the plate.
Our offseason Rangers Organization Report said that his best-case scenario is probably a Lorenzno Cain outcome: solid BA; middle-of-the-road pop; SB ability and plus defense in CF. I still think that's an accurate ceiling; there's work to do to get to that point. But he's off to the right start in 2019.
Julio Pablo Martinez (OF, TEX)
5-9 174; 23 years old
Dates seen: 4/4 (Low-A), 4/18-4/20/19 (High-A; 3 games)
#4 on Rangers Organization Report
Though on the same team, Martinez is in some ways on the opposite end of circumstances as Taveras: he's 23 years old, a veteran of the Cuban League, is making his first impression … and it's not gone well statistically so far. Martinez was only signed last year, and got his feet wet in short-season ball and then in the Arizona Fall League as a 22-year-old. He went 17-for-52 in the AFL, with some pop (five doubles, one triple, one home run) and speed (four SB), but due to the Rangers' A-ball group of CFers (Taveras and Thompson), he started the year with low-A Hickory and moved up once Thompson got hurt.
Though their official height/weights are close in numbers, the lefty hitting Martinez definitely is the smaller-framed player and given his age and narrower build, is more unlikely to add much bulk. He's still a quick-twitch athlete with a simple load and a swiftly gets the bat to the hitting zone, but his lack of leverage would seem to limit his over-the-fence power potential. Instead, he has the look of a upper-order, live-drive-oriented table-setter.
There are parts of his hit tool which are there already. Due to good bat speed and short path to the ball, he showed the ability to track and turn around velocity, in one case stinging a 97 mph back on a line to CF, where it stayed up for the out. There were several other hard-hit outs along with a couple hits, and he is willing to go the other way, including one opposite-field double. He's also shown a decent eye at the plate, collecting several walks.
There are times, though, when Martinez's game seems a bit raw. He gets caught overswinging from time to time, trying to load up for power. It's definitely not his strength, and the result is often a strikeout or a lazy fly ball. He also made a full inning's worth of baserunning blunders in the series: one caught stealing, one pickoff (via the catcher) from second base, and a third instance where he forgot how many outs were in an inning. It was a notable deficiency for a player who likely needs a combination of wheels and baserunning acumen be a fantasy factor. Several home-to-first run times were frankly slower than I expected. Whether his adventures on the basepaths were just rustiness or carelessness is still to be determined, but important in assessing his fantasy utility.
Overall, the High-A numbers have not been kind to Martinez; he's struck out in 17 of his first 43 plate appearances, and that double I witnessed was his only High-A extra base hit. He shows the athleticism to succeed and his career will hinge on using his tools—bat speed; simple swing; patience too get on base—to his advantage, and the adage to "stay within himself." However, there is some risk in this profile which includes a fourth outfielder downside.
Anderson Tejeda (SS, TEX)
5-11, 160; 20 years old
Dates seen: 4/18-4/20/19 (2 games)
#6 on Rangers Organization Report
Tejeda is an emerging prospect in the TEX system, less heralded than Taveras, Thompson or Martinez. But a breakout season in High-A as a 19-year-old (19 HR, 11 SB, and a continued improvement in plate approach) started to put him on the prospect radar. His power/speed combination out of a middle infield position immediately makes him fantasy relevant. The defensive tools are there; he's improved his foot work and hands, employs a quick transfer along with a cannon throwing arm, such that even if he has to move off SS over to 2B, he still is likely to be a valuable player. His defense should not hold him back at the higher levels.
It may seem odd that Tejeda is repeating High-A given his 2018 success, but two things are likely playing a part. First, there's still some rawness to his game that could use additional polish. For instance, even though his contact rate improved, it was still just at 70% for the season in 2018. But probably more importantly, this is the first year that Tejeda is switch-hitting in games. He's a natural lefty swinger, but was awful in 2018 against same-side pitching—just a .482 OPS and just five extra base hits in 128 AB against LHP. He came into this year headed towards the right-handers batters box when he faces a southpaw, and the organization likely wanted to have him do that against A-ball pitching rather than Double-A.
The early returns have been mixed. His contact rate has dipped back into the 65% range through April 28, though it's been offset by a slightly higher walk rate. His swing is a bit "noisy;" there's lots of moving parts in his load, which in itself isn't necessarily a bad thing, but can leave one susceptible to timing premium velocity and hard breaking stuff. Therefore, there will likely always be some element of swing and miss to Tejeda's game; he probably won't help your batting average once he gets to the majors. He does, though, employ a certain rhythm to his swing, and when it's in line with the pitch, he has leverage in his swing for power. He put together good swings in the AB in the two games he played and had two hits and several well-struck balls.
As for the switch-hitting, I saw three plate appearances against lefty throwers that resulted in a strikeout (though a seven-pitch AB with four fouls); a double into left center, and a well-struck sacrifice fly to left. It's obviously a teeny sample and still a work in progress, but those AB against LHP certain looked better than what I imagine a .482 OPS (his left-on-left OPS) looks like.
A final note is that Tejeda looks bigger on the field than his listed height and weight above; he has more lanky, athletic body and certainly now weights more than 160 pounds. He'll be an interesting one to watch, and the raw power and speed skills are there for some fantasy impact if he can make enough contact.
Quick Hits:
Diosbel Arias (3B, TEX), like Martinez, comes from Cuba and is 22, previously a SS who has moved to 3B for now. He got five hits in nine AB in the three games along with a walk and an hit by pitch. Broad-shouldered with a frame for power, he hit several balls hard, but his right-handed swing tends to lengthen out due to a front shoulder drop and he's not had as much pop as one would expect in MiLB. But he gets his hits: he's 29 for his first 84 (.344) in 2019 and hit .366 last season over 224 AB in short-season Spokane. He'll likely need another challenge soon.
Emmanuel Clase (RHP, TEX) was simply electric in one inning of relief. He struck out the side with an overpowering fastball (reached 101 mph twice, 100 mph seven times, 99 four times) that he paired with a nasty, late-breaking 88-90 mph slider. This is the type of pitch combination that big-league late inning specialists possess. Clase has since moved up to Double-A, and would not be surprising at all if he reaches the Rangers bullpen this year. With consistency—no small feat, of course—this could be a premium late-inning big-league arm; one that registers high strikeout rate, whether or not the saves come his way.
For more information about the terms used in this article, see our Glossary Primer.
Shopping Cart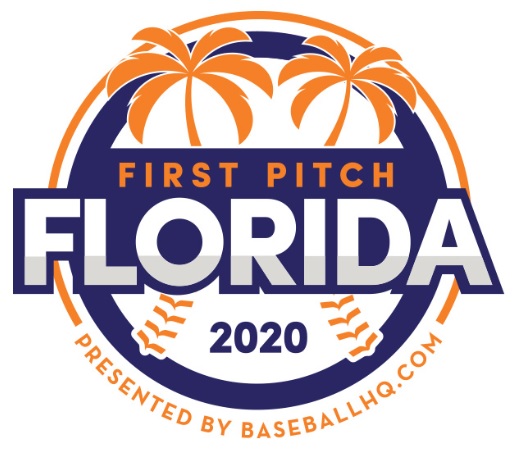 Inaugural Event!
February 28-March 1, 2020
St. Petersburg, FL
A few seats still left!