MINORS: The Eyes Have It—Franco, Turang, more from the Midwest League
By Emily Waldon
May 28th, 2019 12:04am
Hard to believe, but we are already nearing the two-month mark in the minor league regular season.
In the Midwest League, the weather is beginning to improve, depending on Mother Nature's mood. As we head towards June, we start to see who is beginning to click into mid-season form.
Due to the weather, many players—especially those from warmer climates—face a challenging start to the year. They face a mix of both rainouts and yes, an occasionally snow-out, depending on the location. You may not think it should play a big factor, but stick a California or Latin American teenager somewhere in Wisconsin in April and there's going to be an adjustment period.
With the Midwest League All-Star game set to take place on June 18 in South Bend, Indiana, teams have their ballots and will be submitting their selections soon. While a number of players are already a lock to appear in the contest, there is a good chance we could see one or two surprise picks as well.
This is the time of year where you can expect to see an upswing from some of the players who were quiet to start the year and get a better idea of those who are in need of some extra development time. That said, these four players below have made a name for themselves early on. Let's take a look...
Wander Franco (SS, TAM)
Acquired: International free agent (2017)
Bats/Throws: S/R
Age: 18
Height/Weight: 5-10/189 lbs.
At the age of 18, few minor league players can claim the label of Top Prospect in his organization, let alone being considered a Top Five overall prospect on almost every national list. For Wander Franco, he's checked both boxes since signing with the Rays for $3,825,000 as an international free agent in July, 2017 as a part of the 2017-2018 signing period. And in an organization not known for expediting their prospects through the system, the Rays haven't been shy in challenging Franco since his arrival.
A native of Bani in the Dominican Republic, Franco is one of six family members to be acquired by a major league organization, including his uncle Erick Aybar. The youngest Franco is one of multiple examples of the positive trend within the Tampa Bay farm system development, and he has responded well to the Rays' aggressive assignments.
In his first look at the Midwest League, Franco successfully hit above .300 in both April and May, giving a good idea at just how eye-popping his hit tool actually is. Franco has an exceptional bat-to-ball skill, complemented with plus bat speed and extremely quick hands. Franco clocks in as a plus runner, and he's flashed that through his first two months with eight stolen bases over 41 games. In addition to his physical tools, Franco has a well-trained eye, especially for his age. He's kept his strikeout rate below nine percent at both affiliate assignments, including his short-season stateside debut in 2018.
Despite his advanced actions and confident hands, there has been some talk of Franco moving off shortstop long-term, and he should see the same success in a move to second or third base, should the Rays decide to go that route. Franco's defensive profile, already extremely ahead of the curve for his age, should have no trouble with adapting to a new position.
Due to the fact that Franco has handled the pressure without missing a beat, it would be no surprise if the Rays continue to move him aggressively, perhaps to High-A Port Charlotte around mid-season. He's not expected to stay around the Midwest League for long.
Brice Turang (SS, MIL)
Acquired: 1st round MLB draft (2018)
Bats/Throws: L/R
Age: 19
Height/Weight: 6-1/175 lbs.
A Top 25 draft target in 2018, Brice Turang was originally viewed much higher in draft talks until a less-dazzling performance during his senior year of high school led him to dip down the boards a bit. Regardless, the Santiago High School (CA) alum garnered enough accolades to earn a first-round selection (21st overall) by the Milwaukee Brewers for $3,411,100, just over the slot value of $3,013,600.
A 6'1, 165 pound lefty bat, Turang's profile isn't flashy in one specific area, but he's done everything well enough to land as the Brewers number three prospect, behind Keston Hiura and Corey Ray. Of the tools he brings to the table, his speed is at the top of the list. Over 42 games last season, Turang swiped 14 bags and he's showing off that same speed already this season with another 12 stolen bases so far.
Turang's approach at the plate is beyond a lot of players his age, and many project him to play into the role of a plus hitter down the road. Turang has no trouble drawing walks, to the tune of a 15-16% rate over his three affiliate assignments. Since his arrival in the Midwest League, Turang has successfully dropped his strikeout rate from 20.7% in 2018 to 16.3% this season. His future impact at the plate weighs on just how much his body will collect muscle over the next few years, as his current in-game power sits below-average at best. Turang only produced eight extra-base hits last season, and while he's upped that to 11 so far this year, it's easy to see some power will need to be added to get the most value from Turang's plate presence.
Defensively, there is enough there to project Turang as an everyday shortstop, As long as his body fills out as the Brewers hope, Turang's advanced former high school profile has a chance to continue to grab headlines moving forward.
Riley Thompson (RHP, CHC)
Acquired: 11th round of MLB Draft (2018)
Bats/Throws: L/R
Age: 22
Height/Weight: 6-3/205 lbs.
For most baseball players, experiencing the adrenaline of going through the MLB Draft is a once-in-a-lifetime experience. For 22-year-old Riley Thompson, that adrenaline came into play three different times.
Attending Christian Academy high school in Louisville, Kentucky, Thompson first caught the attention of the Cincinnati Reds in 2015, prompting them to select Thompson as their 37th-round pick in the draft. After deciding to instead to attend college, Thompson fell victim to Tommy John surgery and redshirted his freshman season at the University of Louisville. Overcoming a string of shoulder concerns, Thompson's name again entered draft conversations in 2017, this time leading to a selection by the New York Yankees as their 25th-round pick. Thompson instead returned to the Cardinals program for his junior year, struggling over 11 games with a 6.82 ERA and 6.8 walks per nine innings. Despite the challenges, the Cubs were next in line to chase Thompson in the 2018 draft, requesting him in the 11th round for a price tag of $200,000.
Thompson is a well-proportioned 6'3, 205 pound right-hander with a bit more leg than torso from a profile standpoint. With a low-effort delivery, Thompson works from a high-3/4 slot, a straight upper-half, and a balanced, repeatable delivery. Thompson delivers each pitch with deception, as he tucks the ball away, doesn't draw his arm too far across his body in his release. He mixes three pitches, including a plus-plus fastball that sits comfortably at 94-96 mph, topping out at 98 mph or even triple digits on occasion. Thompson spins a plus curve with solid depth, and it's proven to miss bats as well as be thrown for strikes. Thompson's change-up currently sits as an average offering, but beginning to regularly flash above-average with good late movement that keeps hitters off balance.
Since his nine appearances in short-season Eugene in 2018, Thompson's improved numbers display his growth in confidence. Since last season, Thompson has dropped his walk rate from 3.2 walks per nine to 2.3 this season, and his FIP has dropped from 3.51 to 3.15.
Factoring in Thompson's early success and steadily improving numbers, he should be expecting a promotion near or just after the All-Star break, unless the Cubs don't feel a move is immediately needed. Regardless, Thompson has solidified himself as an up-and-coming name to watch down the Cubs' pipeline.
Tucupita Marcano (IF, SD)
Acquired: International free agent (2016)
Bats/Throws: L/R
Age: 19
Height/Weight: 6-0/170 lbs.
Still just 19 years old, Tucupita Marcano has been around baseball for longer than many may realize. Signed as an international free agent in July, 2016, Marcano was among the less pricey of the San Diego Padres international acquisitions, and it's looking more and more like that deal could pay off in a big way. Signing for $320,000, the native of Tucupita, Venezuela—yes, also where he received his name—didn't get his first look at the Midwest League until this season.
Making his debut in the states in 2018 with the Padres in the Arizona Rookie League, Marcano hasn't profiled as a power bat, due primarily to his lean frame. Not set to turn 20 until September, Marcano has room to fill out physically and he's expected to, which would only complement his contact skills at the plate. Keeping his strikeout rate below 9% over his first three assignments, Marcano's transition to the Midwest League has seen a slight uptick, but far from anything concerning. Over 42 games with the Low-A TinCaps, Marcano has fanned a quiet 11.5% and drew walks at a promising rate of 7.1%. Through the zone, Marcano does a good job working the barrel, but should see even stronger control as his body continues to develop.
Defensively, Marcano's arm is average, but his instincts and strong hands make him a fit to stick at shortstop. The challenge for the Padres will be deciding further down the road on who of their stockpile of infielders will be able to stick in their current roles long term.
For more information about the terms used in this article, see our Glossary Primer.
Shopping Cart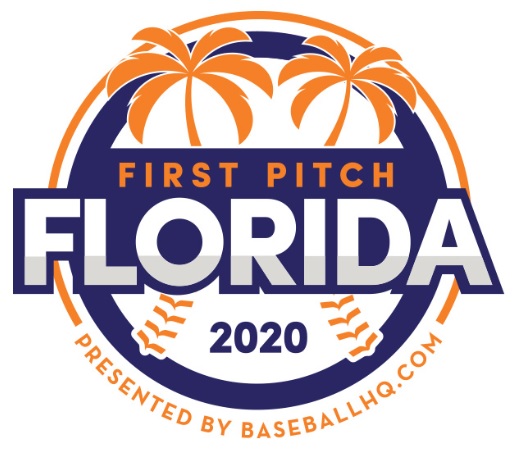 Inaugural Event!
February 28-March 1, 2020
St. Petersburg, FL
A few seats still left!