MINORS: The Eyes Have It—Dodgers/White Sox/Padres High-A/Low-A back fields
By Chris Blessing

@C_Blessing
April 4th, 2019 1:04am
Happy Minor League Opening Day! Today's game between the Montgomery Biscuits (Double-A Tampa Bay) and the Chattanooga Lookouts (Double-A Cincinnati) will mark the start of my 10th year covering minor league baseball and my 5th year here at BaseballHQ. Coverage will be a bit different this year. For starters, I've added a bi-weekly Tuesday piece. Mostly, the Tuesday piece will be a narrative with a fantasy prospect focus. However, if I need space to cover more prospects, they will go in that slot. Judging by the Opening Day roster assignments, I'll need Tuesday's additional space to cover all the prospects I see this season.
This Eyes Have It report is different from the more complete reports you'd see, starting next Thursday. The nature of covering multiple games at a complex makes it impossible to have a complete look at any specific prospect. However, the partial look can tell a lot about the potential of a prospect and how well he is advancing. I visited three complexes and saw five organizations during my Arizona spring training trip. So far, I've looked at High-A/Low-A prospects from the Cincinnati Reds and Cleveland Indians and Triple-A/Double-A prospects from the Los Angeles Dodgers and Chicago White Sox. Today, let's clear out the notebook and look at High-A & Low-A prospects from the Chicago White Sox, Los Angeles Dodgers, and San Diego Padres organizations.
Chicago White Sox
The White Sox back fields were relatively quiet during the High-A and Single-A games, with most of the bigger prospects playing in either the Double-A game or being called up to the MLB game. There were a few toolsy types playing for their Single-A team and one bigger name playing in the High-A game.
I didn't get a great look at either at OF Cabrera Weaver (speed-first, raw swing with twitchiness) or OF Anderson Comas (projectable body with baseball tools) in the Single-A game. However, the big get on the White Sox ledger was OF Steele Walker (#12 White Sox prospect) in the High-A game. The LHH Walker was the other bat on the Kyler-Murray-led University of Oklahoma baseball team last season. In BP, Walker showed plus power to center and the pull field. His swing is naturally geared towards generating loft, which should help him reach a 25-30 HR ceiling. Hopefully, the hit tool cooperates. In my limited look, the hit tool should be enough. While there is length in Walker's swing, his wrists are quick enough to make up for the length. While I could see him struggling against velocity, he has enough bat speed to cheat on the pitch.
Los Angeles Dodgers
There wasn't much on the Dodgers A-Ball fields with most of the prospects either up the hill with the Double-A and Triple-A games. There was one prospect left in the Single-A game. Josiah Gray is a young RHP acquired in the offseason Yasiel Puig trade with Cincinnati. He was a favorite of one of my contacts in the Appalachian League. In the two-inning scouted appearance, Gray sat 92-95 MPH with a well-commanded 2-seam FB. The FB played up due to the natural arm-side bore it generated. He also showed the aptitude on how to employ the pitch, commanding the pitch up and down and left and right. The combination of all these attributes makes the pitch a plus pitch moving forward.
The velocity and the effectiveness of Gray's SL is up from last season. Sitting 85-87 MPH, it has above-average downward break and is tighter than reported last season, which enhances the horizontal break. The SL has above-average-to-plus potential. Gray did not throw a CU, which isn't regarded highly by scouts. A change in organization may be the best thing for Gray and his CU. The Dodgers have a history of working well with athletic hurlers developing their delivery and CU. However, Gray's cross-armed, 3/4s arm-slot has a better chance of working in relief than starting, thus making Gray more of a RP play.
I did get to see 2B/SS Jeter Downs (#8 Dodgers prospect) take BP before he suited up for the Big League team later in the afternoon. The ball explodes off his bat. He was hitting opposite field HR with ease, which wasn't something he did last year. If he has found a power stroke to the opposite field and can bring it to game action, Downs's stock is likely to climb up the HQ100.
Finally, if you are still holding onto any Starling Heredia shares, I recommend you release those shares. While packing a huge punch, the swing is so long, I don't see Heredia surviving against advanced pitching.
San Diego Padres
I ran into a camp day when I ventured over to the Padres complex in Peoria. Camp days are filled with intra-squad scrimmages. It's a good day to see every facet of an organization. On this day, the Padres were showcasing mostly High-A and under prospects, which is why I ventured over to Padres camp in the first place.
The big get on the Padres was seeing RHP Anderson Espinosa (#13 Padres prospect) back on the mound after a two year absence. Espinosa was incredibly rusty and his control showed it. He sat 92-96 MPH in the inning of work, fading late. He did show a CU and struggled to feel his CB. It's going to be a slow go with Espinosa as the Padres ease him into a minor league rotation. Hopefully, the kid is the pitcher he was when I saw him in 2016 (Scouting Report).
Also in the Single-A game behind Espinosa was 2B Prospect Xavier Edwards (#15 Padres prospect). I expect big things out of Edwards, who I scouted as an amateur last season (Scouting Report). Edwards is a plus-plus runner with a selective eye at the plate. While my look wasn't the best I've seen from Edwards, the big takeaway here was how he was tracking pro pitching and how he adjusted mid-AB to what pitching was trying to do with him. Those attributes from a 19-year-old throwback leadoff type should serve him well as he develops into a top fantasy prospect.
The guy I was most impressed with in Padres camp was 20-year-old 2B Esteury Ruiz (#12 Padres). I had little history with Ruiz coming into my limited look other than the Alfonso Soriano comps. However, I absolutely love the kid and believe he's poised for a big breakout. His swing finds barrels, even if he hasn't learned how to control the barrel yet. While Ruiz looks like he's 150 Ibs soaking wet, he creates great leverage with his lower half, which helps create significant loft. Defensively, he didn't react well at 2B and didn't look very comfortable. It's impossible to know if this was just my look or a broader issue seen by a scout sitting on Ruiz's team for a few days. Ruiz is potentially a Top 5 prospect in a strong org next season and should easily find his way into our HQ100.
For more information about the terms used in this article, see our Glossary Primer.
Shopping Cart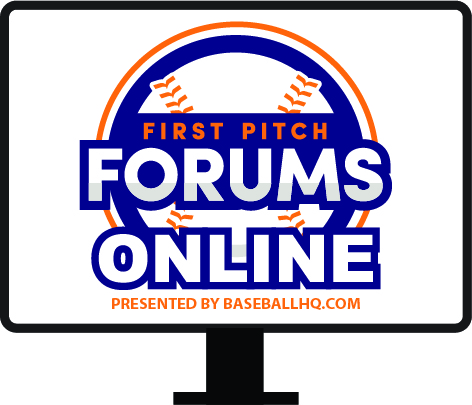 Our virtual First Pitch Forum returns!
Three online-only events: March 5, 11, 17
Join us live, or watch when you want
Just $19!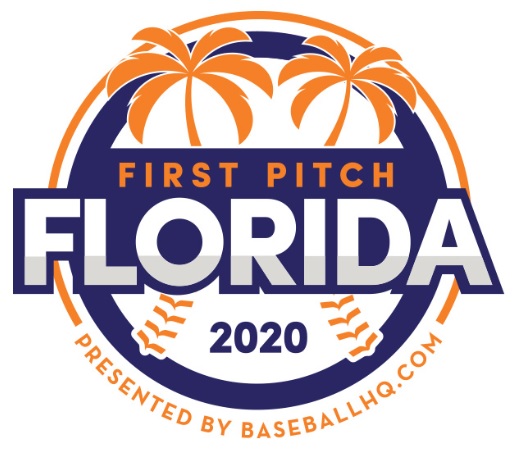 Inaugural Event!
February 28-March 1, 2020
St. Petersburg, FL
A few seats still left!