MINORS: The Eyes Have It—Daniel Lynch; Hi-A Royals and White Sox
By Brent Hershey

@BrentHQ
April 16th, 2019 1:05am
The High-A Wilmington (DE) Blue Rocks of the Carolina League have one of the most promising collections of future big-leaguers in the minors. This Royals farm squad has a handful of players who could be important fantasy producers as they mature over the next few seasons. Wilmington is also the closest minor-league park for me to visit, so we'll plan on as much expanded coverage of the big names on this squad as we can squeeze in here, at least through the early part of the season.
Today, we'll start with 2018 supplemental first-round pick Daniel Lynch (LHP, KC), and add some thoughts on others that we saw in a two-game look between Wilmington and Winston-Salem (White Sox) last week.
Daniel Lynch (LHP, KC)
#2 on the Royals Organization Report
Date seen: 4/10/19
ETA: 2020
As noted above—as well as in our report on him in rookie ball last summer—Lynch was a high pick in last year's draft out of the University of Virginia. Always a prospect, he popped up on team's boards last spring when he showed increased velocity. Previously he featured a low-90s fastball, but the pitch jumped into the mid-90s a year ago, topping out at 97 mph. It was enough for the Royals to pick him at number 33 overall, and he continued to have success in his initial placement in both rookie league and full-season Class A.
The intrigue coming into 2019, of course, would be whether that velocity would stick once he got to his first full professional season. According to his arsenal in his second High-A start, the Royals have a good one on their hands.
One of the first things one notices about Lynch is his athleticism on the mound, which allows him the ability to repeat his silky-smooth southpaw delivery. He has a tall build, but is well-proportioned (6-6, 190); even some room to fill out. Many times, young pitchers with his physical length (arms/legs) haven't quite mastered adequate body control, and it leads inconsistent mechanics, undue stress on the arm, and sometimes control problems. Lynch repeats very well; his movements are smooth and coordinated. There are some aspects of his windup that remind one of Tyler Skaggs (LHP, LAA), who has a similar body type and delivery.
His fastball in this outing was mostly 91-94, but he definitely had the ability to reach back for some extra "umph" on the pitch when needed, as he hit 95 on the gun several times. Often this was with two strikes; looking for a strikeout to wiggle out of a jam. He had success when it was a high strike (often resulting in a swing a miss), but he also overthrew is it a couple times and it darted out of the zone.
Lynch's slider came in at 82-85; he had more success with it early in the game, when he was getting strikes with it (both called and swinging). It has at least a major league average potential. And he was also able to mostly command a 78-81 change-up with some nice depth that often resulted in opponents swinging over it. Later in his outing, he introduced a showed a slower curveball that really just acted as a change-of-pace, but with his clean arm action and mechanics, having the ability to spot pitch #4 would be especially inviting for him.
Lynch's line score didn't end up that impressive: 3.1 IP, 5 H, 1 ER, 4 BB, 4 K on 83 pitches. But an inconsistent home plate umpire and some low-minors defense (read: challenging) behind him didn't help. Two of the five hits were infield singles; none of the contact against him was particularly hard. He also got hit on his glove hand on a come-backer in the second inning. Though it wasn't his throwing hand, it did seem to affect him some, as he immediately surrendered a single, then back-to-back walks and became less efficient with his pitches. He flew through the third inning, but then found some trouble in the fourth, and was lifted after his final strikeout with the bases loaded.
Because of Lynch's late-season rise last year, he seems a bit unheralded even though he was in the Top 40 selections last June. But the combination of his clean athleticism/delivery, a commendable pitch repertoire, and major college experience points to a pitcher who might not be long for A-ball and could easily slide into Top 100 lists come mid-season at the earliest—he just missed our HQ100 offseason list, coming in at 101. There's definitely an MLB future here.
Quick Hits
Luis Robert (OF, CHW; #38 on the HQ100) has gotten off to a flying start (19 hits and 5 HR through his first 40 AB), but only played one of the two games I saw, and though his body looked MLB ready, he struggled. It could well have been that Lynch was the best pitcher he faced, but Robert went 0-5 with 2 Ks in this contest. Wilmington had success executing hard stuff in on his hands, and three of his AB lasted no more than three pitches. I'm hoping to get an additional look at Robert in a few weeks.
Kyle Isbel (OF, KC) was 3-for-8 in the two games, batting out of the leadoff spot. The left-handed hitter showed some advanced bat control, especially with pitches down in the zone. He used the whole field with some pop, doubling both into the left-field corner and over the head of the right fielder. Not a blazing runner, he was caught stealing on a questionable jump, but also made a good read in CF and tracked down one ball that looked like a sure double off the bat.
Alec Hansen (RHP, CHW), a second-round pick a few years back out of University of Oklahoma, came on in relief for one inning. Hansen had been a starter, though has had mechanical issues that led to 59 walks over 51 IP at two levels last season. He got good downward action from an over-the-top delivery. His FB was 94-5 and topped at 96, joined by an 89-92 cutter/slider. At 6-7, 215, he has an intimidating presence on the mound, and most importantly, he threw strikes in this outing. If the control sticks, he could move along quickly.
For more information about the terms used in this article, see our Glossary Primer.
Shopping Cart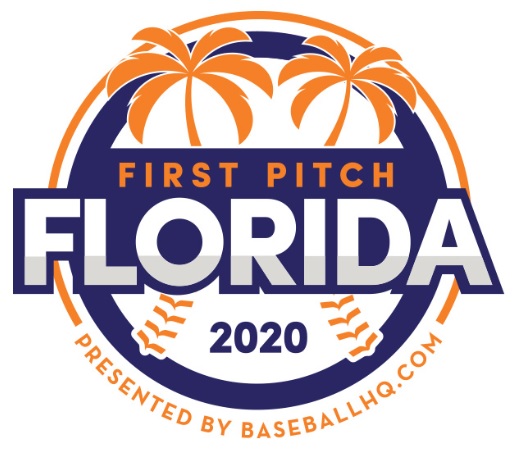 Inaugural Event!
February 28-March 1, 2020
St. Petersburg, FL
A few seats still left!