MINORS: The Eyes have it—Blake Rutherford and Khalil Lee
By Tanner Smith
July 3rd, 2018 12:04am
Blake Rutherford (OF, CWS)
White Sox #6 prospect (Single-A)
Dates seen: 5/7/18, 5/8/18, 6/1/18 (double-header)
ETA: 2020
As a first round pick in 2016 and the prize of the White Sox trade that sent Todd Frazier, David Robertson and Tommy Kahnle to the Yankees, Blake Rutherford has had massive expectations stacked on him throughout his young minor league career. Rutherford, at 21 years old, has had a good amount of success already, but has not yet lived up to his potential. Some prospect analysts have considered Rutherford a disappointment, as he has not hit for much power throughout his minor league career. Rutherford's 6 HRs in 2018 through 61 games is a career high—but some scouts projected him to have 20-25 HR potential.
Rutherford hits with a very simple stance, hands high and close to the body, with minimal movement or load. This allows him to keep his head on a level plane and spray line drives all over the park with a flat stroke. In the games scouted, when Rutherford struggled he would often get too far onto his front foot and roll over ground balls. Groundballs are one of the biggest limiting factors in Rutherford's offensive profile, as he hits a ton of them. As of June 29, he led the Carolina League with a 55 GB%. Watching Rutherford, it seemed like it might also be a timing/pitch selection issue. With his current swing when he reaches for pitches, especially sinking fastballs at the bottom of or just below the zone, he makes a lot of groundball outs. This could be problematic for Rutherford when compounded with his already flat swing plane. He needs to consistently hunt pitches he can drive. If instead, he gives into the temptation to swing at fastballs down in the zone just because he can hit them, his power numbers will suffer.
So far a lot of pixels have been spent on Rutherford's weaknesses, but ultimately for a 21-year-old Rutherford is doing just fine. If he never adds significant loft to his swing, he could still easily be a starting MLB outfielder in a few years if he is able to eliminate some roll over groundballs to the right side. A reasonable expectation right now would be in the ballpark of 10-15 HRs per year. He will likely stuff the stat book otherwise with a good amount of runs scored, batting averages that hover around .280 and an ability to chip in 10-15 steals. That is in the ballpark of Nick Markakis type production (prior to his 2018 magic) with some additional speed and upside for more power if he adds loft to his swing. Rutherford will likely still be a useful fantasy player, even if he continues to hit a lot of ground balls, but may not be the star that some people expected given his first-round pick status.
Khalil Lee (OF, KC)
Royals #6 Prospect (AA)
Dates Seen: 5/19/18, 5/20/18 (doubleheader), 6/3/18
ETA: 2021
Khalil Lee, a 3rd round pick in 2016, has vaulted up the Royals prospect rankings over the last three years and has become one of their most touted young players. Lee has put up some impressive numbers so far in his pro career and was just promoted to AA on his 20th birthday, June 26. He was promoted partially on the strength of a .402 OBP in 71 games at A+, including a 15.9 BB%. That is incredibly impressive for a player of his age, especially one that is still viewed as a raw, developing talent.
One of the first things you notice when you see Lee is how athletic and loose of an athlete he is. He is not big, at 5'10'' 182, but he is lanky with long arms and bounces around the field. He is a plus defensive center fielder and a plus runner, and should easily be able to play that position in the majors. He also uses his athleticism within his swing, as he has a smooth, fast swing with plus bat control. He has the ability to hit to the opposite field and does so willingly. One area that he should be able to improve on with time and additional development is his consistency of balance at the plate. In the games scouted he occasionally took big off-balance swings that had little chance for success. He needs to cut down on those hacks in order to reduce his strikeout rates. His strikeout rates so far have been too high for a guy with his potential bat control, at around 25-32% in his career. Cutting down his swing a little bit could also help him hit off-speed pitches better, which has been one of his main weaknesses at the plate so far in his pro career.
One interesting note on Lee is that while he has a high walk rate, one scout who has seen him a lot thinks that Carolina League pitchers may have been pitching around him, as Wilmington was not a strong offensive team. The scout said that he has seen Lee become visibly frustrated after walking and that he thinks Lee would prefer to swing the bat more. While this has not appeared in Lee's stats to date, it will be interesting to track whether Lee maintains the patient approach that has made him special so far throughout the minor leagues. As he advances now into AA, he will encounter more advanced pitching that is better at pounding the zone, which will truly test his plate discipline.
Ultimately Lee projects easily as a starting major league center fielder and should be a good fantasy player. He may, however, be one of those players that is better in real life than for fantasy purposes due to the fact that his strengths, which are his defense and plate discipline, do not appear within the standard 5 x 5 Rotisserie format. He should, however, be able to swipe 20-25 bases per year and has the potential to post BAs around .260-.270 with strong runs scored totals. His power production is one question mark that could ultimately determine his value, as he has the bat speed for 20-25 HRs, but he will need to lift the ball a little bit more to tap into that power. He is very raw, and there is a lot of volatility here, but this is definitely a name to watch as a potential star in Kansas City.
Quick Hits
Will Crowe (RHP, WAS) is not an overpowering pitcher, sitting mostly at 91-92 without much life. He did, however, show a feel for three off-speed pitches: a curveball, slider, and change-up. The curveball has the potential to be a plus pitch at 79-81 with 11-5 movement. The slider and change-up both show promise as well as potential average off-speed pitches. That arsenal should allow him to be at least a backend major league starter in a few years. He has #3 upside if his slider and change-up continue to develop and one of them turns into a plus pitch.
Bryan Mata (RHP, BOS) is intriguing as a 19-year-old starter who is advanced enough for A+. He has a low-effort delivery and a calm demeanor on the mound. In terms of stuff, he possesses an above average two-seam fastball at 92-94 with some run/sink, a curve with solid shape at 75-77 with the potential to be a plus pitch if he tightens it up a little bit, and a currently below average changeup that could project to be average. He is currently inconsistent mechanically and has a tendency to fall off to the right, which impedes his command. He has a long ways to go with command and control to reach the majors, but this is a name to keep an eye on as a potential MLB starter.
Santiago Espinal (INF, TOR) was just traded to Toronto from the Red Sox for Steve Pearce. Espinal broke out in the power department for A+ Salem, as his ISO of .164 through 65 games more than doubled his previous career high. Espinal has displayed above-average bat speed, bat control and an ability to catch the ball in front of the plate with the barrel. This could allow for a potentially average hit tool, limited by his, at times, overly aggressive and pull-heavy approach. He uses a short leg kick as a timing mechanism and has displayed a consistent ability to pull the ball with authority, showing slightly below average power. He should be able to stick at shortstop and is a good base stealer with the potential for 20 SBs in the majors with full-time ABs. He is 23 years old in A+ and may ultimately be a utility player. If he maintains the improvements he has made in 2018, however, he could be a low-end starting MLB shortstop that provides speed, average and a little bit of pop.
For more information about the terms used in this article, see our Glossary Primer.
Shopping Cart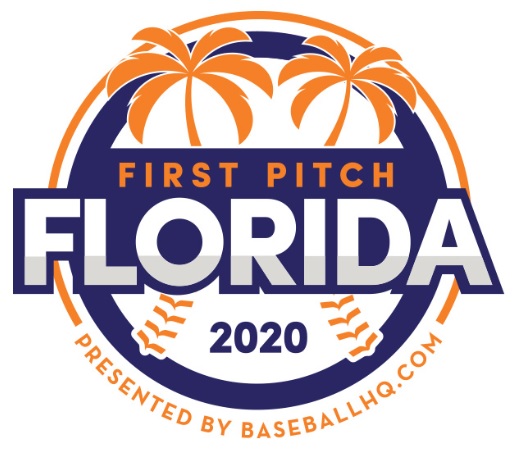 Inaugural Event!
February 28-March 1, 2020
St. Petersburg, FL
A few seats still left!