MINORS: The Eyes Have It—A quartet of Midwest League teenagers
By Emily Waldon
May 1st, 2019 1:04am
When Brent Hershey first spoke with me about contributing to BaseballHQ.com, my first thought was, "I'm not exactly an authority on fantasy baseball."
Thankfully, what he had in mind was an outlet to continue doing what I've done these last four years: educating readers on the players I've come across during the season. If you're not familiar with my background, I started on the minor league circuit in 2015, covering the Tigers farm system up until late 2017, when I added some national coverage to my territory.
My location allows me to touch areas of the Midwest, Eastern, International and occasionally Florida State Leagues throughout the year and with that, a diverse viewing of top prospects, sleepers and the lottery tickets we all hear about.
My goal with these profiles is to provide an overview of the current role of each player, along with the projection of his future role. The profiles will lend to current and developing strengths, tools to know and what areas could be viewed as red flags in their development track along the way.
Each month, I'll take a different spin on the names I feature, but all will be names to watch, as well as hopefully drawing your attention to some names you may want to stash away in one of your current leagues.
To kick things off, I'm taking a dive into the teams I've seen around the Midwest League in the first month. I normally stay close to home with how unpredictable the weather can be in the Midwest this time of year, so I thought a look at Class A names would be a great starting point.
There are a number of reasons why I enjoy the Midwest League. If you're used to Double-A and Triple-A clubs, it can feel like dropping back to high school baseball in comparison, but the projection of Class A players is both enjoyable and challenging. You learn how to navigate things like which current starters are future relievers and dissecting hit tools of 18- and 19-year-old international names. The league as a whole is raw, but in the best way.
Below, I hit one prospect each from the Tigers, Blue Jays, Indians and Padres, and all of whom happen to be 19 years of age. My guess is you'll fall into the same position I did: Admiring the young talent, and questioning when we all got so old.
Parker Meadows (OF, DET)
Acquired: 2018 2nd-round pick (44th overall)
Bats/Throws: L/R
Age: 19
Height/Weight: 6-5/205 lbs.
After locking down Casey Mize as their choice for 1-1 in 2018, the Tigers went the route of speed, power and pure projection in 6-5 outfielder Parker Meadows. Meadows comes from good bloodlines (his older brother is TAM OF Austin Meadows), and while Parker's body is still developing, there is a whole lot to dream on.
Meadows, 19 is a wiry, lean outfielder with pure raw power and the opportunity to add more as his body continues to fill out. He is working through the challenge of connecting his upper and lower half during his swing, which is understandable with how much arm and leg he has to work with. While his barrel control is advanced for his age, his ability to time up pitches has been lacking so far.
His strikeout rate has sat between 28 and 31 percent since his debut. As the weather has improved for Class A West Michigan, you can see the Georgia native beginning to piece together his work at the plate, but the need to make contact needs to be a top priority right now.
Defensively, Meadows boasts a plus arm, 65-grade speed and strong instincts. Settling into his physical development will play a key role in how much power he's able to tap into, but for now, better contact is his top priority.
Meadows profiles out as an everyday center fielder, as long as health stays on his side and he's able to get the most out of his lanky frame.
Jordan Groshans (SS, TOR)
Acquired: 2019 1st-round pick (12th overall)
Bats/Throws: R/R
Age: 19
Height/Weight: 6-3/205 lbs.
Athletically there is a lot to like in the Blue Jays 2018 first-round pick. Still only 19, Groshans is a well-proportioned 6-3, 205, with an ability to produce plus raw power and above-average bat speed from the right side.
Groshans sits a bit low in the box, combining a moderate leg kick with good momentum behind his bat path. Entering his career with Toronto's farm system, there were concerns of noticeable swing-and-miss, but Groshans has kept his strikeout rate to 20.2 percent in 2019.
There are questions as to where Groshans projects long term defensively. While Class A Lansing has stationed him purely at shortstop this season, his profile sits better with me as a third baseman, a role he's carried about half the time since landing in the organization.
While he's naturally athletic, Groshans lacks a fluidity to his defensive actions and footwork at shortstop. Instinctively, Groshans understands the infield, but looking ahead, there's enough instincts and arm strength here where I think he could handle the corner role with the offensive production to back it up.
Factoring in his age, a full year with Lansing would be a good move by Toronto. With a certain super-prospect sliding into the third base role at the major league level in Toronto, I wouldn't be surprised if the Blue Jays test Groshans in a corner outfield role further down the road to test his versatility.
Tyler Freeman (SS, CLE)
Acquired: 2017 CBB pick (71st overall)
Bats/Throws: R/R
Age: 19
Height/Weight: 6-0/170 lbs.
Selected out of Etiwanda High School in Rancho Cucamonga, California, Tyler Freeman sold himself very early on, due to his advanced offensive production.
The quick-twitch middle infielder makes his living off an ability to produce consistent line drive contact with natural pop to all fields. Freeman, who credits his newly added toe-tap to Corey Seager, added in the leg kick to build off the belief that his body will produce more power as his frame fills out.
A lean 6-0, 170 pounds, Freeman possesses an advanced understanding of commanding of the strike zone, and has zero fear of drawing walks. Since the start of his career, Freeman hasn't struck out beyond a quiet 8.3 percent, and the walks? Try 12.4 percent in 2019.
Defensively, Freeman's quick-twitch feel plays well at shortstop, but projects out as more of a second baseman. Freeman shows clean hands, an average arm and sound instincts, but the flow of his play looks to be more well-suited for the keystone over the long haul.
Agustin Ruiz (OF, SD)
Acquired: 2016 IFA
Bats/Throws: L/R
Age: 19
Height/Weight: 6-2/175 lbs.
As they've been known to do, the Padres invested in a raw, but projectable youngster in 19-year-old outfielder Agustin Ruiz. Signed as an international free agent in 2016 out of Mexico, Ruiz entered the organization as a centerfielder, but has transitioned to a primary focus on the corner outfield posts in 2019.
Much like many young international players, Ruiz lacked muscle, but he's been successful in filling out some leading into this season and still has plenty of room to develop. Ruiz shows an advanced feel for the barrel, but an excessive near-30 percent strikeout rate pinpoints a lack of timing and recognition. Still shy of his 20th birthday, Ruiz has time to polish his plate discipline to add more long term value to his profile.
Defensively, Ruiz has both the run tool and the arm strength to hold down a corner outfield post, and exhibits advanced instincts. Overall, the profile is raw enough for the Padres not to rush him, but still possesses enough to build a solid foundation on what Ruiz could ultimately develop into.
For more information about the terms used in this article, see our Glossary Primer.
Shopping Cart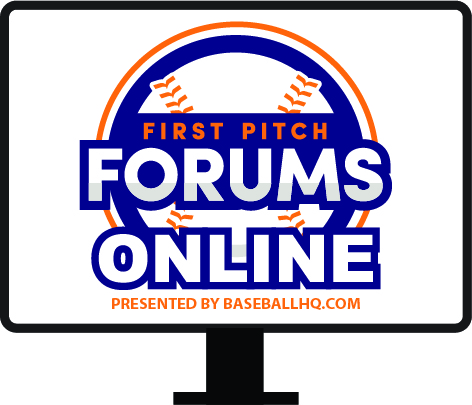 Our virtual First Pitch Forum returns!
Three online-only events: March 5, 11, 17
Join us live, or watch when you want
Just $19!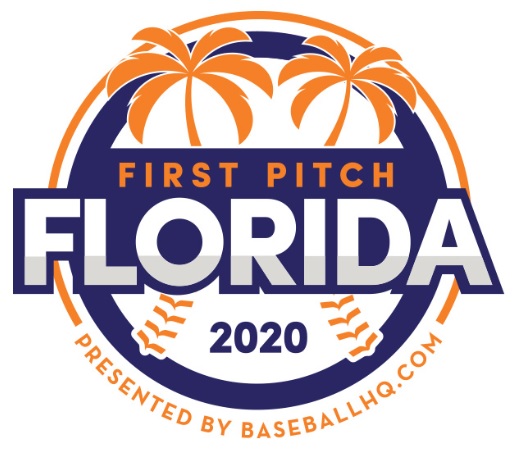 Inaugural Event!
February 28-March 1, 2020
St. Petersburg, FL
A few seats still left!