MINORS: Deep sleepers outside of the HQ100
By Jeremy Deloney
February 1st, 2013 12:03am
(This article appeared in the 2013 Minor League Baseball Analyst)
One of the more arduous tasks of writing about prospects is compiling a list such as the HQ100. While there seemingly are similar prospects on most pundits' lists, the order can be quite divergent. Most Top 100 lists feature names that have become well-known through well above average performance or sterling reputations earned from high draft selections or storied amateur pedigrees. This essay will focus on ten minor league prospects who are unlikely to be on any 2013 Top 100 list. These ten prospects have relatively high ceilings, however, and for fantasy leaguers with deep farm systems, these are names to consider after the Top 100 are gone.
He has only pitched 27 innings since coming to the United States, but 19-year-old Miguel Almonte (RHP, KC) has shown a mature approach to pitching and uncanny feel for his craft. With the Royals in the rookie-level Arizona League, he posted a 2.33 ERA, walked five and struck out 28. He impressed during instructional league and could be placed at Low-A Lexington to start the '13 season. With his fastball and change-up combination, he could dominate the South Atlantic League and vault his way to High-A before season's end.
Almonte's easy, loose arm action produces a clean and repeatable delivery. He throws consistent strikes and is able to spot his 89-96 mph fastball with precision. He has the confidence to use any pitch in any count and should have at least three solid-average to plus pitches when he physically and developmentally matures. With his long, wiry and projectable frame, he could add a few more ticks of velocity down the road. Like most pitchers his age, Almonte needs to throw more innings and learn to sequence his pitches better.
Though he struggled in his pro debut—.222/.282/.353 with 60 K/12 BB—20-year-old Matt Dean (3B, TOR), has as high a ceiling as any third baseman in the lower minors. He has legitimate talent with both the bat and glove and could make a name for himself once he gets comfortable with the professional ranks.
The tall and strong right-handed hitter exhibits above average raw power to all fields and could hit for a moderately-high BA once he learns to recognize pitches better and swing with more authority. He had a tendency to swing tentatively at hittable pitches in the '12 season. He has plenty of room to add strength to his lean frame. He possesses plus bat speed, though his swing can get long at times. Defensively, he has excellent hands and a strong arm that is playable at third base. With a few adjustments to his offensive package, Dean could break out in a major way. He's likely to begin the '13 season at Low-A Lansing where he could put up impressive numbers.
Raw pitchers can often take a long time to develop and Victor De Leon (RHP, STL) fits into that category. After showcasing one of the top power arms in the short-season Appalachian League, the 20-year-old could either start or relieve. With Johnson City, he started 10 games and posted a 3.25 ERA, 4.1 Ctl, and 8.5 Dom. The raw statistics may not appear dominant, but it was the development of his secondary pitches that give him significant upside.
De Leon works effectively off of his 91-95 mph fastball that often touches 97 mph. He generates his plus velocity with pure arm strength and fast arm action. He induces a lot of groundballs by using his 6'2" height and arm angle to pitch downhill. Though his heater can sometimes lack late action at higher velocities, he can blow it by hitters up in the zone. His slider has developed into a true swing-and-miss pitch that gives him a second offering to keep hitters at bay. Despite holding LHH to a .222 BA, he still has strides to make with his change-up. Without it, he could be a dynamic force at the back of the bullpen. Regardless, he needs to work on his command and fastball location. Pitching in the rotation for Low-A Peoria should give him ample opportunity to work on his overall pitch mix.
With the Orioles contending in the American League East in 2012, there was far less focus on their minor leaguers. Nick Delmonico (INF, BAL) was expected to begin his career in short season, but was assigned to Low-A Delmarva and had a solid pro debut. The 20-year-old left-handed hitter showed a remarkable feel for hitting and should continue to grow into his vast offensive ceiling. He batted .249/.351/.411 with 22 doubles, 11 HR and 8 SB in 338 AB. He missed some time due to a knee injury, but there are no lingering concerns.
Delmonico is a pure-hitting infielder with good power potential and keen bat control for someone his age. He puts the bat on the ball consistently with a short stroke and can leverage his strength to reach the seats. He uses the entire field in his approach and should eventually hit for a higher BA once he becomes more comfortable hanging in against left-handed pitching (.175 against lefties in '12). Delmonico will never be mistaken for a stolen base threat, but his baseball IQ and acumen gives him ability to run the bases well. His plus arm strength is his sole asset on defense and he'll need to improve his hands and range. He split time between 2B and 1B, though many in the organization see him as a 3B. Once he settles on a defensive home, his bat could get him to the majors quickly.
It would be a mistake to claim that the offensive exploits of Tyler Goeddel (3B, TAM) are worthy of inclusion on a Top 100 list. However, he has extremely intriguing upside predicated on his athleticism and projection. With Low-A Bowling Green, the supplemental first round pick from '11 batted .246/.335/.371 with 19 doubles, 6 HR, and 30 SB in 329 AB. Those may not be eye-popping numbers, but it was his first pro experience and he held his own as a 19-year-old in the Midwest League.
One look at his smooth actions in his 6'4" 180 pound frame and it is easy to dream on his future. He has exceptional speed for an athlete his size and he offers terrific instincts for the game. With excellent bat speed and strong hands, the right-handed hitter makes hard contact with a level swing path. Though he lacks the load and leverage in his swing to hit for present power, he has shown the ability to make adjustments and could eventually realize his plus power potential. He has some work to do with his overly aggressive approach and he could stand to pack on some muscle to his lean frame. Defensively, he exhibits a very strong arm and decent footwork to stick at 3B. However, the Rays drafted Richie Shaffer and recently traded for Patrick Leonard which might result in a position change for Goeddel, possibly to an outfield corner where he could have plus range and arm strength.
Signed out of Colombia as a non-drafted free agent in July '10, Dilson Herrera (2B, PIT) exceeded expectations in his first year in the United States. Between the rookie level Gulf Coast League and State College in the short-season New York-Penn League, the diminutive 18-year-old hit .286/.341/.489 with 12 doubles, 8 HR, and 12 SB in 227 AB. He drew 19 walks while fanning 47 times. Despite a 5'10" 150 pound frame, the right-handed hitter finished 2nd in the GCL in HR and SLG.
Herrera is expected to man 2B for Low-A West Virginia in '13. There are plenty of reasons to believe in his ability to rocket up prospect charts. He has well above average bat control and hand-eye coordination that allow him to make easy contact with a short, repeatable stroke. He has a tendency to expand the strike zone and get himself out by swinging at bad pitches, but his pitch recognition should improve with more professional at bats. He uses the entire field in his approach and should hit for a high BA while maintaining moderate power. Herrera also runs well with plus speed, though he needs to get on base more. He is a below average defender at present, though he ranges well to both sides. At his peak, Herrera should become an offensive-minded 2B.
A seven-figure bonus to a 9th round selection is rare, but that's what the Pirates gave Clay Holmes (RHP, PIT) out of an Alabama high school in '11. The 19-year-old made his pro debut with short-season State College and was among the better prospects in the circuit. The 6'5" 230 pounder held hitters to a .176 oppBA in 59.1 innings and posted a 2.28 ERA, 4.4 Ctl, and 5.2 Dom.
Though Holmes didn't dominate as much as his frame and power arm would suggest, he has greater pitchability than most his age. He pitches aggressively with his heavy 90-95 mph fastball that hitters simply couldn't elevate. With his dynamic sinker, he didn't use his curveball or change-up to get hitters to chase. He throws downhill because of his height and angle and thrives in the bottom half of the strike zone. His breaking ball and offspeed pitch were inconsistent when he used them, but both show potential to become at least average pitches in time. His curveball shows good break and he repeats the arm speed on his change-up. Whether he develops into a high strikeout pitcher remains to be seen, but a tall power-armed righty with extreme groundball tendencies has significant value.
Blessed with pure arm strength and the ability to hit triple digits on the gun, Francellis Montas (RHP, BOS) has excellent upside, possibly as a future closer. He'll be given every opportunity to remain as a starter, though his development could be hastened with the move to the bullpen. The 19-year-old pitched most of the season with the rookie-level Sox in the Gulf Coast League and started one game for Lowell in the NYPL. Between the two stops, he posted a 2.98 ERA, 2.6 Ctl and 9.2 Dom in 44.1 innings.
Montas throws from a ¾ slot with excellent angle and his fastball is tough to hit as it features explosive, late life. Currently, his heater is his only weapon as he lacks touch for changing speeds and struggles to get consistent spin on his breaking ball. There is some hope in the development of his slider and he could be a dominant fastball/slider performer if he can get them to work in sync. His change-up offers very little deception. Montas throws consistent strikes despite effort in his delivery, though his fastball location and command need polish. There are certainly areas for him to focus on in '13—likely in Low-A—but if things come together for him, he could either become a #2-3 starter or a lights-out reliever.
Catchers often can take a while to develop due to the rigorous demands of the position. Because he has talent with both the bat and glove, Michael Perez (C, ARI) is already off to a terrific start in his pro career. With Missolua of the short-season Pioneer League, the 20-year-old batted .293/.358/.542 with 16 doubles and 10 HR in 225 AB. Though he struck out 72 times, the trade-off for his power was acceptable. Additionally, he was able to showcase his solid defensive skills.
Perez was a highly-regarded player when the Diamondbacks selected him in the fifth round of the '11 draft, but they didn't expect him to be this far along. The left-handed hitter batted .323 against lefties in '12 and has a keen ability to use the entire field. He has above average bat speed to hit for power to all fields, though he hits more HR to the pull side. Once he adds more strength, he could develop into a middle-of-the-order run producer. He may never hit for much of a BA at higher levels because he tends to swing at bad pitches, but his power can't be ignored. Defensively, he possesses a strong arm and solid-average receiving skills. He needs to clean up his footwork and work on his catch-and-throw skills, but the raw ingredients are there for Perez to evolve into one of the top all-around catchers in baseball.
Most of the players in this essay haven't yet reached Low-A, but Matt Wisler (RHP, SD) was a standout at that level in '12. With Fort Wayne in the Midwest League, the 20-year-old started 23 games and posted a 2.53 ERA, 2.2 Ctl, 8.9 Dom, and .227 oppBA in 114 innings. Most impressive was his ability to keep the ball in the ballpark—he yielded only 1 HR. It is expected that he'll jump to High-A Lake Elsinore of the California League where his numbers may not be as good because of the friendly hitting environments, but his overall game could lead to his placement on future Top 100 lists.
Wisler fell to the seventh round of the '11 draft due to signability concerns. He immediately found pro ball to his liking and saw his velocity increase after tweaking his delivery with the help of Padres pitching coaches. He now sits between 91-93 mph with his fastball and it touches 96 mph on occasion. Not only does it have hard sink, he throws it for strikes and is the perfect set-up for his solid complementary pitches. His curveball may be his best offering and he can either use it as a chase pitch or drop it in for strikes. Wisler's change-up has evolved into an average offering and should continue to get better as he finds consistency with his arm speed. Tall and lanky at 6'3" 175 pounds, he has room to grow and could develop more velocity down the line. Though he may not become a dominator in the big leagues, he should grow into a dependable and durable mid-rotation starter.
For more information about the terms used in this article, see our Glossary Primer.
Free Weekly eNewsletter
The industry's #1 analytical weekly e-mail newsletter is ABSOLUTELY FREE!
More Information
Shopping Cart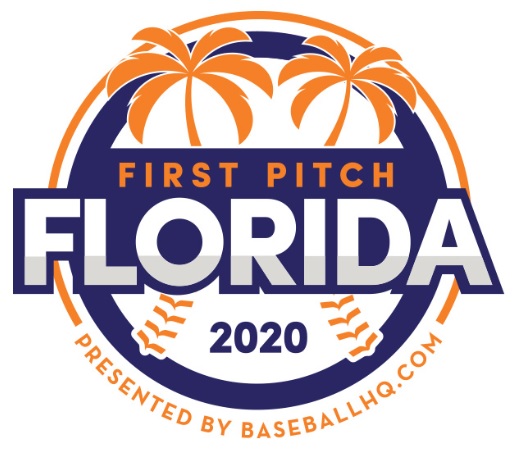 Inaugural Event!
February 28-March 1, 2020
St. Petersburg, FL
Early-bird registration now open!