MINORS: Arizona Fall League preview
By Jeremy Deloney
September 14th, 2012 11:04pm
The Arizona Fall League begins in early October and this year's rosters are packed with excellent prospects who have a chance to become outstanding big leaguers. Similar to past years, the pitching ranks are quite thin, but there are several position players worthy of acclaim. Rob Gordon and Jeremy Deloney analyzed the six rosters and provide their assessments on some of the top pitchers, players, and sleepers to follow during the 2012 AFL season.
Surprise Saguaros
MLB Teams: Red Sox, Royals, Mets, Cardinals, Rangers
Roster summary: The Saguaros may be the club with the least amount of top prospects on the roster. The pitching staff lacks players worthy of top prospect status and there is a glaring lack of power in the lineup. Bryce Brentz (OF, BOS) and Kolten Wong (2B, STL) are legitimate, but the drop off after those two is quite steep. Cesar Puello (OF, NYM) is an interesting player with nice upside, but his tools haven't equated to performance quite yet.
Best Position Player: Kolten Wong (2B, STL)
The 21-year-old was a first round selection in the '11 draft and has immediately lived up to his lofty expectations. Wong hit .287/.348/.405 with 9 HR and 21 SB in 523 AB in Double-A in 2012. The left-handed hitter has a quick, compact stroke and sprays line drives to the gaps. Not only can he hit the ball hard, but he is also adept at situational hitting. Though he likely won't become much of a power hitter, he should be able to maintain a high BA and OBP because of his swing path and very disciplined eye at the plate. Wong is a steady 2B with a strong arm and sufficient range.
Best Pitcher: None. There isn't a pitcher on the roster who will likely land in their organization's Top 15 list entering the 2013 season. There are a few relief prospects with a shot for success. Bullpen arms include Brock Huntzinger (RHP, BOS), Boone Whiting (RHP, STL), and Adam Kolarek (LHP, NYM).
Sleeper Prospect: Mike O'Neill (OF, STL)
As an unheralded 31st round pick in the '10 draft, the 24-year-old left-handed hitter has hit 1 HR in his pro career. That won't wow scouts or prospect observers, but O'Neill is the toughest out in minor league baseball. Between High-A and Double-A, he hit .359/.458/.440 in 418 AB. He walked 78 times against only 26 strikeouts. He has such exceptional hand-eye coordination and bat control that he can get himself in two-strike situations and still have success. O'Neill doesn't project to anything more than a fourth outfielder because of his lack of offensive oomph and the fact he's relegated to LF, but his feel for hitting and average speed are valued by the Cardinals.
Issue to Watch: It will be interesting to see how the coaching staff manages the playing time of the middle infielders. Orlando Calixte (2B/SS, KC), Leury Garcia (2B/SS), Luis Sardinas (SS, TEX), and Wong will likely share time and some could see action at 3B.

Peoria Javelinas
MLB Teams: Reds, Twins, Phillies, Padres, Mariners
Roster summary: This could be the deepest team in the AFL with a bevy of high-upside prospects. There are a handful of starting pitching prospects—Robbie Erlin (LHP, SD), Kyle Gibson (RHP, MIN), Casey Kelly (RHP, SD), James Paxton (LHP, SEA)—that not only have a high ceiling, but should make contributions in 2013. The Mariners were not shy about sending some of their top gems, including 2012 first round pick Mike Zunino (C, SEA), and Nick Franklin (SS, SEA). Zunino isn't the only catching prospect on the roster. Tommy Joseph (C, PHI) was acquired from the Giants in the Hunter Pence trade and is among the top backstop prospects in baseball.
Best Position Player: Mike Zunino (C, SEA)
After winning the Golden Spikes award as the top collegiate player in '12, the 21-year-old was selected #3 overall in the draft. Upon signing, he assaulted pitching in short-season ball by hitting .373/.474/.736 with 10 HR in 110 AB. The Mariners aggressively promoted him to Double-A in mid-August and he more than held his own—he hit .333/.386/.588 with 3 HR in 51 AB. Zunino is not only an excellent young hitter, but he has above average catch-and-throw skills and solid receiving ability. Given his advanced approach to the game and his defense, he is expected to battle for a job with Seattle in spring training.
Best Pitcher: James Paxton (LHP, SEA)
Power lefties who can miss bats and induce groundballs are in short supply and the 23-year-old has a chance to become a solid #2-type starter. Paxton missed a month with a knee injury, but finished 9-4 with a 3.05 ERA, 4.6 Ctl, and 9.3 Dom in 106.1 innings in Double-A. The 6'4" 220 pounder held hitters to a .244 oppBA and lefties only hit .222 against him. Despite being able to repeat his delivery, he exhibits significant command and control issues. If he can harness his arm action and strength, his plus fastball/curveball combination could prove lethal on any level. Some see an eventual move to the bullpen where his power stuff might play up, but it is much too early to convert him.
Sleeper Prospect: Cody Asche (3B, PHI)
The 22-year-old has flown under the radar since he was selected in the fourth round of the '11 draft. Asche began the season in High-A and hit .349/.378/.447 with 2 HR in 255 AB and was promoted to Double-A where he reached the seats 10 times in 263 AB while maintaining a batting line of .300/.360/.513. His success can be attributed to swing adjustments and better pitch recognition. He isn't the most selective hitter around, but he possesses an all-fields approach and can hit left-handed pitching. Asche also showed improvement with the glove and should be able to stick at 3B.
Issue to Watch: Stolen base king Billy Hamilton (SS, CIN) will give CF a whirl as the Reds try to increase his versatility and odds of making the roster out of spring training. He obviously has the speed for man the position, but will he be able to use it to his advantage at a position he's never played?

Phoenix Desert Dogs
MLB Teams: Braves, Athletics, Marlins, Brewers, Rays
Roster summary: The Brewers loaded up the roster with several intriguing arms, highlighted by Johnny Hellweg (RHP), Jimmy Nelson (RHP), and Kyle Heckathorn (RHP), not to mention Santo Manzanillo (RHP) who pitched sparingly upon his return from an offseason car accident. There is a nice selection of infielders and all have a shot at big league success. Grant Green (UT, OAK) returns to the AFL, this time as a 2B. He's been here before as a SS and a CF. Miles Head (3B, OAK) and Hunter Morris (1B, MIL) both had breakout seasons while Hak-Ju Lee (SS, TAM) and Edward Salcedo (3B, ATL) look to rebound after subpar campaigns.
Best Position Player: Christian Yelich (OF, MIA)
Perhaps the purest hitting prospect in the minors, the 20-year-old found the spacious parks of the High-A Florida State League to his liking by hitting .330/.404/.519 with 12 HR and 20 SB in 397 AB. Yelich fell victim to a few minor injuries throughout the season, but is fully healthy now. His clean, textbook swing coupled with his mature batting eye give him a strong opportunity to hit for a very high BA. His power should continue to emerge as he grows into his slender frame. Yelich started to hit in the leadoff spot because of his on base skills and his ability to hit pitchers from both sides (.313 BA against LHP). He's still learning to play the outfield, but has natural CF skills.

Best Pitcher: Johnny Hellweg (RHP, MIL)
The Brewers acquired the 23-year-old in the Zack Greinke deal with the Angels in late July and he'll pitch out of the bullpen in the AFL. Hellweg is a tall (6'9") and lean pitcher who has a high ceiling as a starter or reliever. He posted strikeout rates of 13.6 in '10 and 11.4 in '11, but it fell to 6.8 this season. Instead of blowing the ball by hitters, he focused on pitch efficiency and developing his change-up. Once he gets more comfortable as a starter, he should return to his normal, dominant self. With a mid-90s fastball and a curveball that can be lethal, he has two top offerings. If he can't find consistent command or control, Hellweg could eventually return to the bullpen full-time. He pitched all year in Double-A and finished 7-11 with a 3.29 ERA, 4.8 Ct, and 6.8 Dom in 139.2 innings.
Sleeper Prospect: Nick Ahmed (SS, ATL)
The 22-year-old right-handed hitter batted .269/.337/.391 with 36 doubles, 6 HR and 40 SB in 506 AB in High-A this season. Though his offensive numbers may not jump off the page, he has a variety of skills that give him a shot to become a starting middle infielder in the majors. Ahmed is a pure shortstop with good size (6'3") and athleticism. He exhibits good range and quality arm strength. There are legitimate questions about his potential to hit for power, though he has a discerning eye at the plate and makes good, consistent contact.
Issue to Watch: Tim Beckham (INF, TAM) showed improvement in '11 and was expected to potentially make the leap to the big leagues if he got off to a hot start in Triple-A. He ran afoul with a 50-game suspension for a drug of abuse and didn't play very well. Time may be running out for the #1 overall pick in the '08 draft and he'll compete with fellow Rays farmhand Hak-Ju Lee (SS) for time in the middle infield.

Salt River Rafters
MLB Teams: Diamondbacks, Nationals, Blue Jays, White Sox, Rockies
Roster summary: The Rafters have a nice blend of advanced prospects who could make an impact in the next year or two along with some athletic, projectable prospects who need to fine-tune their game. The most notable player on the Salt River squad is the talented, but oft-injured, Anthony Rendon (3B, WAS). Other notables include Jake Marisnick (OF, TOR), Chris Owings (SS, ARI), Brian Goodwin (OF, WAS), Matt Davidson (3B, ARI), Carlos Sanchez (SS/2B, CHW), Matt Skole (3B, WAS), Trayce Thompson (OF, CHW), and Deck McGuire (RHP, TOR). The Rafters don't have much in the way of starting pitching, but this is the AFL and in that regard they are hardly unique.
Best Position Player: Anthony Rendon (3B, WAS)
He was the 6th overall pick in the 2011 draft, but logged just 133 AB after missing most of the season with his second broken ankle since 2010. When healthy, Rendon has the tools to be one of the better offensive players in the minors. He has good bat speed, raw power, the ability to barrel the ball consistently, and plus plate discipline. It will be interesting to see where he plays in the AFL. Rendon is blocked at 3B by Ryan Zimmerman, but was sent to the AFL to play infield. He could play 2B where he saw action this spring prior to being injured. If he can stay healthy and is moved to 2B, his potent bat would give him substantial fantasy potential.
Best Pitcher: Deck McGuire (RHP, TOR)
He has underwhelmed since being selected 11th overall in the 2010 draft out of Georgia Tech. His pro debut in '11 was okay, but he completely fell apart in '12, going 5-15 with a 5.88 ERA, 62 BB/97 K, and a .286 oppBAA in 144 IP. The 6'6", 235 pound McGuire has good size, but doesn't possess an overpowering fastball. His heater sits in the 90-92 range and he mixes in a curve, slider, and below average change-up. McGuire tends to be a flyball pitcher, evidenced by the fact that he gave up 22 HR this year. He will need to keep the ball down and throw strikes to have any success in the AFL and needs to prove that 2012 was a fluke.
Sleeper Prospect: Ryan Perry (RHP, WAS)
He was traded from Detroit to Washington in December 2011 and struggled to find a niche in the Nationals bullpen, posting a 10.13 ERA in 7 relief appearances before being sent back to the minors. When he reported to Triple-A Syracuse, the Nationals moved him from relief back to starting (he worked as both a starter and reliever while at the University of Arizona). Perry had decent results as a starter, going 2-4 with a 2.84 ERA, 22 BB/46 K, and a .229 oppBAA in 73 IP. He has a plus mid-90s fastball and a nasty slider, but struggles to locate either offering. At this point, it seems like a long-shot for him to have a future as a big-league starter, but holding his own in the AFL would be a huge first step.
Issue to Watch: It will be interesting to see how Chris Owings (SS, ARI) fares in the AFL and what the Diamondbacks plans are for 2013. He hadn't really enjoyed a breakout season since being drafted in the 1st round of the 2009 draft (41st overall), but finally did in '12, hitting .290/.323/.452 with 26 doubles, 17 HR, and 12 SB in 538 AB between High-A and Double-A. The better part of this breakout took place in the hitter-friendly CAL and Owings looked less dynamic following a mid-season promotion to Double-A, but he does have nice athleticism and above-average power. With Stephen Drew no longer with the team, there is an outside chance that Owings will be a chance to win the starting SS job next spring. Long-term, he will need to make a significant adjustment in terms of pitch recognition and plate discipline as he walked just 24 times while striking out 132.
Scottsdale Scorpions
MLB Teams: Indians, Angels, Yankees, Pirates, Giants
Roster summary: The Scorpions have a thin crop of prospects. The group does feature Top 100 prospects Gary Brown (OF, SF) and Kaleb Cowart (3B, LAA), but that's it. Others of note include Joe Panik (2B, SF), Austin Romine (C, NYY), and Randal Grichuk (OF, LAA) who is best known for being the player selected just prior to Mike Trout in the 2009 draft. Nick Maronde (LHP, LAA) has some nice potential and made three appearances for the Angels in 2012, but otherwise there is not an impact arm in the group.
Best Position Player: Gary Brown (OF, SF)
Brown got off to a slow start in 2012, hitting just .227 in April, but turned things around and had a solid, if not spectacular season with Double-A Richmond, hitting .279/.347/.385 with 32 doubles, 7 HR, and 33 SB. He has plus speed and profiles a true top-of-the-order CF. He doesn't have a ton of power, but should hit 10-15 home runs, get on base, and steal 15-20 bases. Brown is probably a year away from the majors, but with Angel Pagan set to hit free agency this off-season, that timetable could be moved up.
Best Pitcher: Nick Maronde (LHP, LAA)
Maronde is a tall, athletic lefty who reached the majors in his first full-season of professional baseball. The 6'3", 205 pounder was a 3rd round pick in the pitching-deep 2011 draft. A reliever in college, he has been used primarily as a starter in 2012. He attacks hitters with a lively 90-95 mph fastball that has nice late movement, a good slider, and a below average change-up. Maronde is a fly-ball pitcher, but gave up just 5 HR in 99.2 IP and posted a 6-4 record with a 2.26 ERA and 19 BB/90 K. He is tough on lefties so he could be moved back into a relief role unless his change-up becomes more consistent.
Sleeper Prospect: Matt Curry (1B, PIT)
Curry has been a polished, professional hitter since he led his TCU Horned Frogs to the College World Series in 2010 when he hit .353 with 17 HR. Since being drafted, he has continued to hit and now owns a minor league line of .287/.377/.477 over parts of three seasons. He skipped High-A in 2012 and he more than held his own. Defensively Curry is an average 1B at best with slow actions and limited range, but he has a solid bat and good plate discipline and should put up solid offensive numbers if he ever gets a chance to start in the majors.
Issue to Watch: Austin Romine (C, NYY) missed most of the 2012 season with a back injury that limited him to just 103 AB. With the trade of Jesus Montero to Seattle and the poor offensive production of Russell Martin, there is a chance that, if healthy, Romine could see some action in New York in 2013. He is a plus defender with a strong, accurate throwing arm. At the plate, he has decent power and improved plate discipline, but is unlikely to be more than league average on offense. Still if Romine looks sharp in the Fall League, he should be able to secure a spot on the Yankees 25-man roster next spring.
Mesa Solar Sox
MLB Teams: Orioles, Cubs, Tigers, Astros, Dodgers
Roster summary: The Solar Sox should be one of the better teams in the AFL this year. The team isn't loaded with pitching, but do have hard-throwing Jarred Cosart (RHP, HOU), who has significant upside but needs better command and to miss more bats. Offensively the Solar Sox are loaded and will be led by Nick Castellanos (OF, DET), Javier Baez (SS, CHC), Jonathan Singleton (1B, HOU), Matt Szcur (OF, CHC), and George Springer (OF, HOU). Cuban import Yasiel Puig (OF, LAD) should add some intrigue and Gorman Erickson (C, LA) and James McCann (C, DET) provide some depth behind the plate.
Best Position Player: Jonathan Singleton (1B, HOU)
The title of best position player could easily have gone to Baez, Castellanos, or Springer, but Singleton has the clearest and quickest path to full-time AB and will be one of the youngest players in the AFL. The left-handed hitting Singleton has plus power, a solid glove at 1B, and draws plenty of walks. In 2012 he hit .284/.396/.497 with 27 doubles, 21 HR, and 88 BB/131 K in 461 AB.
Best Pitcher: Jarred Cosart (RHP, HOU)
Cosart had the best season of his minor league career, going 6-7 with a 3.30 ERA, 51 BB/92 K, and a .254 oppBAA in 114.2 IP. At 6'3", 190 pounds, he has a strong, athletic frame and features a plus 93-96 mph fastball that tops out at 99 mph. He complements the fastball with a good, but inconsistent power curve and a below average change-up. Cosart will need to refine his secondary offerings and improve his control before he can live up to his potential. If that doesn't happen, he could emerge as a closer candidate as the Astros move to the AL in 2013.
Sleeper Prospect: Joc Pederson (OF, LAD)
He was an 11th round draft pick in 2010 and continues to exceed expectations. Pederson doesn't have off-the-chart tools, but can do a bit of everything on the field. In 2012 he hit .313/.396/.516 with 26 doubles, 18 HR, 26 SB, 51 BB/ 81 K in 434 AB and now owns a career line of .314/.401/.506. Long-term he might be a more of a 4th OF for the Dodgers, but could emerge as a solid starter for a 2nd division club if traded.
Issue to Watch: Probably the most interesting player in the Arizona Fall League this year will be Javier Baez (SS, CHC). The 19-year-old was the 9th overall pick in the 2011 draft and looked like a world-beater in the first half of the season in the Midwest League, when he hit .333/.383/.596 with 10 doubles. Baez struggled mightily when promoted to Daytona in the Florida State League, hitting just .188 with 5 BB/21 K in 80 AB. He was young for the FSL and will be young for the AFL, but expectations will be high for this bonus-baby. If he doesn't put up impressive numbers in the hitter-friendly AFL, it could cause the Cubs to slow down his progression to the majors. One key area of development will be for Baez to become more selective at the plate. Since turning pro, he has walked just 14 times in 293 AB, while striking out 69 times. The Cubs do not have a good track record in teaching plate discipline, but Theo Epstein understands the importance of on-base-percentage and will likely want to see progress from Baez.
For more information about the terms used in this article, see our Glossary Primer.
Free Weekly eNewsletter
The industry's #1 analytical weekly e-mail newsletter is ABSOLUTELY FREE!
More Information
Shopping Cart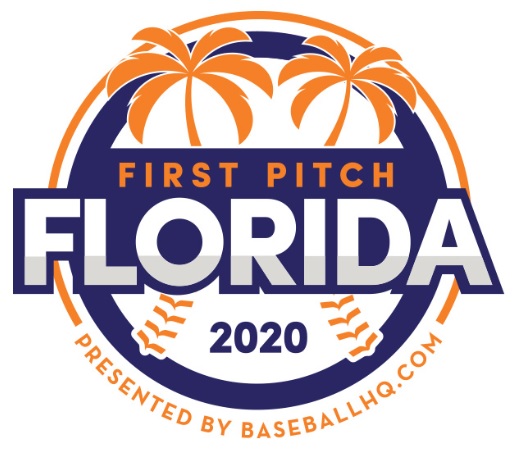 Inaugural Event!
February 28-March 1, 2020
St. Petersburg, FL
Early-bird registration now open!