MINORS: 2019 Draft: Scouting round one
By BaseballHQ Minors Team
June 4th, 2019 9:00am
Pictured: #1 overall selection Adley Rutschman (C, BAL)
As general interest has grown in prospectdom over the past decade or so, naturally some of it has moved deeper into the amateur ranks and the MLB Draft. We still realize though that for most fantasy players, our "starting points" are when players get scooped up by MLB teams, either through the First Year Player Draft or the International Signing Period that starts each July.
So it's our aim here at BaseballHQ.com to cover the draft in the way most helpful to our readers. And that is by introducing the top picks from the MLB Draft to you. For years, we've done a day-after first-round retrospective, and that continues in 2019. The concept is that if the MLB teams thought enough of these players to take them in the first round, then we should be aware of them, too. So what follows is a pick-by-pick list of the 2019 first rounders with a short bio, description/report, as well as a sense of either what type of player he could become, and how long it will be until he gets there.
When looking back at other recent seasons (links to this article in 2016, 2017, and 2018, for instance), you'll see that many of the names in those articles either now reside on our top prospect lists and/or are contributing to their MLB squads at various levels of production. Of course, there's busts in there as well—it's another truism of the prospect landscape and what makes the task of projecting players so challenging—and, hopefully, rewarding. We fully expect both outcomes in players covered below.
As always, feel free to leave questions or observations in the comments below. Enjoy!
(Player capsules by Chris Blessing, Rob Gordon, Chris Lee, and Alec Dopp. Introduction by Brent Hershey.)
1. Baltimore Orioles
Adley Rutschman (C, Oregon State)
Ht/Wt: 6-2, 215
B/T: B/R
Description: Rutschman has been the best amateur player for the past two years and has all the tools to be a franchise player for years to come. He has a quick, balanced switch-hitting stroke and twice as many walks as strikeouts. He's athletic behind the dish with soft hands, a quick release, and a plus arm. On the year, he is hitting a robust .426/.585/.778 with 17 home runs and 72 BB/36 K in 176 AB.
Development Path: Catchers are sometimes slow to develop in pro ball, but Rutschman's advanced all-around game could get him to the majors in short order, possibly as soon as 2020.
2. Kansas City Royals
Bobby Witt Jr. (SS, HS/TX)
Ht/Wt: 6-0, 180
B/T: R/R
Description: Athletic, toolsy SS with perhaps the highest ceiling of any prep player in the draft. Plus defender at SS with range, footwork, arm required to stick there long-term. Runs very well with good burst and will be SB threat at next level. Contact has been an issue in the past, but has had a more consistent spring and shows bat speed and leverage for plus power ability. Above-average tools across the board.
Development Path: Witt may have more real-life value than fantasy value, but if the tools come together, he has the ceiling of a 25 HR/25 SB player. He'll need to develop a more consistent and tactful approach at the plate, so BA may be his only downside right now.
3. Chicago White Sox
Andrew Vaughn (1B, California)
Ht/Wt: 6-0, 214
B/T: R/R
Description: The 2018 Golden Spikes Award winner as a sophomore, Vaughn followed a disappointing summer with another great college campaign, though that came with a slight down-tick in extra-base power and a rise in K% (7% to 14%). Still, Vaughn walked at an incredible rate (25 bb%), and has always made contact at a great rate for anyone, much less a power hitter. His brute strength generates tremendous torque with his swing, giving him easy home run power to all fields, and he's gifted at barreling the ball consistently. He's a classic middle-of-the-order bat.
Development Path: He's likely to be one of the quickest draftees to the majors. There may be fewer questions about his ability to generate fantasy value as anyone in the draft.
4. Miami Marlins
J.J. Bleday (OF, Vanderbilt)
Ht/Wt: 6-3/205
B/T: L/L
Description: Bleday, who's always hit the ball hard, began adding loft to his swing late last season, transforming from a line drive hitter to one with home run pop. In 2019, he led the NCAA with 26 home runs heading into regional play. That came with a small increase in K% (14% to 17%) and decrease in bb% (19% to 17%), and he hits right-handers better, however, Bleday is hard to defend because he can hit with authority to any part of the park. He's not a great runner, but easily has the arm and athleticism to play corner outfield.
Development Path: Bleday is polished and could contribute in the majors as soon as 2020. He won't steal bases, but could easily be a 30-plus homer bat and contribute in batting average before long.
5. Detroit Tigers
Riley Greene (OF, HS/FL)
Ht/Wt: 6-1, 190
B/T: L/L
Description: Pure-hitting prep OF whose LH swing exemplifies "smooth." Generates easy plus bat speed and keeps barrel in zone a long time with slight uppercut angle; projects to be power threat as he fills out physically. Makes quality contact and demonstrates good plate discipline. Likely a corner OF defensive profile with so-so arm and average range. Lanky build not ideal for SB and speed is fringe-average right now.
Development Path: Greene's LH swing and bend is reminiscent of Cody Bellinger's; if he adds a leg kick and attacks the ball more consistently, this could be a legit HR/RBI source. The bat-to-ball skills are quality and he's likely a .280-285 BA hitter at his peak, just without much SB value.
6. San Diego Padres
C.J. Abrams (SS, HS/GA)
Ht/Wt: 6-2, 185
B/T: L/R
Description: Pure hitting athletes don't come around often in the draft, especially pure hitting athletes with superior speed. Abrams is all those things and more. He is the best draft prospect coming out of the Southeast this year, college or high school. Abrams has an innate ability to find the barrel at the plate. He's also has an advanced control of said barrel. He has excellent bat-to-ball skills, which is sometimes a deterrent since he's uber-aggressive at pitches out of the zone. Abrams also lacks average raw power.
Development Path: Abrams is a bit behind Bobby Witt Jr. in terms of refinement to his game. His approach at the plate is unrefined and will initially be a slow-climber, unlike last year's top high school bat Jarred Kelenic, who is already in High-A.
7. Cincinnati Reds
Nick Lodolo (LHP, TCU)
Ht/Wt: 6-6, 185
B/T: L/L
Description: Always a highly-regarded pro arm—Lodolo went 41st overall in 2016—the junior improved his skills every year in college, and especially last season when his Cmd (3.3 to 5.2) took a big leap. He uses his height and arm angle to generate a good downhill plane out of a low three-quarters delivery, and has shown the ability to make his pitches move to either side of the plate. Lodolo gets good marks for four pitches, though he has a tendency to over-throw at times.
Development Path: The talent is undeniably there to be a top-end starter, but Lodolo can get hit at times and may need to refine his release point a bit. He should be within the bigs within a couple of years with some improvement there.
8. Texas Rangers
Josh Jung (3B, Texas Tech)
Ht/Wt: 6-2, 215
B/T: R/R
Description: Tall, strong college 3B with natural bat-to-ball skills and potentially impact power. Swing is compact and produces loud line drive contact to all fields. Walked more than he struck out across three college seasons (121 BB/111 K) and demonstrated solid contact ability (84% ct% in 600-plus AB). Has plus arm and instincts for hot corner, but lacks athleticism; ideal move could be 1B long-term with offensive profile.
Development Path: Jung is going to hit—that much is very certain. This is the type of advanced college bat that may need two or fewer years in the minors before making his debut. There'll be pressure to produce as an everyday 1B/3B, but the HR/AVG skills are evident.
9. Atlanta Braves
Shea Langeliers (C, Baylor)
Ht/Wt: 6-0, 190
B/T: R/R
Description: Strong, defensive-minded backstop with premium arm and solid offensive ability. Soft hands and quick transfer translate to consistent 1.8-second pop times in games with accuracy. Has above-average bat speed, and level cut translates into hard, line drive trajectories. Will not be a big-time power bat, but makes above-average contact from right side and puts the ball in play. Fringe runner and will not be an SB source.
Development Path: With his defensive skills and intangibles, Langeliers could be on the fast track to the big leagues once signed. When it's all said and done, this could be a 18-20 HR, .275 BA type bat annually with real value in 10 or 12-team formats.
10. San Francisco Giants
Hunter Bishop (OF, Arizona State)
Ht/Wt: 6-5, 210
B/T: L/R
Description: Bishop has some of the best overall tools in the draft class. He uses bat speed and size to generate plus raw power and 22 home runs for ASU. He has an above-average arm and runs well for his size, but isn't going to be a huge SB threat in the majors. There have been questions about his hit tool and pull-oriented approach, but Bishop has been dynamic in 2019, hitting .354/.481/.780 with 43 BB/58 K and has tremendous upside.
Development Path: His tools and physical size look like that of a prototypical right fielder, but there's a chance he could stick in CF. He may take some time to clean up his swing-and-miss in the minors before he's big league ready.
11. Toronto Blue Jays
Alek Manoah (RHP, West Virginia)
Ht/Wt: 6-6, 260
B/T: R/R
Description: Manoah is a big-bodied RHP who has dominated overpowering hitters with two plus pitches. His workhorse offering is a mid-to-high 90s FB that overpowers hitters. The FB is borderline plus-plus. Manoah's SL has devastating two-plane tight movement when it is on. He also throws a CU, presenting as a below-average pitch. RP risk due to lacking 3rd pitch, command issues, and below-average delivery.
Development Path: Manoah won't have much trouble with lower minors hitting. He had a heavy workload this spring and will likely be limited by pitch counts. Could see him in Double-A as soon as next August, which will be his first true test.
12. New York Mets
Brett Baty (3B, HS/TX)
Ht/Wt: 6-3, 210
B/T: L/R
Description: Baty is the best pure hitter in the 2019 high school class. He has plus bat speed, a disciplined approach at the plate, and barrels the ball consistently. His left-handed stroke results in hard contact and loft. Defensively, Baty will need to work hard to stick at the hot corner, where his range and footwork need work, but his above-average to plus arm should allow him to move the LF or 1B if needed.
Development Path: His position on the field will somewhat determine his arrival; OF or 1B could signal a shorter MiLB career, but will put more pressure on the bat.
13. Minnesota Twins
Keoni Cavaco (3B, HS/CA)
Ht/Wt: 6-1, 185
B/T: R/R
Description: Cavaco has really popped up during the spring scouting season in Southern California. His raw plus-plus power has wowed evaluators. He's also a solid runner, with good actions and the arm to stay at 3B. However, scouts haven't been too impressed with the hit tool. There is plenty of bat speed but the swing is very raw. He cuts off the outer half of the plate and struggles with mediocre breaking pitches. One evaluator even threw an 80 Power, 20 Hit (on the 20/80 scouting scale) on Cavaco.
Development Path: Four of the five scouting tools project to be above-average-or-better; the hit tool lags behind. Cavaco will need to incorporate adjustments in his swing mechanics and approach if he can overcome the swing-and-miss issues in his hit tool. In other words, it may take awhile for Cavaco to emerge.
14. Philadelphia Phillies
Bryson Stott (SS, UNLV)
Ht/Wt: 6-3, 200
B/T: L/R
Description: Stott has advanced bat-to-ball skills and a discerning eye at the plate, which his balance and compact stroke translate into an all-fields approach. Stott has showed improved power in 2019 while maintaining his plate discipline (50 BB/37 K), launching a career-high 10 HR. He moves well defensively with enough range and arm strength to stick at short.
Development Path: He realistically profiles as a 10-15 HR guy in the majors and should be able to stick at short; consider him 2-3 years away.
15. Los Angeles Angels
Will Wilson (2B/SS, NC State)
Ht/Wt: 6-0, 185
B/T: R/R
Description: Wilson is an ACC SS with some of the best middle IF hit and power tools in the draft. Unfortunately, questions about a future defensive position pushed his bat down the draft board. Wilson has continually improved as a collegiate player. His hit tool is potentially plus and he has plus raw power. He does a good job offensively with the little things like taking close pitches and working counts. He's not much of a runner and isn't gifted with footwork in the IF. A natural SS, he's likely a 2B or LF as a pro.
Development Path: Wilson's bat can move quickly, especially with his batting eye continually improving. He could have enough power in his bat to mesh in LF if his defensive limitations in the IF cause a team concern.
16. Arizona Diamondbacks
Corbin Carroll (OF, HS/WA)
Ht/Wt: 5-11, 160
B/T: L/L
Description: Lean, athletic OF with exciting speed and highlight-reel raw skills across the board. Plus-plus runner with burst out of box and good instincts on bases complemented by advanced approach and spin recognition. Swing is flat, but is smooth, and stays in the zone a long time for loud line drive contact. Lacks leverage for power right now, but has some projection to add strength to frame down the road.
Development Path: Carroll's combination of plate discipline, contact, and speed will give him a chance to have impact in BA/OBP/SB categories. He could move quickly, but will likely be at least three years away from having value in fantasy formats.
17. Washington Nationals
Jackson Rutledge (RHP, San Jacinto JC)
Ht/Wt: 6-8, 265
B/T: R/R
Description: Rutledge has emerged as the best junior college prospect in the country. The big-bodied RHP was at Arkansas his freshman year before transferring to San Jacinto after dealing with injury. This year, he's popped up on draft boards because his stuff has taken off. Sitting consistently in the mid-90s, his two-seam FB's late run and sinking action has taken off with newfound control. Between his time at Arkansas and San Jacinto, Rutledge has honed his SL and CB, both projecting to be plus pitches. His CU is a behind the other two pitches in development.
Development Path: Rutledge increased his workload in his lone season at San Jacinto. Given his injury history, expect player development to take it slow this season, limiting his innings and workload. By 2020, the stuff should start dominating the lower minors and hopefully command begins to develop.
18. Pittsburgh Pirates
Quinn Priester (RHP, HS/IL)
Ht/Wt: 6-3, 190
B/T: R/R
Description: Like other prep arms taken in the first round, Priester's skill set is improved by the present pitchability of his repertoire. He's a three-pitch pitcher who relies heavily on a late-breaking, well-commanded low-90s FB. He pitches to quadrants, which is advanced for his age. His best secondary offering is a CB with solid depth and great shape. It projects as an above-average-to-plus offering. His CU lags behind the rest of his pitches.
Development Path: Priester, being a cold-weather arm and a pitcher who hasn't had the level of instruction as some of his draft counterparts, is likely to need some refinement by pro coaching before he really takes off in the pro ranks. However, the combination of stuff/command remind many of Mike Soroka in the 2015 draft.
19. St. Louis Cardinals
Zack Thompson (RHP, Kentucky)
Ht/Wt: 6-3, 225
B/T: L/L
Description: Tall, physically mature LH who missed time in college with elbow concerns, but has been dominant when presumably healthy (13.0 Dom, 2.40 ERA in 2019). Features four average or better pitches, including 91-94 mph FB that will peak at 96 and plus slider. Has some feel for curve and change-up. Balanced, low-effort delivery; repeats 3/4 slot well. Better-than-average athlete who will develop command.
Development Path: Thompson looks the part of a future #3/4 SP in mixed 10 or 12-team league formats, and he could move through the minors quickly given his polish. The risk here is the past elbow and shoulder injuries, so proceed with caution before investing heavily.
20. Seattle Mariners
George Kirby (RHP, Elon)
Ht/Wt: 6-4, 205
B/T: R/R
Description: Kirby is a command/control arm with the tools to be a successful MLB starter. He repeats his delivery well, has four workable pitches, and the size to handle an MLB SP workload. Kirby sits in 90-93 MPH with a two-seam FB he throws to all four quadrants of the plate. Both his CB and SL should be average MLB offerings at minimum, while his CU is his best secondary offering. He throws his CU with precision.
Development Path: Kriby should be a quick mover through the minor leagues. He already has the delivery and the pitch mix in place. He will need to improve the consistency of his breaking stuff, especially if he wants to become a mid-rotation MLB starter. There is back-of-the-rotation floor in profile.
21. Atlanta Braves
Braden Shewmake (SS, Texas A&M)
Ht/Wt: 6-4, 190
B/T: L/R
Description: Lanky, athletic SS who was productive all three years in college. Utilizes bat speed and flat angle through zone for high-volume contact approach (90% ct% in 700-plus AB) and sprays balls to all fields. Works counts well and recognizes spin. Projectable frame capable of adding strength, and should grow into more power. Good enough athlete for SS, but average arm may profile him better at 2B long-term.
Development Path: Shewmake will need to focus on adding strength for more power early in his pro career, but developmentally, he has a solid foundation with which to work. He projects to have above-average BA value with modest SB returns as an everyday middle infielder.
22. Tampa Bay Rays
Greg Jones (SS, UNC-Wilmington)
Ht/Wt: 6-2, 190
B/T: S/R
Description: Jones, who gets a speed grade of "80" from some, can flat-out fly. That translated to 42 steals in 52 tries in 63 games in 2019. He doesn't get great grades with the bat, but there's some raw power, and his bb% (19%) and Eye (1.30) translated to a .491 OBP. His arm and athleticism mean he can stick in the middle of the diamond somewhere, though that may be center field.
Development Path: Age—he's 21 years and three months—is a concern, but Jones also improved markedly in just about every area in 2019. That makes an ETA difficult to predict, but with steals so scarce, Jones could be worthy of an immediate roster stash in deeper leagues, especially those using OBP.
23. Colorado Rockies
Michael Toglia (1B/OF, UCLA)
Ht/Wt: 6-5, 200
B/T: B/L
Description: Toglia is the rare switch-hitter who is a natural LHH. His calling card is his plus power from both sides of the plate. It's easy power and should project to pro ball. There is some swing-and-miss concerns, which has caused some scouting departments to sour on him. Toglia is a good athlete who could stick as a corner OF. Scouts like him best at 1B, where he could be a plus defender.
Development Path: Toglia is an advanced power bat. The struggle for Toglia has been his streakiness. His swing-and-miss concerns also play down the profile. However, some evaluators believe they can be remedied by pro coaching. He will have no problems in the lower minors.
24. Cleveland Indians
Danial Espino (RHP, HS/GA)
Ht/Wt: 6-1, 195
B/T: R/R
Description: Espino is the most divisive prospect in the 1st round of this year's draft among scouts. Everyone lauds his plus-plus FB, which combines high-90s heat with late life and present command. Both his SL & CB are potentially plus and his CU could be solid. On stuff, Espino is the best pitcher in the draft. His unconventional delivery, especially his long-winded arm action, and his size has caused decision-makers concerns about future durability, which means RP risk is high for some.
Development Plan: Espino will be brought along slowly, mostly due to the lack of mileage on his arm, his inconsistent schedule at Georgia Premier Academy and concerns about his delivery. Espino stuff should excels in the lower minors. We'll see how the arm holds up.
25. Los Angeles Dodgers
Kody Hoese (3B, Tulane)
Ht/Wt: 6-4, 200
B/T: R/R
Description: Hoese has some of the best raw power in the draft class and the draft-eligible sophomore led the Green Wave on offense, slashing .388/.482/.780 with 20 doubles and 23 home runs in 232 AB. Hoese isn't a traditional masher and has more walks than strikeouts, racking up 90 hits and 70 runs in just 57 contests. A fringe defender with below-average speed, Hoese will need to work hard to stick at 3B and his future value is tied completely to his potent right-handed bat.
Development Path: Given his draft stock and advanced idea at the plate, he should move fairly quickly and could reach the high minors by the end of 2020, but defensive struggles could slow his development.
26. Arizona Diamondbacks
Blake Walston (LHP, HS/NC)
Ht/Wt: 6-4, 170
B/T: L/L
Description: Walston popped up on draft lists this spring once football was in the rearview mirror. A star QB in NC, this was the first spring where football commitments didn't take him away from the diamond. Projectable LHP with a great frame to put muscle mass on. His FB sits 88-91 MPH with late-running action. He has great shape and depth on his CB. Walston is a project. However, scouts love his natural delivery and short arm action.
Development Path: Walston is a raw arm with tons of projection. He will move as fast as he can add strength to his frame. In some outings this spring, the velocity dipped, so strength will be key in how quickly he moves. He could be a tough sign.
27. Chicago Cubs
Ryan Jensen (RHP, Fresno State)
Ht/Wt: 6-1, 180
B/T: R/R
Description: A shocking first round pick in the sense that few evaluators had SP grades on Jensen. Jensen is an arm-speed righty who sits in the mid-to-upper 90s with a late-running FB. His secondary stuff is a question mark. His SL may be his best pitch and should project well into the big leagues. The CU is below average. Size is a concern for his future as a starter. Overall stuff is, too.
Development Path: Jensen could move quickly if he moves to the pen. However, as a starter, will need time developing a starter's repertoire. As a reliever, he has the stuff to work in the back end of the pen, which gives him added fantasy value despite the question marks on overall stuff.
28. Milwaukee Brewers
Ethan Small (LHP, Mississippi St)
Ht/Wt: 6-3, 190
B/T: L/L
Description: Small is a command/control LHP who has put up video game numbers in the SEC this season despite having average stuff. Small sits in the 89-92 MPH range with a two-seam FB. He commands the pitch to spots with plus command. His best secondary offering is a late-fading CU. Small will need to improve his slurvy SL to improve his overall projection of a #4/#5 starter.
Development Path: Small could move quicker than most pitching prospects, as his command/control is some of the best in the draft. The stuff likely doesn't project as a big fantasy arm, but the pitchability could play it up.
29. Oakland Athletics
Logan Davidson (SS, Clemson)
Ht/Wt: 6-3, 195
B/T: B/R
Description: Davidson is a solid defensive SS with MLB bloodlines who has solid HR and SB potential. At this time last year, he looked very much like a 2019 Top 10 draft pick. However, the hit tool struggled mightily in the Cape Cod league. It's recovered some value in the ACC. However, scouts still question his ability to make contact against professional pitching, after struggling considerably against even average arms. His ability to place SS likely lands him a spot.
Development Path: Davidson isn't going to be a college bat who moves quickly. There will need to be adjustments to his swing and approach early on in his professional career if he hopes to be anything more than a below-average fantasy option at SS.
30. New York Yankees
Anthony Volpe (SS, HS/NJ)
Ht/Wt: 5-11, 180
B/T: R/R
Description: Fringe-average tools play up due to makeup and work ethic. Above-average defender should be able to stick at short where he has good reads, footwork, and a quick release. Volpe has a quick bat, makes consistent contact, and should hit for average as pro, but doesn't use his lower half well, resulting in below-average power.
Development Path: Will need to grind and prove himself at each stop but has shown the attitude to do so. Finding more power along the way will be key.
31. Los Angeles Dodgers
Michael Busch (OF/1B, North Carolina)
Ht/Wt: 6-1, 207
B/T: L/L
Description: Busch is a power-hitting 1B in a middle IF's body. He has plus power potential and has a great understanding of the strike zone. Busch has always carried a terrific bb% regardless of league and produced in the Cape Cod League last year. There are some concerns with Busch's hit tool adjusting to pro ball. Defensively, he's above-average at 1B. However, most see Busch working out in LF given his lacking size for a 1B. He'll work in LF.
Development Path: Busch's hit tool will likely cause him to move slower than other collegiate bats in the draft. However, he shouldn't have much trouble adjusting to lower minors pitching. If he hits, his power will carry his profile.
32. Houston Astros
Korey Lee (C, California)
Ht/Wt: 6-1, 205
B/T: R/R
Description: Seen as an over-reach in the first round, Lee is a power-hitting C who popped up as the 2nd fiddle in the California lineup this season. Lee's hit tool has been suspect for much of his college career. However, he emerged this season in Pac12 play. His hard-hit rate carried his hitting profile, along with above-average power. Defensively, he's adequate behind the plate. He's not a catcher-only prospect, having seen time at several positions during his time at Cal, including 1B and 3B. He could move to the OF if the bat allows it.
Development Path: Lee could move faster than most catching prospects, since the hit tool is a bit more mature. However, scouts question whether the hit tool fits in the upper minors.
For more information about the terms used in this article, see our Glossary Primer.
Shopping Cart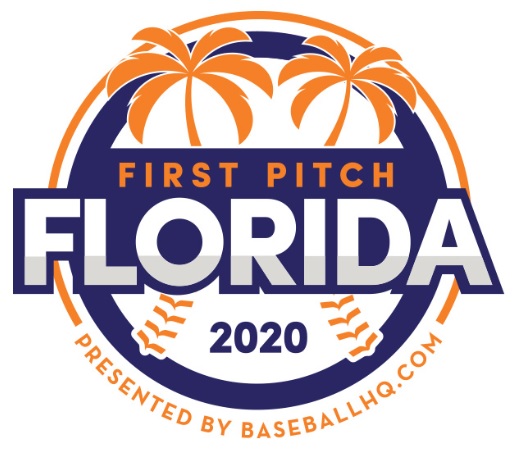 Inaugural Event!
February 28-March 1, 2020
St. Petersburg, FL
A few seats still left!